There are over 500 parking spaces available surrounding campus, which are free to use for DigiPen students, faculty, and staff who display a DigiPen parking sticker on their vehicles (see Parking Policies below). The parking lots can become very crowded, so we highly recommend that you consider alternate forms of transportation or carpooling.
You may park in any space marked with a "dP" logo, as well as any parking spaces not marked with another business's name. Do not park in spaces marked and reserved for other surrounding businesses.
If you are expecting any visitors, they should park in the visitor parking in front of the Main Campus and check in at the Front Desk.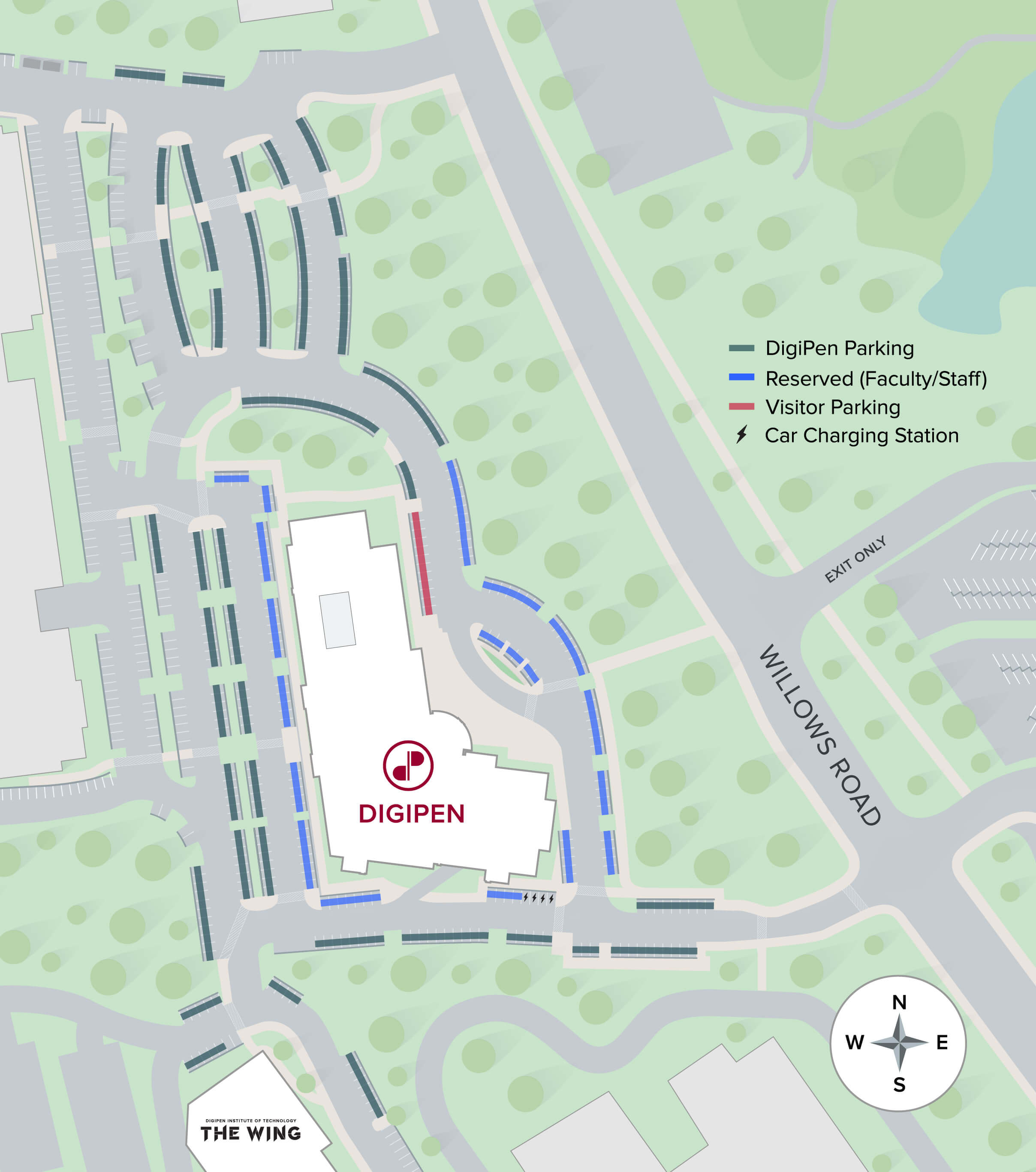 Parking Policies
If you wish to park at DigiPen, you must register your vehicle every year you are in attendance. Registration should be done at the Student Store when you first arrive at campus in the fall semester. Parking passes will be valid for the entire academic year through the summer semester.
Each parking sticker must be placed on the inside of the registered vehicle's rear windshield, on the lower left-hand (driver's side) corner of the glass.

Students should only park in spaces marked "dP" and blank parking spaces. Student should not park in spaces marked and reserved for other surrounding businesses.

Students may not park in spots reserved for visitors or faculty/staff.

Violating rules 1 through 3 may result in towing either by DigiPen or neighboring businesses.

DigiPen reserves the right to tow any vehicle that is deemed inoperable, abandoned, or may present a danger to the surrounding area.

Drivers will be held financially responsible for any partial or completed tows ordered for their vehicles.

DigiPen may temporarily reassign, reallocate, or reduce the number of available parking spaces for school functions.

Parking spots in the DigiPen lot are limited and are not guaranteed at any time. Parking spots are available on a first-come, first-served basis.

DigiPen is not responsible for any loss of or damage to vehicles or their contents, including loss or damage caused by (but not limited to) theft, collision, or vandalism.

Drivers in the DigiPen lot must adhere to the posted 5 mph speed limit.
Questions?
For questions regarding parking, please reach out to facilities@digipen.edu.