Our campus is located at 9931 Willows Road NE in Redmond, Washington. We are approximately 15 miles east of Seattle and 25 miles north of SeaTac International Airport.
---
Driving Directions
From Sea-Tac International Airport:
From Airport Expressway, follow signs for WA-518 E/Interstate 5/Interstate 405 and merge onto WA-518 East.
Follow signs for I-405 North.
Stay on I-405 North for approximately 18 miles.
Take exit 18 and merge onto NE 85th Street toward Redmond.
Turn left onto Willows Road NE.
Turn left at NE 100th Ct.
From Downtown Seattle:
Take I-5 North to WA-520 East towards Redmond.
Stay on WA-520 East for approximately 13 miles (NOTE: There is a toll to cross the WA-520 bridge across Lake Washington).
Take the West Lake Sammamish Parkway NE exit and turn left.
Continue onto 154th Ave NE.
Turn left onto NE 90th St.
Turn right onto Willows Road NE.
Turn left at NE 100th Ct.
From places east of Redmond:
Take I-90 going west.
At the junction with I-405, take the ramp for I-405 North to Renton and Redmond.
Stay on I-405 North for approximately 6 miles.
Take exit 18 and merge onto NE 85th Street toward Redmond.
Turn left onto Willows Road NE.
Turn left at NE 100th Ct.
From places north of Redmond:
Take I-5 South to the I-405 split-off junction (exit 182).
Take I-405 South towards Renton and Bellevue.
Stay on I-405 South for approximately 9 miles.
Take exit 20 and turn left onto NE 124th Street.
Turn right onto Willows Road NE.
Turn right at NE 100th Ct.
From places south of Redmond (via I-405 North):
From I-405 North, take exit 18 and merge onto NE 85th Street toward Redmond.
Turn left onto Willows Road NE.
Turn left at NE 100th Ct.
---
Visitor Parking
Visitor Parking is located directly to the right of our main entrance. If no visitor spots are available, you may park in any spot marked with a "dP" and check in with the receptionist or security staff upon arrival in the building. Please do not park in any spaces marked "RESERVED."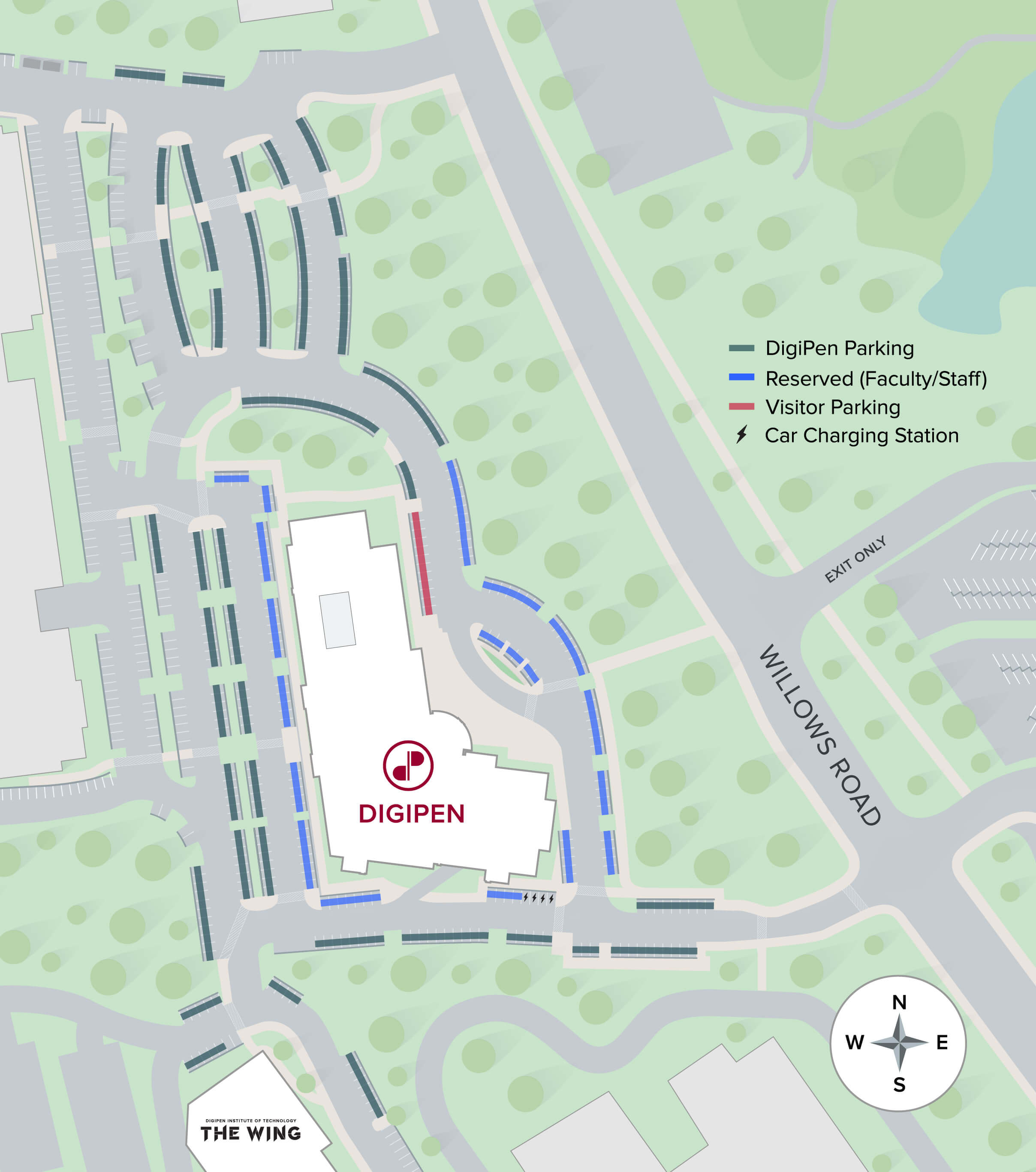 ---
Public Transportation
King County Metro provides bus transportation both to and near DigiPen's campus. Routes, fares, and schedules are subject to change over time, so be sure to check the King County trip planner website for the most accurate information.
---
When You Arrive
We ask that all campus visitors please check in at the front reception desk upon arrival. For certain hosted events, we will have check-in/registration tables set up in the lobby or outside the front entrance.
COVID-19 Updates: Campus Safety
Admissions/Outreach Groups and Events
Per guidance provided by the King County Health Department and DigiPen campus policy, all DigiPen community members (faculty, staff, and students) are required to be fully vaccinated against COVID-19 in order to be on campus. To protect the health and safety of our community and visitors, Admissions/Outreach guests ages 12 and up visiting campus for organized group visits or events* must also be fully vaccinated. If you are not vaccinated, we ask that you test negative for COVID-19 within 72 hours of the event.
*Admissions/Outreach organized group visits and events include, but are not limited to: Preview Days, school or organized group trips, and other indoor events that include visitors from multiple households. Questions about your visit? Please contact the Office of Outreach (outreach[at]digipen[dot]edu).
For testing locations and guidance, visit the King County Public Health website.
Masks Required
Face masks are required to be worn at all times while on campus, regardless of COVID-19 vaccination status.

Masks can temporarily be removed while drinking within the building and while eating and drinking in the Bytes Cafe & Lounge.

Masks are optional in outdoor areas of campus. Masks must still be worn while riding school shuttles.

Free face masks are provided upon request at the front desks of the Main Campus and The Wing, but please be aware that supplies may be limited.

Cloth masks, face shields, gaiters, bandanas, and vented/valved masks are not permitted instead of a standard mask but can be worn in addition to standard masks.
Stay Home When Sick
If you aren't feeling 100%, please do not enter the campus. Guests exhibiting symptoms of illness upon arrival may be asked to reschedule.
Basic COVID-19 Prevention Required
Clean your hands often. Wash hands with soap and water for at least 20 seconds. If soap and water are not available, use an alcohol-based hand sanitizer that contains at least 60% alcohol. Do not touch your face with unwashed hands.

Cover your coughs and sneezes. Throw used tissues away and wash your hands afterward.
Follow Travel Guidelines
DigiPen asks visitors to follow all current travel guidelines and also recommends COVID-19 testing/quarantine for those returning to campus after both domestic and international travel.