From the classrooms and lecture halls to the bustling labs and team project spaces, our campus is a hive of learning, activity, and engagement — permeating with creative energy and friendly interaction among students, faculty, and staff.
DigiPen Institute of Technology's main campus is located at 9931 Willows Road Northeast in Redmond, Washington, just minutes away from the headquarters of Microsoft, Nintendo of America, and other major tech companies. The campus features dozens of classrooms, auditoriums, computer labs, and open production spaces — all designed to enhance learning and promote our project-based collaboration.
Campus Highlights
---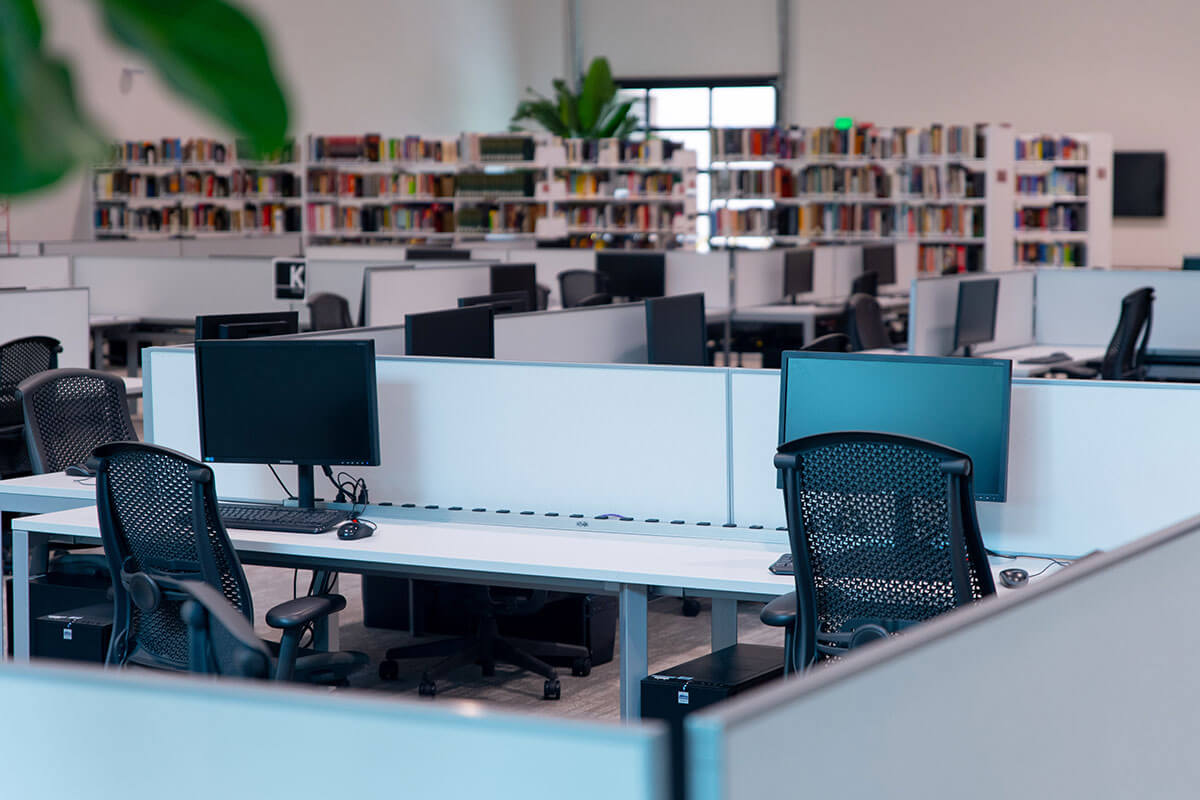 The Wing
The Wing, the newest addition to our Redmond campus, opened in the fall of 2020 to give students ample room to study, collaborate, and play. This mixed-use space features a vast, open-plan production lab for individuals and teams to work on their projects. The Wing also contains a lounge, an art studio, and multiple meeting rooms for student use. The DigiPen Library (also known as the Learning Resource Center) now operates out of the Wing's ground floor.
---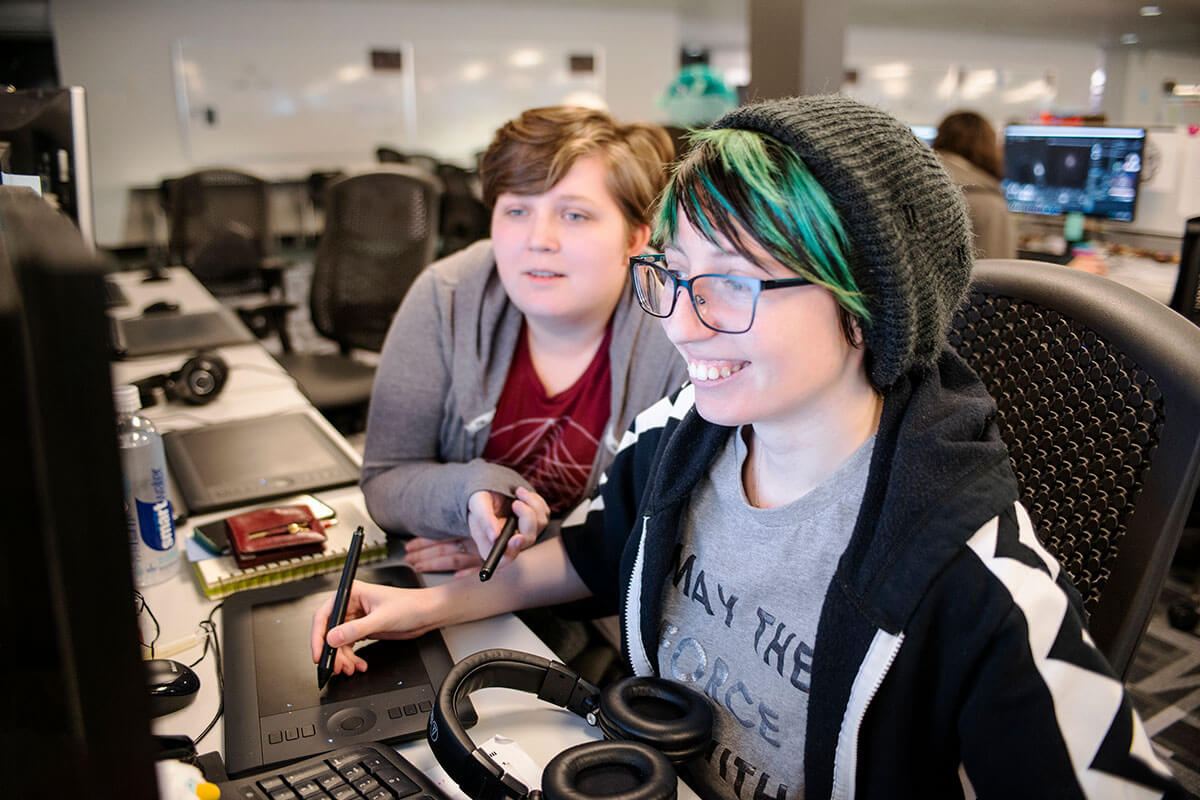 Production Labs
Designed to mimic professional software development studios, the open-floor design of our three main production labs foster a focused, dynamic, and collaborative working environment. At the beginning of each year, the production lab spaces are divided into dedicated spaces for team usage — with consideration given to student teams working on specialized projects, such as VR/AR games and software.
Each student team brings their own personality to the space, and students have access to a number of conveniently located whiteboards and bulletin boards for organizing and communicating about their work. In addition to designated spaces for student games, films, and software engineering projects, there are also individual computer workstations.
---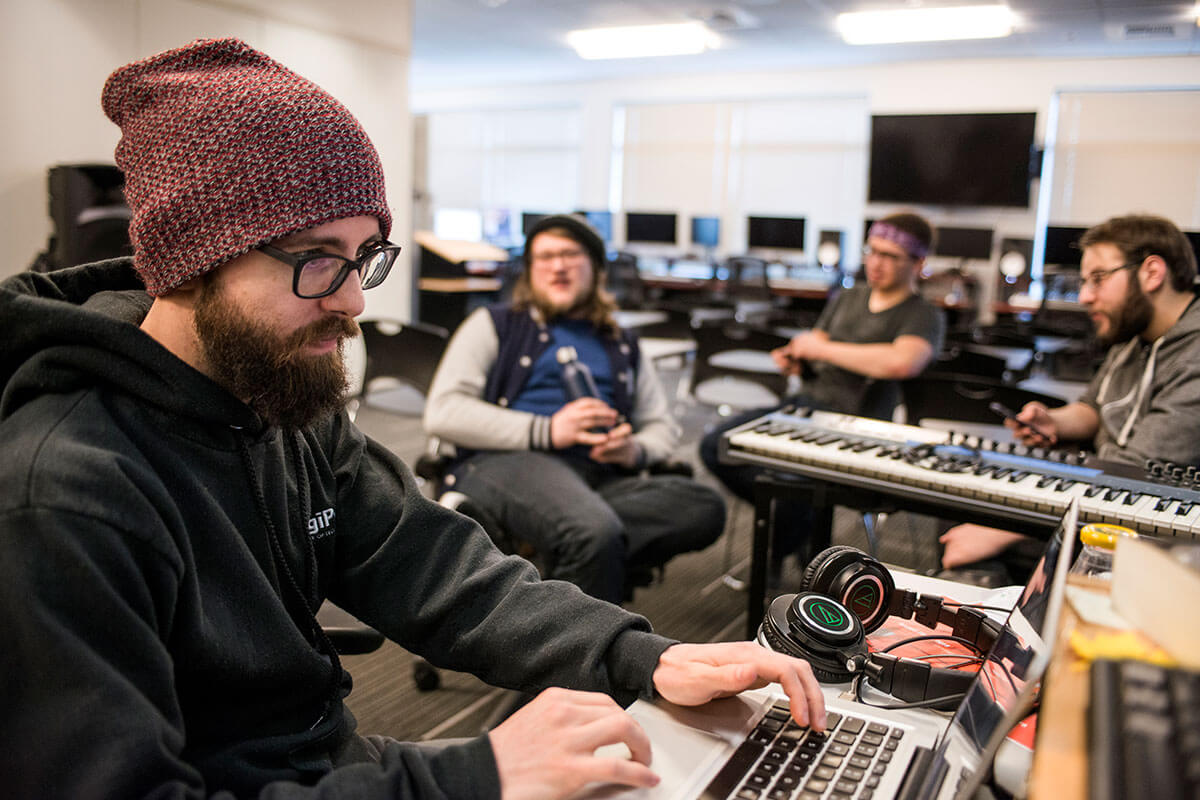 Sound Lab
This is where students in the BA in Music and Sound Design program spend much of their time. Featuring music practice rooms, individual high-tech audio workstations, and two live recording studios for advanced music and audio projects, this space is designed to cover all aspects of our music and sound design curriculum.
---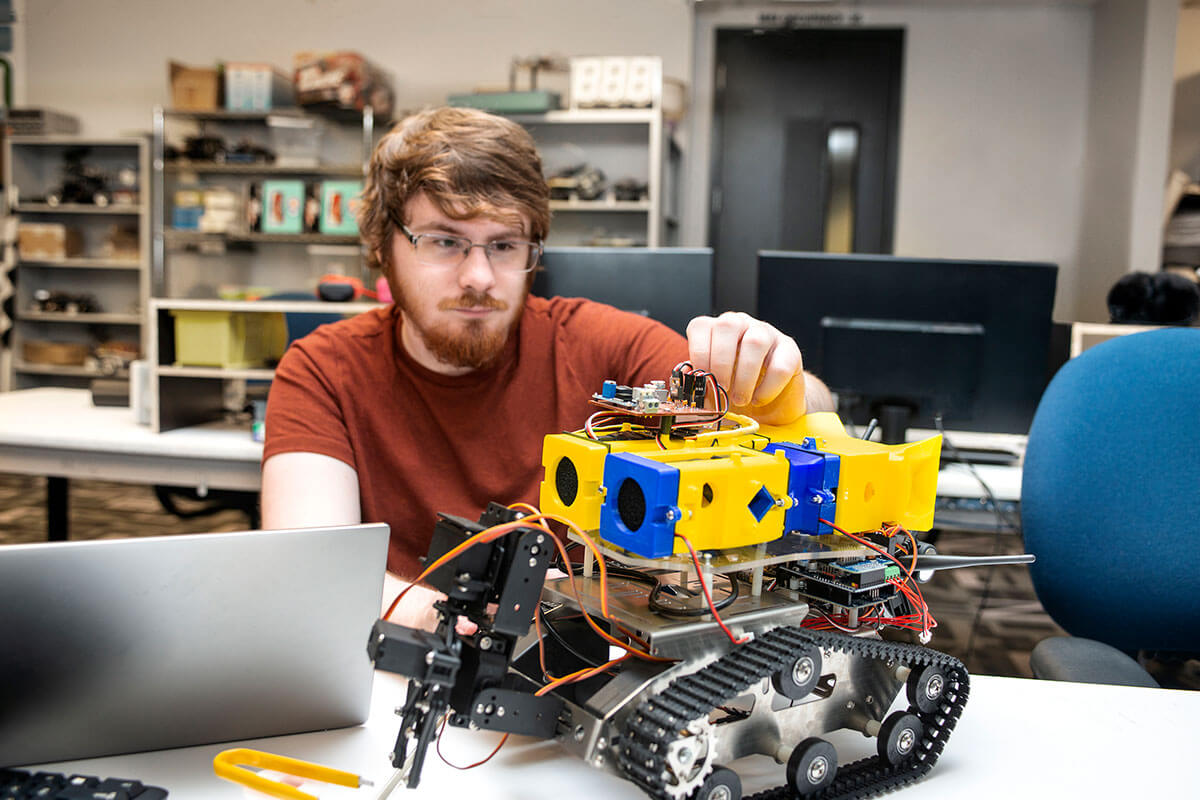 Electrical and Computer Engineering (ECE) Lab
The ECE Lab is where students in the BS in Computer Engineering program work on projects involving hardware, electronics and circuits, and embedded devices. The lab includes equipment such as oscilloscopes, logic analyzers, spectrum analyzers, function generators, power supplies, soldering stations, and computer stations with ECE-related software. Students are able to utilize the lab both inside and outside of scheduled class times, whenever DigiPen is open. In addition to the ECE Lab, there is a small makerspace that includes 3D printers and milling machines for fabrication of components and prototyping of printed circuit boards.
---
MFA and MSCS Labs
For students in either of DigiPen's two graduate degree programs, we offer designated lab spaces for study, instruction, and community building. The MFA lab is a great communal working space set aside for MFA in Digital Arts candidates working on individual and group assignments. Individual computer workstations are pre-installed with all of the digital arts software and tools taught and used in the curriculum. The MSCS lab is reserved for MS in Computer Science candidates to work on individual coursework and team-based projects.
---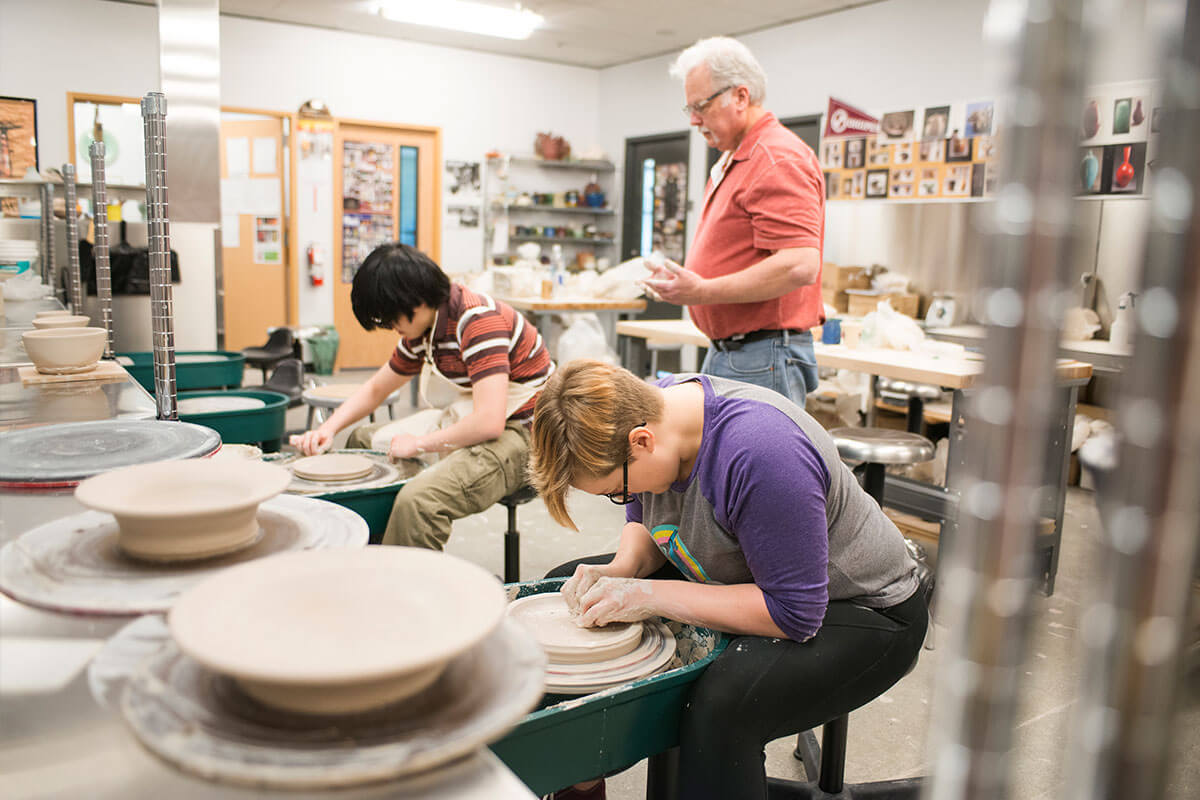 Ceramics Studio
The ceramics studio serves as a lab and classroom for a range of ceramics and sculpting classes, as well as Continuing Education courses in beginning and intermediate pottery making. The space includes a number of pottery wheels, banding wheels, a clay slab roller, high fire glazes, sinks for cleaning, and specialized tables for wedging, working, and glazing. The studio also includes a large damp room with ample shelving for storing projects, as well as a ventilated clay and glaze mixing room and vented kiln room.
---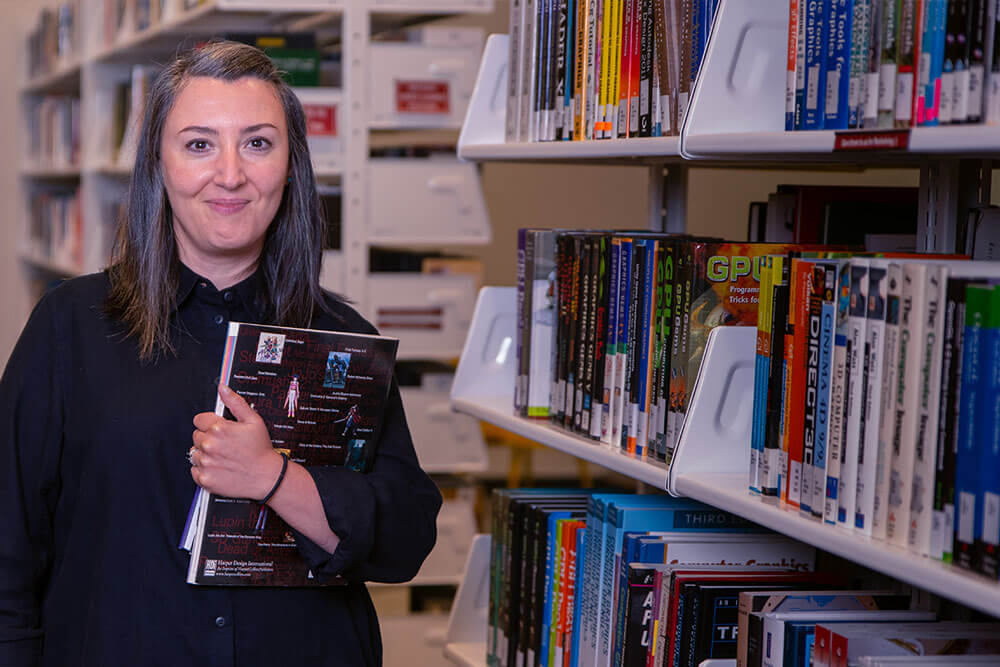 Library & AV Center
Our campus library houses a vast collection of print and digital materials, including books, periodicals, films, and audio-visual equipment that can be checked out for class projects. We even maintain a growing catalogue of over 500 video games and game console equipment — an exceptional resource both for study and amusement. The library space also includes open workstations for quiet study.
---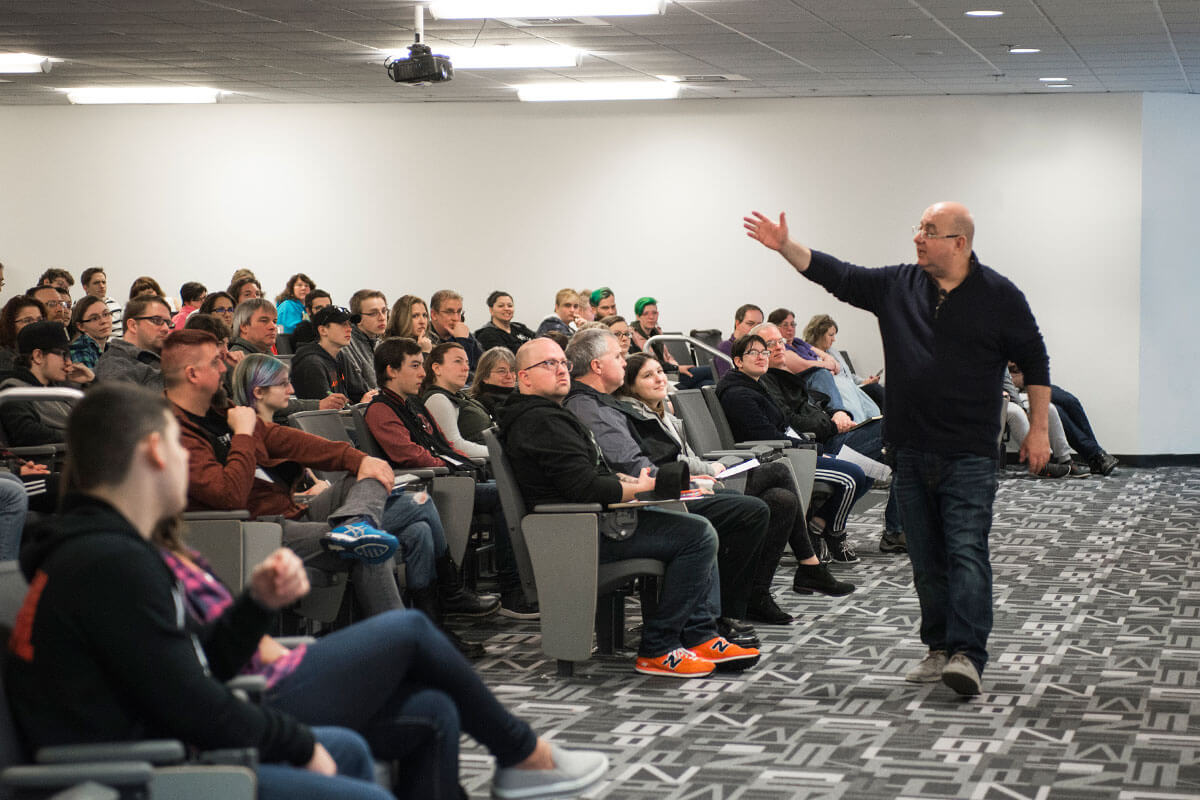 Plato Auditorium
This is DigiPen's largest classroom, and it also serves as a venue for a wide range of on-campus events, from Company Days and guest speaker lectures to our annual Student Game Showcase celebration.
---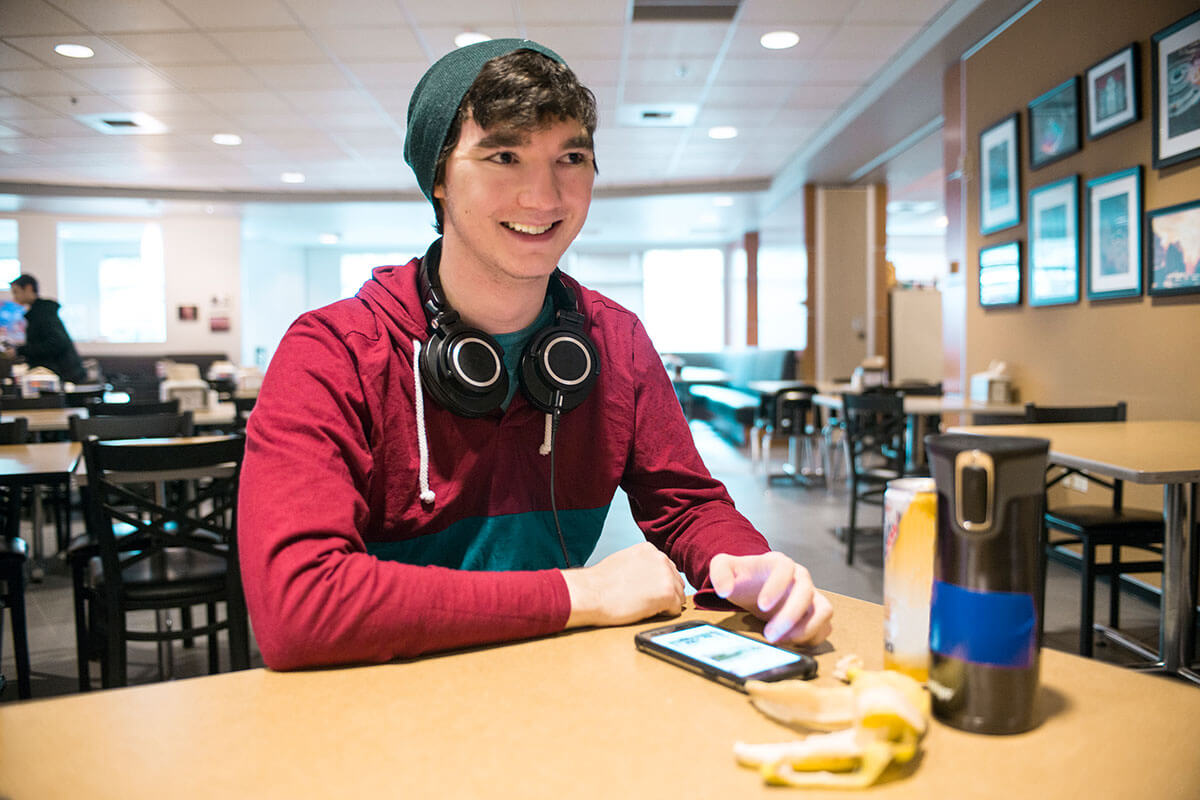 Bytes Cafe & Lounge
Nutrition is important for the mind and body, and so is great-tasting food! Fortunately, we serve up both at our Bytes Cafe & Lounge. Unlike other colleges who outsource their food service operations to outside companies, we manage and operate the cafeteria completely independently, taking great pride and care in providing healthy and delicious, made-from-scratch meals.
The cafe is more than just an excellent place to grab a bite between classes. It's also an important gathering spot where you can hang out with friends and reenergize for the tasks ahead of you. It's not unusual to find students chatting with their classmates and instructors about their projects or the games they're currently playing. You might even join in on a friendly round of Magic: The Gathering™ or catch a live lunchtime performance by the DigiPen Jazz Ensemble.
---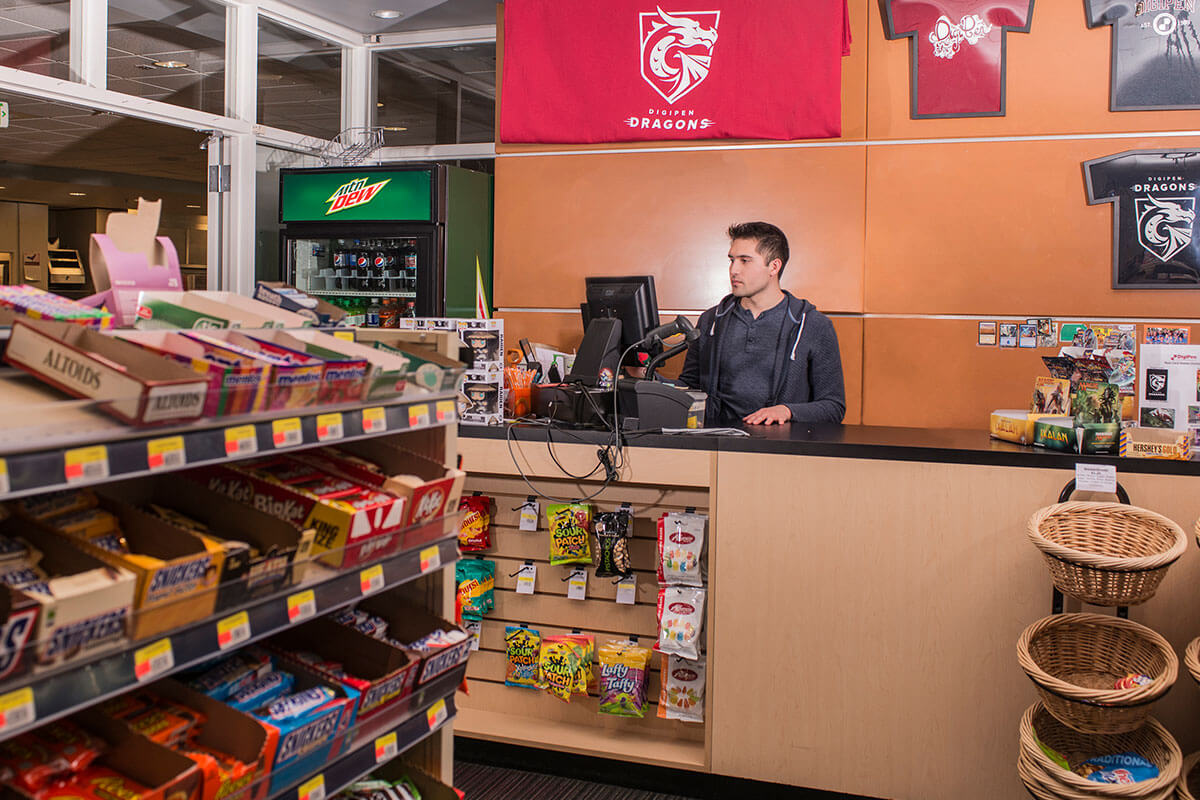 Student Store
The Student Store is located right next to the cafeteria, and it's another great place to pick up some quick snacks, supplies, DigiPen apparel, and more.
---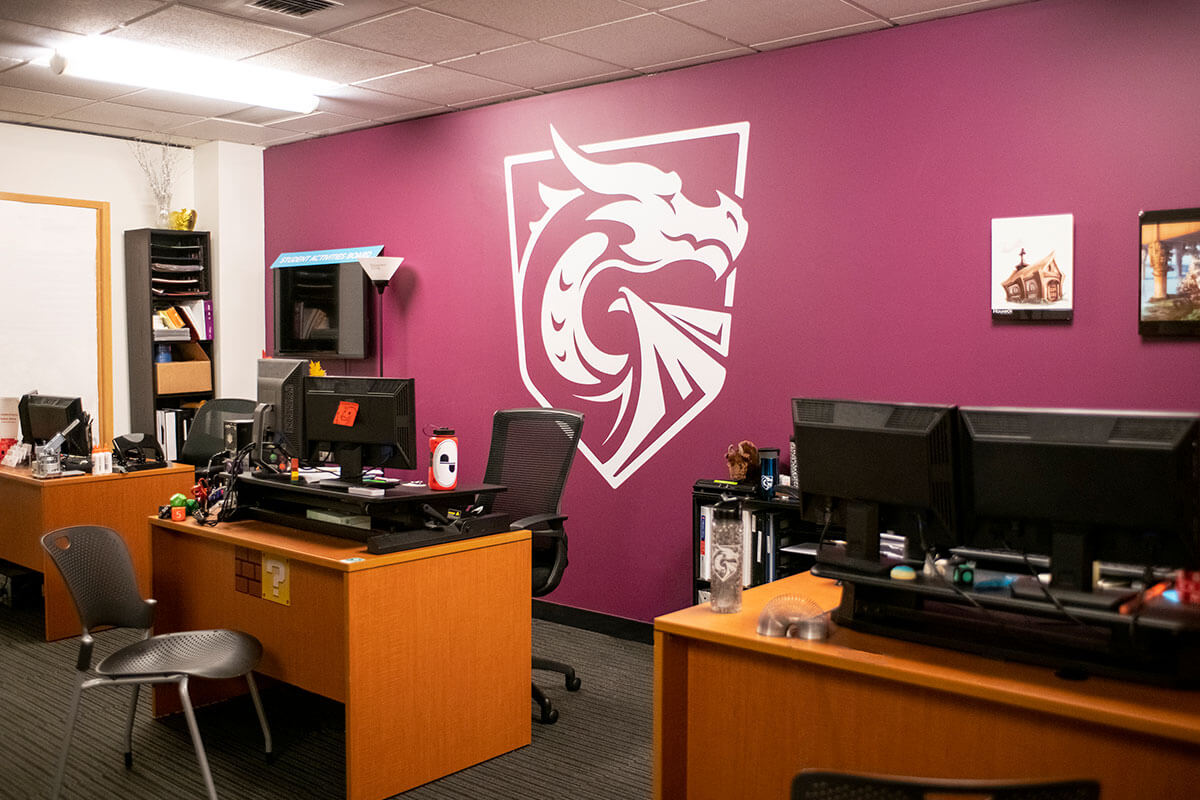 Student Affairs
The Student Affairs staff provide academic support and guidance, counseling, career services, and more. Students are always welcome to drop by the main Student Affairs offices (also known as the "Dragon's Lair") with questions, concerns, or to schedule appointments with individual support staff. Learn more about student services at DigiPen, including Career Services, Academic Advising and Tutoring, and Disability Support Services.
---
Transportation & Parking
Whether you drive, walk, or take the bus or shuttle, our campus accommodates your transportation needs. Parking is available to students, faculty, staff, and visitors who drive their own vehicles. Several popular bicycling trails converge near DigiPen — including the Sammamish River Trail and the Puget Power Trail — and there are also several bike racks on campus to accommodate bicycle commuters.
---
DigiPen Housing, LLC
DigiPen Housing offers apartment-style housing to a limited number of undergraduate and graduate students, as well as those enrolled in summer courses at DigiPen. DigiPen Housing residences are located at four nearby complexes, each located approximately 1 to 1.5 miles from campus. We also provide shuttle service to and from each of the residences and campus.