Do you want to go further with your artistic abilities? This terminal degree program allows you to build on your foundation and expand beyond the traditional arts. As an MFA candidate, you will hone your craft in digital media and build proficiency in subjects like digital sculpting, digital painting, character design, and other specializations within the digital media industries.
The program culminates with an advanced thesis project that lets you develop and showcase an original body of work that is both personal and reflective of your strongest capabilities as a digital artist. We welcome a diversity of interests, ideas, and backgrounds.
The MFA in Digital Arts program allows you to make the jump from traditional to digital media and equip yourself with the 2D and 3D art skills most relevant to today's careers in games, animation, and other visual media production environments.
---
Who Should Pursue This Degree?
If you aspire to turn your artistic capabilities into a sustainable career, or simply pick up where you left off in a previous arts program — particularly in the direction of 2D or 3D digital art production — this program may be for you. Ideally, applicants to the Master of Fine Arts in Digital Arts program will have had foundational coursework or formal training in the following: drawing, figure drawing, color theory, composition sculpture, 3D modeling, animation, and digital painting. Applicants with a background in architecture or design may be accepted but will need traditional media rendering skills and a demonstrated proficiency in color and composition.
As a student in this program, you will:
Learn the Tools of Digital Artists

Gain familiarity with the tools and techniques most commonly used for digital painting, 3D sculpting, and more.

Tailor Your Elective Coursework

Focus on the skills and specializations that matter most to you; take advantage of independent study opportunities to design your own courses.

Build Your Professional Portfolio

The MFA thesis project is your chance to make a personal statement and demonstrate your strongest capabilities as a digital artist.
---
Academic Roadmap
As an MFA student, your studies will begin with a handful of required courses that will form the basis of your digital arts toolkit. From there, you'll be able to choose from a wide selection of elective offerings in digital art, fine art, animation and production, or project coursework — narrowing your focus in the direction of the skillsets that most interest you. In addition to your regular coursework, you'll be working toward your final thesis project under the guidance of faculty advisors.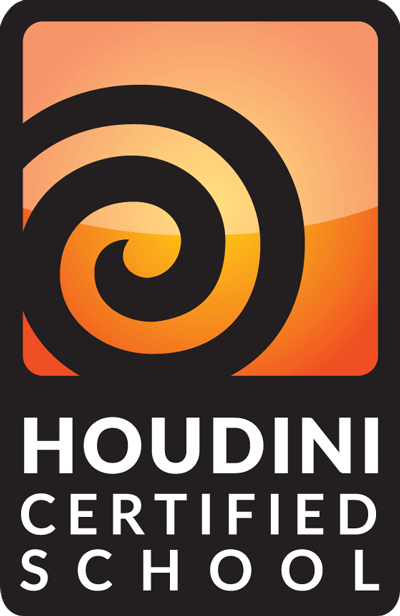 Houdini Certification
DigiPen is a Certified Partner of SideFX, developers of the procedural 3D art software, Houdini. Certification means our students have demonstrated exceptional skill using the industry-leading tool favored by professional technical artists working in the film, television, and games industries.
Admissions Requirements
In addition to other basic admissions requirements, applicants to the MFA program must submit an art portfolio.
Topics Covered
By the time they graduate, students in the MFA program will possess the following qualifications:
Extensive 3D production experience, including the ability to use the most current 2D and 3D graphics applications in the industry, as well as traditional fine arts skills such as drawing, sculpting, and painting.
A deep understanding of the 3D graphics production pipeline, including the creative process and ability to manage projects from brainstorming to completion.
Strong research skills, especially as they relate to art history, character design references, and anatomy.
A specialization in modeling, sculpting, or character art, as well as a unique and highly developed personal voice as demonstrated by their thesis.
Full-Time and Part-Time Options
The MFA program is flexible to your schedule and can be pursued either full-time for two years or part-time for four years. The part-time program will require some coursework during regular daytime hours.
Full-time sample course sequence
Part-time sample course sequence
MFA Thesis
Your thesis begins with a one-semester Thesis Pre-Production course, during which time you will research, develop, and refine your thesis topic proposal. You will then work on your approved thesis project for two semesters under the guidance of a faculty advisor.