DigiPen Dragons flew in 2022, soaring through a year marked by award-winning projects, success on Steam, and a student culture to be proud of. Our students' list of accomplishments wasn't the only thing that grew this year — even the campus itself debuted some exciting new additions. Off-campus, alumni spent the year contributing to some of 2022's most celebrated games, occasionally returning to their alma mater for streaming appearances on the weekly DigiPen Show, as well as for a very special Dragon reunion. Let's take a look back at the year in DigiPen!
A Mountain of Dragons' Gold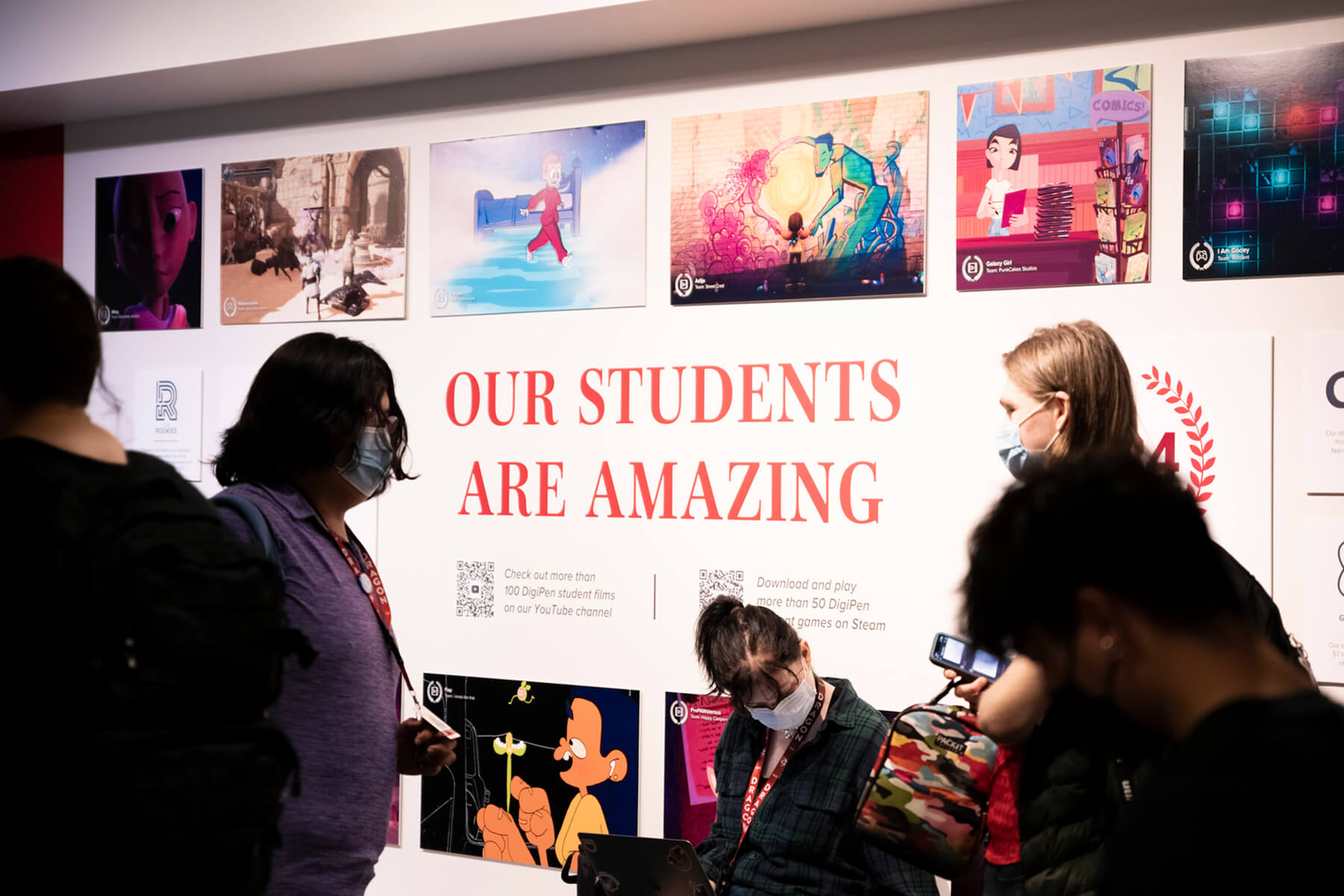 DigiPen students make incredible work, so it's no surprise 2022 was full of awards and recognition for their achievements. Dragons kicked off the year with a dazzling showing at the 2022 GDC Narrative Analysis Competition, where five DigiPen Redmond students earned gold for their projects.
Soon after, the Princeton Review recognized DigiPen as a Top 5 Game Design School for the 13th year in a row, news that was immediately followed by a first place win in the Unity Awards' Best Student Project category for the Dragon-made Soulslike adventure, Metamorphos.
Three DigiPen BFA in Digital Art and Animation seniors won big in the World of Warcraft Student Art Contest, with Annie Hanson and Hwa Min Jung claiming first place in the FX and character art categories, respectively, and Joe Rouverol earning a runner-up spot in character art. Not long after, Eric Zander and Alejandro Herrera of DigiPen student team Hot Fuzzy scored a well-earned first place at the NAFIPS Explainable AI Challenge, as well as the "Most Innovative Solution Award" for their novel fuzzy systems library that cleverly powered the AI in an asteroid smasher game.
Dragons across degree programs and disciplines scored high marks at the global 2022 Rookie Awards. Animated student films Nobody, Ripple, and Tall Order; students James Crumbo and Mingyuan Lee; and student game Cyrah's Ascent all garnered awards and honors out of a large competition pool representing schools and aspiring artists from 91 countries. The strong showing helped push DigiPen into the top-10 rankings for three separate categories in the 2022 Rookies Global School Rankings.
Also in 2022, the aforementioned Cyrah's Ascent actually landed in The Rookie Awards finalist slot for "Game of the Year – Console & PC" for the second year in a row, a huge achievement for the 27 students of team Coffee Break who helped bring it to life. Student games didn't just thrive in competitions this year — they did great on Steam as well. The quirky and often hilarious student-made spin on a classic, FPS Chess, became a viral online sensation, racking up over 1 million unique downloads on Steam and spawning legions of memes and Let's Play streams as gamers dueled around the world. Student horror game Ceramic Soul also got a special spooky spotlight in October when it was featured as a part of the official 2022 Steam Scream Fest.
Life on Campus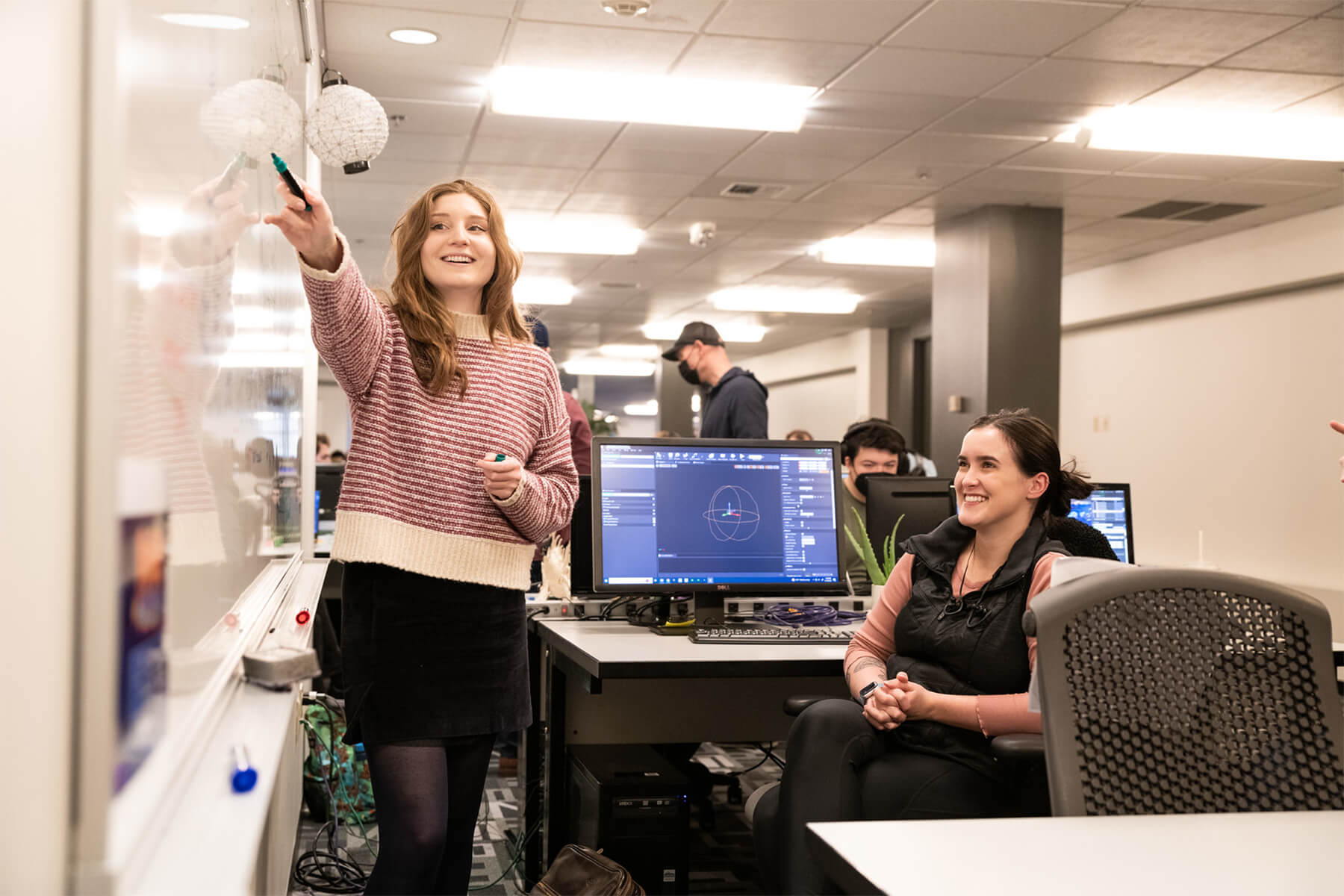 The day-to-day of Dragon life had lots of highlights in 2022 thanks to the special culture DigiPen students create together. It was a big year for the PRISM (People Respecting Individuals and Sexual Minorities) Club, which made its parade debut at Seattle Pride. MFA in Digital Arts students and alumni got a chance to show off two-and-a-half years of work in the MFA Thesis Exhibition on campus, a show that spanned a remarkable breadth of media like VR, games, animated film, books, sculpture, character design, concept art, and more. DigiPen's many talented student game teams debuted trailers for their group projects at the 2022 Student Game Showcase, followed up by a dazzling display of artistic prowess in the 2022 DigiPen Student BFA Showcase.
In April, the Class of 2022 donned their caps and gowns and celebrated their incredible achievements at commencement. Before heading out into the world, they also voted on the 2022 Student Life Excellence Awards, honoring their fellow Dragons — including Student of the Year Brandon Stam — for their positive contributions to the campus community. In August, DigiPen welcomed first-year Dragons at New Student Orientation, kicking off the 2022-2023 academic year.
The new academic year brought new campus additions along with it. DigiPen's new two-room User Research Labs, Nightingale and Playfair, opened to students, giving them the ability to test their games at the same level as professional game studios. Soon after, November saw the debut of The Wing's new Makerspace, featuring tools like a 3D printer, soldering station, mini mill, rotary and tool kit, and sewing machine — all available for students who wish to expand their creativity in new directions.
And speaking of new directions, a team of students and alumni from the BS in Computer Engineering inched closer to space in 2022 when their energetic particle system flew inside of a Blue Origin rocket this past September — an exciting accomplishment that was multiple years in the making. We'll have more to share about that space-bound project soon!
Alumni Excellence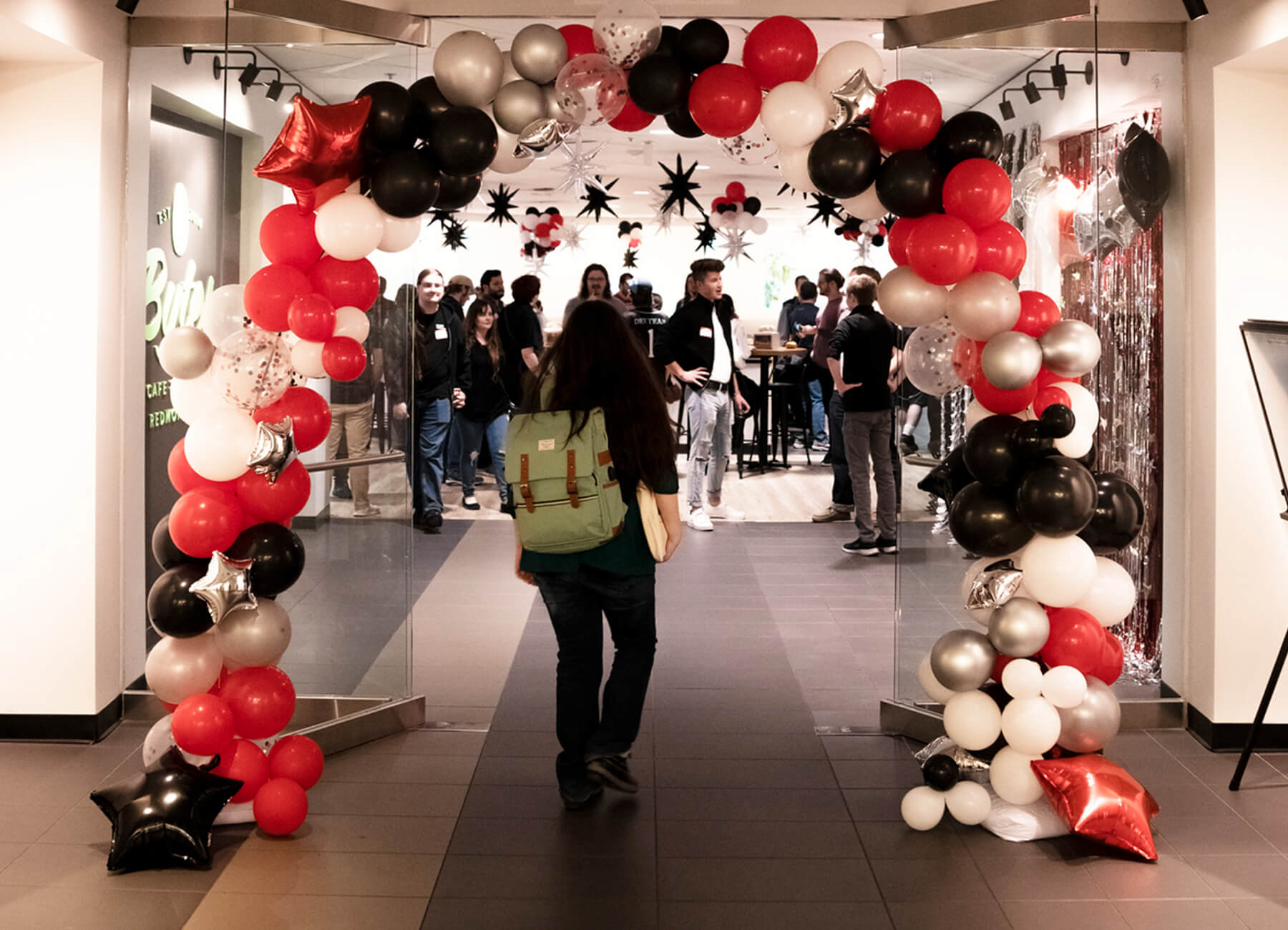 Lastly, Dragons out in the industry contributed to some of the biggest games of the year. Players who kicked off 2022 enjoying Master Chief's latest adventure in Halo Infinite had 50-plus graduates to thank for their contributions over at 343 Industries. FromSoftware's critically acclaimed open-world action adventure, Elden Ring, featured iconic armor pieces crafted by Cal Santiago, a 2020 MFA in Digital Arts graduate. The celebrated and long-awaited Horizon Forbidden West, developed by Dutch studio Guerrilla Games, continued the post-apocalyptic adventures of Aloy, with quests designed by 2014 BA in Game Design graduate Idris Grey MacChruiteir.
BA in Game Design graduate Howard Wang continued his marquee run through the world of voice acting, with roles in countless English anime dubs and video games like JoJo's Bizarre Adventure, Attack on Titan, and Fire Emblem Warriors: Three Hopes. Outside the world of video games, 2019 BFA in Digital Art and Animation graduate Lex Hobson made a big splash as a comic artist at Papercutz this year, where they contributed three cover illustrations and stories in eight issues of the graphic novelizations for Nickelodeon's The Loud House and The Casagrandes.
When alumni weren't knocking it out of the park in the industry, many took a break to stop by for guest appearances on The DigiPen Show. The new weekly Twitch stream, started in 2021, picked up some major steam in 2022, featuring live playthroughs of over 120 DigiPen student game projects and inviting 30-plus alumni and current students on as guests this year. The DigiPen Show wasn't the only thing that had elder Dragons returning back to campus. In October, DigiPen held its Alumni Reunion, welcoming nearly 100 graduates back to Redmond to enjoy some intergenerational collegiate camaraderie.
Here's to all the amazing things that await in 2023!