Cal Santiago still remembers the first time he hunted the Gothic city of Yharnam's plague-stricken streets in the 2015 game Bloodborne, as well as his deep, frenzied fondness for it that quickly followed. It wasn't the first of FromSoftware's "Soulsborne" games Santiago had played — he'd rented series progenitor Demon's Souls back in 2009 — but it was the title that initiated his transformation into a self-proclaimed Soulsborne superfan. Soon, he found himself playing through every entry in the genre-defining action-RPG series, exploring their labyrinthine worlds both in and outside of the games.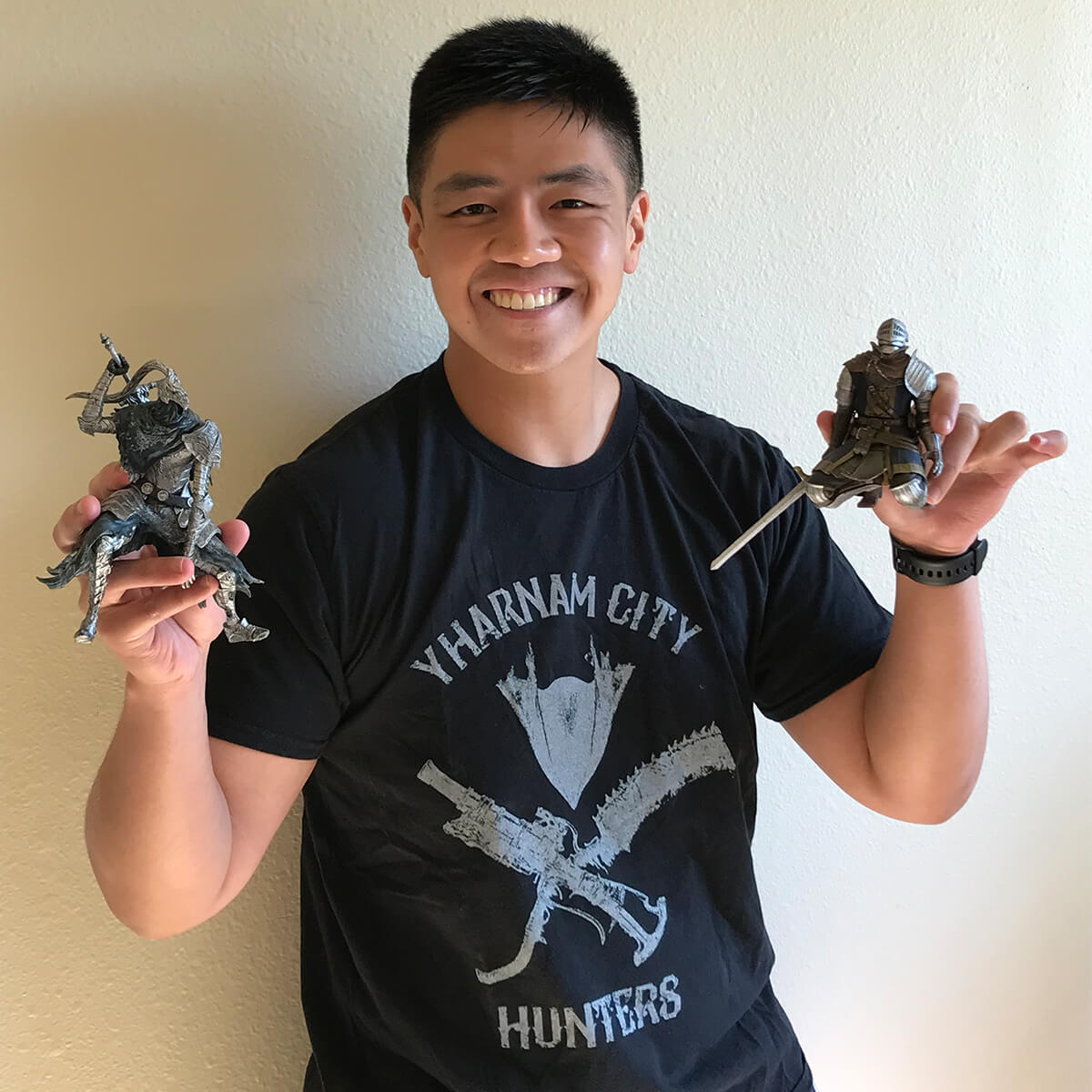 "I had a 'Soulsborne Portrait Challenge' series where I created illustrations of the characters without their helmets or other face coverings," Santiago says. "I also started creating fan concept art and illustrations for a hypothetical Bloodborne II." Santiago even contributed to a Soulsborne lore podcast, breaking down how art, history, psychology, and religion played a part in the series' richly detailed fantasy universes. Although Santiago had to stop podcasting in 2018 to focus on his MFA in Digital Arts degree at DigiPen, the priority shift ended up landing him a job at Bothell-based game art studio Lakshya Digital, where his passion for the series immediately came back into focus.
"During my interviews, one of the art directors told me he was impressed with all the Dark Souls and Bloodborne fan art I had in my portfolio and that my style was in line with one of the projects they were working on," Santiago says. That mysterious project turned out to be FromSoftware's biggest Soulsborne game yet, the groundbreaking open-world epic, Elden Ring. "Learning that I would get a chance to work on Elden Ring was one of the most exciting moments of my life," Santiago says. "I still feel oddly proud that my Soulsborne fanboy-ness actually ended up working in my favor!"
Santiago first learned about the unique work Lakshya Digital does from his DigiPen professor, John Hermanowski. "He was actually an art director there previously and worked on the characters for Final Fantasy VII Remake!" Santiago says. Specializing in outsourced 3D and 2D game art creation, the studio has made a name assisting game development studios in the U.S., Europe, and Japan with art, animation, and visual effects production. That wide, global net has made for an impressively diverse list of Lakshya credits, everything from Halo Infinite, Returnal, and No More Heroes 3 to Bethesda's upcoming Starfield, which Santiago briefly worked on before shifting to Elden Ring.
Santiago's role as an outsource character artist acts as something of a liaison between Lakshya's production team and their clients, splitting time between managerial duties and hands-on 3D work. In addition to reviewing and polishing assets, Santiago trains junior artists on the team and documents important production pipelines for each Lakshya project. "Character, armor, prop, and weapon assets go through me for a thorough review and polish work before the assets are handed off to the client. This happens for every step of the character creation process, from 2D concept to final 3D models," Santiago says. "Typically, I don't start on an asset myself, but I am the one to finish it."
Santiago was well prepared to work with FromSoftware's instructions in creating assets for Elden Ring. For one, the studio provided Lakshya artists with highly specific concept art, reference images, and documentation to help nail the look they were aiming for. "Their image boards were very thorough and covered even the most minute details, such as the specific type of thread needed for the embroidery on a cape," Santiago says. When attempting to ace Elden Ring's aesthetic, Santiago's super-fandom came in handy as well. "I was fortunate to already own several art books for the Dark Souls trilogy, Bloodborne, and Sekiro, so I could easily consult those," Santiago says.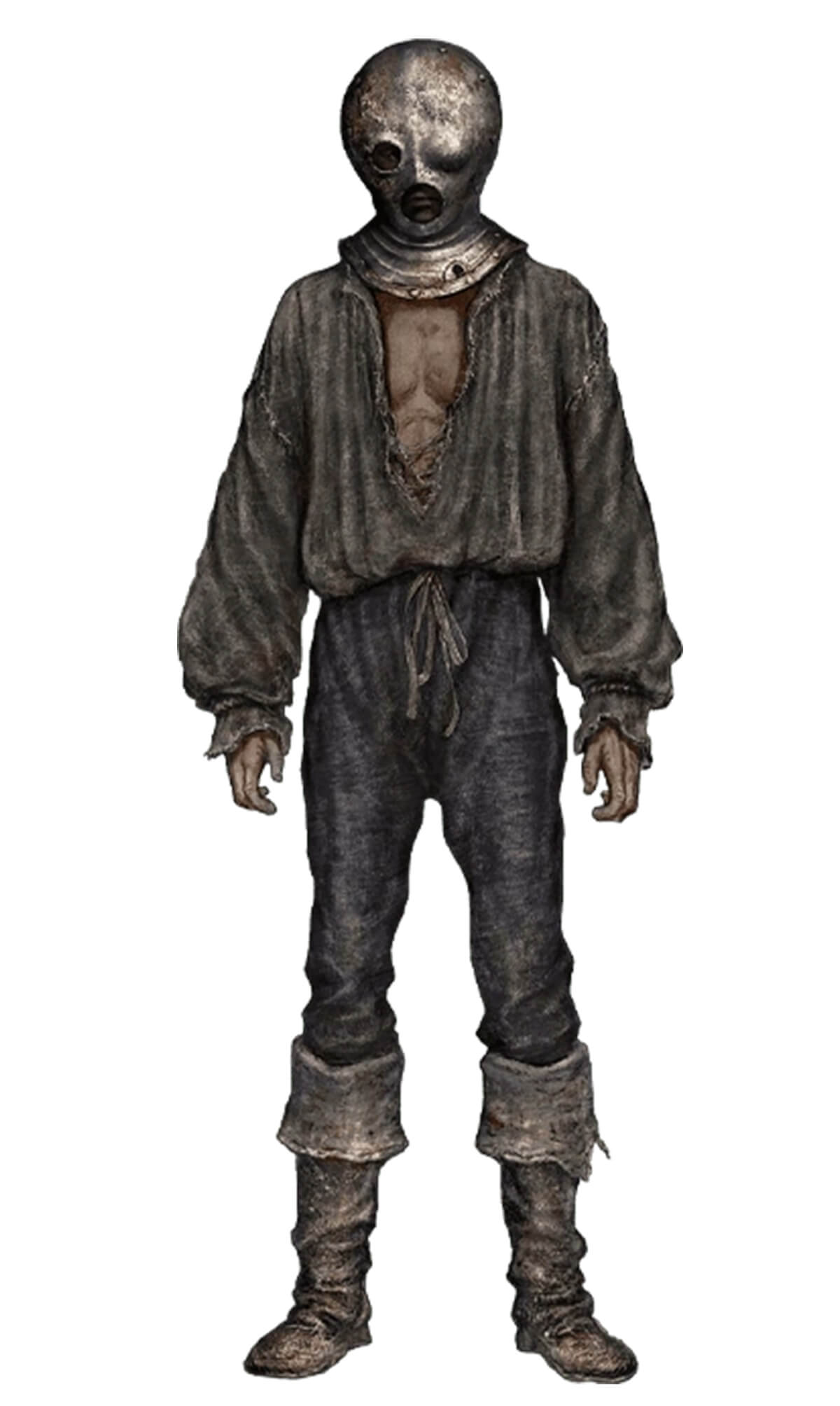 As the Lakshya team went about crafting the game's architecture, lifts, furniture, storage containers, statues, and enemies, Santiago personally set to work on a number of the game's armor pieces. Among them were prominent headgear like the Foot Soldier Cap, the Godrick Soldier Helm, and one of Elden Ring's most iconic items, the Prisoner Iron Mask. The starting helmet for the game's new Prisoner class became an early fan favorite before the game's launch. Thanks to its unusually bulbous, one-eyed design, it quickly charmed the quirkier wing of the series' sizable "Fashion Souls" community.
"I personally wasn't staying up to date with the fan discourse around Elden Ring until after the network test in November 2021," Santiago says. "When I did learn about the memes surrounding the Prisoner Iron Mask, however, I found it pretty amusing! There were memes comparing it to a gray alien head or Squidward, though it's actually a nod to Basuzo and Griffith's helmets from [manga series] Berserk."
Post-release, many fans on the Elden Ring subreddit posted that they liked the helmet so much, they kept it on for the duration of the game, something Santiago says he can personally relate to. "The Prisoner Iron Mask served me very well thanks to its stats, and I kept that helmet on for pretty much all of the game until I got the Carian Knight Armour," Santiago, who "of course" played through the game as a Prisoner, says. "It was actually my first time playing as an Int-Dex based sorcerer, so I had to get used to being so squishy."
Another thing Santiago had to get used to is the fact that he's contributed to what has become one of the most critically acclaimed games of all time. "The overwhelmingly positive reception has just been fantastic," Santiago says. "It feels immensely validating to be able to work with a studio whose games are so near and dear to my heart! Nothing makes me feel prouder than seeing a character or prop that I worked on in the finished product."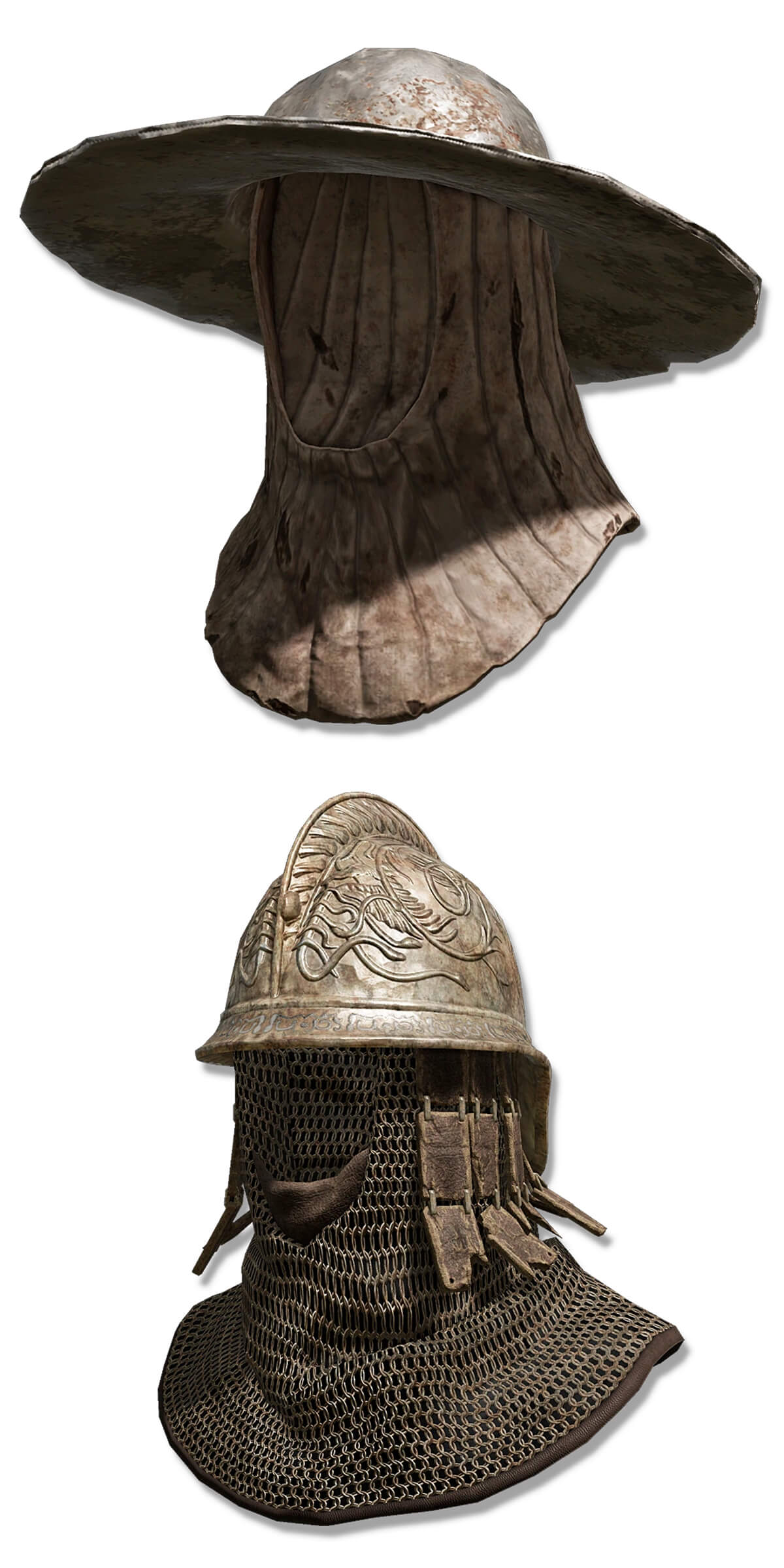 Santiago says DigiPen taught him not only the vital skills needed to work in the 3D character creation pipeline, but also how to be a responsive team player at a game development studio. "It's one thing to be technically knowledgeable and proficient in Maya, ZBrush, Substance Painter, Unreal, etc., but it's another thing to be able to handle criticism, to communicate properly, and to offer help whenever needed," Santiago says. "You play your part, but everything works when everyone works together. I can't thank professors Mark Henne, David Longo, Randy Briley, and Mark Nelson enough for teaching me these skills, which helped me develop as a character artist and get to where I am now."
The Soulsbourne games are notoriously difficult, a feature that serves as a core selling point for its legion of hardcore fans. As Santiago puts it, game development can similarly require an "iron will" at times. But Santiago wants future DigiPen graduates to know that balance is as crucial in an Elden Ring character build as it is in building your real-life character as a professional in the game industry. "It's absolutely a fantastic trait to be diligent and hardworking, but please give yourself breaks and days off. Don't be afraid to tell others that your hard work should be rewarded!" Santiago says. "I think this is a step in the right direction in ensuring everyone's success in the industry and making it a healthier work environment one step at a time."
Although Elden Ring features a lot of dragon slaying, Santiago says he hopes his fellow Dragons will go on to slay in their careers. To that end, he offers the following advice: "At the risk of ending on a cheesy note, I guess what I'm trying to say is, 'Rise, DigiPen Dragon, and may you find your own success in the games industry!'"