Students in DigiPen's BFA in Digital Art and Animation program have won 300-plus film festival awards and selections over the years. Ever wonder how those animated shorts get made? It all starts sophomore year, when BFA students choose to work on either a game or film team project. Those that choose a film team project work through a production pipeline structured like a real-world animation studio, collaborating over two semesters to craft a short 2D film. During junior and senior year, advanced film projects get more sophisticated. New teams form and may choose to produce a 2D or 3D film, working through a longer three-semester pipeline. Film projects don't just result in an impressive portfolio piece — they also help students discover their strengths, explore different production roles, and develop vital team skills.
For DigiPen's advanced film team projects, BFA students typically spend fall of junior year in pre-production (PRJ 300), spring in production (PRJ 350), and fall of senior year in final/post-production (PRJ 400). Projects begin with teams of five to seven students who unite around 2D or 3D film pitches. After creating a brief story summary and rough concept sketches, instructors review each idea and identify what team roles they will require for production. Regardless of the film idea, all teams require a producer, who manages the production schedule and deadlines, and an art director, who curates the film's overall look and style. Other roles — depending on the film's story, style, and medium — might include various animators, story leads, lighting artists, concept artists, character designers, VFX artists, 3D modelers, technical animators, background/environment artists, and more.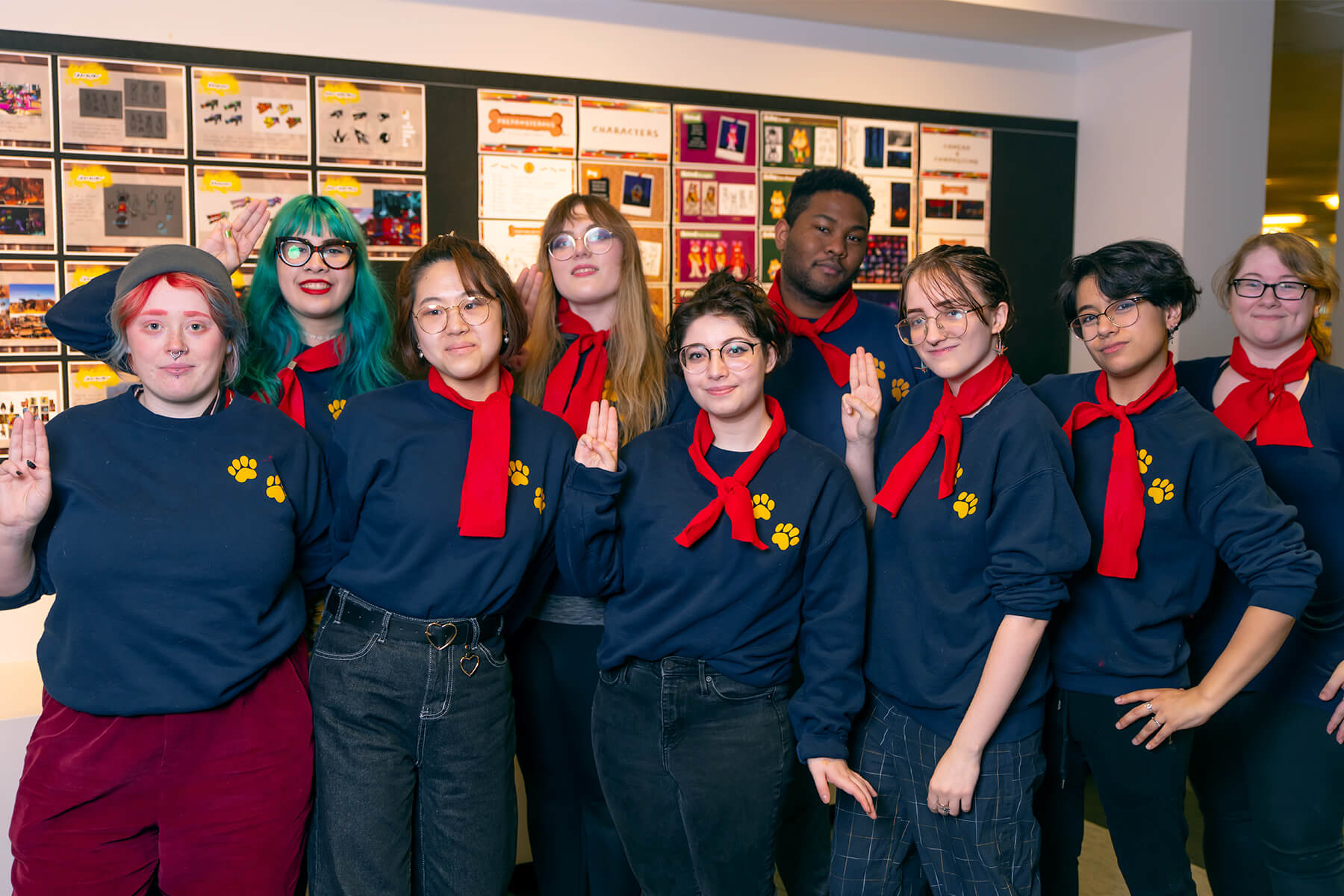 In the first semester for PRJ 300, students collaborate to create an initial rough animatic and style guide. They also test out the technical pipelines they'll need to produce their film idea. Although students may declare which team roles they prefer early on, much of the first semester is for exploration. "Everybody works together on everything at first as we see what people's strengths are," says film project instructor Pamela Mathues. "There's a lot of shifting around until people find their right place. Someone who wants to be an animator at week three might realize they're more natural or interested in character design by week five." By the end of PRJ 300, with the team roles decided and the story defined, the students will have worked together to produce one very short "proof of concept" shot from their film to a final level of polish. "We do that because teams really need to encounter as much of the technical pipeline as possible to understand what kind of production they're getting into," Mathues says.
That context informs much of the next semester in PRJ 350. "They have a few weeks in the beginning to make any revisions on their core story, but after those first couple of weeks, they really have to be charging into production," Mathues says. Visual development kicks into high gear, as the art director oversees and approves more finalized style guide work from the rest of the team, including iterations on concept illustrations, color scripts, character model sheets, and backgrounds. Other production members start to generate the necessary assets like 3D models, character rigs, environments, lighting, and visual effects. Rough animation begins as well. An audio student is also brought on board to write music and provide sound effects. By the end of PRJ 350, the producer makes sure the team works together and meets deadlines to produce 20-seconds from the film to a final level of polish. Instructors review all the work and either greenlight the film for final production, or inform the team what additional work needs to be done to get greenlit.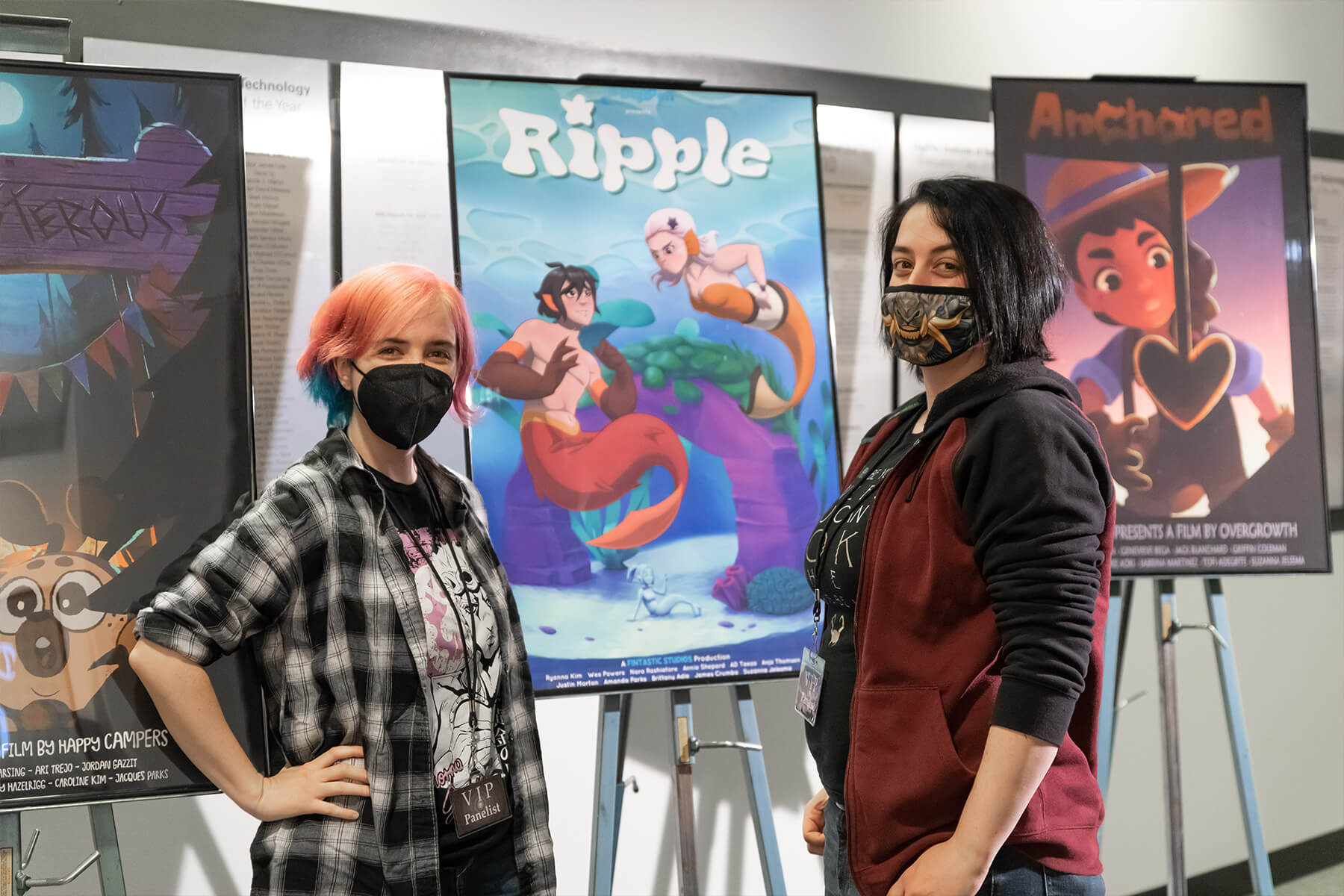 At the beginning of the final semester in PRJ 400, teams that aren't greenlit dissolve and join other teams for the final production stage. Otherwise, greenlit teams get ready to press on toward the finish line. "In the first weeks of PRJ 400, all the rough animation needs to be done no matter what medium it is," Mathues says. "The rest of the semester is to finish polishing the animation and assets, doing final cleanup, coloring, lighting, rendering, fine-tuning the edit, and making the film as finished as possible." Visual development-focused team members, like the art director, concept artists, and character designers, may shift into hands-on production as well, or they may continue to guide the final look of the film as it reaches completion. The audio student completes the final version of music and sound effects. Final editing, titles, and compositing are also completed on the film. By the end of the semester, the team will have a finished, festival-ready film to show for their three semesters of teamwork.
Be sure to check out some past examples of DigiPen student animated films from over the years.