As one of their final projects at DigiPen, Lex Hobson spent PRJ 450 making a comic. "It's based on a memory I have of my old dog and my friend," Hobson says of the pink and blue page. "It's so funny looking back at it now that I've been doing comics professionally for a year."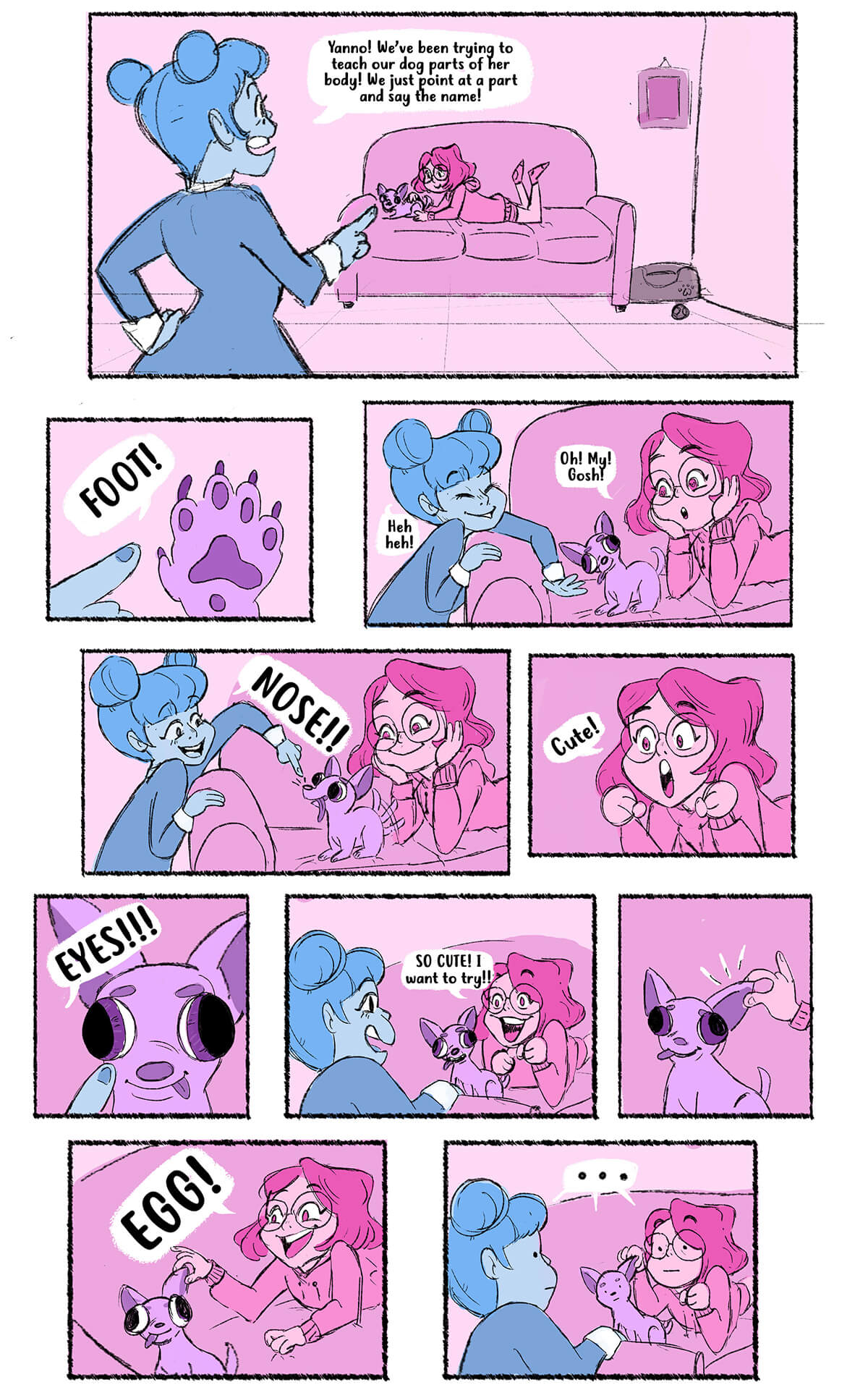 Career preparation is the goal of PRJ 450, a course where DigiPen BFA in Digital Art and Animation seniors put together portfolios that will hopefully kickstart their dream jobs. In that regard, Hobson's comic was a direct bullseye, submitted as part of the art test that landed them their role as a comic artist and colorist at kids' graphic novel publisher Papercutz. This past year, Hobson has been hard at work on the official graphic novelizations of Nickeoldeon's animated series The Loud House and The Casagrandes, with three cover illustrations and stories spanning eight issues already under their belt.
In many ways, the job is a full circle moment for Hobson. "I grew up loving Nicktoons, my favorites were Danny Phantom, Invader Zim, and My Life as a Teenage Robot," Hobson says. In fact, the network's commercial break character draw-alongs with Nicktoon artists helped spark Hobson's early interest in art and animation. "I actually used to buy Nickelodeon Magazine too, which had comics based on their shows!" Hobson says.
Hobson also planted the seeds for their job as a Nick comic artist on their junior DigiPen film team project, Flap. Not only did the animated short's quirky visual style recall that of classic Nicktoons, but Hobson's role as the team's story artist found them creating the film's storyboards, a medium that overlaps with comic art in some major ways. "Storyboards and comics both fall under the umbrella of sequential art," Hobson says. "Both crafts need an understanding of composition, acting, posing, and story structure."
After graduating, Flap producer Shannon Parayil began working as a background artist on The Loud House TV show at Nick. Upon hearing that Papercutz was making graphic novelizations of the series, Parayil put in a good word with the publisher about her former DigiPen teammate Hobson. "We are still great friends after graduating and talk regularly! I am incredibly grateful that she trusted in my skills enough to recommend me," Hobson says. "It was very fun getting a script that had references to an episode she worked on."
Those scripts are where Hobson's Papercutz comics begin, breaking down panel-by-panel scene descriptions, character dialogue, and the total number of pages the story is allotted in the upcoming issue. "I think the scripts make it so easy for the artist to understand and execute the writer's ideas," Hobson says. "I get about a week for layouts and roughs, a week for inks, and I choose to color my own comics. I also get the opportunity to color for other artists who choose not to, or don't have time to color their own." Throughout the process, remembering to leave room for speech bubbles is key, which are inserted as the final step after Hobson hands off their finished pages.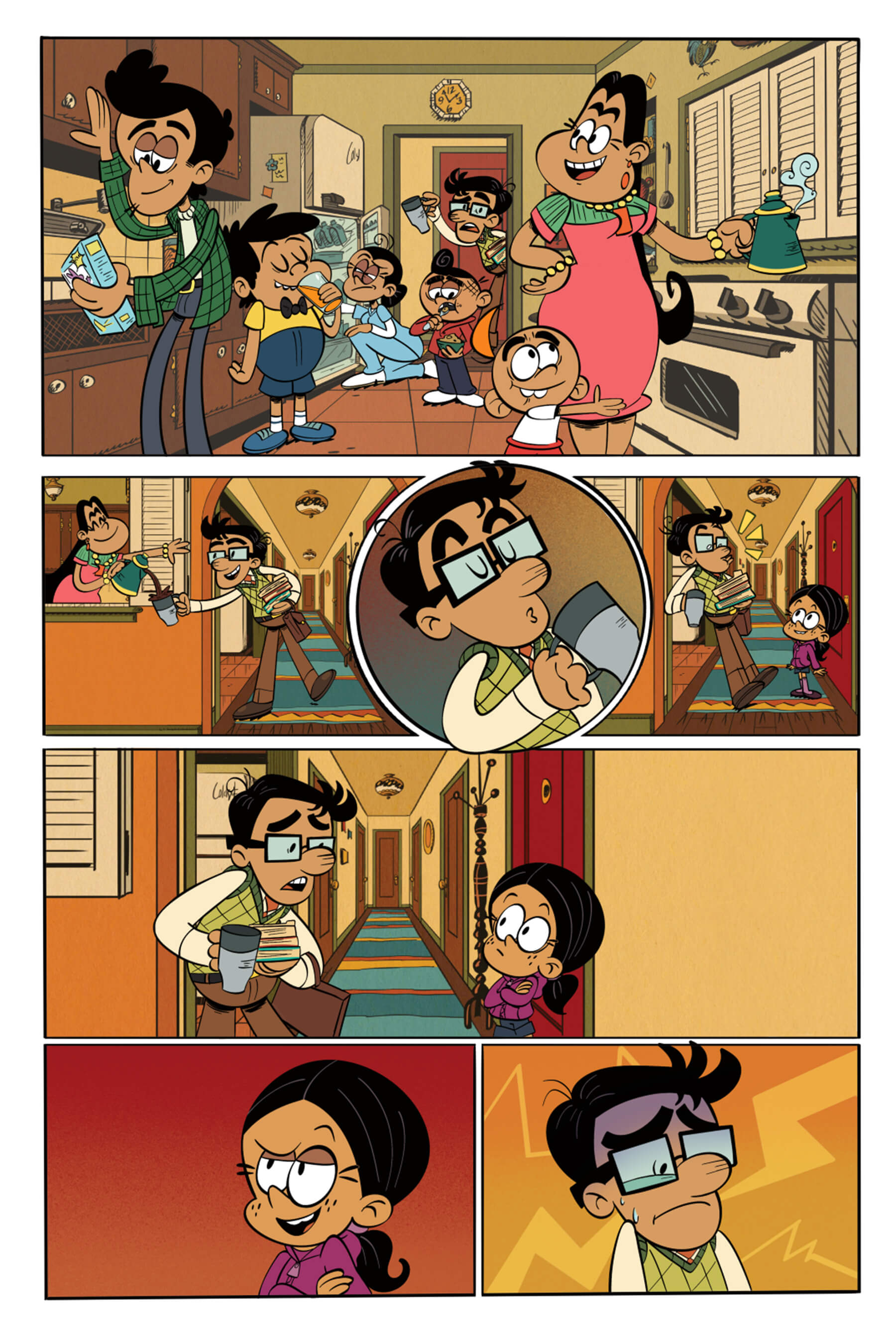 Although Hobson's background in storyboarding has been a tremendous help in making comics, honing in on some core differences between the two forms has been just as crucial. "When I first started working at Papercutz, I got feedback that I'd need less panels. My mind was still in storyboard mode!" Hobson says. "Storyboards can be rough and have more frames to describe actions with. Comics, I've found, need to show the absolute best pose to convey an action all at once."
Conveying the characters' likenesses as accurately as possible is another huge consideration, especially working with popular Nickelodeon franchises. Hobson had to prove they could style match The Loud House and The Casagrandes' look as part of their initial art test, and even though they passed with flying colors, staying faithful to that style continues to be at the top of their mind. "I try to approach my work with the mindset of, 'This is someone's favorite character, their favorite show,'" Hobson says. "The fandom for The Loud House and The Casagrandes are very passionate. I'm in fandoms myself, so I know how important it can be to get characters and styles right." The fans themselves have actually been an immensely useful resource on that end — Hobson often visits both shows' well-organized fan wikis for character details and reference pictures.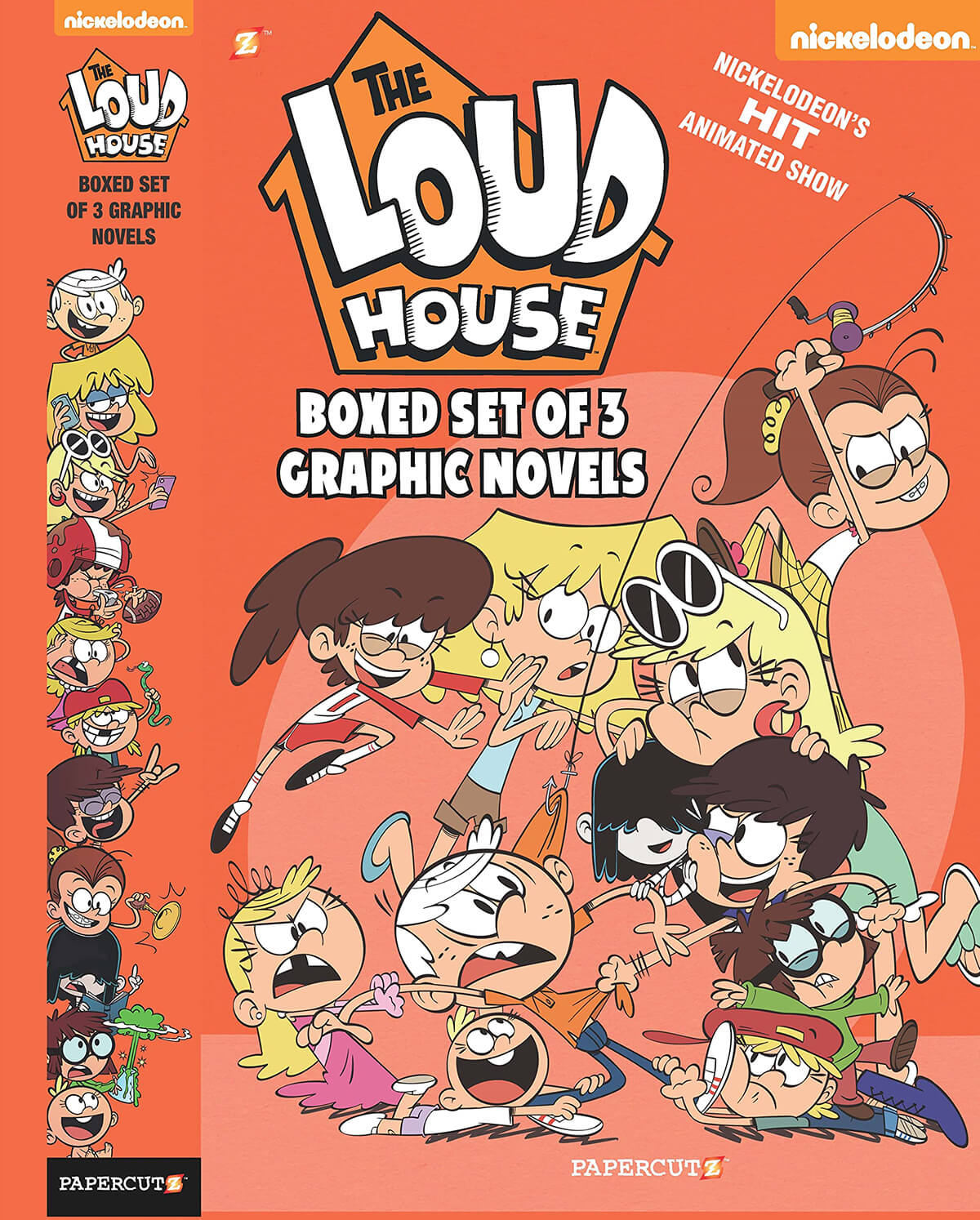 Another big help has been Hobson's studies of the famous caricaturist Al Hirschfeld, whose work echoes the retro look of The Loud House and The Casagrandes. "His art has amazing line quality," Hobson says. "I think it helped me a lot with the style, as it's so simple but fluid." And of course, the draft notes Hobson gets from Nickelodeon itself have been vital too. "I have found the feedback I get from Nick to be invaluable," Hobson says. "That's not to say it isn't nerve wracking! Sometimes you get feedback and think, 'Oh no, they hate me, I'm terrible!' But really, it's just helpful critique."
Clearly, on the contrary, Nickelodeon is a big fan of Hobson's work, giving them the cover illustration spot on the brand new The Loud House graphic novel box set. Collecting the comic's first nine published volumes, Hobson's box cover will serve as the gateway for thousands of young readers' entries into the series. "I think it's so cool I can contribute comics for shows that fans love," Hobson says.
The workload Digipen gives its artists really gave me the training to be fast, without sacrificing quality.
According to Hobson, the lessons they learned at DigiPen have been indispensable to their comics career. "Digipen taught me so much. Not just basic art skills, I loved that they provide options for more specialized work like storyboards," Hobson says. "I learned a lot about time management — I've never missed a deadline! In fact, the workload Digipen gives its artists really gave me the training to be fast, without sacrificing quality."
Even after a year on the job, getting the opportunity to create graphic novels for beloved Nickelodeon shows is something that's still setting in. "Look ma, I'm a professional artist!" Hobson laughs.