Redmond, Washington, is a pretty special place to be a Master Chief fan. The city plays home to Microsoft, the makers of the Xbox; 343 Industries, the game studio behind the Halo series; and DigiPen, which happens to be the alma mater of 50-plus developers on the brand new Halo Infinite. Given their close proximity, it makes sense that so many Dragons end up taking their talents to 343, but DigiPen's deep saturation at the studio even surprises the alumni who work there sometimes.
"I actually found out that my direct supervisor is an old alum," 2020 BA in Game Design graduate and 343 technical UX designer Tyler Zwiers laughs. "He graduated well before I even knew DigiPen existed. There are people here I know who graduated a year ahead of me, a year behind me — it's a small world." In fact, alumni from nearly all of DigiPen's degree programs helped craft Halo Infinite, the largest entry in the genre-defining FPS series yet.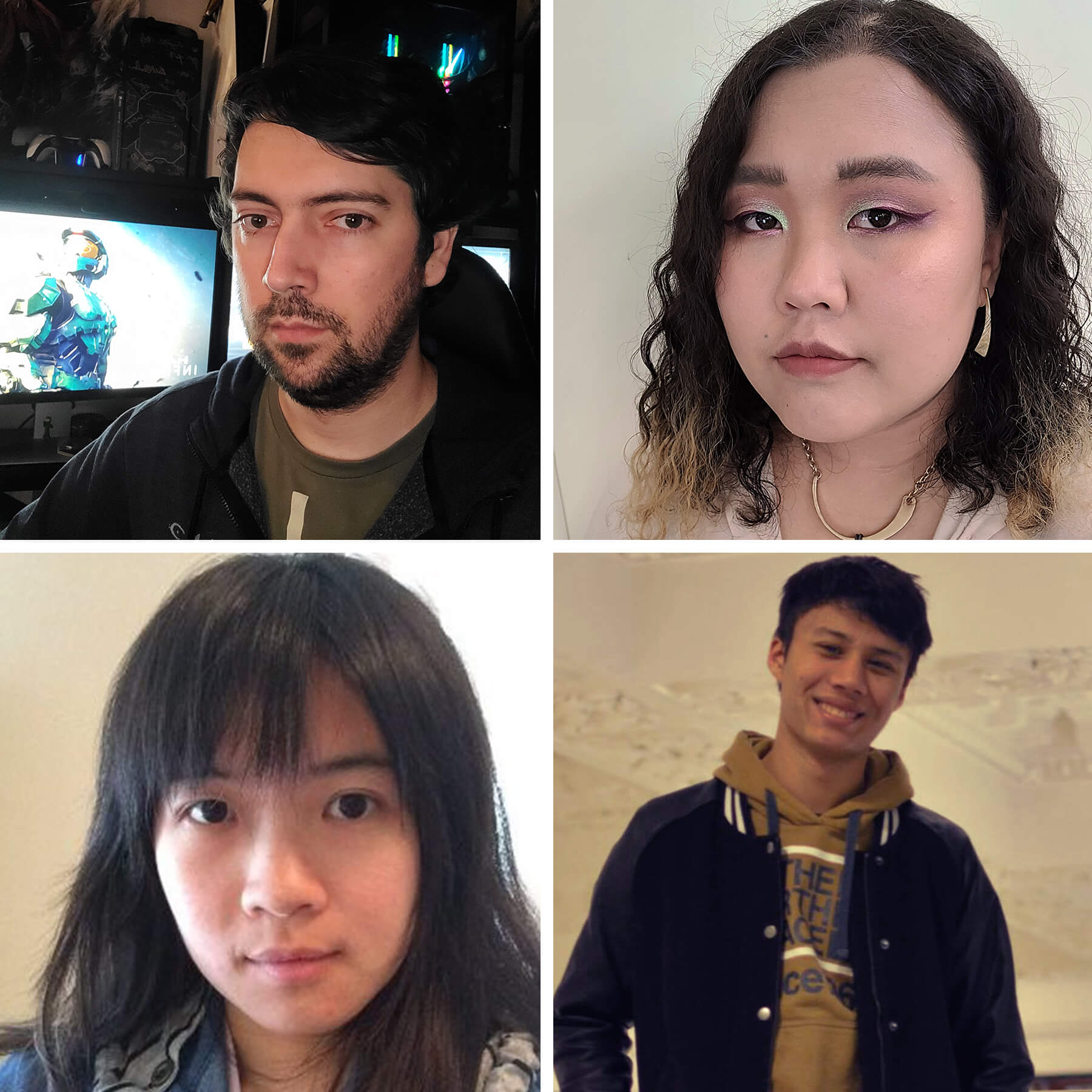 For 2018 BFA in Digital Art and Animation graduate Nina Petchprapa, joining 343 as a technical environment artist felt dreamlike in light of her DigiPen studies. "I've always really admired Sparth [aka Nicolas Bouvier], the art director for Halo," Petchprapa says. "It's crazy that we're working on the same project now given how many hours in college I spent analyzing and studying his paintings!" In addition to studying the art of Halo, Petchprapa worked as an art lead on three of her DigiPen student game teams, a role that directly set her up for her current job. "I had to pick up tasks no one else wanted to do, which pushed me to learn a lot of technical skills in addition to my art skills," Petchprapa says.
At 343, Petchprapa not only uses her hybrid art and technical skills to help solve issues with environmental assets, she also creates tools and systems that make crafting Halo Infinite's vast landscapes simpler — a crucial task given the title's new open-world design. "Right now I'm working on tools for procedural placement of natural assets, like trees, rocks, and so on," Petchprapa says. "I also help provide our artists best practices for working on such large levels, since you can't load everything at once with only so much memory. Having such an expansive area in game means having more things showing at one time, whereas in previous games, things might be hidden until you turn a corner."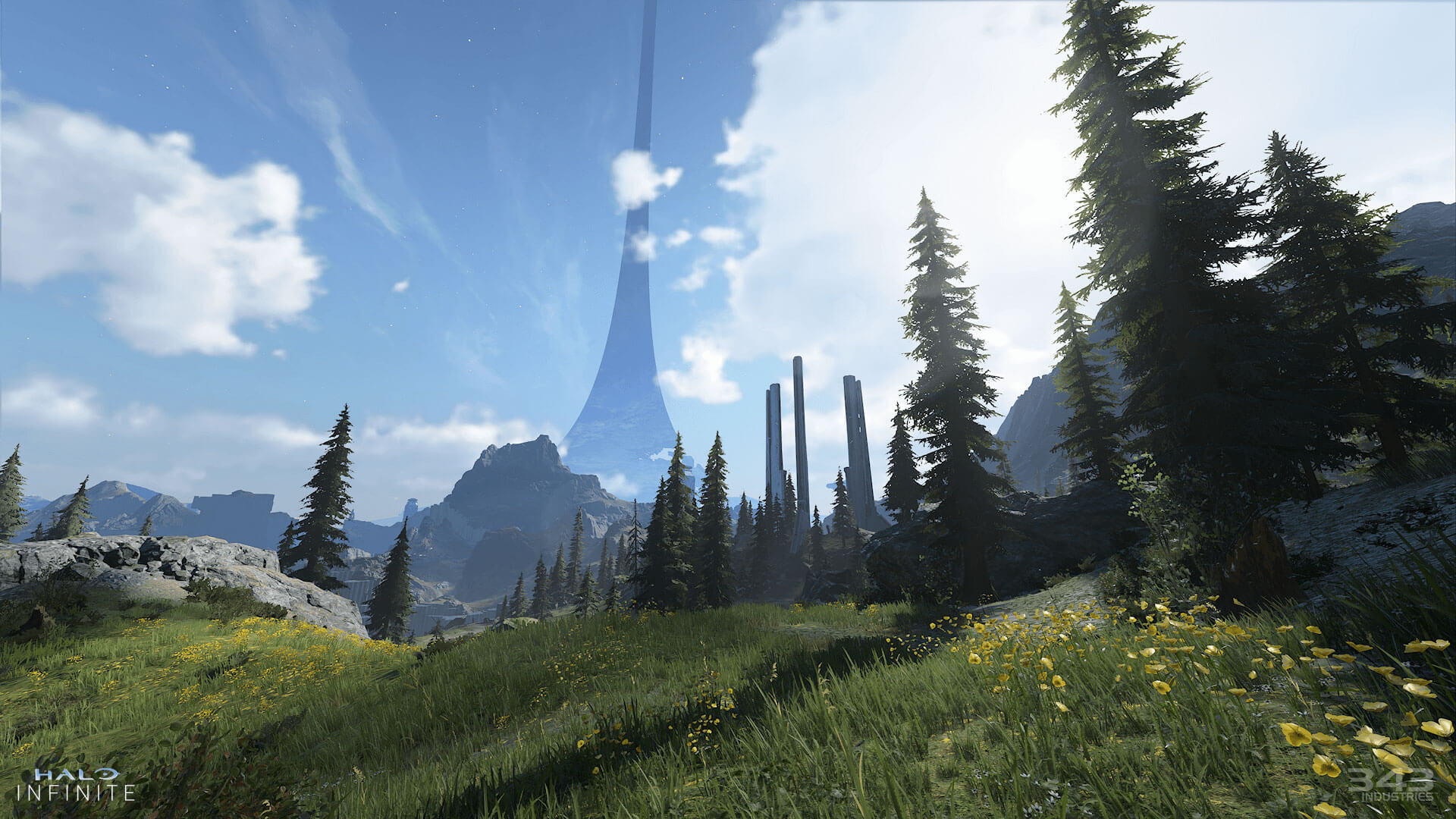 Marines and hordes of hostile Covenant know how to maneuver through Halo Infinite's expansive areas thanks to 2018 BS in Computer Science and Game Design graduate and 343 software engineer Ivy Wu. "I'm very focused on navigation — pretty much anything AI needs to move from one place to another. Or in other words, anything that isn't the player that knows how to walk or fly," Wu says.
Given Halo Infinite's large open world, Wu implemented a system that automatically tracks changes designers make to levels and generates updated navigation data that AI can use for pathfinding. "For me, the goal really is that nothing strange happens," Wu says. "For example, AI needed to walk around objects with area of effect damage. They knew how to go around without bumping into them, but they would still walk near them long enough that they just got killed. I made our designers a new feature that allows them to expand that distance."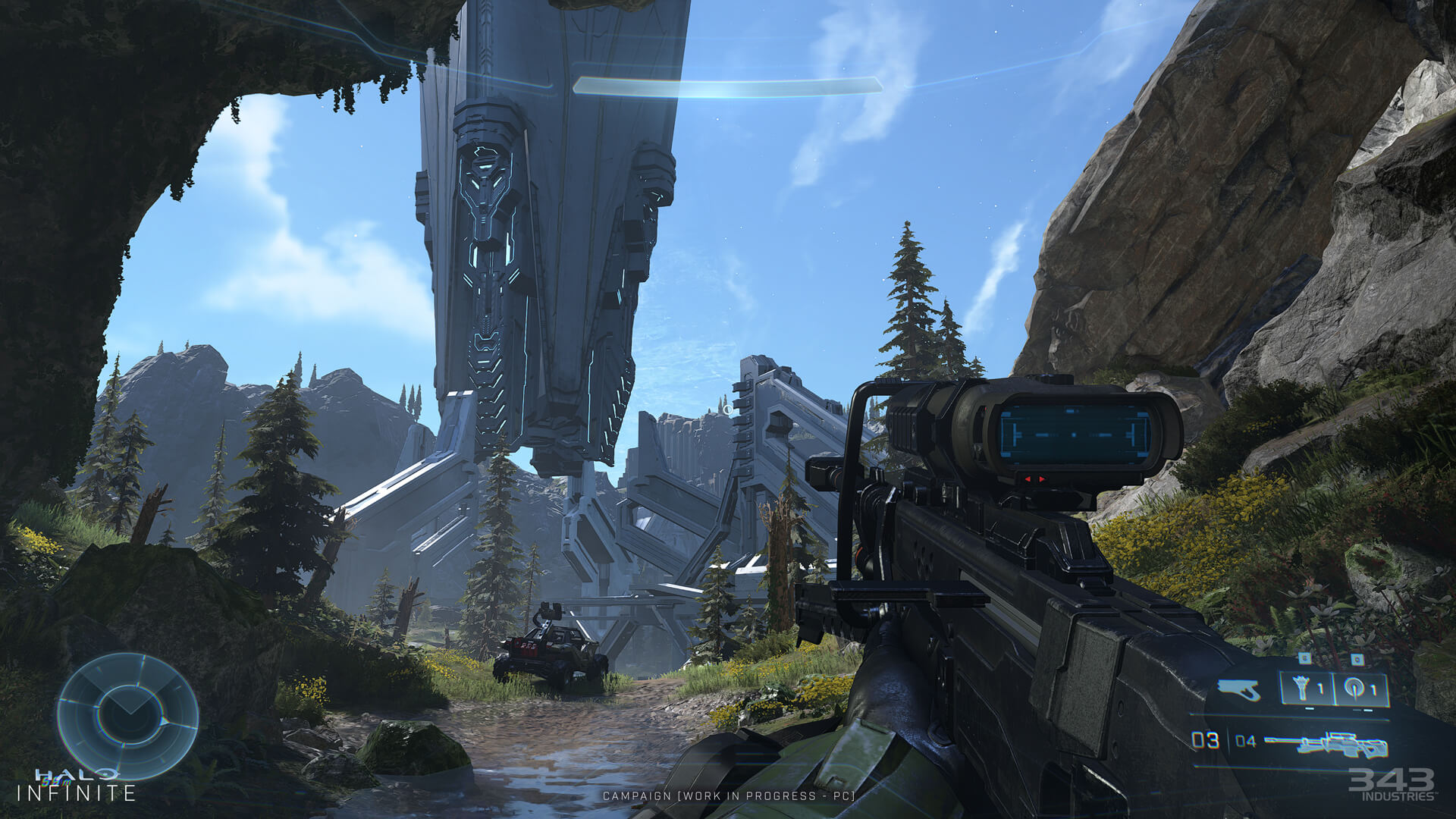 Zwiers initially decided to dive into game design at DigiPen thanks in part to Halo 3's Forge mode. "I always enjoyed when games gave you opportunities to mod them or change them," Zwiers says. "I played every Halo before getting into game design. I still have the Halo 2 steel book and Halo 3 helmet collector's edition, so it's nice being able to have real input behind the scenes now."
As a technical UX designer, Zwiers has touched user interface screens all across Halo Infinite, everything from the HUD, menus, the campaign, multiplayer, and beyond. "Essentially we just get a need — a screen for a new menu system, or a score bar for a new game mode. We go through and wireframe it with all the requirements that have been given to us, and we get some freedom to decide where to display things. Then I implement the screens once they're approved," Zwiers says. Achieving visual clarity in a series where chaotic ground, air, and vehicular combat can all happen at once proved challenging at times. "We battled a lot of that," Zwiers says. "How noisy does everything get? How much is too much information to display versus too little, especially in these big team battles where there's a lot going on?"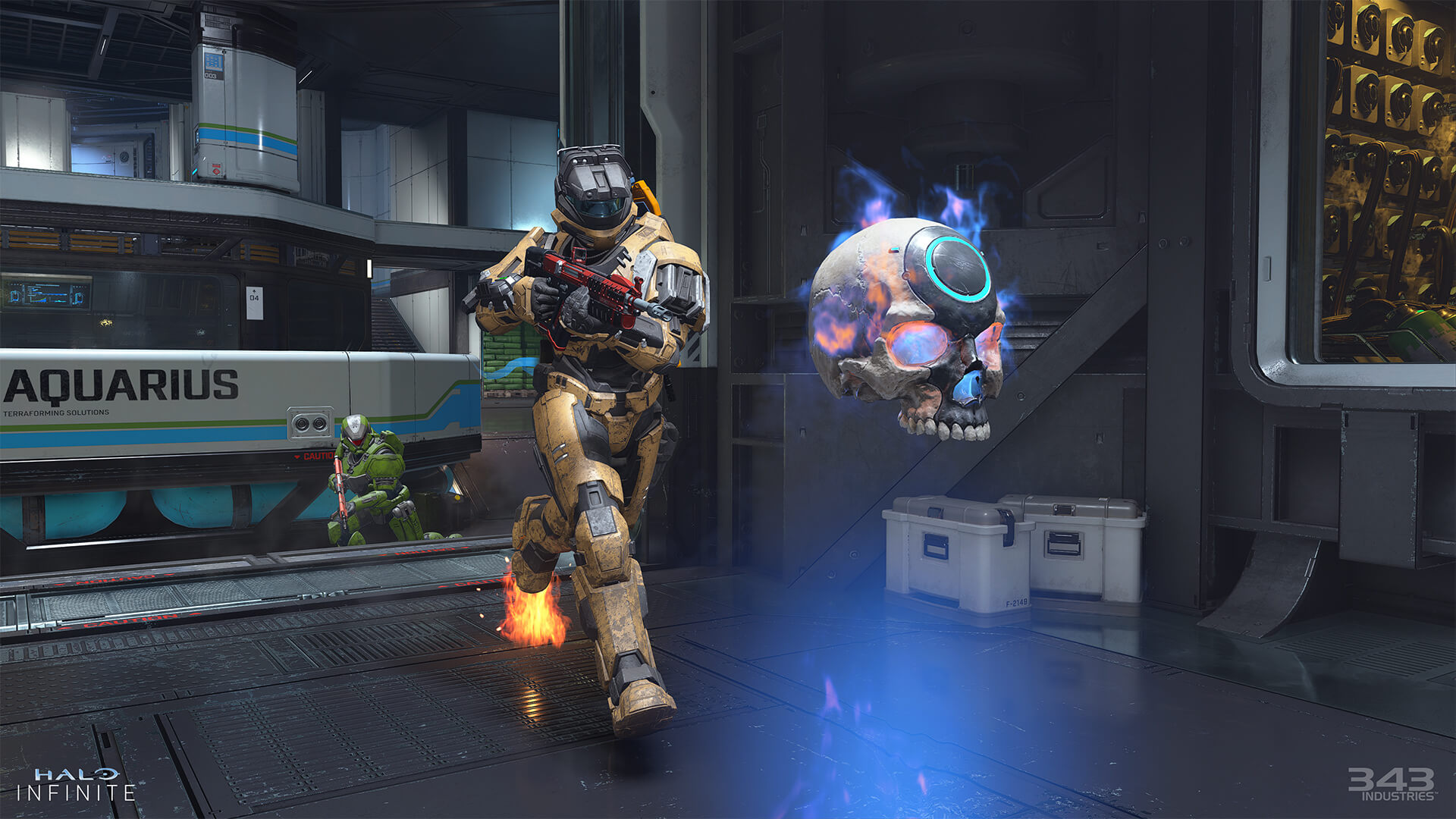 It's a challenge that 2017 BA in Music and Sound Design graduate Thornton Prime faced in the audio department as well. "When there's a lot going on, you can add the subtlest details that really help the player understand their environment, the situation they're in, help direct them, or emphasize a cinematic moment," Prime says. As an audio technical designer at 343, Prime worked alongside sound designers to script, place, and modulate sounds in engine for Halo Infinite.
"For instance, perhaps after you defeat a wave of enemies, an elevator comes down with more enemies — an elevator you also need to go to in order to proceed to the next area," Prime says. "Making sure the elevator's audio clearly reflects its behavior can be really helpful, because it can help the player feel like AI didn't just come out of nowhere, as well as help point them in the right direction."
At work, Prime says learning more about how other departments do their jobs has helped point him in the right direction many times — an impulse he picked up working on his multidisciplinary DigiPen teams. "I spend a lot of time looking into how the designers, programmers, and artists work and finding opportunities to sink my own hooks into it," Prime says. "Even if it seems unrelated, it can give you new perspectives that, in my experience, have been critical in finding solutions to problems other people might not be aware of."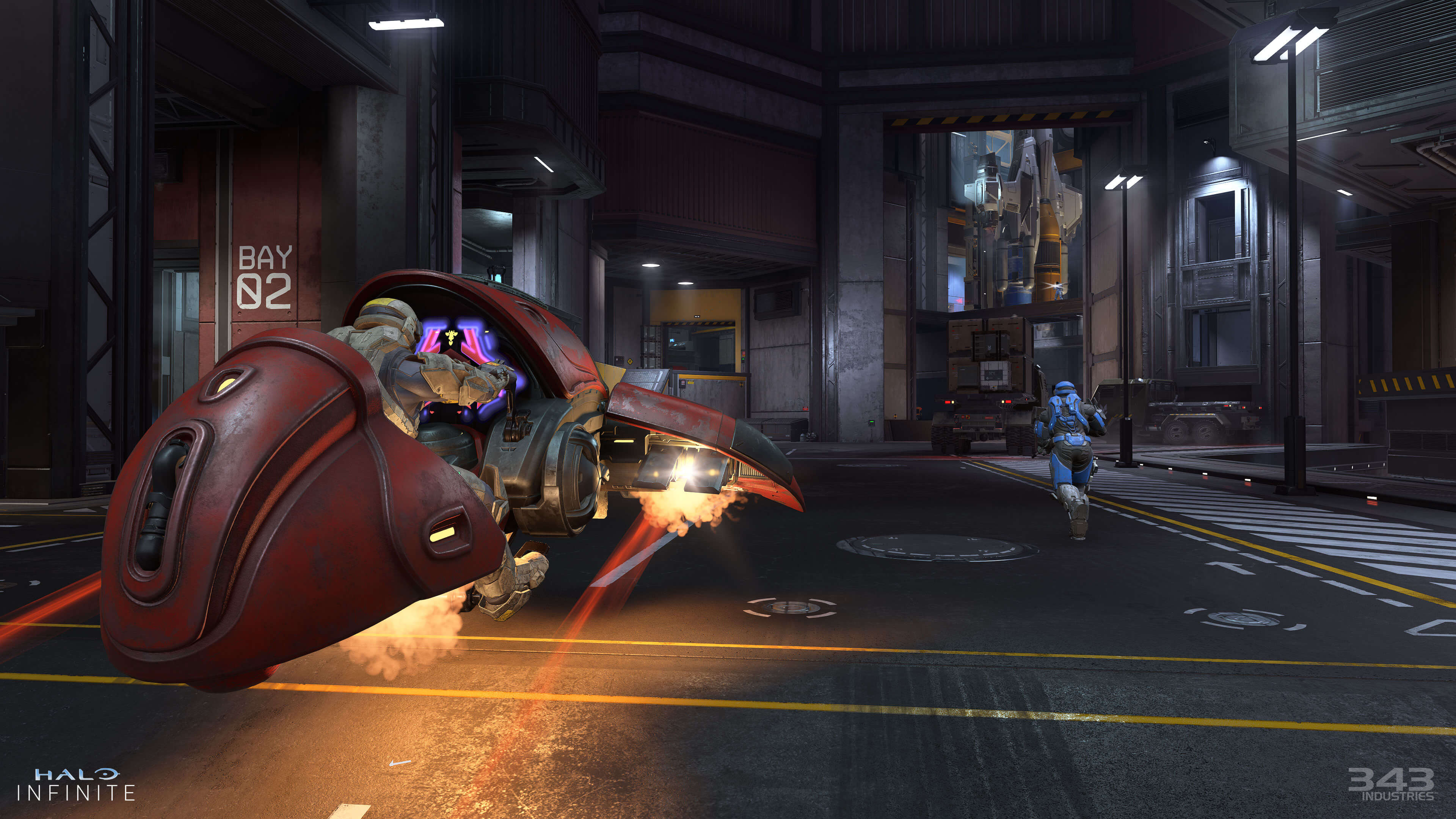 Having made a career by fusing the extra technical skills she learned with her digital art studies, it's something Petchprapa attests to as well. "What I learned the most from DigiPen that I really value is 'Don't be afraid to ask,' and be eager to learn," Petchprapa says. "At the same time, know that you don't have to be good at everything. Whatever the timeline is, take your well-being into account."
It's a lesson that Zwiers echoes. "Something I always did at DigiPen that has helped me was making sure I never burnt out, and that I always had time for myself," Zwiers says. "That and being able to ask questions — ask lots of them, and ask anybody — that's something I ended up doing at DigiPen that helps me a lot here at 343."
With Halo Infinite racking up rave reviews from players and critics alike, the alumni are thrilled to see the game taking off in popularity, even if it sometimes means getting overtaken in online multiplayer by their own fans. "It's been really nice to see people enjoying it," Prime says, "and delightful to immediately have people be better at the game than I am."