DigiPen graduate Howard Wang has been many things in his career so far — a Pokémon gym trainer, an Angel of the Dragon Ball multiverse, and a dark knight from the world of Final Fantasy to name just a few. As a professional voice actor for more than eight years and counting, Wang has inhabited many larger-than-life characters. His IMDB profile page lists more than 150 credits, spread across a range of games, films, and TV shows — including English dubs for many popular Japanese anime series, from Attack on Titan to Yuri on Ice.
At the same time, he's also worked as a designer on indie and AAA games alike. If it sounds like an unusual career path for a DigiPen alum, it is. Nevertheless, it all began with a simple origin story that will likely sound familiar to many Dragons.
"Like a lot of people growing up, I just really liked video games and anime," Wang says. "And I discovered voiceover as a hobby in high school."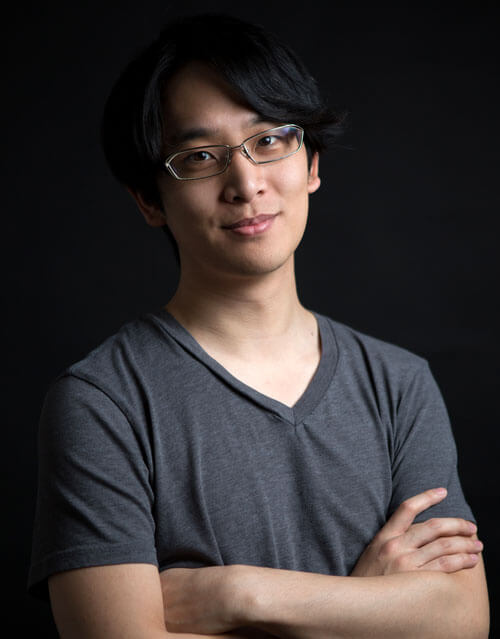 After finding some online forums dedicated to voice acting, Wang befriended others who shared a similar interest. Together, they began teaming up to practice voiceover on a handful of amateur fan projects. Eventually, he says, those experiences led to official acting gigs for small-scale indie projects.
When it came time to go to college, however, Wang says he consciously chose not to study acting. He eventually came across the BA in Game Design program at DigiPen.
"I always had a passion for games too, so I chose to go into game development," he says. "And it just seemed like it was decided from there, but then I still did VO as a hobby here and there, even while going to college."
Wang landed what he considers his first professional gig during his sophomore year, when he played the part of a survivor in the 2014 MOBA Dead Island: Epidemic. It was also one of the first projects in which he collaborated with his future wife, Amber Lee Connors.
"She's a professional voice actress and director, and she also owns her own studio," Wang says.
While Wang had always considered his voice acting pursuits to be more of a side activity, things started to change at the end of his junior year at DigiPen.
"I didn't have an internship lined up or anything. So my summer was open, and my girlfriend — now wife — was moving to Dallas, where companies like Funimation are located. And I figured, 'OK, I'll help her move, get settled in,'" Wang says.
During the trip, he met several of Connors' industry acquaintances, including the folks at Funimation — a major licensor and distributor of anime content that also operates an in-house studio for English dubbing.
"The people I met were like, 'Hey, do you do VO?' And I told them, 'Yeah, I dabble,'" he recalls. "And then they called me in to do some stuff."
Over the course of the summer, Wang spent some time in the Funimation studios providing additional voices for a handful of shows, the first being One Piece — a hugely popular series that was recently reported to be the most searched for anime in the U.S.
"I was like, 'Oh, that was a cool experience," Wang says. "I thought that was kind of the end of it."
But it wasn't.
At the end of the summer, while boarding his plane back to Seattle, Wang booked his first named character role in an anime series over the phone. With that, side gigs quickly turned into larger commitments, and Wang found himself returning again and again to the sound booths at Funimation.
"Senior year, I was flying back and forth from the Seattle area to Dallas to work on anime," he says.
Just before his graduation from DigiPen in the spring of 2017, Wang received his first lead role in an anime series based on a Japanese manga about a teenage boy who discovers a powerful spirit girl in his deceased mother's kimono belt.
"It was actually funny, because there was barely overlap. I went and recorded the first episode in Dallas, flew back to Seattle, went to graduation ceremony, and then immediately went back to Dallas," he says with a laugh.
While the lead role cemented his decision to continue acting, he didn't abandon his passion for game design. On the contrary, he's managed to lean firmly into both.
Soon after graduation, while living and working on voiceover projects in Dallas, Wang remotely collaborated with a team of fellow alumni who formed an indie game company named Action Panel. Together, they developed and released the 2D brawler Super Knockoff! VS, a game in which players fight as spoofs of 90s manga characters.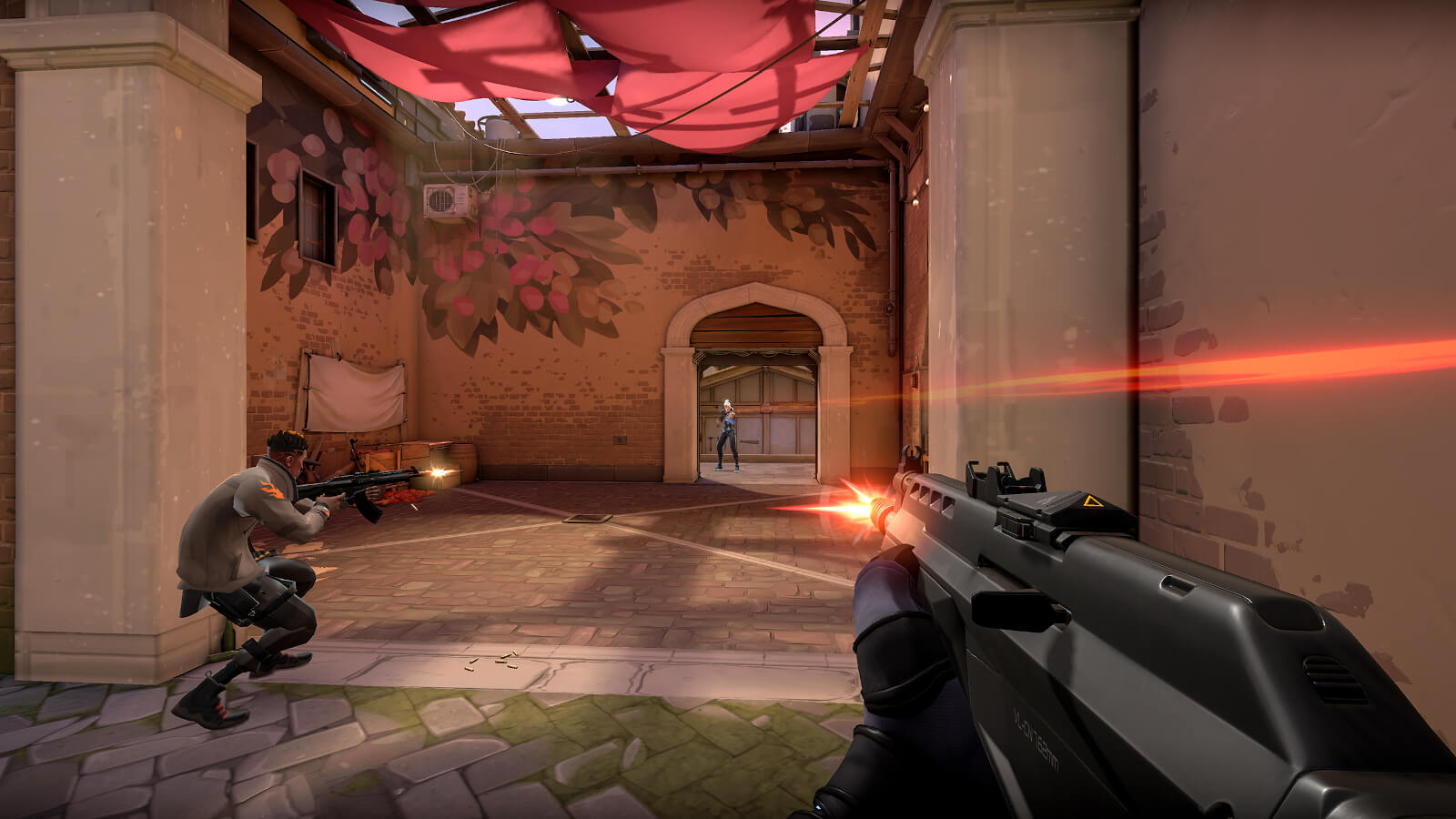 Then, in 2019, one of Wang's friends alerted him to a job posting for a VO designer at Riot Games. The posting described a role that sounded tailor made for him — highlighting a blend of talents that drew equally from his voiceover background and game design education. He applied and soon found himself moving to Los Angeles for what turned out to be a phenomenal job opportunity indeed.
"It's actually kind of crazy, because I love Riot Games. And for a lot of my peers at DigiPen, Riot was considered an end goal or dream place we wanted to work at," he says. "It was just a culmination of two paths coming together and skill sets just happening to line up."
As part of the team working on Valorant, Riot's popular team-based shooter, Wang helped with selecting and implementing voiceover lines into the game, using third-party tools like Wwise and Unreal Engine.
"I made most of my junior and senior DigiPen projects in Unreal," Wang says, "and that experience helped."
Having joined the studio about 10 months prior to the release of Valorant, Wang had the chance to experience both sides of the game's pre- and post-launch development. Surprising to few, the new game from the makers of League of Legends was an immediate hit.
"It was really cool being a part of something at the ground level," he says. "My little sister plays the heck out of it now, which is cool. It's neat to be in a place where she can brag and be like, 'Oh, my brother put this in here.'"
After parting with Riot Games in April of last year, Wang has since returned to the world of acting. Only this time around, things are a little different. Instead of traveling to record on-site at studios like Funimation, he does almost all of his work from a makeshift home studio in Los Angeles.
"The voiceover industry was kind of flipped on its head when COVID hit. Luckily, the industry adapted pretty well, pretty quickly, all things considered — where we were able to figure out remote recording," he says. "I live in a house with three other actors. We all are extremely busy, so we actually have two booths in our house."
Being a sound engineer, Wang had no problem putting together a recording space that matched the capabilities of most professional voiceover booths. In addition to his own freelance work, he also helps his wife run and manage her voiceover recording business, Sound Cadence Studios. It's a job that — over the years — has allowed him to branch out into voice directing as well.
In recent years, he's lent his talents to a string of high-profile games like Genshin Impact, Pokémon Masters EX, and anime shows like Beyblade, RWBY, SK8 the Infinity, My Hero Academia, and plenty more.
"I grew up with Pokémon, and even getting to be just a small part of it was really cool," Wang says. "Beyblade was cool. Getting to scream 'Let it rip!' was surreal."
His most cherished acting experience, however, was voicing the character of Himuro in the anime series Kuroko's Basketball.
"That's actually my favorite anime of all time, and it came out — at this point — 10 years ago. But last year they finally dubbed it, and I got to be one of my favorite characters," Wang says.
Having found success both in game development and voice acting, Wang says he still holds both aspects of his professional life in equal regard.
"It's a weaving path. Going to DigiPen, then doing VO in Dallas for a couple years, then working at Riot for a couple years, and now doing VO again — I feel like it's only a matter of time before I swing back to doing more game development," he says. "It just depends on what life is throwing me at the time."