The final year of the decade was a big one for DigiPen. Student projects impressed faculty, employers, and festivals alike. Alumni credits found their way into some of the year's biggest games and films. DigiPen also hosted buzzy on-campus events that drew off-campus crowds. DigiPen's eventful 2019 points to a very bright decade to come, but before the dawn of the 2020s, let's take a look back at all the things that made this year so special.
Student Success
DigiPen students' talents were on full display in 2019, marked by a number of inspiring game and film projects that made waves both inside and outside the school.
One such project was Ming, a 3D senior animation project starring a timid monk-in-training learning to overcome her fears. Recognizing the caliber of the project, the Seattle International Film Festival named it an official selection for SIFF 2019, where it screened as part of the "Family Picture Show" in May.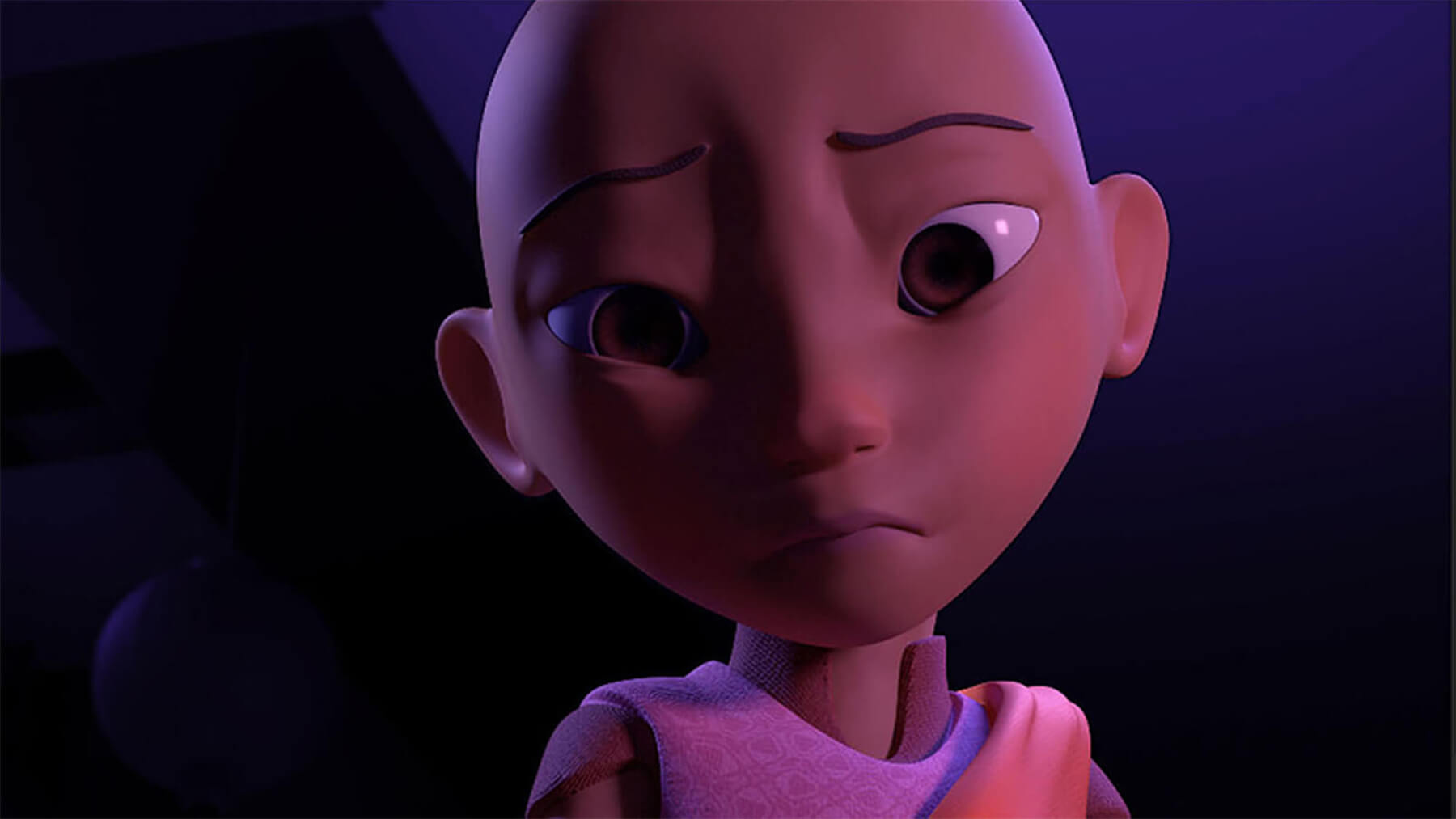 Student internships led to some big opportunities for students in 2019. BS in Computer Science in Real-Time Interactive Simulation student Brett Cunningham found himself developing VR training simulations for road workers in a branch of a foreign government. One student project, a custom audio engine for Unreal built by Bachelor of Science in Computer Science and Digital Audio student Max Hayes, led directly to a job after it caught the ear of Epic Games.
Although complex senior game projects are usually big group efforts, BS in Computer Science and Game Design student Tristan Begin decided to really test his mettle by flying solo for his senior game project Aftermoor. Tackling everything from programming, design, art, animation, music, and sound on his own, Begin's herculean effort paid off. The impressive 3D action platformer earned a spot in the Intel University Games Showcase at the 2019 Game Developers Conference in San Francisco.
Another impressive senior game project, 3D puzzler The Pilgrim, drew inspiration from some sights that are likely very familiar to DigiPen students and faculty. Game team Free Minds say the title's distinctly spooky, atmospheric environment was based on their long walks through the dense Redmond forests that surround DigiPen's campus. That inspiration made it a fitting representative of the school as one of the 16 student games chosen to be featured in the 2019 PAX DigiPen Arcade — a rousing success of an event that was coordinated by a dedicated student team.
Also, many students were especially excited to see their DigiPen games being published to Steam for the first time.
Alumni Achievements
This year was packed with blockbuster film and game releases, and DigiPen alumni had their hands in an impressive number of them.
DigiPen alumnus Stephan Haldaman helped 2K Games set new sales records by lending his level design talents to the smash-hit first-person shooter Borderlands 3. The zany title became the fastest-selling game in the publisher's history with 5 million units sold in its first five days.
Disney's The Lion King computer-animated reboot broke multiple box office records both in the United States and internationally, thanks in part to the cutting edge VR technology with which it was filmed. Development of that technology was led by none other than BS in Computer Science in Real-Time Interactive Simulation graduate Adrian Sotelo.
Apex Legends' surprise release back in February similarly smashed battle royale records previously held by genre-standard bearer Fortnite, hitting 50 million players in its first month. Not one, not two, but 10 DigiPen alumni helped make Respawn's innovative title the huge launch success it's become. Griffin Dean, a 2015 BA in Game Design graduate, even went on to lead the design for one of the game's newest characters, Wattson. Respawn kept seven other DigiPen graduates busy on its second big release of the year, the critically acclaimed STAR WARS™ Jedi: Fallen Order, where alumni contributed to level design, combat design, and Jedi physics.
Three DigiPen BA in Game Design alumni – Geoffrey Hammon, Sawyer Paradise, and Jacob Fieth – had a similarly large impact on another 2019 AAA title, the post-apocalyptic PS4-exclusive Days Gone. The three grads had a heavy hand in the game's unique "freaker" horde encounters, resource distribution, puzzle design, and even the gun and vehicle systems.
Two BS in Computer Science in Real-Time Interactive Simulation graduates — Kyle Holdwick and John Hughes — were also deeply involved in the design of thatgamecompany's altruism-focused Sky: Children of the Light. Holdwick would round the year out by being named one of Forbes' 30 Under 30 in Games.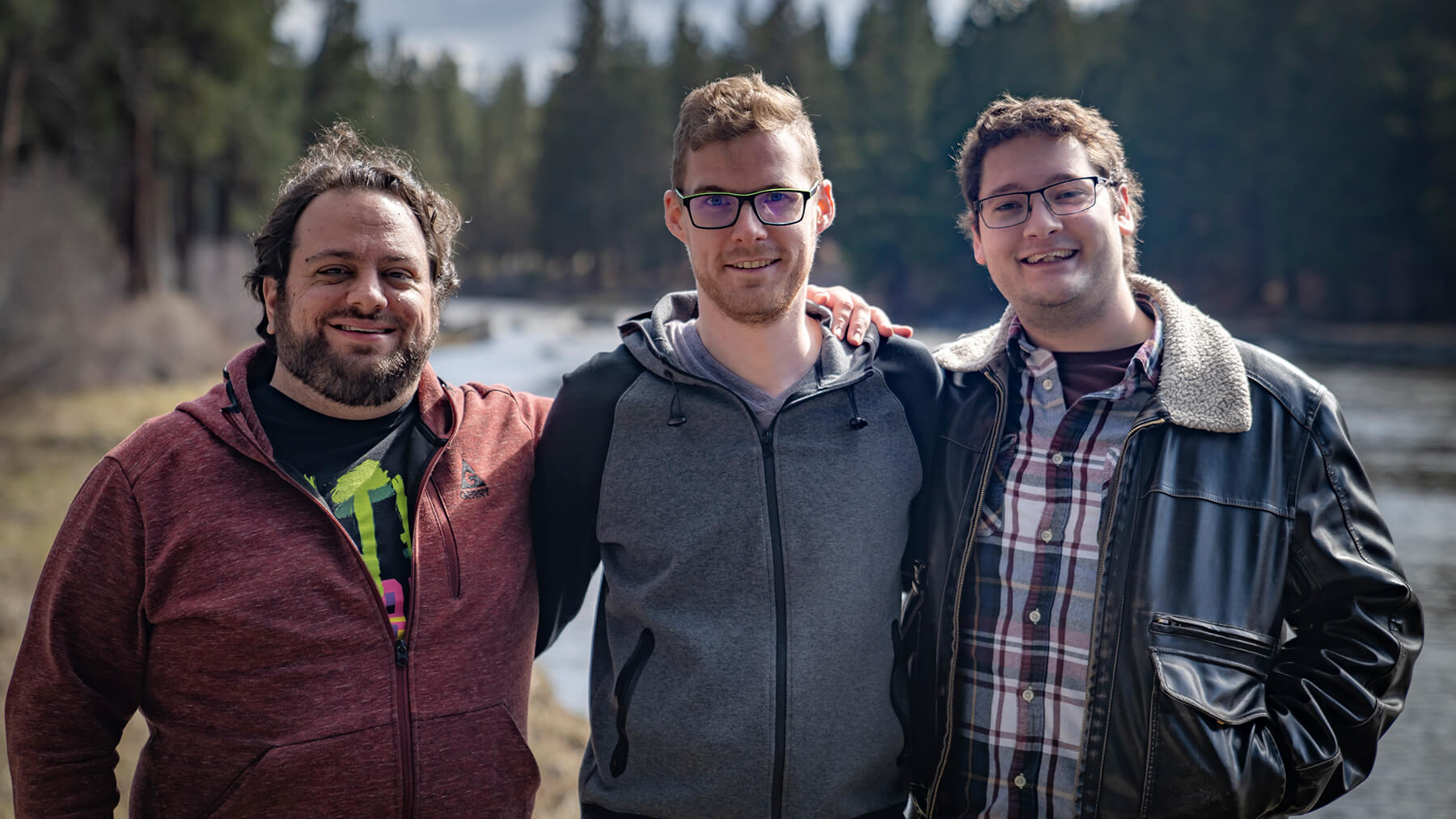 Rockstar's Wild West epic Red Dead Redemption 2, which sold an astounding 17 million copies in its opening two weeks back in 2018, continued to be a much-talked-about game in 2019. We caught up this spring with DigiPen graduate Andy Kibler, who handled the game's complex clothing customizations system.
Campus News and Developments
DigiPen's growth this year was marked by exciting new programs, events, and relationships.
This past fall, DigiPen welcomed its first students to a brand new degree program, the BS in Computer Science in Machine Learning. The curriculum for the new program is informed by DigiPen's own deep history of research and development in machine learning. On top of the brand new major, DigiPen also announced a new Psychology minor, inspired by the increasing popularity of DigiPen's psychology courses among game design students.
Beyond the new degree programs, new relationships also played a big role in making DigiPen's 2019 a special one. Engineering students got some invaluable real-world experience through a brand new co-op relationship with Echodyne, a Kirkland-based radar technology company. Thanks to a new relationship with Bellevue Art Museum, the first group exhibition of DigiPen faculty artwork opened to the public in November. As a welcome respite from the world of projects and academics, students were also thrilled about the adorable new crew of furry friends that visited the building three times this year thanks to College Dogs.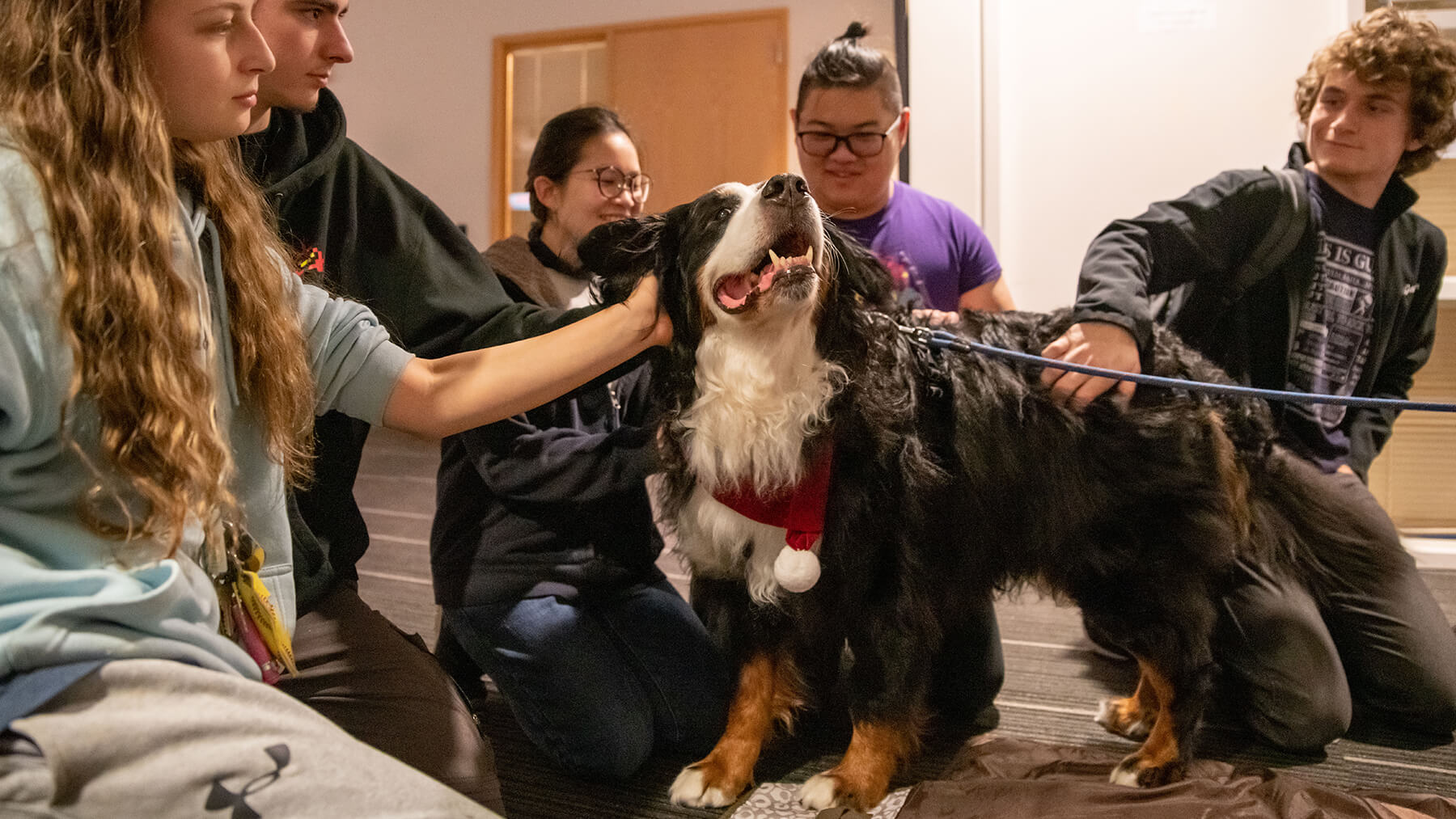 Alumni making waves out in the industry returned to DigiPen to deliver buzzed-about presentations and guest lectures throughout the year. Sarah Amburgey, a 2018 BFA in Digital Art and Animation graduate, came back to Redmond to talk about her success getting hired as a DreamWorks Animation story artist. Nick Kondo, an alumnus and former DigiPen animation professor, also returned to Redmond to find a packed crowd eagerly awaiting his guest lecture about his work on the Oscar-Award-winning Spider-Man: Into the Spider-Verse. The internet went wild with speculation at the announcement of DigiPen alumnus and 15-year Valve developer Kerry Davis' on-campus talk about his work on the company's upcoming "flagship VR title." A few months after that highly-attended September talk, Valve revealed that the mysterious title was a long-awaited new installment to the Half-Life series, Half-Life: Alyx.
Some news that wasn't so new for DigiPen was its continued recognition for academic excellence. For the 10th consecutive year, the Princeton Review named DigiPen one of the Top 5 schools for game design. A new study from Georgetown University's Center on Education and the Workforce also confirmed something many graduates already know — DigiPen offers the best return on investment among Washington state higher education institutions and ranks among the top 1% of colleges in the nation for long-term value.