When 2018 BFA in Digital Art and Animation graduate Sarah Amburgey started applying for jobs near the end of her studies, she says a funny thing happened. "I kept being mistaken for a concept artist!" Amburgey told a crowd of DigiPen students at her on-campus guest speech on March 15. "Based on my portfolio, that's what people thought I did. I even got offered a concept artist job in Singapore."
Despite those initial hiccups, Amburgey managed to pull off an impressive feat. A few months after graduating, she landed a full-time job as a story artist — the role she had actually been hoping for — at DreamWorks Animation. During her guest speech, Amburgey outlined the steps she took to get there, gave advice to fellow story artist hopefuls, and explained what her day-to-day job looks like in the professional storyboarding world.
The first step on her journey to DreamWorks, according to Amburgey, was reworking her portfolio so that her talent as a story artist was front and center. Amburgey reached out to fellow DigiPen graduate and story artist Apollonia Thomaier, the animator behind one of DigiPen's most-award winning short films, Adija, for portfolio advice.
"Apol said, 'Just steal my portfolio format. I don't care!' And I said, 'What? Isn't that weird?' And she said, 'No, I stole mine!'" Amburgey told the crowd to laughs. After taking a closer look at Thomaier's portfolio and the portfolios of other professional story artists she personally admired, Amburgey started separating her work into specific tabs on her website, placing the story-relevant work front and center.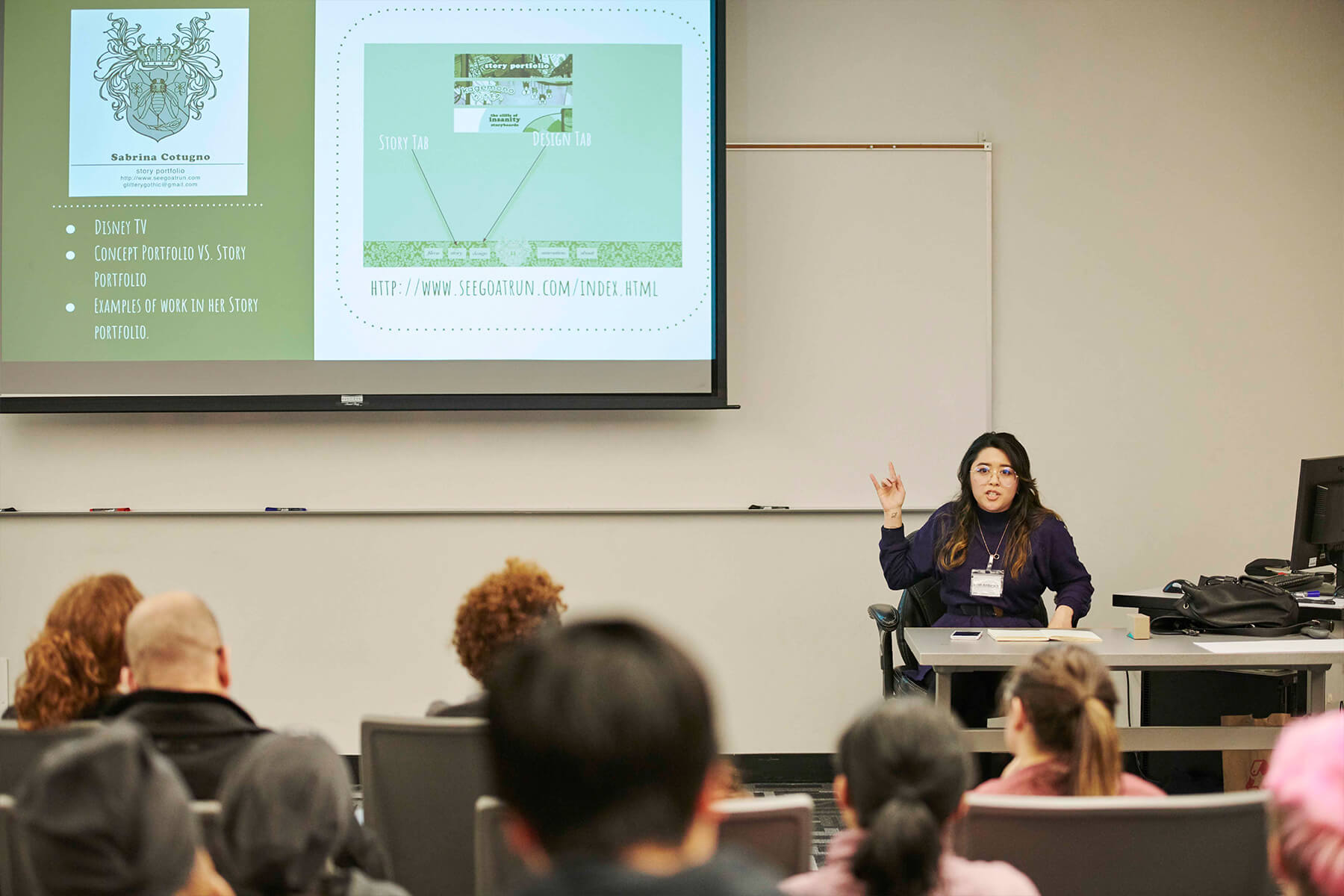 "Since you learn a lot of different things at DigiPen, it's easy to just put all your projects in your portfolio," Amburgey said, "but don't just present yourself as a generalist! You need to be a specialist, and you need to show you have passion in the specific area you're trying for."
The new portfolio worked. Soon, Amburgey was interviewing for a story artist trainee program at DreamWorks, where she found herself talking about her story-relevant work at DigiPen — including her award-winning film project, Etude — for much of the interview. "A big part of my interview was describing my whole process on Etude, and they were very impressed with that," Amburgey said. "I did a lot of research for Etude and showed it off in my portfolio. Showing your process work is important!"
Amburgey impressed the DreamWorks team so much, she was soon offered a full-time position. "I just said 'yes' to everything, worked really fast, and made sure my shot composition was original," Amburgey said. "I did the same exact thing I did in school at DreamWorks, and it worked out."
Although Amburgey's focused approach to her portfolio was a key in landing her an interview, now that she's actually on the job, she says she's discovering how helpful her generalist skillset really is. "They call the position 'story artist' because you do a lot more than just storyboard," Amburgey says. "I also do layout, initial character designs that concept artists often actually end up using, and sometimes I even write things. You have to do everything you can to convince an executive your work is worth investing in."
Even if it sounds like a lot, according to Amburgey, she was more than prepared for everything the job entails. "Because of the DigiPen mentality, I'm a machine of a 'boarder,'" Amburgey laughed. "If you're interviewing for a job as an artist … don't let your fears or that self-critical artist mindset get in the way. It's really important to show self-respect and that you believe in yourself."