As one of the college's veteran art instructors, Rob Kmiec had long wanted to shine a spotlight on what he describes as a "hidden gem" at DigiPen — that being the depth and diversity of talent among his fellow colleagues. This month, that wish finally became reality with the first group exhibition of DigiPen art faculty, currently on display at the Bellevue Art Museum.
Presented under the title "Modern Mythology," the exhibit features the work of 26 full-time and adjunct faculty instructors, all of whom teach classes in the Bachelor of Fine Arts in Digital Art and Animation degree program.
"We have a three-foot bird made out of concrete. We have terracotta sculptures. We have ink jet prints that have been further doctored with traditional media. We have straight-up oil painting on canvas, charcoal drawings," Kmiec says. "We have an eclectic group of faculty, and it shows in the imagery and in the materials used."
The show itself, Kmiec says, was the result of group effort among a handful of DigiPen staff and faculty who had been leveraging their professional networks in search of a suitable venue and partnership to host such an exhibit. That partnership eventually coalesced with the help of Benedict Heywood, executive director of the Bellevue Art Museum, who visited DigiPen's campus in January 2018. After seeing a potential fit for the museum's first-floor Community Education Gallery, an invitation to exhibit eventually solidified, and Kmiec formed a faculty committee to select a theme for the show.
"They collectively came up with the 'Modern Mythology' theme as a way of it being broad enough and connected to storytelling and entertainment that it would net a good group of people who would get interested," Kmiec says.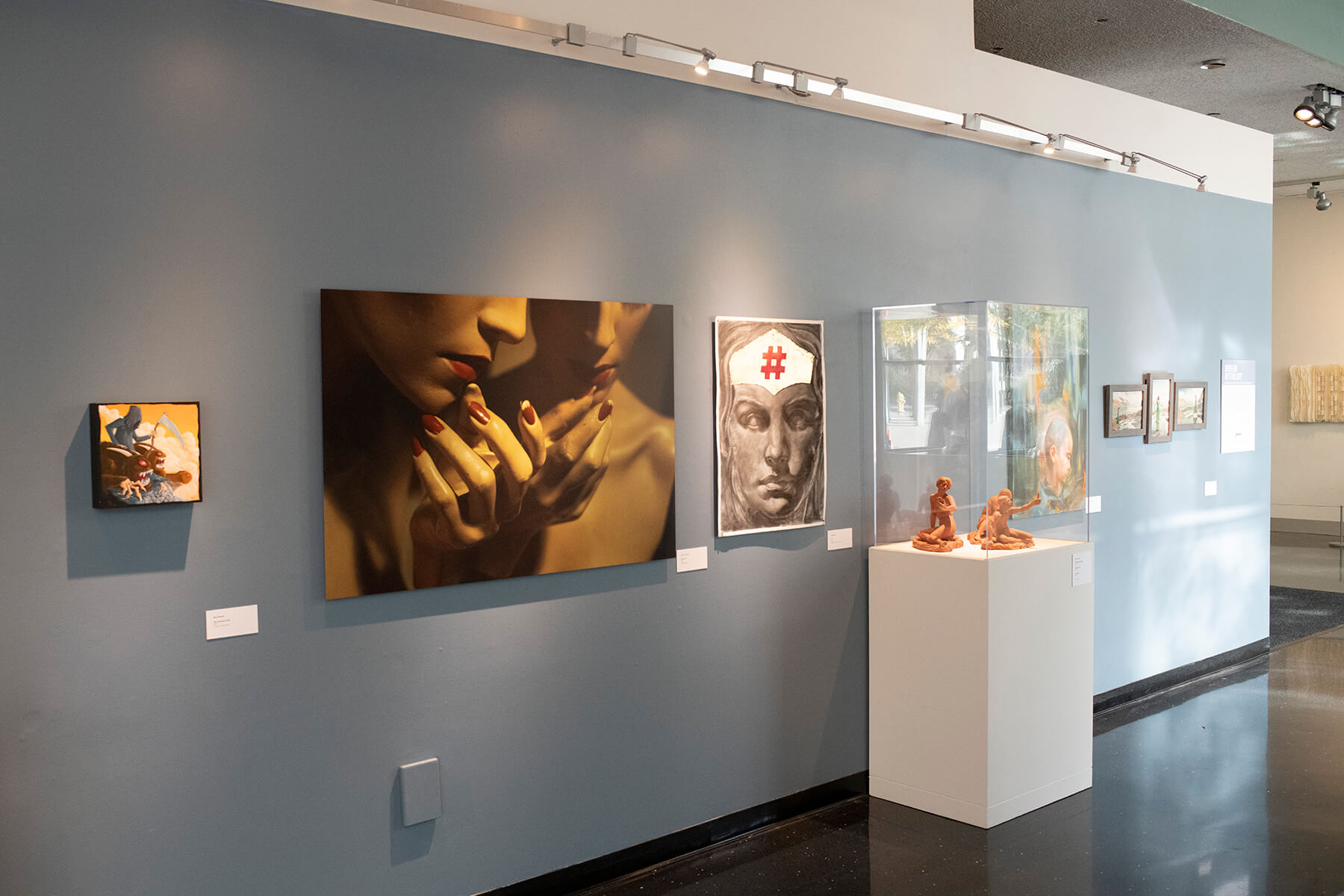 For his own contribution, Kmiec drew a portrait of the character Wonder Woman. In place of the traditional star on her golden tiara, however, Kmiec used the hashtag as a new, modern symbol of truth and empowerment.
"I automatically went to superheroes, because I see them as being one of the most popular, widely known manifestations of mythology," Kmiec says. "And, for me, having children and being aware of … the use of social media and how social media has changed the landscape in so many different ways, I wanted to unite the theme of Wonder Woman with the #MeToo movement."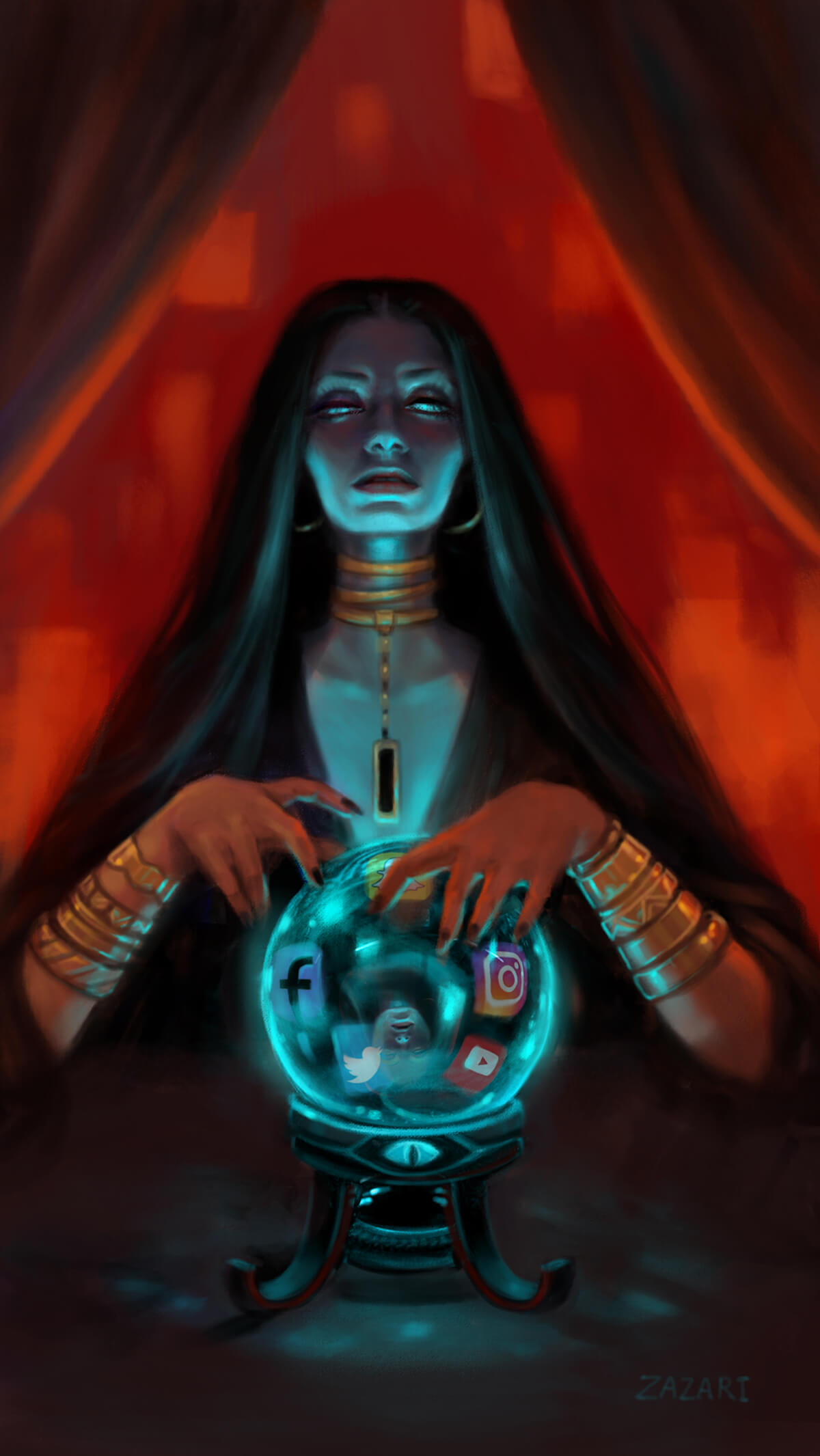 Also inspired by social media, Zahra Haghiri from the Department of Digital Arts created a digital painting titled "Fortune Teller." As the name implies, the piece depicts a richly adorned clairvoyant woman drawing power from a crystal ball filled with swirling logos of Twitter, Facebook, and the like.
"That's my take on privacy and social media, as well as the fortune telling occupation," Haghiri says. "The fortune teller is also wearing gold jewelry to depict the profit-making of having access to people's personal information."
Taking their cues from classical Greco-Roman mythology, instructors Jazno Francoeur from the Department of Animation and Production and Alecia Rossano from the Department of Fine Arts presented their own takes on modernized mythology. In a photo titled "Narcissus," Francoeur's piece shows a mannequin in close-up as it seemingly contemplates its reflection in a mirror. Adjacent to that piece are three terracotta figure sculptures by Rossano, including one reclining female figure in the process of taking a selfie.
"She's 'Instagram Aphrodite,'" Rossano says. "I was thinking of the theme and wondering, 'What would Aphrodite, or Venus, be doing if she were around today?'"
For David Longo, the idea of "Modern Mythology" conjured memories of Weekly World News, the famous tabloid magazine that once greeted millions of grocery store customers at the checkout line with fantastic headlines about hybrid creature sightings, alien abductions, and other bizarre tales.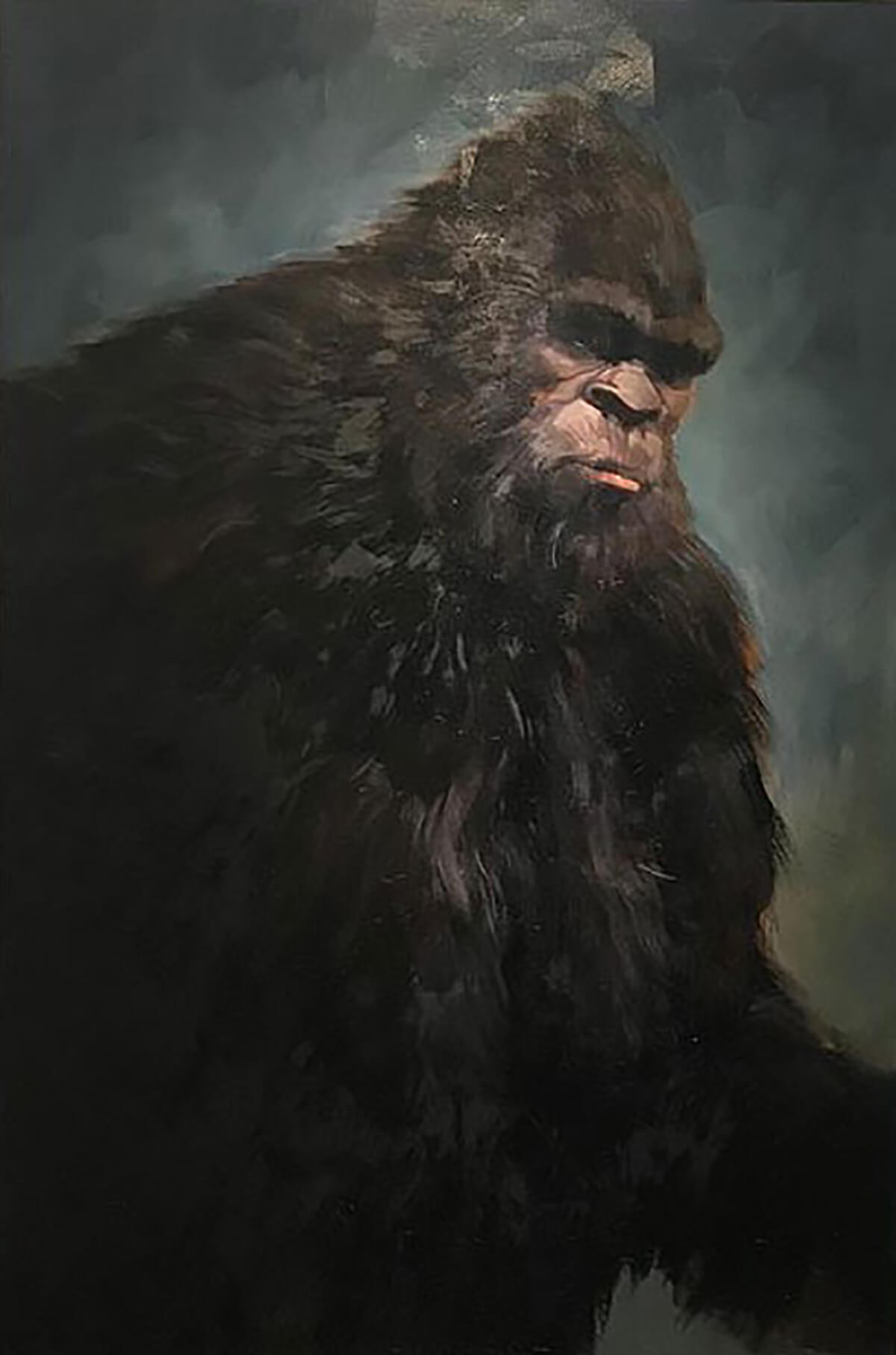 "I pretty quickly started to go down that path of aliens and Bigfoot, just because I think that those are pretty awesome subject matter," Longo says, adding he eventually settled on the latter as the core subject for his piece. "I started watching a lot of [Bigfoot] documentaries and different YouTube eyewitness accounts from people who were skeptics and believers alike — just going through the whole thing. And it was pretty fascinating."
While his original artwork ideas revolved around humor and parody — including, at one point, a sketch of Michelangelo's "The Birth of Adam" with an alien and Bigfoot reprising the roles of God and Adam, respectively — his outlook changed over time.
"I started to think about the different accounts, how people described what they had seen and how more and more it's sounding primate-like in some of the features. So I tried to do something that was more earnest," Longo says. "I tried to do something like, 'What if this is an undiscovered primate who has been able to evade detection and getting shot?' That'd be pretty cool."
What resulted was a lifelike oil painting, measuring three feet wide and four-and-a-half feet tall, depicting a plausible representation of how a real-life sasquatch might appear.
For other faculty members, the Bellevue exhibit presented an opportunity to tell more deeply personal stories through their artwork.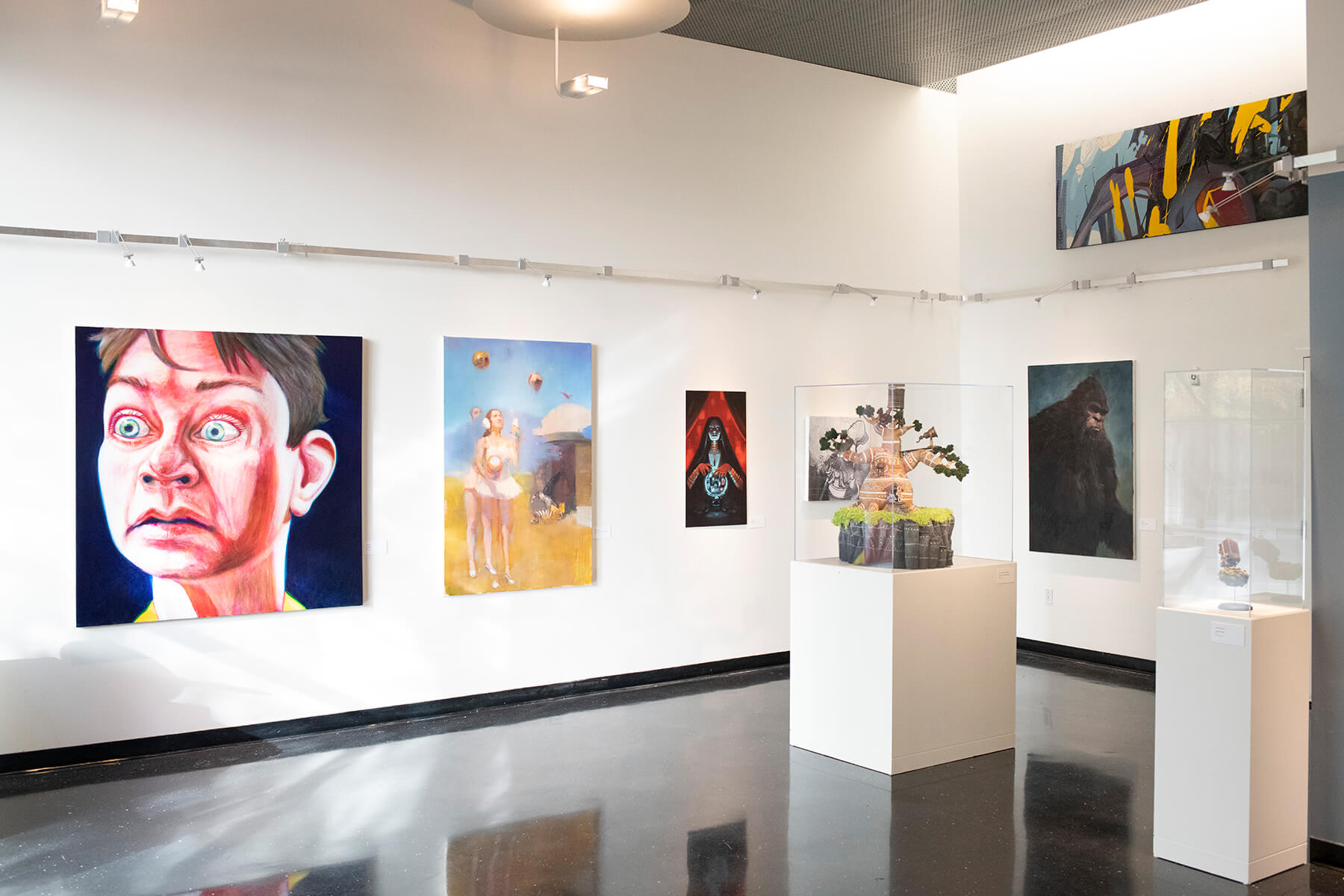 "People go through those things that change their lives, and I think that's how myths start. Something has to happen," says Doug Parry.
His contribution, one of the most prominent pieces to greet gallery visitors, is a five-foot-square portrait of a young boy with a look of wide-eyed sadness and disgust. Titled "Indelible," Parry says he began painting the piece shortly after a series of painful real-life events, including the passing of two close friends who were longtime mentors and patrons of his art.
Created over a period of 959 days, Parry says he worked on the painting by adding one new layer of color each day — using only cyan, magenta, yellow, and white as colors. The subject was painted from imagination, evolving over the two-and-a-half-year period from boy to baby to middle-aged man and back to a boy. While not created specifically for the Bellevue exhibit, Parry says the piece fit well with his interpretation of the theme of mythology.
"This is about a kid who sees something that's going to set his life into a different direction," Parry says.
Adjacent to that painting is a ceramic and mixed-media sculpture titled "Alien Artifact," created by ceramics instructor Ken Turner. The abstract piece features a round, not-quite spherical object being pierced in three directions by what look to be crude, carven spears. While the piece highlights a range of colors and subtle textures, Turner says it also contains hidden details layered in the surface.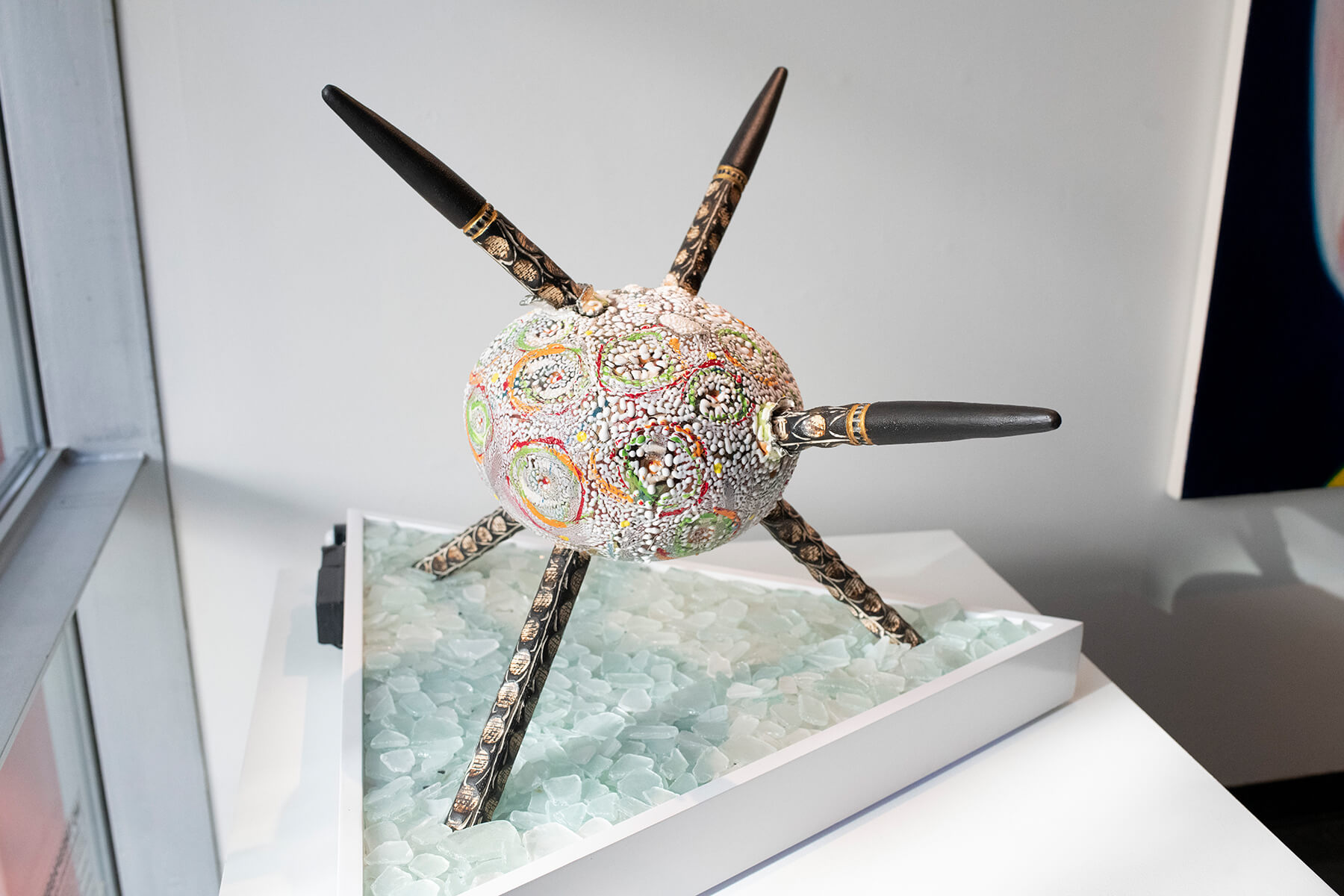 "The image of the piece — and the actual concept — came to me and would kind of haunt me in that twilight phase just before falling asleep. I just kept seeing the image," Turner says. "It is kind of a strange object that you wouldn't normally associate with vegetation or plant life or sea life or anything like that. I didn't want to influence the viewer by directly referencing my vision in the title."
But just as any group of individuals might imagine different shapes in a cloud or an ink blot, Turner sees a very distinct type of imagery in the piece — one that stems from a personal six-year battle with cancer. Having gone through multiple surgeries, radiation treatments, and debilitating rounds of chemotherapy, Turner says it's an ongoing process that has indeed left an "indelible" mark on his creative output.
"The influence of all of the work that I've been making for quite some time now, even if it's subconscious, is cancer related. And this is like a cancer cell being blasted," Turner says. "When I had stereotactic radiation, the radiologist would describe the beams coming in at different directions and intensifying on the cell itself or on the tumor itself. So I just kept seeing these references of beams shooting through things."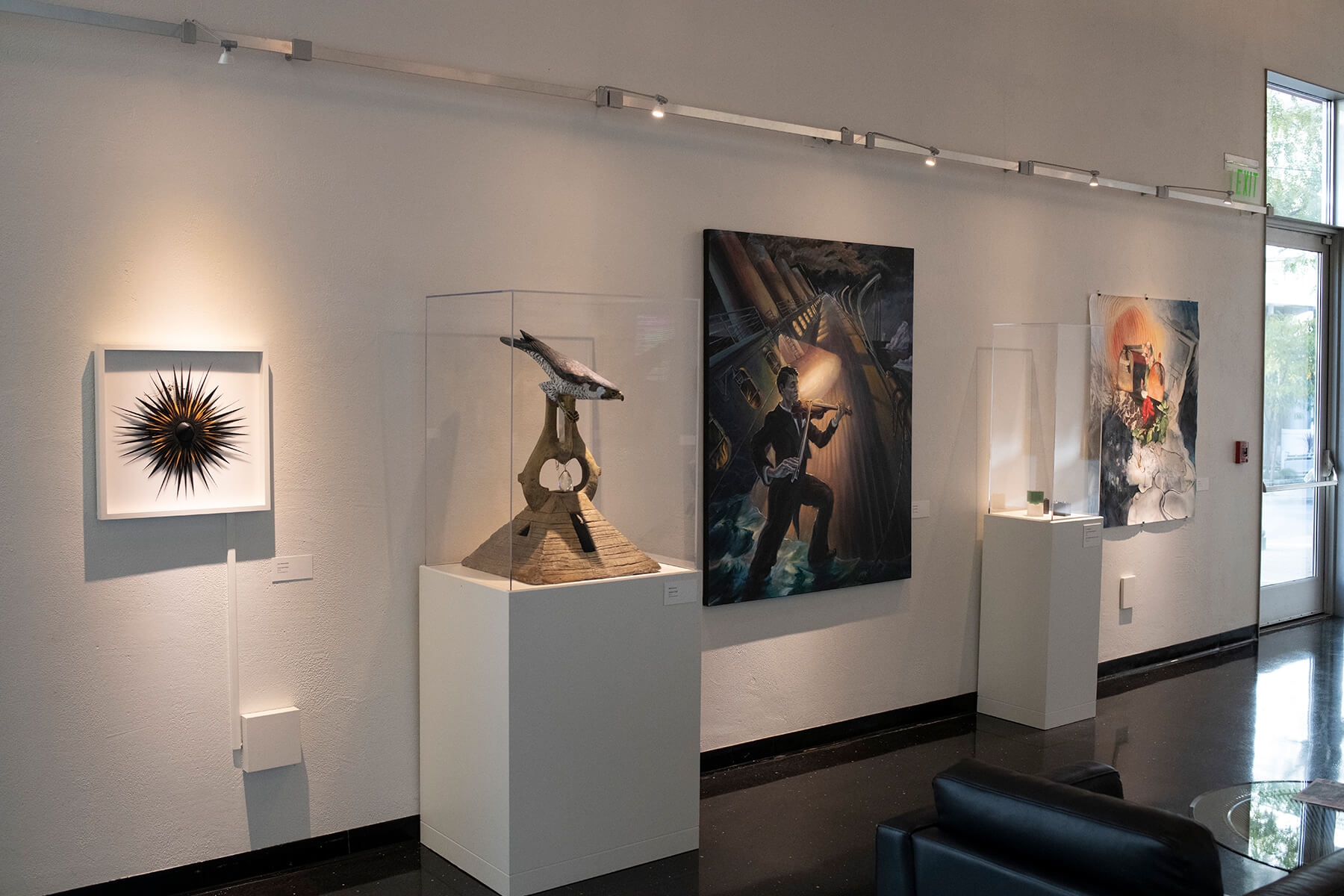 As someone who is usually in charge of assigning projects to students, Kmiec says the exhibition presented a nice change of pace for the faculty, most of whom contributed original pieces for the show.
"These experiences are extremely valuable [for the faculty], because everything they do outside the classroom eventually makes it back into the classroom. It's a form of professional development. Having the ability to retreat to your studio is not just an opportunity to unwind and create and do something that is intensely personal," Kmiec says. "There's so much that connects their studio practice to what they do in the classroom that it's like being in the gym. When they go to perform in the classroom, their chops are fresh. There's no moment in which your confidence is drained when you're about to demonstrate in front of a group of 20 students and they're watching intently."
The "Modern Mythology" exhibition will be on display through January 5, 2020. The public is also welcome to attend an official opening celebration from 6-8 p.m. on Friday, November 1, where light food and beverages will be provided. The Community Education Gallery is located on the first floor of the museum and is free to the public. Please visit the Bellevue Art Museum website for more information.