During her senior year at DigiPen, 2016 BFA in Digital Art and Animation graduate Apollonia "Apol" Vick decided she wanted to make her capstone 3D film project, Adija, really count. "I had taken Pamela Mathues' storyboard class, which totally changed my trajectory," Vick says. "I wanted to make something honoring the school that told a touching story." As her team's story lead and art director, Vick turned to an animated short named Mojo by story artist and director Everett Downing Jr. for inspiration.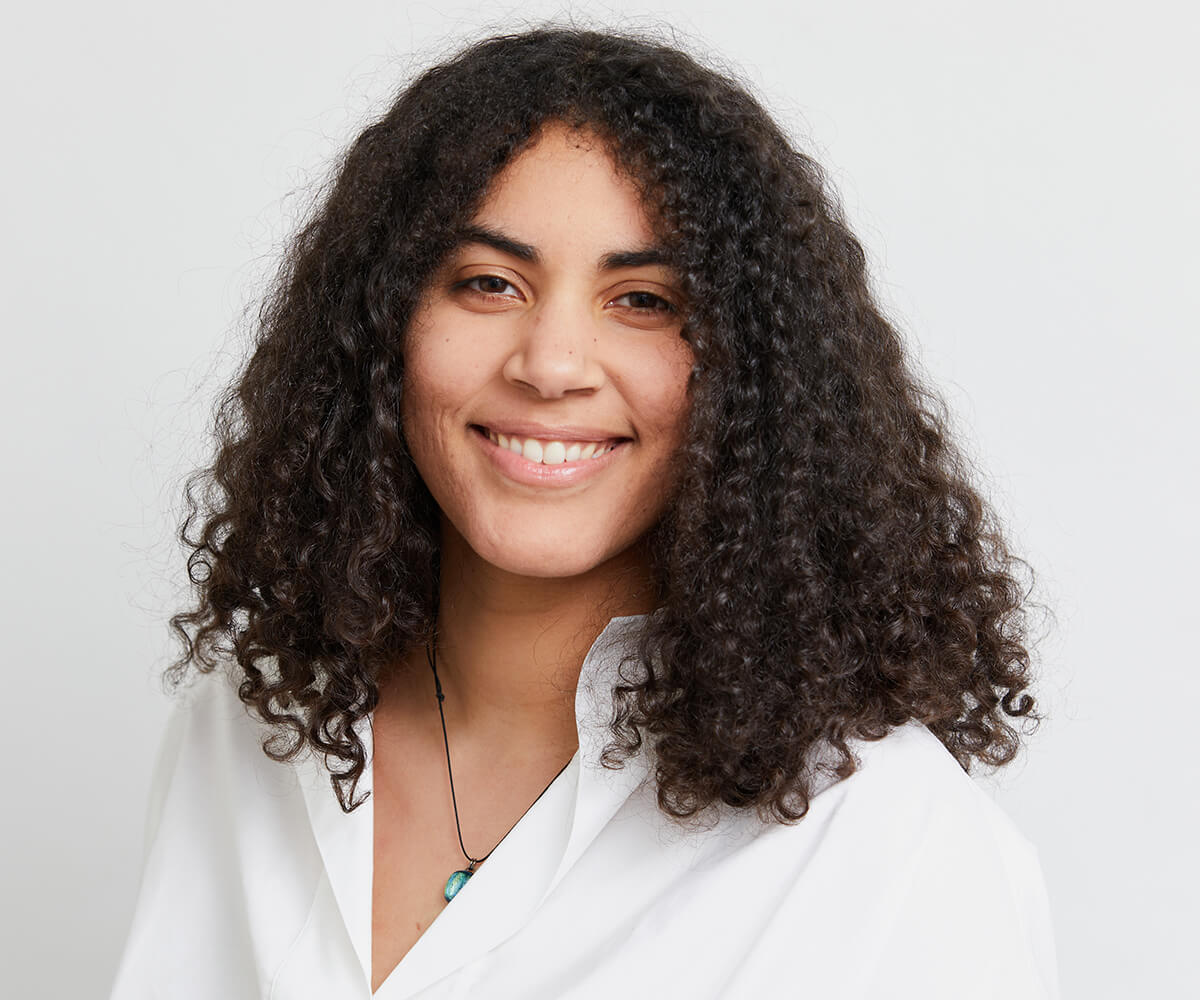 "I loved the way he stylized urban grime and how he foregrounded POC characters," Vick says. "Growing up, I didn't have a Disney princess that looked like me, so with Adija, telling a story through this girl, this character I could put some of myself into, was important to me." Adija's story proved important to people around the world too. During its remarkable festival run, the tale of a young girl from the Bronx processing her parents' domestic strife through graffiti became one of the most acclaimed student films in DigiPen history.
Years later in California, through a graduate school friend, Vick had a surprise encounter with one of Adija's many fans — director Everett Downing Jr. "It turned out he'd seen Adija before he met me!" Vick says. "Everett said he knew I had talent and potential and wanted to give me a chance to break into the industry." That break would turn out to be a story trainee position on Downing's new Netflix action sci-fi series, My Dad the Bounty Hunter, a show that, like Adija, tells a tender story about strained family bonds centering a POC cast of characters. The 3D animated series follows siblings Lisa and Sean as they accidentally stowaway on an intergalactic adventure one weekend with their estranged father Terry, who they discover has been leading a double life as a spacefaring bounty hunter.
By the time she landed at Netflix, Vick had been on plenty of her own adventures. Not only had she led the story work on the award-winning Adija, but also a 40-plus member animation team for her master's film, Monsters in the Dark, and the short film Ventana. The latter was created as part of the prestigious Walt Disney Animation Studios internship program in 2017, a role that required Vick to storyboard an entire film in three days and pitch it to a huge production room full of Disney animation pros.
"I found out later it was one of the first times they didn't give any story notes on an intern presentation," Vick says. "I was like, 'I think I'm getting the hang of this whole story thing!'"
Despite all her experience, Vick says jumping into her first storyboarding job on a professional production at Netflix left her feeling intimidated. "With My Dad, I had imposter syndrome going on at first. 'Do they really know I got in here? Are they going to kick me out at any time?'" Vick says. "I didn't believe it until I got my first paycheck. When it hit my bank account, I was like, 'Oh my god, I got paid to look at and draw characters all day. This is ridonculous!'"
The imposter syndrome evaporated even further when Vick was promoted from a story trainee to a full story revisionist position a year and a half into production, leveling up Vick's responsibilities on the show. As a revisionist, Vick's job was to take story artists' clean storyboards and assist in refining them further based on the episode director's many rounds of notes. That could mean fully drawing out sequences full of stick figure stand-ins, editing and adjusting rough 3D assets and cameras, or completely changing a character's acting during certain sequences. "If the dialogue would change, a character might go from delivering more of an upbeat line read to something more somber, or the director might want more emotion from a character to emphasize the meaning of a particular line," Vick says.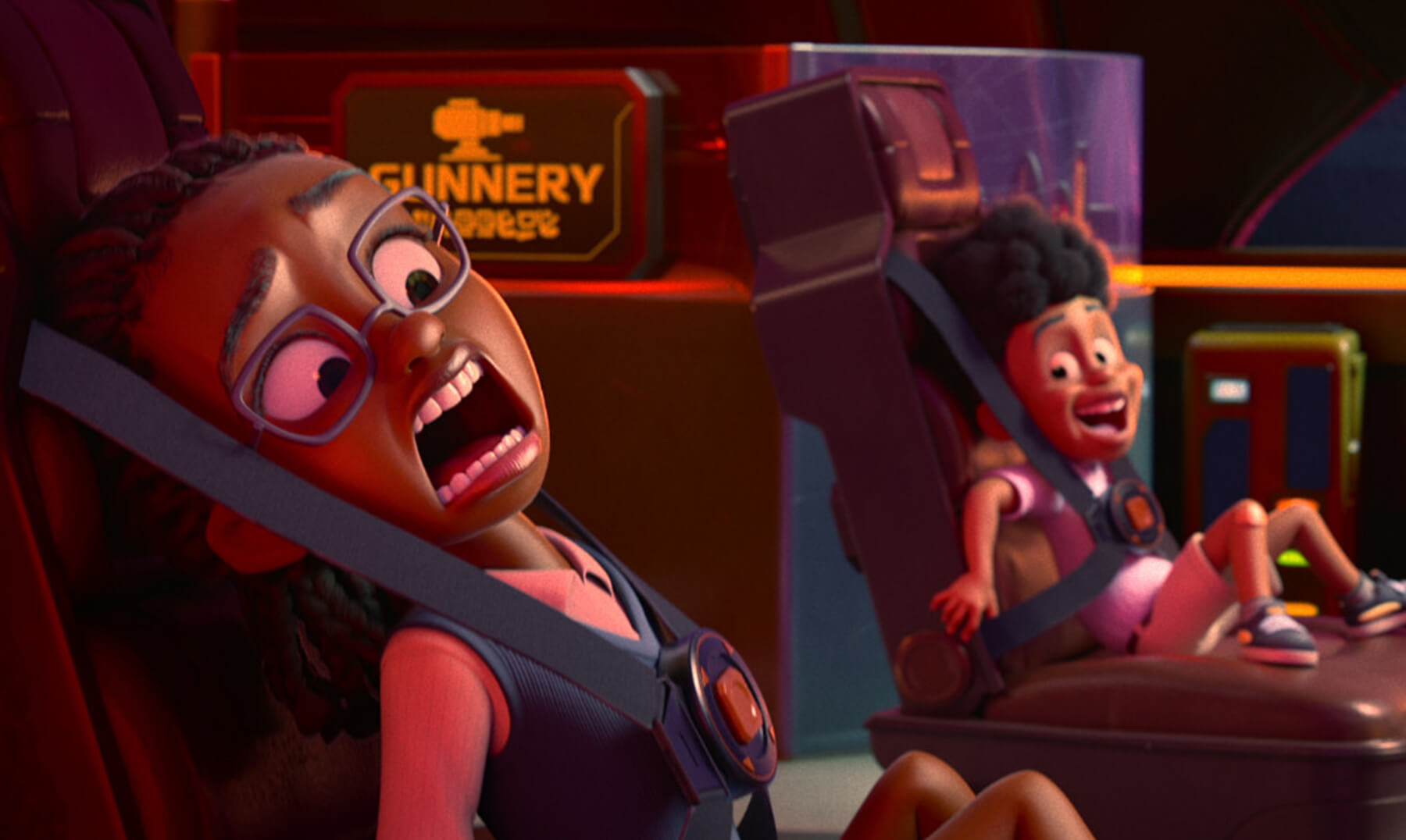 Having chiefly worked on short student films up to that point, diving into an episodic series presented a few new unique challenges. "In school you have a lot of control on your film, and you get to work really hard on your one small story arc that is, hopefully, no longer than two minutes," Vick says. "On a series, you're honoring someone else's intent for an episode, as well as the context and continuity of a whole season. You can't just make up new assets, new dialogue, new set pieces, because that affects an entire pipeline of designers, voice actors, layout artists, and 3D animators down the line."
Luckily, Vick's time at DigiPen more than prepared her for the task at hand. "Understanding the entire animation pipeline and having done it at DigiPen gave me a much better vocabulary that enabled me to be a better team player," Vick says. "DigiPen film teams really are a microcosm of what the industry is like. The relationships, the collaboration, and the ways you need to communicate are literally the exact same."
Since its Netflix debut in February, My Dad the Bounty Hunter has received resoundingly positive reviews, earning a 100 percent approval rating on Rotten Tomatoes and a glowing Rolling Stone write-up calling it an "Afrofuturist marvel." "Watching the whole crew work their butts off, then seeing their work all rendered and amazing on screen getting praise, you're just so proud," Vick says. "It's fun when you see your own credit on an episode and go, 'Oh, wow, I did work on that sequence.' It's such a blur that you forget sometimes."
DigiPen film teams really are a microcosm of what the industry is like.
Since wrapping production on My Dad the Bounty Hunter, Vick has spent the last year settling into her new job as a full-time storyboard artist at DreamWorks Animation, where she's been hard at work on another Netflix show, the new season of preschool series Gabby's Dollhouse. "It so cute, adorable, and sweet, and so is the crew!" Vick says.
As a storyboard artist, Vick's job is to take Gabby's Dollhouse scripts and bring the words to life as pictures. Although clarity is always king in storyboarding, getting used to the preschool mindset has taken a bit of adjustment. "You have to become the 4-year-old watching the scene," Vick laughs. "If a character appears in or leaves a scene, you have to follow that character. If characters talk about a piece of cake, the camera needs to actually show the cake. Sometimes we have to make characters look to camera, which feels so unnatural coming from a more cinematic background."
Despite the style shift, jumping in at DreamWorks has felt like a natural fit. That's thanks in no small part to fellow DigiPen graduate and DreamWorks story artist Sayah Gold, who Vick originally met in school through Pamela Mathues. "She works in the feature department. She's a good friend of mine. We'll schedule lunch at DreamWorks because the campus is so big," Vick says. "We're sticking together out here!"