DigiPen Senior Lecturer Sonia Michaels is on a winning streak, receiving honors and recognition from two prominent game industry organizations.
The faculty chair of the Department of Humanities and Social Sciences was named the 2023 recipient of the Excellence Award for Teaching, presented on behalf of IndieCade Horizons as a part of their second-annual Horizons Faculty of Excellence Awards. Michaels was one of four college-level educators honored during the IndieCade Horizons showcase event on June 6.
The award was in recognition for Michaels' decades-long career, teaching students at the intersection of literature, communications, and games-focused career building. Michaels joined the DigiPen faculty in 2008 and has since taught a wide range of popular courses on English composition, speculative fiction, and professional communication. In addition, she's worked in tandem with the DigiPen Career Services team, providing individualized career coaching to hundreds of DigiPen students of all disciplines, with a particular focus on preparing students for their first jobs in game development. She also serves as one of the staff advisors to DigiPen's student-led Career Club.
"In my classes we work on creating resumes, preparing for interviews, and so on. We also get to have important, challenging conversations about crunch culture, burnout, layoffs, labor practices, and more," Michaels said during her award acceptance speech. "I want my students to get jobs, but most importantly, I want them to build careers that will sustain and fulfill them."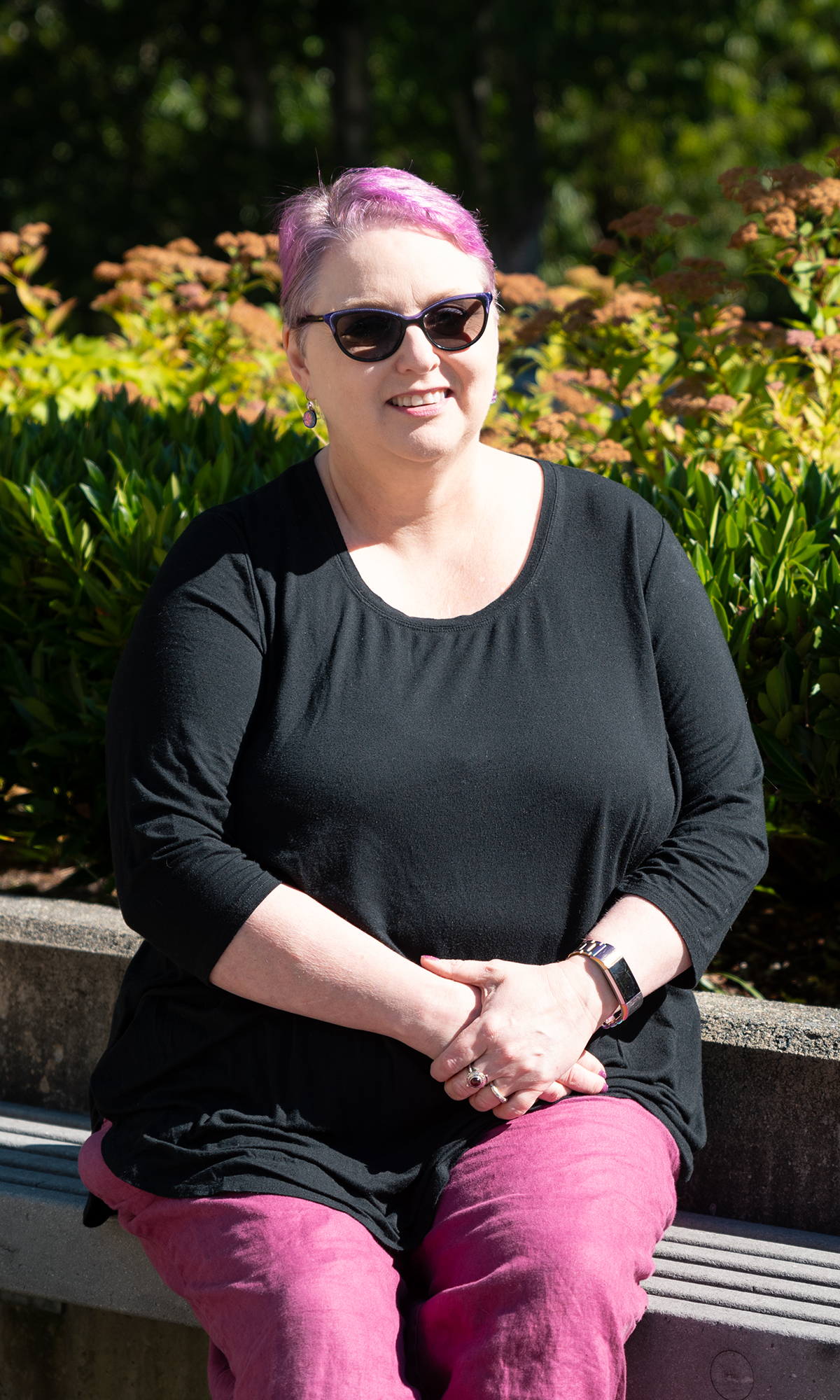 One of her favorite areas of focus is helping students prepare for networking opportunities at the annual Game Developers Conference in San Francisco — a self-driven task that has even involved running a Discord server where student attendees can pose questions and ask for urgent help before, during, and after the event. In 2023, Michaels brought her job-hunting expertise to an even wider GDC audience by presenting a talk titled "'Soft' Skills Are Hard! Acing the Non-Technical Interview Questions."
"Students and others who are working to enter the game industry tend to focus on the discipline-specific skills they need to do their jobs, which means that they often pay less attention to — or are significantly more nervous about — the interpersonal aspects of job interviews," Michaels says. "I had just 30 minutes for this talk, so I created a presentation that was, essentially, a speed run of much of the information I share in my classes about how to approach the various question types that are likely to come up in interviews and how to figure out the 'questions behind the questions.'"
Based on anecdotal evidence, Michael's presentation struck a chord.
"I've had messages from people as far away as Scotland and Bulgaria thanking me for the talk, but even better, telling me that the strategies I talked about actually helped them get job offers," she says.
Not only that, just days after receiving the IndieCade Horizons award, Michaels was informed that her talk was the top-rated session not only for the GDC 2023 Game Career Seminar track, but for all career-focused sessions that year. As such, she'll have her name and picture included in the 2024 version of the official GDC speaker deck of cards — a physical souvenir highlighting the 50 highest-rated speakers from the prior year's event.
"The GDC speaker deck is one of those things that I never thought I'd get to be part of, mostly because the stuff I give presentations about is games adjacent. I'm talking about career development for the most part, rather than how to make a good game," she says.
There is honestly nothing better than getting an email or LinkedIn message from someone telling me that they got a job."
In addition to her multiple speaking engagements at GDC, Michaels has also spoken at PAX Dev, GeekGirlCon, and the New Directions in the Humanities conference. In 2018, Michaels became an inductee to Game Advocacy's inaugural list of "50 Over 50" in video games. She also recently completed a three-year elected term as a member of the International Game Developers Association's Board of Directors.
While the recent accolades are a welcome validation for Michaels, she says it's only the cherry on top of the work itself, which she continues to engage in both inside and outside the classroom.
"When I started teaching, I had no idea that this would be the direction I'd take — I thought I was going to be an English teacher!" Michaels says. "I'm still an English teacher, which has its own rewards, but there is honestly nothing better than getting an email or LinkedIn message from someone telling me that they got a job or letting me know that a lecture I gave back when they were in school helped them deal with the awfulness of getting laid off. Stuff like that feels so much better than any teaching award could, really."
---
IndieCade is an international festival celebrating independent games and interactive media. IndieCade Horizons is a subset organization and event series, created and organized in partnership with the Higher Education Video Game Alliance, with a special focus on student game development and games education.