Four DigiPen BA in Game Design students claimed top prizes at the 2023 Game Narrative Review Competition, an annual contest held by the Game Developers Conference (GDC). The competition ranks students at universities across the country based on structured narrative analyses of video games of their choice. Ellen Heitmann's Xenoblade Chronicles analysis won a coveted Platinum award, while Connor Runyon's Steins;Gate, Canon Coker's Bloodborne, and Vasilisa Shcherbakova's Little Nightmares II analyses each won Gold. Those awards also earned the students a free pass to the weeklong conference in San Francisco this past March, where they were invited to deliver talks on their winning analyses at GDC's Game Narrative Summit.
"It felt really validating, as if I'd finally made it somewhere," Heitmann says of her Platinum win. A fan of Xenoblade Chronicles since 2017, Heitmann had been analyzing and writing about her favorite game ever since she first played it. At GDC, she found herself delivering the opening narrative review presentation of the summit, taking the stage at a major industry event discussing a game she'd spent years passionately studying. "It was surreal to see all of that history progress into such a big opportunity, and for people to end up being so interested in what I had to say," Heitmann says.
"Surreal" is a recurring theme in the students' recollections of their GDC experiences, which found them interacting with the publishers and developers of some of their favorite games, attending personally inspiring presentations, and making new industry connections and friendships. "The entire experience of being treated by the GDC staff as a real speaker, skipping lines, and seeing behind-the-scenes stuff not everyone gets to see, all of that was a really cool experience," Coker says. "I didn't just feel like I was going to GDC. I felt like I was a part of it."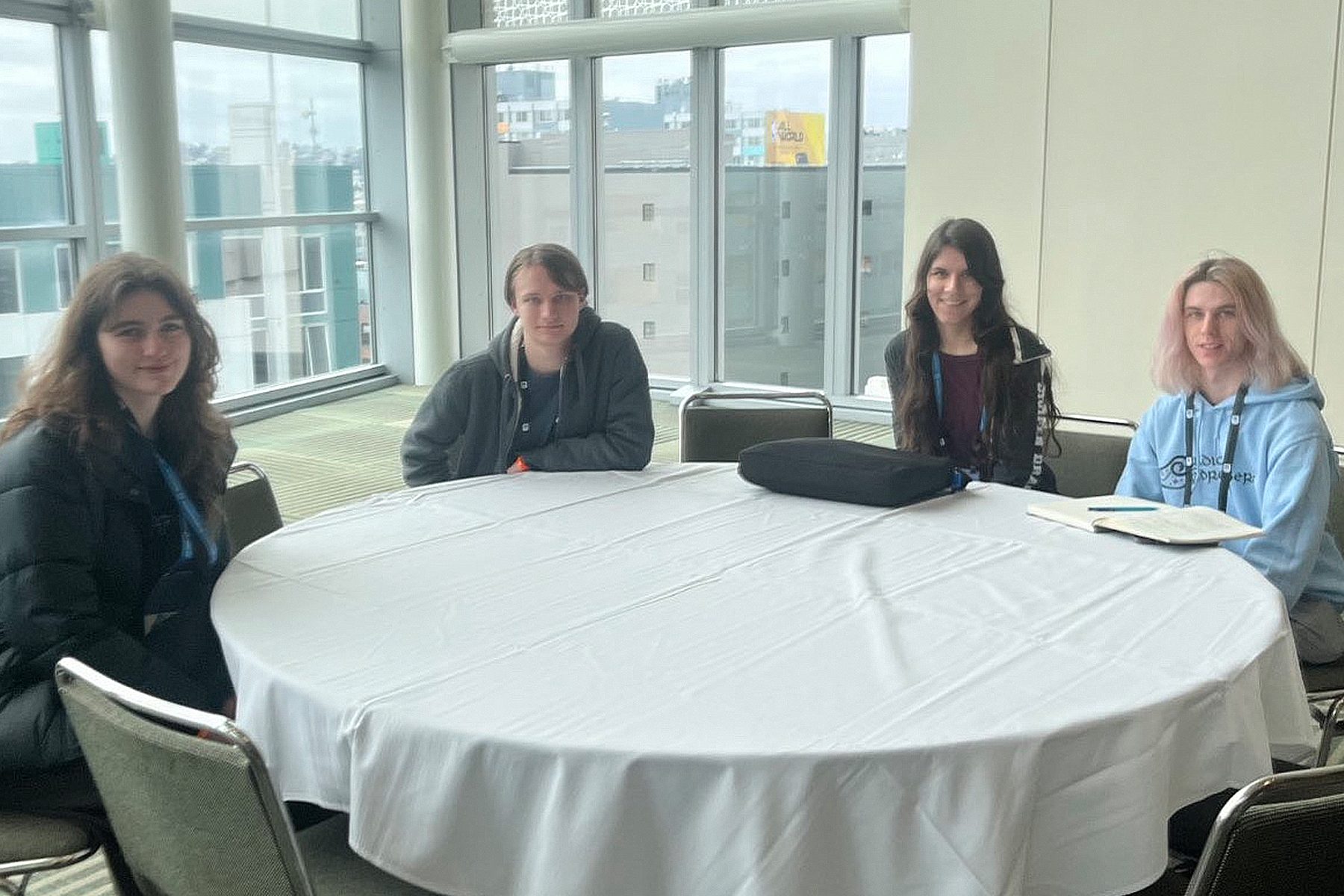 Runyon's presentation on publisher Spike Chunsoft's visual novel Steins;Gate ended up opening some real-world gates later on in the conference. After his talk, an audience member approached Runyon to give him kudos, professing to be a huge fan of Steins;Gate himself. "It turned out he was going to be conducting an interview at the closed, meetings-only Spike Chunsoft booth with the head localizer of the upcoming entry in the series. He liked my presentation enough that he invited me to tag along," Runyon says. "I think what made it really special to me was that this awesome opportunity was born purely as a byproduct of my narrative presentation, this thing I spent so much time and effort cultivating."
The students met with plenty of other industry stars as well, including members of Hades developer Supergiant Games, The Witcher developer CD Projekt Red, Roblox developers, and the host of popular YouTube game design series Game Maker's Toolkit, Mark Brown. "I even had the chance to speak with recruiters from Epic Games and Blizzard," Shcherbakova says. "Many of these connections were made in unexpected places, like while waiting in line or during social events."
Coker had an unexpected, impactful encounter with some developers he already held in high esteem before the conference. "My highlight was meeting a few of the Housemarque team members behind Returnal," Coker says, who calls the 2021 roguelike one of his most recent favorite games. "Getting to speak with the team about their experience on the project, and how they will continue to be true to their design principles as our industry looks to the future, was an absolutely inspiring moment."
Coker and Heitmann also found lots of insight in developer Andrew Shouldice's session on designing the Zelda-inspired 2022 indie hit, Tunic. "The Tunic talk was incredibly impactful to me, as I'm a huge fan of puzzle games, having grown up with the Zelda series. The design philosophies for Tunic were very inspiring and applicable to what I want to do," Heitmann says. "I have a huge appreciation for Tunic and the team behind it and imagine I'll be referencing the ideas covered in that session heavily in the future."
Watching the live reveal of Unreal Engine 5.2 at Epic's "State of Unreal 2023" presentation stood out as another highlight. "Being in the audience was one of the coolest experiences I've ever had," Coker says of the engine demo. "All of the new tech is so awesome and extremely applicable to the work I do, and I can't wait to start getting my hands dirty with it."
The environment inspired me to put my all into everything I do.
Runyon's favorite GDC presentations were also applicable to his own work, covering topics like indie game marketing and playtesting. "I got a lot out of the Independent Games Summit talks, which had meaningful applications both in the professional space and to me now as a student designer," Runyon says. "They turned out to be the most memorable and useful."
Shcherbakova's most memorable moment of the week came courtesy of 2012 DigiPen graduate Corey Blackburn, co-founder of indie studio Voracious Games. Potionomics, the studio's latest game, earned the Audience Award at GDC's annual Independent Games Festival as Shcherbakova looked on from the audience. "It was very exciting to see people from DigiPen getting recognized on such a big stage," Shcherbakova says. "I felt inspired and energized, ready to take on new challenges in my own work."
While plenty of design and tech-focused sessions changed the students' perspectives, the group says the biggest GDC takeaway was simply getting to engage firsthand with the culture of the video game industry. "Everyone I talked to was welcoming, helpful, and encouraging, and it was wonderful to meet so many passion-driven people," Heitmann says.
It's a sentiment Coker echoes. "GDC was such a kind and welcoming community of people who really care about what they do," he says. "The environment inspired me to put my all into everything I do."