When the students of DigiPen's Team Slippers were piecing together a development plan for their game project, they all agreed to take one obvious step together — a trip to the plant store. "We visited the Bellevue Nursery for inspiration and reference as a team-bonding activity," says BFA in Digital Art and Animation graduate and team art lead Nika Pavlova.
Out of that fertile soil grew the team's impressive new project, Green Reaper. The third-person action game puts players in control of Rubin, a scythe-wielding rose chosen by Antheia, the Greek goddess of gardens, to save her sacred greenhouse from corruption by the spores of fungal foes.
The project took the 23 students of Team Slippers three semesters to complete, a massive amount of effort evident in the game's high level of polish. "I worked in production for the entirety of development, and I'm incredibly proud to have been in that position and helped this behemoth of a team make it through [third semester game project course] GAM 375 and onto Steam," says BS in Computer Science in Real-Time Interactive Simulation graduate and team co-producer Spencer Williams.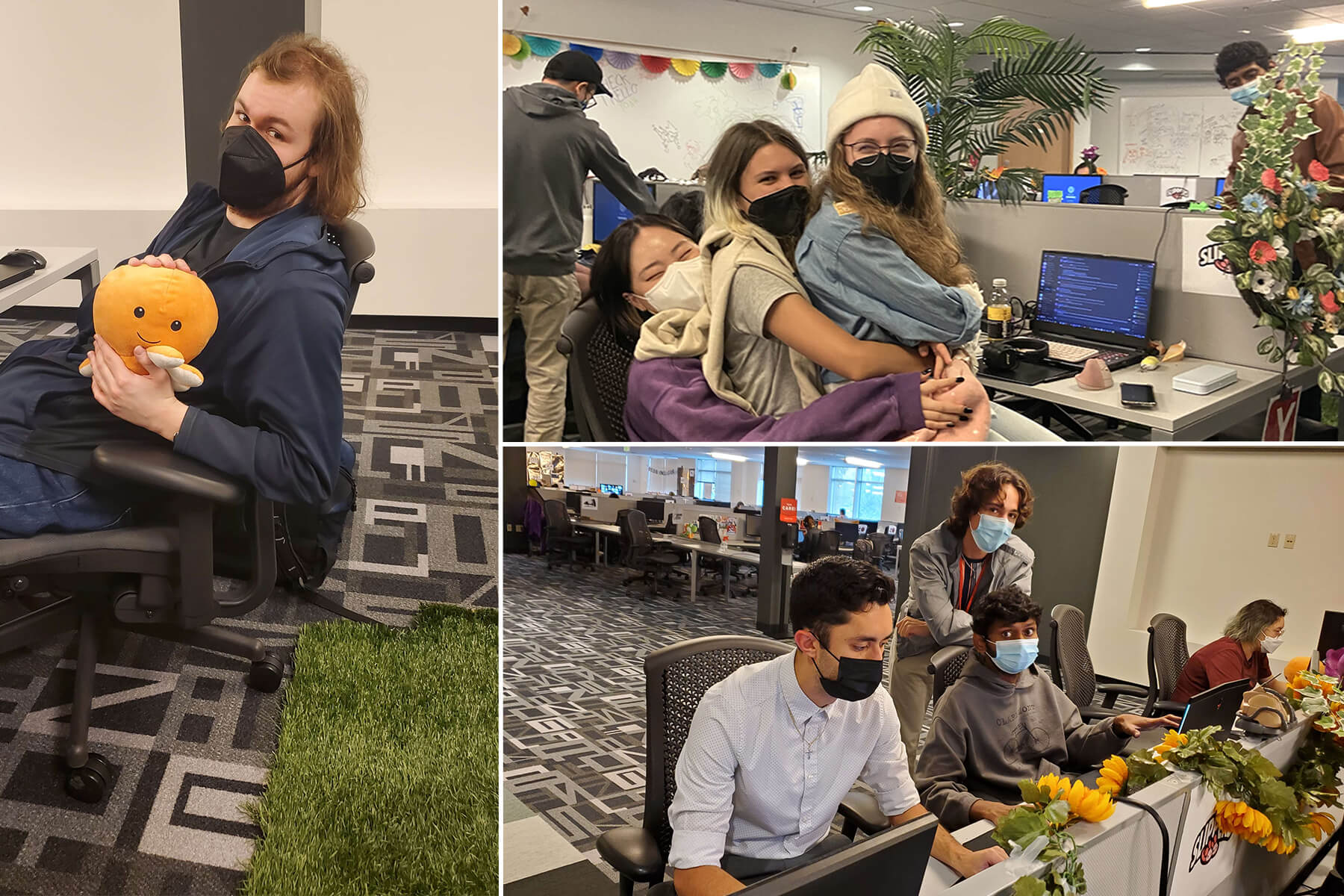 The seed idea for Green Reaper was, in fact, born from a fondness for seeds and the things that grow from them. "We thought it would be cute to have a beautiful plant game, especially those of us who are plant lovers," Pavlova says. The artists on the team immediately fell in love with the concept of a greenhouse setting and the visual possibilities it presented. "A lot of the ambition of the team was fueled by the strong affinity in art direction towards this idea of having an adventure in a greenhouse, and it became such a driving force for all aspects of Green Reaper," says BA in Music and Sound Design graduate and team audio lead Ina Almacen.
The game's hero Rubin packs plenty of flower power with their scythe swipes and special attacks, but they're still only the size of a rose. That miniature scale makes the game's greenhouse setting feel enormous, with flowers, leaves, and blades of grass towering over your adventure. Nailing those verdant visuals took lots of work. "Going into [second semester junior game project course] GAM 350, our art style wasn't unified. I pitched a draw over of a game screenshot to push the game into a more vibrant and lush direction," Pavlova says. Thanks to an eye for consistency from fellow BFA graduate and team art director Dottie Johnson, the new style shift stuck, and Green Reaper blossomed into a unique, rich visual experience.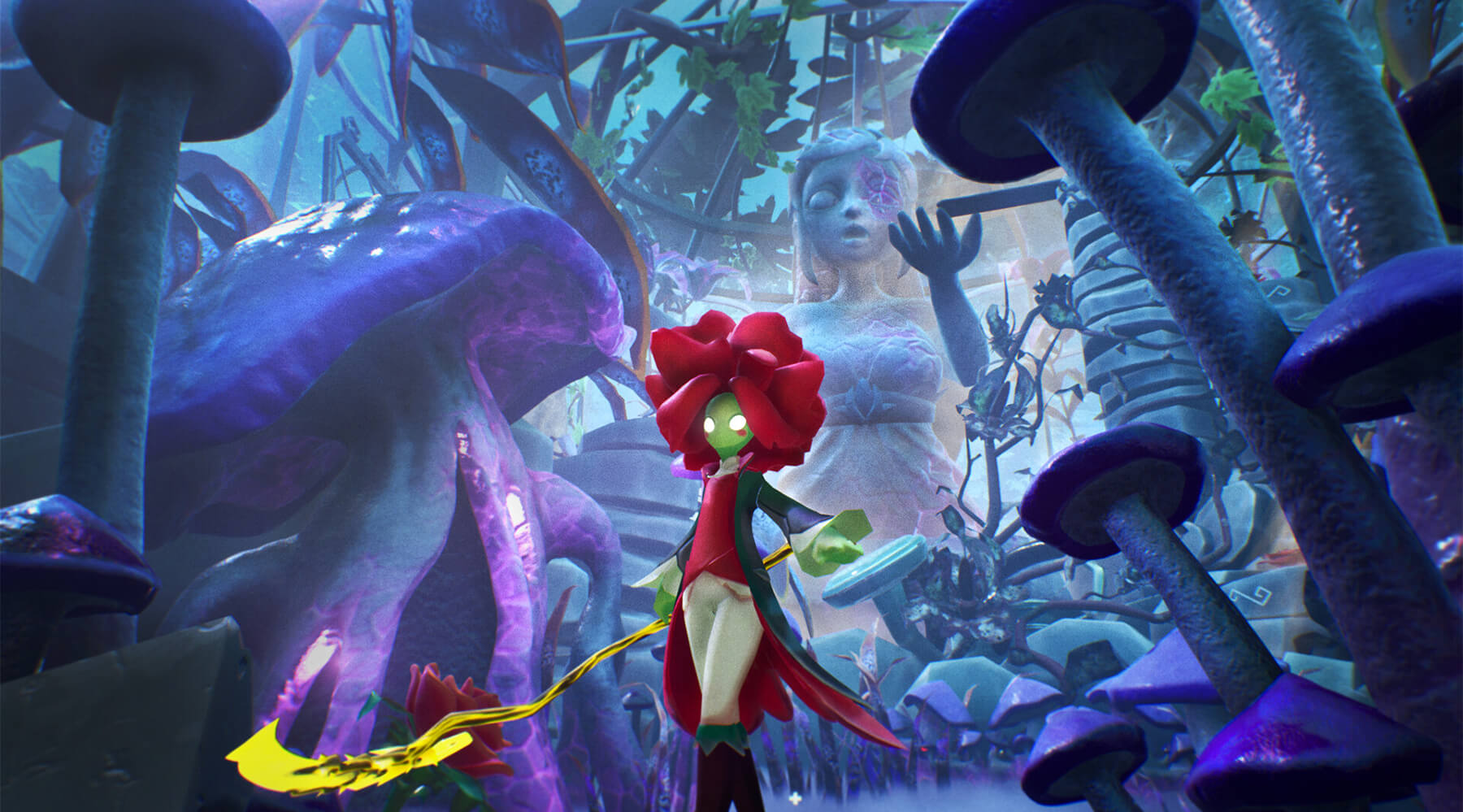 Rubin's fierce, floral character design also took plenty of time and cultivation to fully bloom. "Rubin alone changed models three times before we got to the final design," says BFA graduate and team character modeler Ariel Moss. When the game's development began junior year, Team Slippers only had one person on character design. That gradually grew into two, and then became an entire "character strike team" senior year as the game's scope and team size expanded. This "strike team" saw character designers and modelers working closely together to make sure the 2D concepts came through in the 3D models. "We also had [BA in Game Design graduate] El Schaefer, our narrative designer, give advice on how the designs could be tied in thematically through plant symbolism," Moss says.
Team Slippers' game designers focused much of their energy on bringing Rubin to life through gameplay. "Game feel was our biggest priority while designing this game," says BA in Game Design graduate and Team Slippers creative director Prasad C.A. "We wanted to make the players feel like they were controlling a small-sized character in a real, life-sized greenhouse." Initially, the team focused on executing that vision through combat, laying the game out as a sequence of arena-style greenhouse areas for Rubin to clear.
After many rounds of playtesting, the design team realized players needed something else to break battles up and convey the feeling of being a nimble rose warrior. "I wanted to add a little platforming section before each arena to give players a skill gap between encounters and not tire them out," C.A., who also served as the team's level and encounter designer, says. Suddenly, Green Reaper evolved into an action-platformer, with Rubin dashing across hanging pots, bouncing off flower blossoms, and leaping between rocks and toadstools on their quest to purge the greenhouse of mushroom marauders. "This led to new systems in the game and, eventually, a bigger greenhouse, new assets, everything," C.A. says.
As the audio lead and composer, Almacen spent much of development crafting the game's symphonic electro-pop soundscape. Early on, she developed a style guide for the game's music based on three specific pillars: Porter Robinson's Nurture album, Shiro Sagisu's score for Evangelion 3.0+1.0: Thrice Upon A Time, and Kero Kero Bonito's Civilisation I and II EPs. "My vision was to communicate a sense of the supernatural corruption present in the game, as well as the primal healing and rejuvenation the player was aiming to accomplish," Almacen says. "The sonic storytelling of those three [pillars] in particular felt like the right wells to draw from."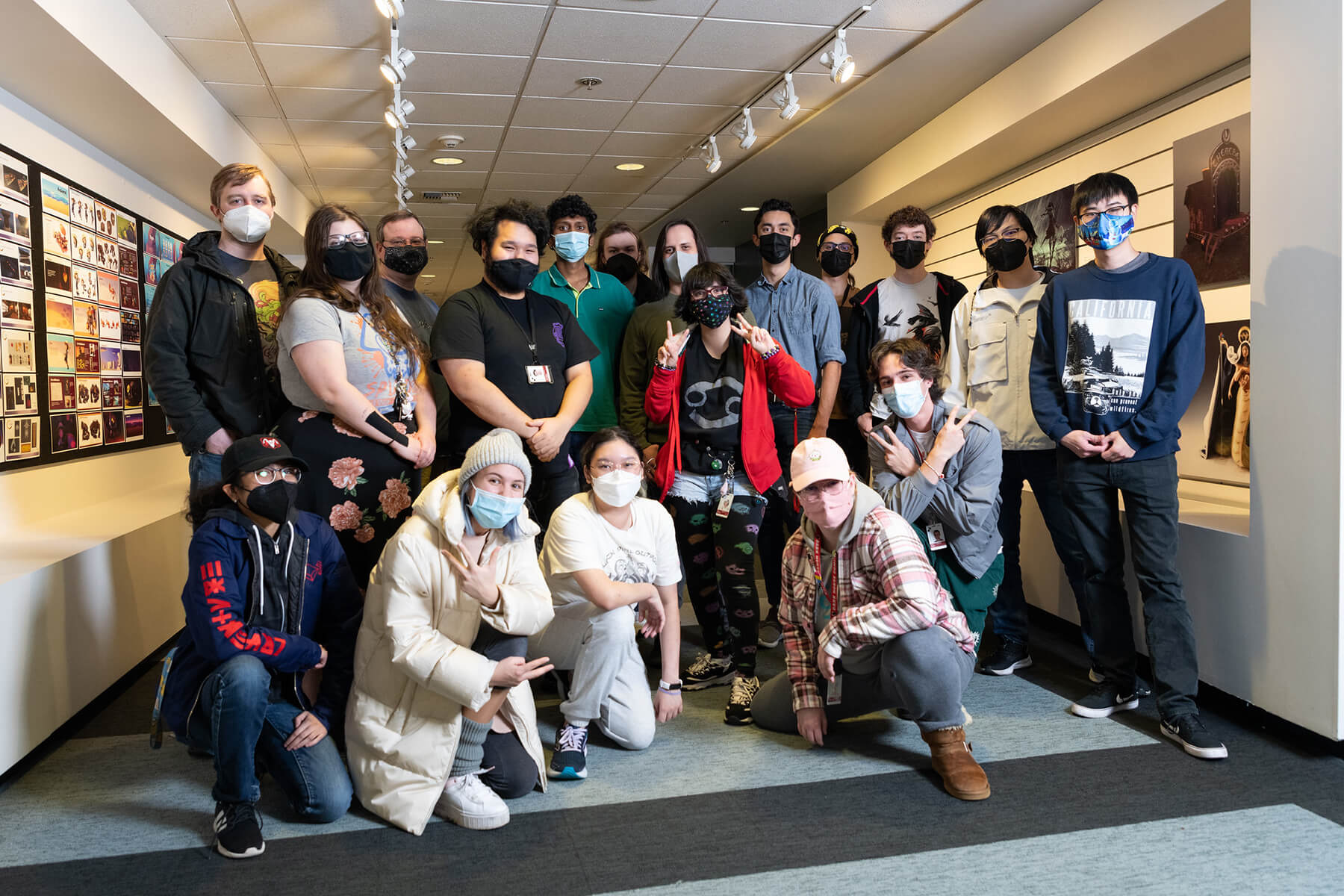 When it came to voicing the game's characters, Team Slippers themselves ended up being the well Almacen drew from. "I voiced Rubin and had the greatest pleasure of getting El, Dottie, and Ethan [Yant] — our environment art lead — to do a plethora of mushroom creature noises, ones I didn't even know could be made by humans," Almacen says. "I blended them all together in different ratios to make the hive-mind aspect of the enemies more believable." During the third semester of the project, Almacen was joined by a second sound designer, Karlye Shank, who overhauled the game's combat sound effects feedback system. "It truly evolved and flourished thanks to Karlye's initiative and her awesome sound design chops," Almacen says.
Bringing a second sound designer on was a boon, but managing production for a team that expanded in all areas throughout development was a formidable challenge. "It took us three semesters to figure out how to make a team Trello board that people would actually use," Williams says. "I really can't commend the leads of each department enough. Everyone who stepped up did amazing; they really were the backbone of the production."
So far, over 100 positive Steam reviewers agree that Green Reaper is an amazing achievement, with fans even posting playthrough videos of their experiences in the brief time the game has been available. "The team was elated that first launch weekend seeing those first reviews and gameplay videos roll in," Almacen says. "We celebrated each and every one in our dev server chats. That positive cycle between players and devs was really encouraging, and I'll never forget it."