Thomas O'Connor and Ryan Meyer have always been console gamers at heart, opting for the kind of tactile playing experience that involves a plastic controller with thumbsticks and buttons firmly in one's grip. Today, more than a decade after graduating from DigiPen's BS in Computer Science in Real-Time Interactive Simulation program, console gaming remains their specialty.
As co-founders of PlayEveryWare, a Seattle-based co-development studio, they and their fellow coworkers provide a valuable service to other game studios who want to bring their games to new audiences on other platforms. A quick glance on the PlayEveryWare website shows that since 2016 alone, they've ported more than 20 indie titles — most of which originated on PC or last-generation consoles — to a wide array of popular systems, such as the Nintendo Switch, Xbox One, and PlayStation 4. Some of their shipped projects have included smash hits like Streets of Rogue, Hello Neighbor, Castle Crashers, and Risk of Rain 2.
"A lot of those projects were across multiple platforms, so we're probably somewhere along the lines of 40 SKUs," O'Connor says, referring to the total number of unique products shipped. "I'm really excited for this year too, because there are a bunch more we're going to put up there."
With 10 full-time employees, three additional contractors, and a new spacious office space located in Seattle's Georgetown neighborhood, both O'Connor and Meyer have plans to expand their operation even further still — including internationally.
"Our goal this year is to be about 20 employees here [in Seattle], and then we're opening a second office in Yokohama, Japan," O'Connor says.
The Japanese branch, he says, will be headed up by BFA in Digital Art and Animation graduate Mike Ratto, another studio co-founder who is currently obtaining his Master of Business Administration degree overseas.
While the company certainly seems to be hitting its stride, it's been a long journey of several starts and pauses to get to where they are today. In fact, it all began almost immediately after O'Connor, Meyer, and Ratto graduated from DigiPen in the spring of 2009.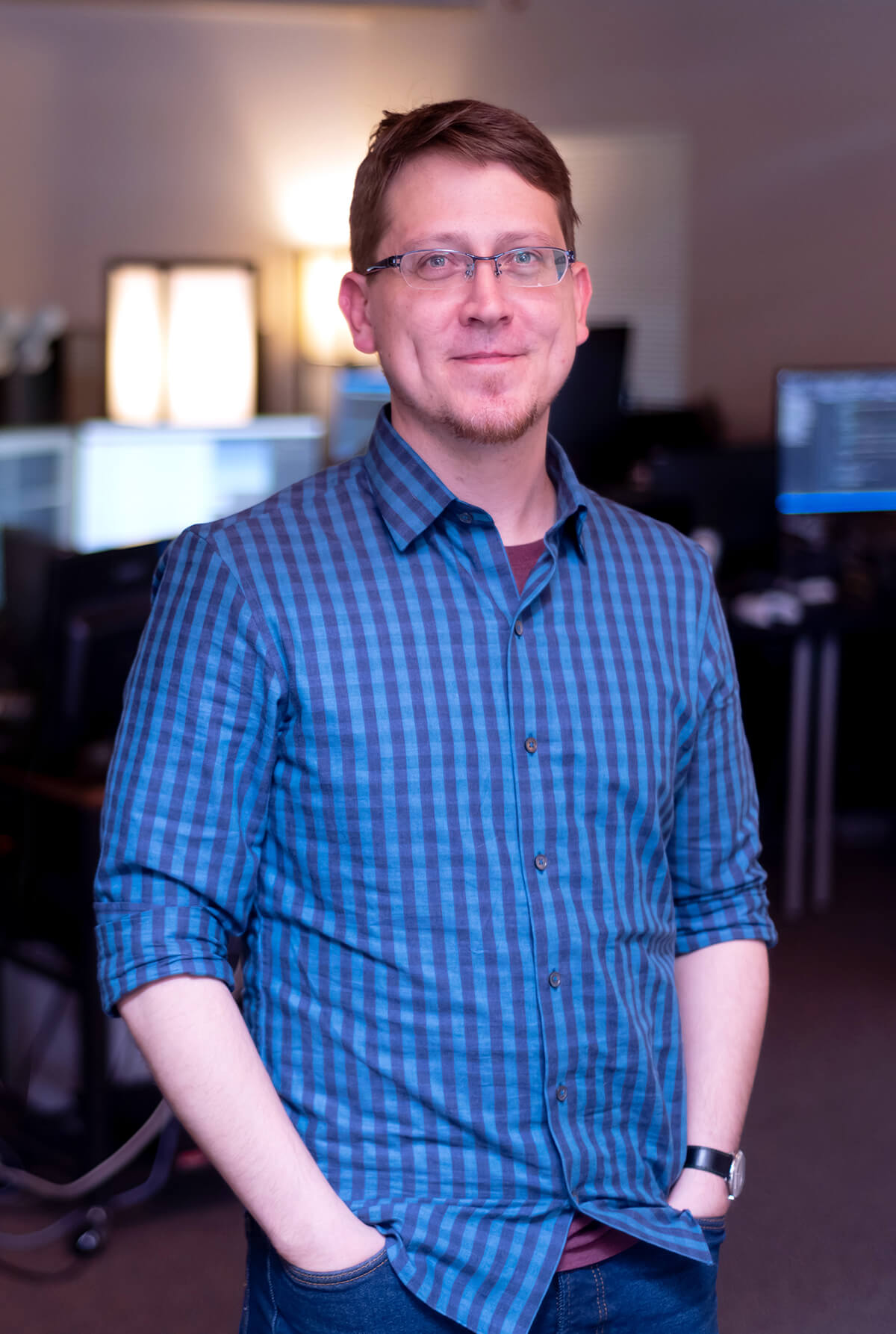 "A bunch of us were living together while going to school at DigiPen. And so we formed a company, because we wanted to keep working together after we graduated. The idea was that we would make a game in our free time while we had day jobs," O'Connor recalls. "The reality is that the game industry is incredibly crunchy, and we had no free time."
Nevertheless, the fledgling team came close to releasing an indie tower defense game for the Nintendo DSiWare digital storefront — going so far as to demo their work-in-progress at local expos. Although that project eventually stalled, O'Connor and Meyer continued to gain valuable experience at a number of game studios. O'Connor went on to programming and development support jobs at 5th Cell Media, Nintendo of America, and Microsoft. Meyer, meanwhile, built up his resume at Surreal Software, Microsoft, ArenaNet, and Hi-Rez Studios in Georgia. Their paths even overlapped for a short time when they both worked at Fuelcell Games on the Xbox 360 game Insanely Twisted Shadow Planet.
At the same time, both graduates sought out opportunities for contract work outside their day jobs, holding on to the dream of eventually making PlayEveryWare a sustainable operation. Both Meyer and O'Connor picked up side gigs through indie studio WayForward Technologies. Those contracts led to a bigger opportunity, in 2013, when the two were enlisted to design and develop a licensed game based on Cartoon Network's Regular Show franchise.
"We made a game for WayForward called Regular Show: Mordecai and Rigby in 8-bit Land. We hired a few people. That was our first experience building a team, scaling up, doing something to spec," O'Connor says. "That was for the 3DS using a custom C++ engine."
Around the same time, while working as a contractor for Nintendo, O'Connor arranged with a developer from Mexico to port and publish his indie game, Elliot Quest, to the Nintendo Wii U platform. It was the first title officially published under the PlayEveryWare studio name.
Eventually, after years of generating contacts, building a reputation for solid work, and honing their knowledge of the console development process, O'Connor and Meyer saw an opportunity to quit their day jobs and commit to PlayEveryWare full-time.
"That was 2016, so I would call that the real start of what we've been doing now," O'Connor says. "Once we really understood that we could do porting, we were like, 'OK. We can capitalize on our expertise, our network — really push the gas on this.'"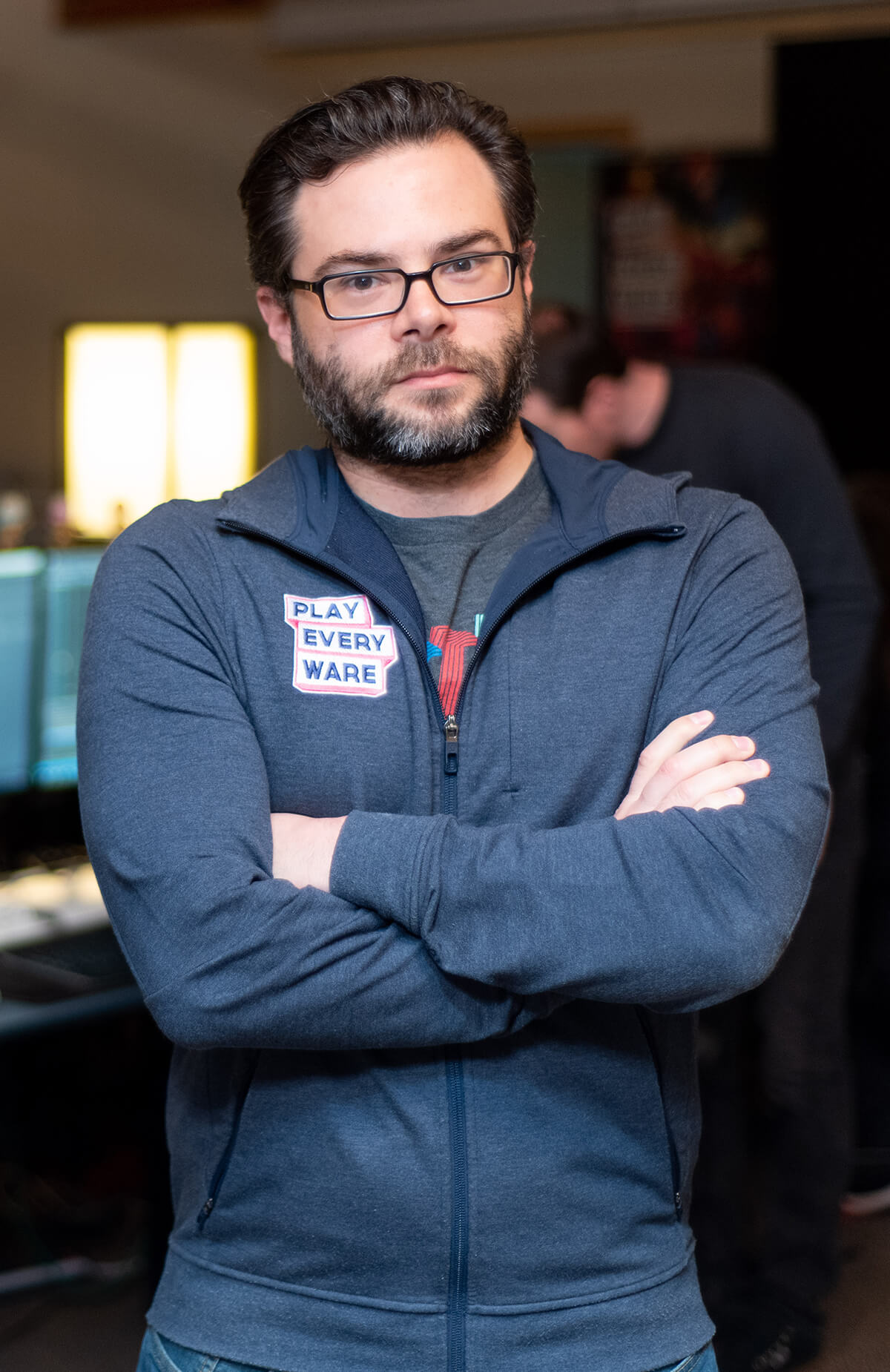 With O'Connor shifting his focus towards business and operations, Meyer continues to work directly on projects as a programmer.
"I wake up with a problem that I don't know how to solve and I have to figure it out, because a lot of stuff that we're doing is new," Meyer says of his typical day at the office.
Most of the games Meyer works with have been developed using a commercial game engine such as Unity or Unreal. And while both engines come with built-in support for modern consoles, bringing a codebase from one platform to another is rarely simple.
"Often, we have to go to Unity and say, 'Hey, it looks like Unity doesn't work with X, Y, and Z.' And then Unity will come back and tell us, 'Oh, you know what? We have to add that feature to the next version.' So we're right up against the edge," Meyer says. "We don't ever stop learning. It's always new. You think, 'Oh, we've done 10 ports. It's going to be the same.' It's never the same."
Even after getting a title up and running on a new system, that's only the beginning. After that, it can still take several weeks or even months of performance optimization and other programming fixes to get everything running smoothly and in-line with each console's unique requirements.
"And now we've started to do UI and UX work, too, to make the game married to the platform. We're also doing more feature development. Maybe the game was single-player and they need help making it multiplayer, or it's already multiplayer and now they want to make it cross-platform multiplayer," O'Connor says. "There's a lot more design work that goes into that, a lot more feature development work that's less driven by first-party platforms and more driven by what we and our partner decide would be good to work on."
For example, the company is currently working with the publisher of Castle Crashers on a demo version of that game. They're also working with Google on some unannounced projects for the new Stadia platform. With other next-generation consoles on the horizon, such as the Xbox Series X and PlayStation 5, O'Connor says those new systems will be critical for the company's growth.
"We ported one of the first titles to come out on Switch, and that was really, really valuable for us. So it's the exact same thing with PS5," he says. "For us, being there early and becoming experts means the parties that we work with can rely on us to actually hit their targets."
Whereas porting remains their bread and butter for now, both Meyer and O'Connor say the ultimate goal is to eventually work on more and more original content. For O'Connor, that means continuing to build and maintain strong relationships with their clients and partners.
"We don't ever stop learning. It's always new. You think, 'Oh, we've done 10 ports. It's going to be the same.' It's never the same."
"If they want to do DLC or a content update [for a game we've worked on], or they want a sequel made, but the development team wants to go make a different game, we already know the system. We know the game. We know the art," he says. "So we think that co-development ends up broadening our opportunities with our partners — expanding the relationships, essentially."
Now that they're steering their own ship, so to speak, the two co-founders are keen to avoid some of the pitfalls of the video game industry they've experienced elsewhere.
"Because of Tom's and my experience with crunch, we do our best to make sure that nobody who gets hired here has to do that. They come in and work when they need to, but we try and make sure that the projects are scheduled appropriately," Meyer says.
"We work hard to prioritize people's relationship with work, with themselves, with their lives outside of work," O'Connor says. "We're pretty transparent about mental health and taking time when needed, like taking personal days. I have therapy every other week, so I'm pretty transparent about why I'm out for an appointment — just to normalize that."
Having already had success in hiring other DigiPen alumni, O'Connor says he plans to return to campus for this year's DigiPen Career Fair and talk to current students about job opportunities at PlayEveryWare.
"Since we've been successful the past few years, we've had to start saying no," Meyer says. "But we can work on as many projects as we can staff, so we're looking."