The annual Career Fair at DigiPen has always distinguished itself through one all-important twist: Instead of having the employers set up shop while job seekers go around looking for opportunities, the DigiPen Career Fair turns the students into the stars of the show.
It's the students and their work that are on display while the company recruiters wander around, sourcing talent to fill particular job roles and striking up conversations with potential hires. This year's event, held earlier this month, saw 119 graduating students setting up booths, handing out resumes, and making their pitches to 94 visiting employers and recruiters from companies such as Apple, Konami, Microsoft, and Nintendo. It also marked the 15-year anniversary of the DigiPen Career Fair, first held in 2003.
While the core format has always been the same, each year's event has come with its own variations and refinements. To make it easier for employers to find the right talent, DigiPen's 2018 Career Fair redesigned and reorganized its floor plan, grouping students together not by degree program or game team, but by role, such as 3D artist, programmer, or systems designer.
"We realized that employers don't necessarily seek out degree programs. They seek out disciplines and job titles. That's what's relevant to them," says Mojan Ahmadi, Advisor of Career and Alumni Development, and the fair's organizer. In addition to making it easier to navigate, the new structure also reinforces the transition from academic to professional accomplishments. "For instance, as an employer, you aren't meeting an RTIS student, you're meeting a graphics programmer. Shifting that perception of graduating students can really work wonders."
Many employers appreciate the level of detail that has gone into the arranging (and re-arranging) of students' booths over the years.
"It makes it easier to specifically meet with programmers or specifically meet with graphic artists," says Jeff Williams, COO of MyPad3D/MXTreality, and a Career Fair attendee since 2008. "The format allows me to expedite my meetings with all of the potential new hires … rather than having to seek out these individuals in a scattered random format." Williams also likes meeting with students that choose to set up joint booths with their project teams, since it gives him insight into how each of them work in groups.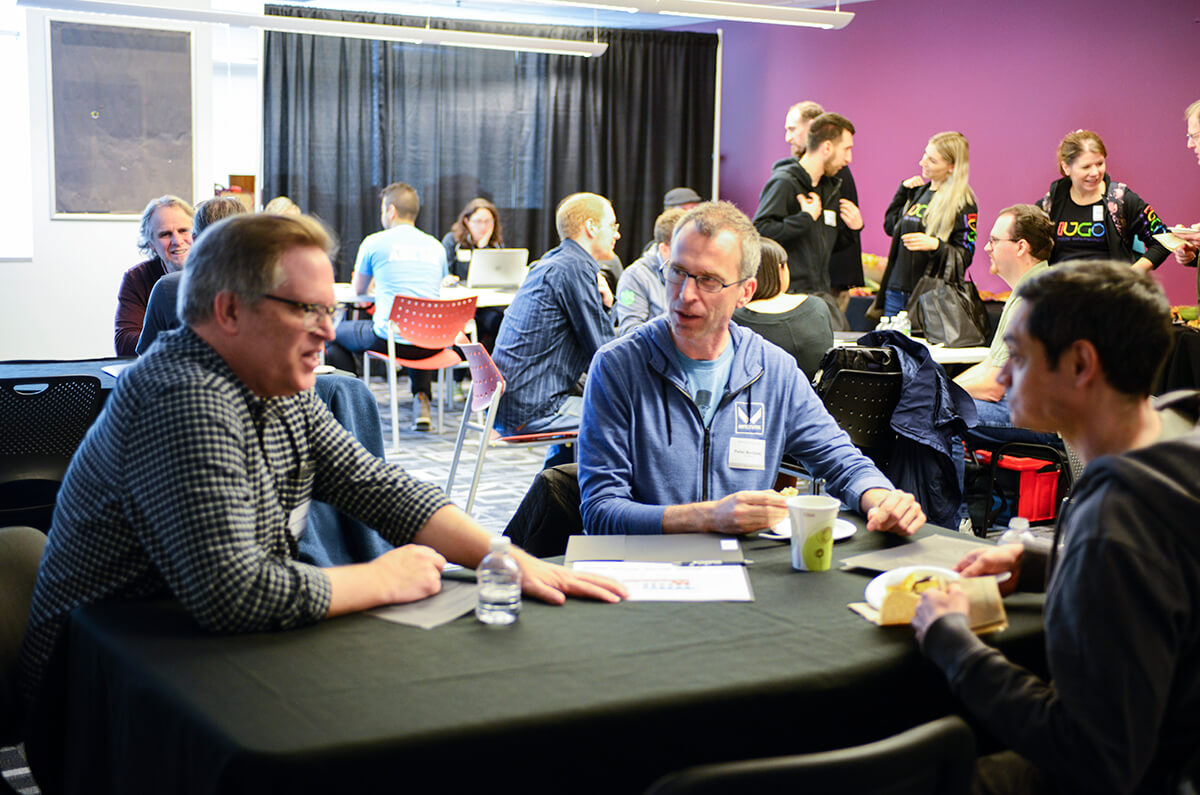 A new layout isn't all that's changed over the years. Today, students have many more resources available to leave employers with a great first impression. For instance, students were originally responsible for producing their own tri-fold presentation boards, but now receive support from other departments to assist with their display posters, as well as IT support to show off highlight reels and playable demos of their work. They also have a chance to warm up their conversational skills by mingling with internal staff and faculty in the hours leading up to the main event.
Despite the support from DigiPen staff and faculty, it's still ultimately up to the students themselves to showcase their skills, knowledge, and creativity for potential employers. This year, Jason Robert Eldred, an experience designer in the BA in Game Design degree program, gathered together builds of game projects he was particularly proud of working on. He captured new gameplay footage to show to employers, and even helped design a new playlist of game modes for the projection-based Striker Air Hockey project, which his team recently exhibited at the Game Developers Conference in San Francisco.
"Unlike the Internship Fair, where we visit companies' booths, the onus is on us to sell ourselves," Eldred says. "That really provided an incentive to clean up my portfolio and revisit old projects."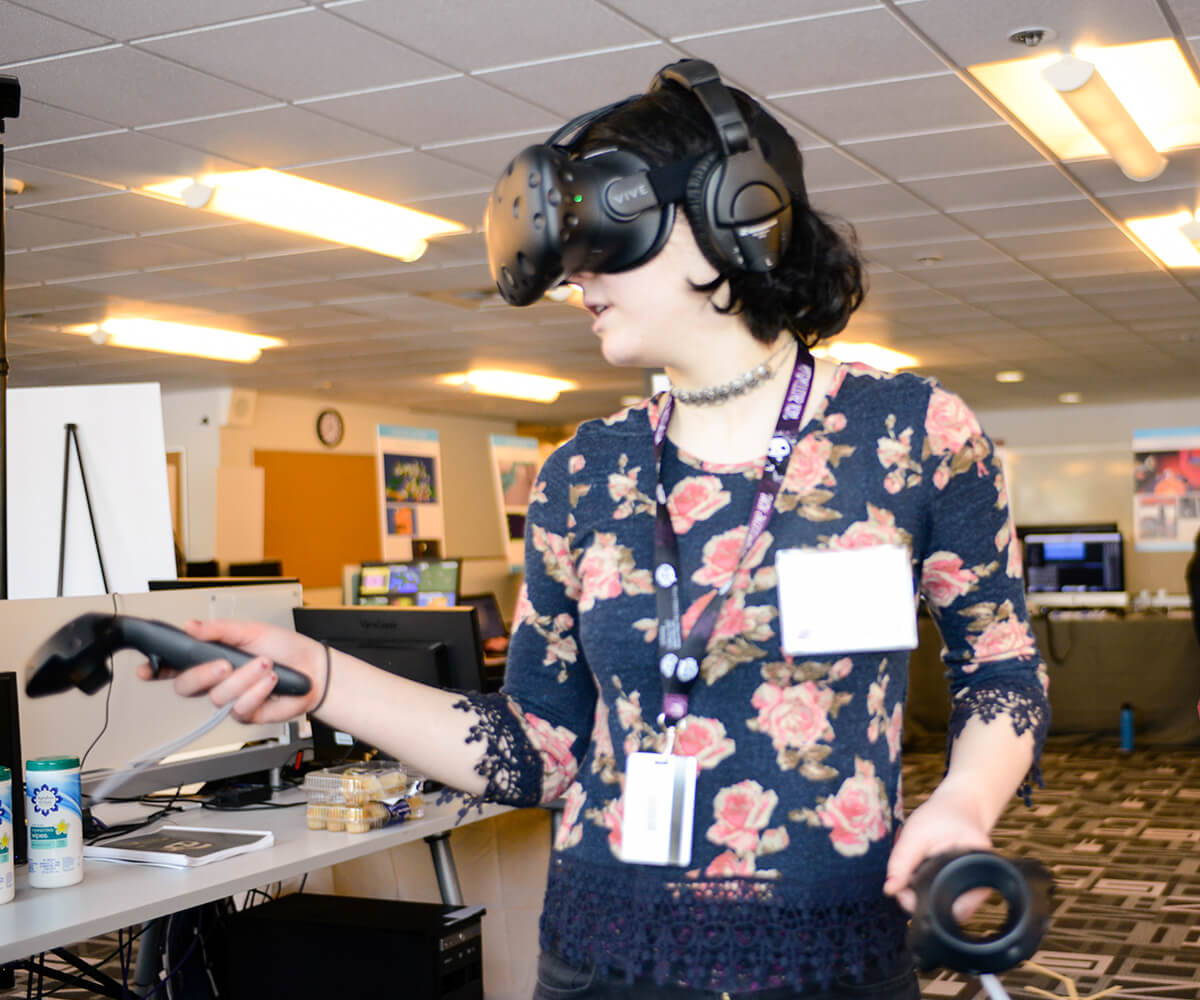 Of course, talking with strangers about employment opportunities can be understandably nerve-racking — for students and professionals alike. Yet events like the Career Fair give students first-hand practice in networking, and many take the unique format of the event in stride.
"I've learned from experience that most people in the industry just want to be treated as people, so I don't really feel nervous when networking anymore," says Fernanda Coelho, an animator in the BFA in Digital Art and Animation program. "Besides, it's always nice to talk to people who share your interests and passion and can teach you more about it."
And for many students and alumni, participation in Career Fair has been more than just good practice — it's resulted in concrete job offers and professional connections that have led to other opportunities down the road. Brandt Andrist was a graduating senior from the BFA program when he participated in the 2011 Career Fair. He has since gone on to serve as a concept artist for various companies over the years and has returned to DigiPen as an instructor, even visiting the Career Fair to give students a little practice before meeting employers. Based on his own experience, his advice for students preparing for the fair includes the following: Develop work for your portfolio early, get feedback on your resume, and try to relax when meeting with employers.
Andrist's preparation for the Career Fair yielded a great result: a job offer from a respected game studio.
"Everyone liked looking at my concept art, but almost no one was hiring for my position. It wasn't until the end of the fair when Gas Powered Games' then art director came through and asked about my work," Andrist recalls. "A few weeks later, I was contacted by the studio — the art director wanted to offer me an art test. They liked my test, brought me in for an interview, and apparently it went very well. I started working there about three weeks later on Age of Empires Online as a concept artist, developing characters and other units for the game."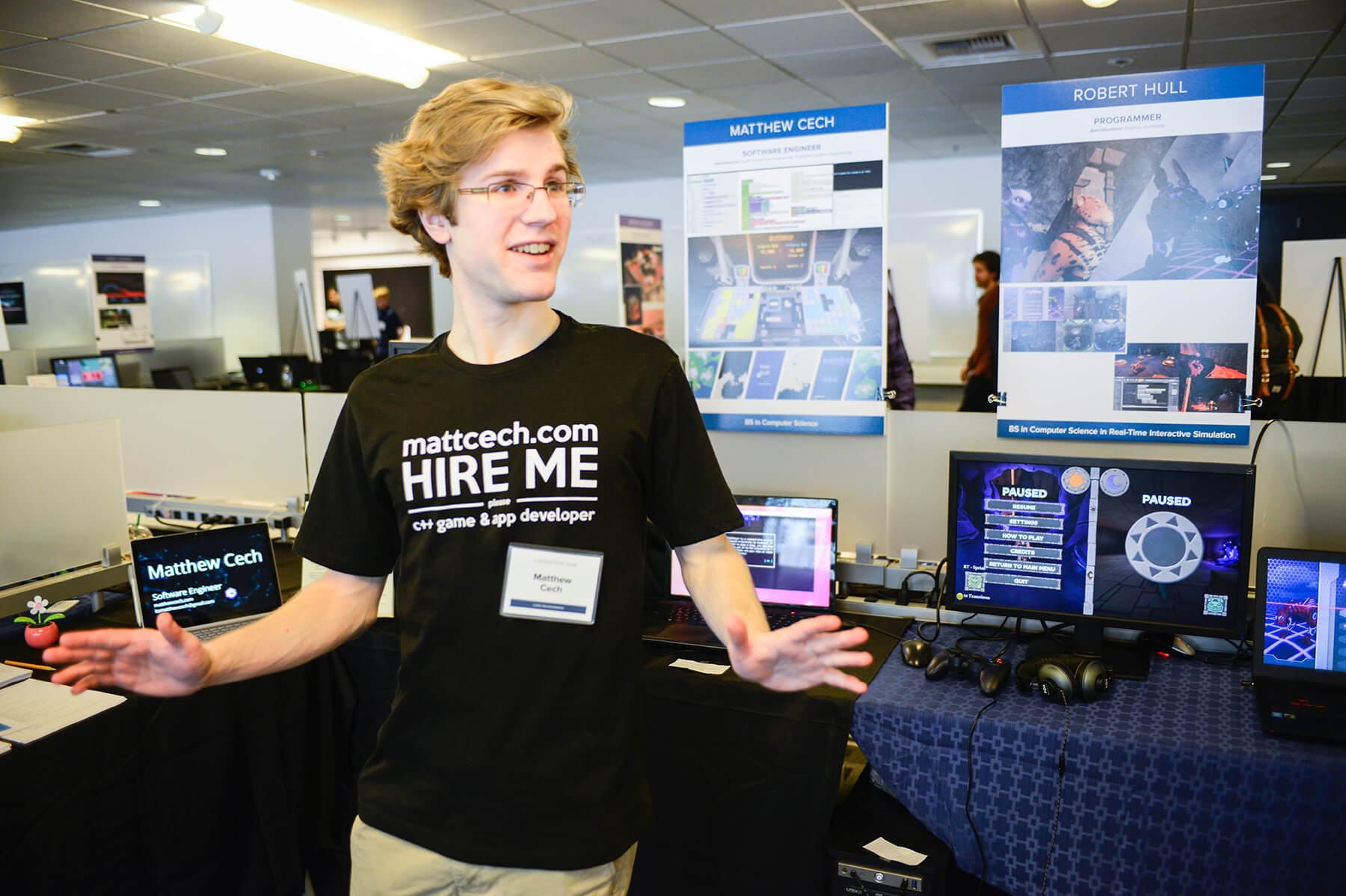 While not all students will end up receiving a direct employment offer as a result of the Career Fair, the experience of selling potential employers on their skills and background is still a valuable one. This, Ahmadi says, is why the Career Fair exists, and why months of planning and coordination go into each event. For her part, Ahmadi is already kicking around ideas to implement for next year's fair, including doing more to prepare visiting employers about what they can expect from the experience. In the end, however, the fair is all for the students' benefit.
"The Career Fair is just one embodiment of how we serve the students," Ahmadi says. "But that's in addition to advising, workshops, and other resources. All of it is to encourage students that are looking for work, and let them know that we at DigiPen are passionate about giving them opportunities like these to showcase their work."
---
For more information about DigiPen's Career Fair, reach out to careerservices@digipen.edu.