On Saturday, June 8, nearly 30 alumni from DigiPen's Associate of Applied Arts in 3D Computer Animation program (offered from 1999 to 2007) returned to Redmond 10 years after graduating to reconnect, share memories of their time together as students, and show how far their education has taken them after a decade in the game industry.
After gathering for a class photo, the visiting alumni sat down for a presentation in Plato Auditorium by DigiPen Senior Vice President (and former animation instructor) Melvin Gonsalvez, who was thrilled to share DigiPen's most noteworthy accomplishments over the last 10 years.
Mr. Gonsalvez introduced Ben Ellinger, Vice President of Software Production at DigiPen, who offered an overview of the groundbreaking games that DigiPen students have created since 2003, including Tag: The Power of Paint, Nitronic Rush, and DigiPen Singapore's Chrono Disfunglement, among many others. Then, Game Design faculty member Chris Peters took the stage to offer a demonstration of the Zero Engine, DigiPen's own full-featured, proprietary game engine that the school's Game Design students use to quickly and efficiently turn their ideas into playable games.
After the presentation and dinner prepared by staff at DigiPen's Bits & Bytes café, former AAA faculty members Kari Rust and Jay Gale reflected on what the class meant to them and congratulated the alumni on their achievements since leaving DigiPen. Then it was the graduates' turn to speak.
First was Jeff De Puy, formerly the Art Director of Dungeon's and Dragons Online at Turbine Software, who helped organize the event. De Puy reflected on the spirit of community that the class shared, even when classmates found themselves in competition with one another. He cited a coveted internship at Nintendo as an example.
I'm very blessed to have had my education at DigiPen, and I'm very thankful to be doing what I love."
"Everybody in the class was passionate, and everybody wanted it," De Puy said. "But instead of seeing a bunch of competitors in the same room, I saw a group of people who wanted to help everybody get their portfolio the best it could be." For De Puy, teamwork and the willingness to share knowledge were two traits that helped him advance from an intern at Nintendo to Art Director at a major online game studio. Said De Puy, "I'm very blessed to have had my education [at DigiPen], and I'm very thankful to be doing what I love."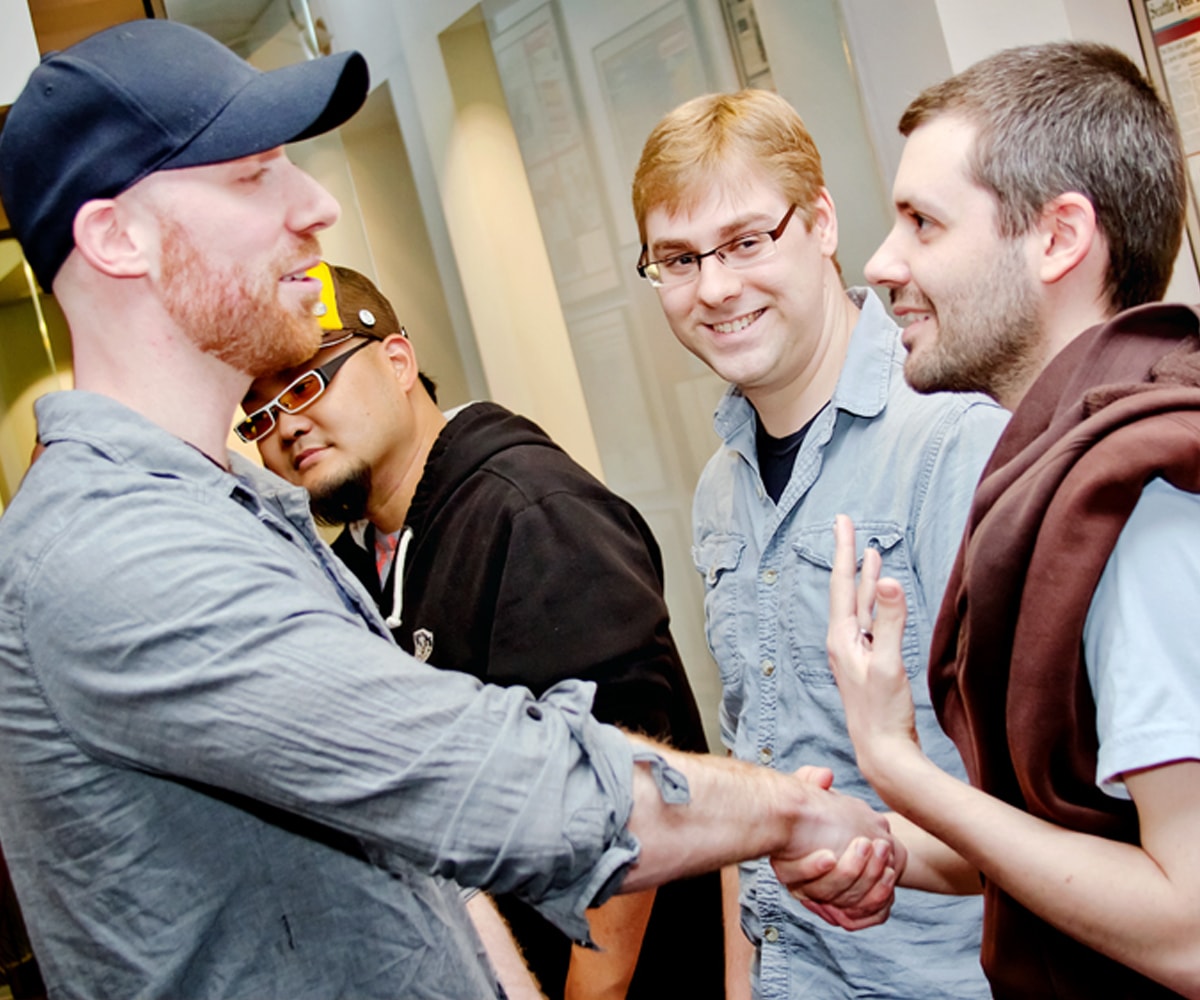 Next, Horia Dociu, current Art Director of Infamous: Second Son at Sucker Punch Productions and previously employed at ArenaNet and Valve Software, spoke about how inspired he was by the hard work and passion that his classmates displayed while at DigiPen. "I've worked with a ton of you guys," Dociu said, "and the most successful people are the ones who aren't so-called 'talented,' but are super dedicated to their craft." Dociu said he's still amazed by the passion and focus that his classmates demonstrated as 18- and 19-year-olds.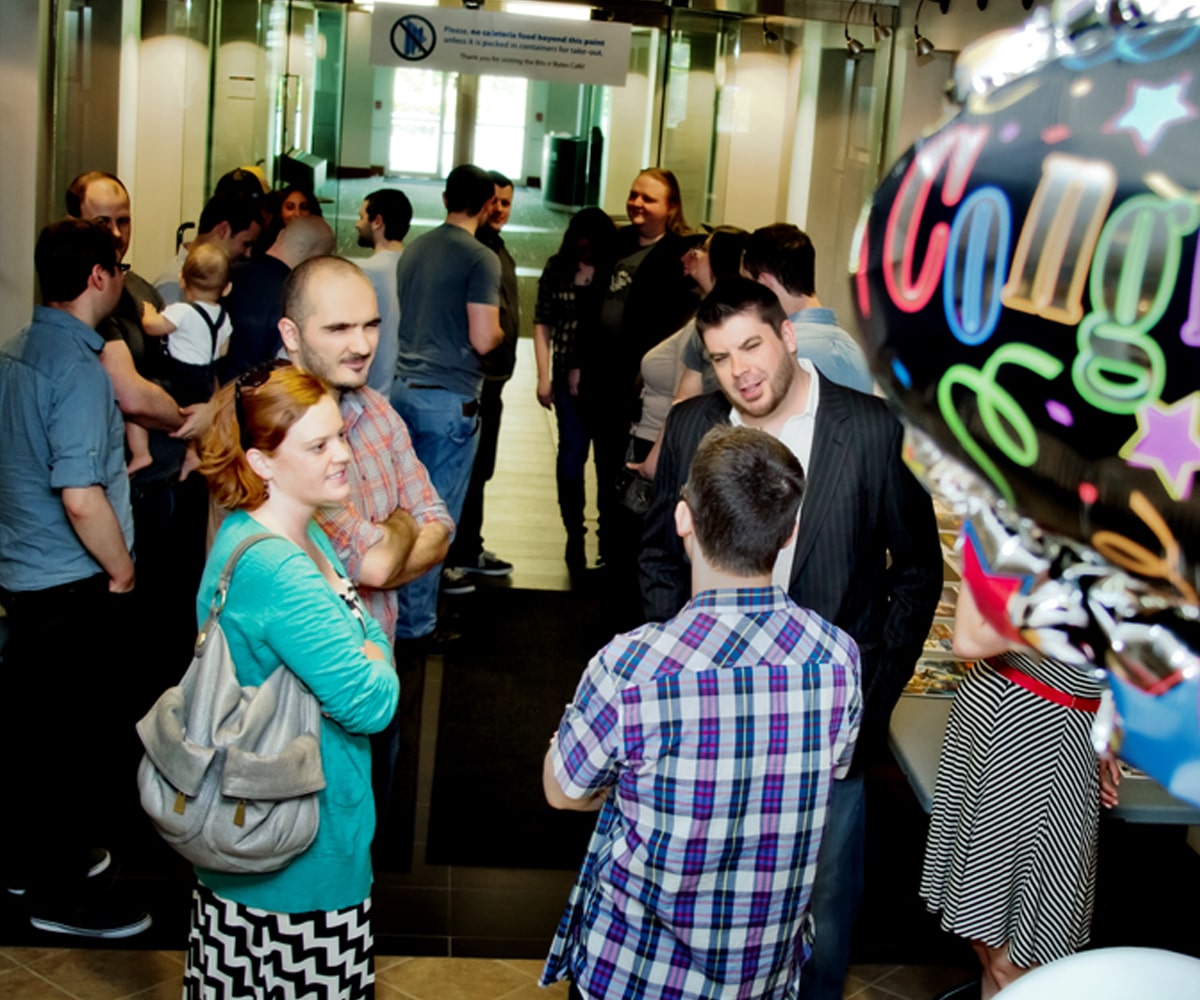 Finally, Ken Taya, a veteran animator at 5th Cell and former artist working on the Halo series at Bungie, offered some advice to the undergraduate students in the audience. "I remember [DigiPen President and Founder] Claude [Comair] said on our first day,' You will fail,'" Taya said, "and we kind of made fun of that. But it took me nine years to realize what Claude was saying: If you're not afraid to fail, you'll learn so much more." He also implored them to take their classes seriously, even if they don't immediately see their value. "All these courses that you take that you may not feel are relevant right now – those will come up in your career," Taya said.
The event closed with the inaugural performance of the DigiPen Game Choir, a collaboration between Game Design faculty member Rachel Rutherford and a group of her students. Thanks to all of the alumni who attended for sharing your stories with us – we look forward to hearing where the next 10 years takes you!