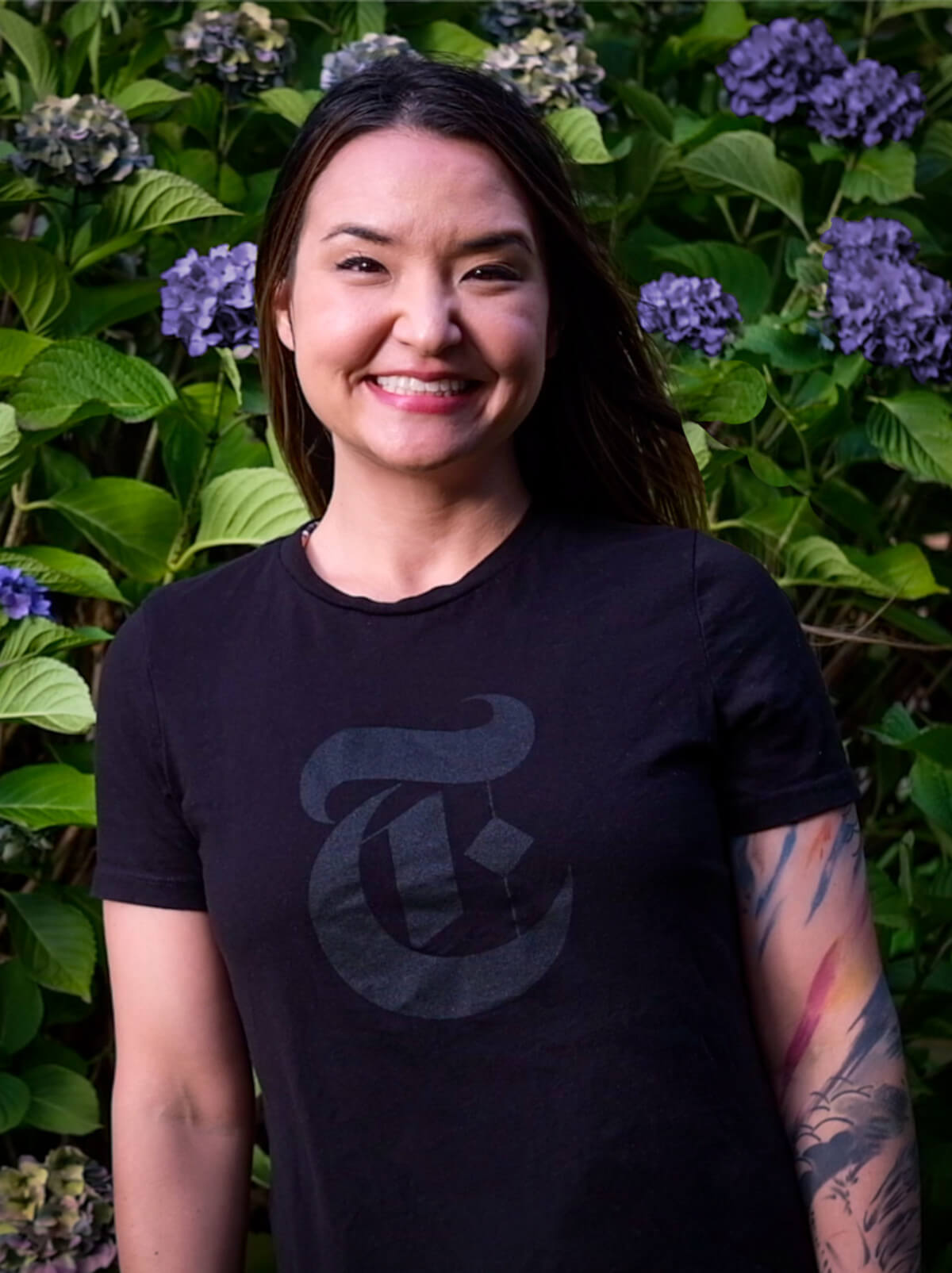 In the 10 years since she graduated from DigiPen, Romina Barrett has built up quite the résumé. As a web software engineer, she's lent her talents to multiple agencies, built online platforms for major brands and publishers, and even co-founded her own business. This past summer, she landed one of her biggest opportunities yet — joining on as a full-time software engineer for The New York Times.
The best part? She didn't even need to apply.
"The New York Times found me. That was pretty exciting," Barrett says, explaining how the global news organization reached out to her for an interview after discovering her work on hired.com. "The work I'm going to be doing is working on their content management system, so their internal tools for journalists."
Even though her new employer is located on the East Coast, Barrett works remotely from her home in the Pacific Northwest — an arrangement that will continue even beyond the current COVID-19 pandemic.
"I was kind of up-front [in that] even post-COVID, I'd want to remain remote full-time," Barrett says. "And they were completely OK with that — except for post-COVID, they want to fly me to the city a few times a year, which I'm completely OK with."
As a 2010 graduate from the BFA in Digital Art and Animation program, Barrett's career has taken a different trajectory from many of her degree program peers. While it was a love of art and video games that first brought her to DigiPen, it was her side hobby of web development that led to her first post-DigiPen job as an in-house web manager and content developer for a Seattle jewelry company. Not long after that, she relocated to sunny San Diego, where within a week of arrival, she found a job as a front-end developer for a web startup.
From there, both her passion and aptitude for engineering only grew deeper. In 2014, Barrett and a design partner founded Bumbli, an independent web development venture where she builds original public-facing websites for a range of clients. For the last five years, Barrett has also worked full-time at agencies such as MJD Interactive and Restful, as well as for publishing giant Condé Nast — moving further in the direction of building online platforms and content management systems.
"I would say that front-end development is definitely where my passion is. I still like creating delightful interfaces," Barrett says. "Over the past few years I've been more in the full-stack role of working a lot with data and servers and everything that brings a website to the browser."
At one agency, Barrett helped launch a successful "Create Your Own" web experience for American Girl, allowing users to build and customize their own doll, from skin tone to outfits and accessories. With Condé Nast, Barrett worked on the company's Concierge online platform for VIP events — used by major clients like Vogue, Capital One, and the NBA.
Even as she was taking on more and more leadership and responsibility, however, Barrett says her priorities began to change. While working for big-name brands was an accomplishment to be proud of, she also yearned for a chance to expand her life outside of work. She made a point to start seeking out fully remote work opportunities and landed such a role with Gig Economy Group during the summer of 2018. Not only did the new job allow her to move back closer to her family in Washington state, it gave her a chance to better explore her personal interests such as yoga, music, and staying informed on global issues.
"Last year I traveled a lot. I went to Europe for almost a month by myself. I went to Japan twice — so this was pre-COVID traveling. Being able to travel and not have to take time off work was amazing," Barrett says. "Just developing interests and a life outside of work actually made me a more balanced engineer, and I think what really attracted The New York Times to me was that I could speak to things that I was passionate about outside of work."
More than anything, Barrett says she's thrilled for the opportunity to work for a company whose core mission aligns so strongly with her own moral compass.
"I've had the experience of working for a bigger organization, working for companies with large reputations, and it was a valuable experience. But I felt like what I was missing in my life was contributing professionally towards making the world better, in alignment with my own values," Barrett says. "I've been taking where I get my news pretty seriously, making sure I'm reading things that are factual and ethical. I hold The New York Times in high regard, so when they reached out to me, I was just very excited."
When asked about what ultimately drew her to engineering, Barrett says she loves the feeling of empowerment that comes from knowing you can build a tech solution to just about anything. And with so many companies in need of such talent, good engineers have a real shot at charting a career path that matches their skills with their personal goals and interests.
"If you feel like you could be an engineer, go for it. There's probably a company that you love or a cause you really care about that needs someone like you. I think that's what's really cool about being an engineer is that even with a similar skill set I've been able to contribute to a lot of different kinds of projects and go in a direction that my personal life wanted to take me," she says. "If you find what's really important to you, and if you can find a job that aligns with that, it's so gratifying."