When DigiPen graduate Romina Barrett quit her Seattle-area job and moved to San Diego during the summer of 2012, it was — in her own words — one of the least responsible things she had ever done. It also turned out to be one of her best decisions yet.
Within a week and a half of her relocation, Barrett landed a job as a front-end developer for startup company The Control Group, where she's recently received some outstanding recognition for her work.
In September, Barrett was nominated by San Diego Magazine as one of 2013's Women Who Move the City, an award that puts the spotlight on influential women within the San Diego business and tech industries who are actively giving back to the community. The nomination came at the suggestion of The Control Group's founders, who applauded Barrett not only for being an exceptional role model as the company's first female developer, but also for her work as the company's chairperson for charitable activities — a responsibility recently amended to her job title.
"Romina was recognized for her positive influence on other young women in business, her killer ability to create impactful projects, her outstanding job performance, and her commitment to the community," reads a recent entry from The Control Group's company blog.
It was kind of a fairy tale, career-wise."
As a front-end developer, part of Barrett's job is to work closely with a designer to optimize the user experience for a number of website projects. Sometimes that means taking a designer's Photoshop document as the basis for rebuilding the visual template in actual code.
While it's a bit of a departure from the bulk of her work as a student of the BFA in Digital Art and Animation program, Barrett says she's been doing web development since middle school.
"I was creating Pokémon and Harry Potter websites," Barrett says. "That's kind of how it started, and then it's always been a little hobby of mine."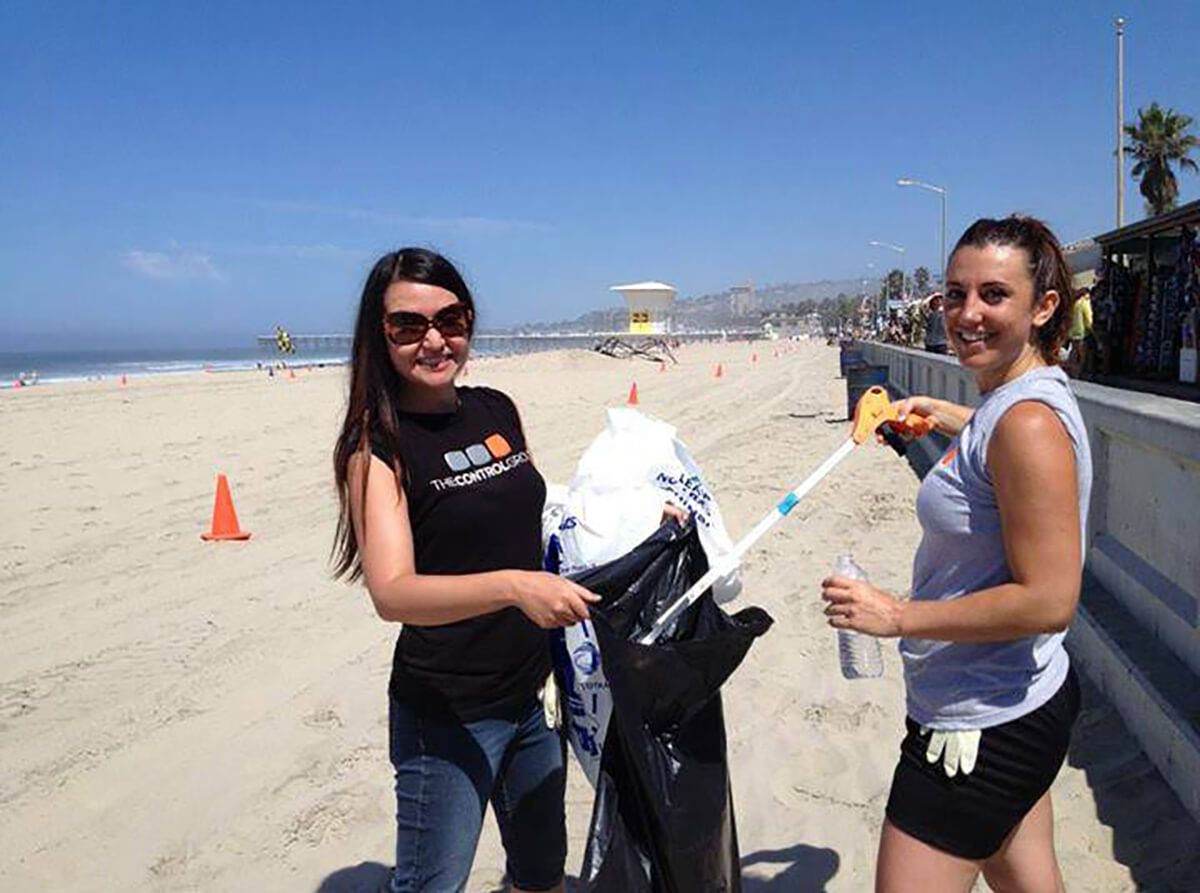 Barrett continued to hone her website-building skills during college, doing freelance development work on the side — not to mention working a part-time job and performing with a local winter guard team during her sophomore year.
Soon after graduating in 2010, Barrett took a job as an in-house web developer for a Seattle jewelry company, a position she held for more than a year and a half before feeling the need for a change. Having visited San Diego on a post-graduation trip, Barrett had fallen in love with the area and its propensity for year-round sunshine.
I'm very proud to be the first female developer. I don't know if it puts me in a role model position, but if it does, it's something I do take seriously."
With some money saved up, Barrett made the move and immediately started applying for jobs. After landing an interview at The Control Group — located on the famous Pacific Beach, she knew she'd found a winner.
"It was kind of a fairy tale, career-wise," Barrett says.
Even though she's no longer animating characters, Barrett says she enjoys what web development has to offer. While grounded in logical thinking, there's an equal emphasis on aesthetics and overall user experience.
Also, she says, the culture of her workplace feels very similar at times to being at DigiPen, where people put a lot of hard work and passion into their creative and collaborative projects. And if her success helps inspire other women to go into development jobs, that's great too.
"I'm very proud to be the first female developer," she says. "I don't know if it puts me in a role model position, but if it does, it's something I do take seriously."
DigiPen teaches a lot of skills that you can use outside of games."
When asked about any potential advice she might share with current or future students, Barrett says to focus not only on making great work, but also on how to present it to others as a showcase of your own skill and talent.
In Barrett's case, a portfolio class taught by adjunct faculty member Monte Michaelis proved particularly helpful.
"I attribute a lot of my success to that class, just from what I learned about presentation," she says. "Probably one of the most valuable things that I learned from DigiPen — other than work ethic — was how to brand myself and how to market myself."
Her other piece of advice? Don't be afraid to explore a wide range of career paths.
"DigiPen teaches a lot of skills that you can use outside of games, and it's valuable to consider all possible options," she says. "I love my job. I love what I do."