DigiPen student Alex Bennett is a second-year candidate in the Master of Fine Arts in Digital Arts program and a 2016 recipient of the McMillen Foundation art scholarship.
This marks the third year in a row that a DigiPen student has earned the scholarship, which awards up to $25,000 per year to young artists who, according to the foundation, "have the greatest potential for making change in the world through their profession and community contributions."
Raised in Boise, Idaho, Alex has been a Washington resident since 2004. Prior to beginning his MFA at DigiPen, he earned a BFA from Cornish College of the Arts in painting, drawing, and printmaking, and his artwork has appeared in Seattle-area galleries, including Columbia City Gallery, Art Not Terminal, and artEAST Art Center in Issaquah.
After completing his BFA, Alex continued to pursue art in his free time while supporting himself as a bartender.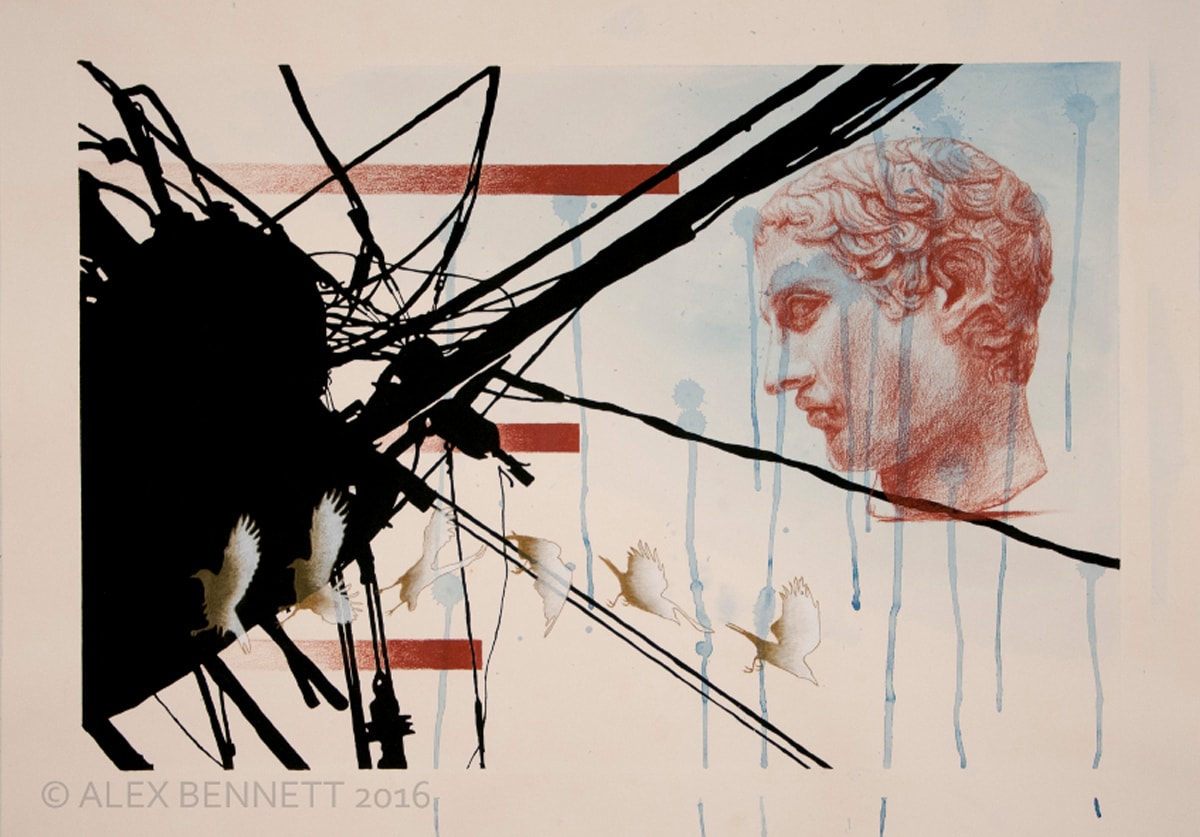 "I was painting out of my studio, but I was really starting to get tired of bartending. And I wanted to be doing something that could use my undergraduate degree," Alex says. "So that led me to doing some research."
It is such an encouraging and validating recognition of the work I put in to get where I am today."
While he looked closely at opportunities in teaching, Alex says he made it his goal to first gain some professional experience within his field of study. It was an aunt, he says, who pitched him the idea of working as an artist in the game and animation industries — something he hadn't previously considered. Shortly after, he discovered the MFA program at DigiPen.
Now in his second year of the program, Alex says a large focus of his studies has involved learning new digital art-making tools and processes.
"I really enjoy a lot of the Photoshop work. That was a pretty easy translation from my painting background into working with Photoshop," Alex says. "Some of the more challenging stuff is Maya — all the modeling. That, for sure, is a steep learning curve."
Looking ahead today, Alex says he's interested in pursuing opportunities in the field of experience design — particularly for large-scale projects like museum exhibits, but also for commercial applications.
It's also an area he hopes to explore through his master's thesis work.
"I'm looking at creating interactive projections and doing installations with them, preferably public — the idea being I could put a projector and a computer in the back of a car and take it to Capitol Hill [in Seattle] and throw something up on a wall one night and have it be, in some way, interactive," Alex says. "That will be a place where I can explore some of my own visual language and incorporate some of the digital technology that I'm learning here."
Regardless of where his work will ultimately take him, he says he's thankful to have the McMillen Foundation's support.
"It's a huge honor! I'm excited to begin working with the foundation and start in on some of the service responsibilities that come with the award," Alex says. "It is such an encouraging and validating recognition of the work I put in to get where I am today."
---
Students from DigiPen's BFA and MFA degree programs have won the McMillen Foundation scholarship in previous years, including Yunxia Jia (MFA) in 2015 and Tara Jaiyeola (MFA) in 2014.