For some college students, the idea of enrolling in a brand new degree program during freshman year would be a daunting prospect. For DigiPen Institute of Technology students like Kori Loomis, it is an exciting opportunity to help carve a path for future students. On April 27, Kori Loomis will be walking alongside nearly 200 other soon-to-be-alumni at DigiPen's commencement ceremony. However, Kori will be the only student this semester — and the first student ever — graduating with a degree from DigiPen's Bachelor of Science in Engineering and Sound Design program.
Playing Her Own Tune
A life-long musician and video game enthusiast, Kori hadn't always planned on studying sound design at DigiPen. "I was actually going to be an opera singer," she says, speaking of her time before DigiPen. "And I did, I did sing in little operas for a while." Ultimately, however, Kori decided that while music was her passion, the opera lifestyle wasn't for her, and she changed course by taking an opportunity to teach English in Japan.
"I went to Japan and I worked for a few years over there, and I got time to really sit down and think critically, 'What am I going to do next?'" she says. "And that's when I made my decision to come to DigiPen."
Kori enrolled at DigiPen in part because her brother had done so and spoke highly of the experience and because she hoped to pursue her interest in video games.
It just seemed like the perfect blend of things that I wanted in a program."
"I went [into DigiPen] doing RTIS [Real-Time Interactive Simulation]," she says, "but that didn't really satisfy my music side." When the college announced the addition of the Engineering and Sound Design degree program in 2012, Kori quickly made plans to shift her focus. "I was like, 'Oh, this is perfect,' because I'll get to do the technical things, I'll get to do programming, I'll get to work on games like I would with RTIS, but I'll also get to do this music track and sound design and get to be really creative as well.
"It just seemed like the perfect blend of things that I wanted in a program," she says.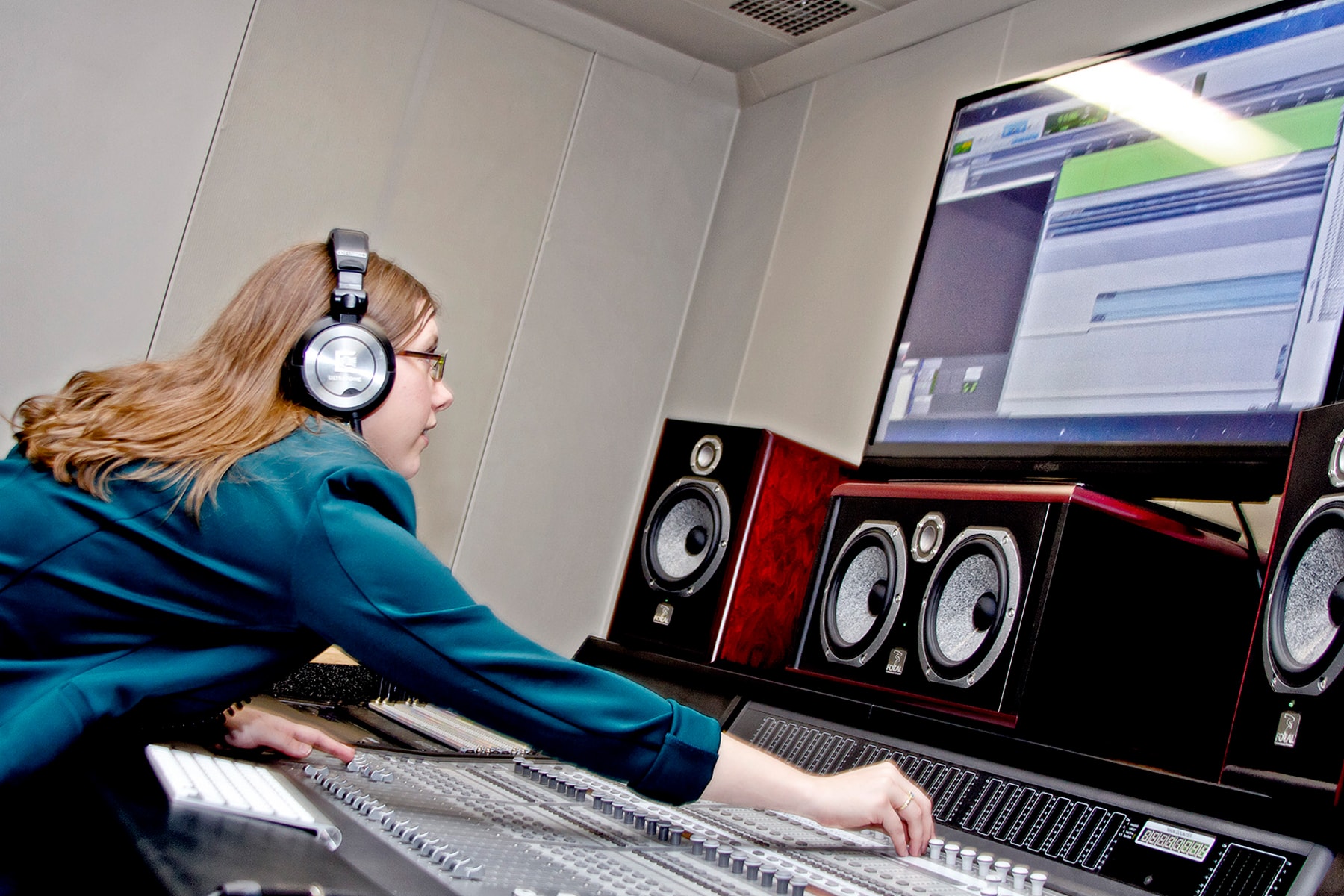 Where Games and Music Collide
Kori's passion for music has been intertwined with her love for video games from an early age. As a child, she would play the scores of her favorite games on the piano. "I grew up with Mario and Final Fantasy," she says. "A lot of those classic games have great soundtracks to them." Kori attributes her interest in video game soundtracks and sound design to such famous game soundtrack composers as Koji Kondo (The Legend of Zelda), Yasunori Mitsuda (Chrono Trigger), and Nobuo Uematsu (Final Fantasy).
"There's tons of really awesome stuff out there now," Kori says. "But those three, I grew up listening to their music. I was that nerdy girl who wasn't listening to Britney Spears, but listening to some Japanese composer's video game music instead."
Throughout her studies at DigiPen, Kori has had the chance to work on a number of exciting projects as sound designer, developer, producer, and lead sound designer. Her latest role was as a developer and the lead sound designer for Project Asclepius, which will be releasing its game later this month in cooperation with the Make-A-Wish Foundation.
Though she had already studied musicianship before enrolling at DigiPen, Kori explains that the process of writing music for video games is very different from writing music for its own sake. With traditional music, she says, the composer can simply sit down with pencil and paper and a piano and try to write a song. "Whereas with video games, I need really fast iterations because I need to be able to put [a song] in the game and see if it fits, and if it doesn't fit I need to be able to iterate on that quickly.
Sometimes I'll see a world, or I'll hear what it is, and it'll just click. I'll immediately know what the soundscape needs to be for this whole game."
"You have to be able to suit your team's needs and know whether you have to write something that's adaptive or not," she continues. "It's not just a song anymore. You have these really dynamic situations in the game that are going to change, so how do you compose music for that?"
Occasionally, Kori says, it's easy to figure out what type of sound a particular game is going for. "Sometimes it's really obvious. Sometimes I'll see a world, or I'll hear what it is, and it'll just click. I'll immediately know what the soundscape needs to be for this whole game."
Other times, the team she's working with will recommend a game soundtrack they enjoy or music that resonates with the themes they're trying to capture in their game. "I'll listen to the soundtrack from that game and I'll ask, 'Okay, what are the things that make this soundtrack the way it is? What makes it really iconic to the game?'"
On To Another Song
After graduation, Kori plans on spending some time on personal projects before diving into her new job as a Program Manager at Microsoft Corporation this summer. "I'm really excited to start a new chapter in my life," she says. "One of the things I loved most about DigiPen was working in teams with others. Microsoft is a good fit for me because I will be able to continue working with others every day, especially in my role as a Program Manager."
While she likely won't be crafting soundscapes as a Program Manager at Microsoft, Kori says she's excited to use her experience as a leading member on DigiPen game teams in her new role. "A lot of what I've done here is I'll be an audio team lead, managing assets and managing teams of sound designers or composers," she says.
Just because she'll be tackling a new job at Microsoft doesn't mean Kori is putting a pause on game development, though. "In addition to my full-time job at Microsoft, I've got several new projects I'm going to be helping out with. There's a group of us talking about a game, so I'll be doing audio on that, as well as other independent online projects I've already got lined up."
Kori is also making sure to continue honing her musicianship skills. "If there is an upright bass player out there and a pianist who want to get together to do a jazz trio or something," she says, laughing, "I would love to have a little group to sing with and play with."
You can read more about Kori Loomis's student projects at her website, www.loomisound.com.