On a gusty February morning, a team of 14 students from DigiPen Institute of Technology gather inside an on-campus conference room with 15-year-old Mason and his family. The room is quiet except for the clicks of Mason's thumbs on the buttons of an Xbox 360 controller. All eyes stare intently at the screen on the other side of the room, where a cartoon bat skitters across a 2D desert landscape.
Devin Jensen, a senior at DigiPen, guides Mason through the game's final boss fight.
"So that's Lord Zlo," Jensen explains. "He's going to be summoning some clones for you to fight and he's doing this dash attack throughout the arena that you have to avoid. You can dash attack as well to destroy the clones."
Mason nods as he directs the game's protagonist, an oversized anthropomorphic bat named Battede, using the controller's analog stick.
"Now watch out for the sand laser," Jensen adds. "Because we don't actually have the laser asset yet, it looks like a bunch of sand — you have to dodge that laser."
The members of the game team, called Project Asclepius (which takes its name from the Greek god of medicine), are here to show Mason their current progress on a joint video game project, Lord of the Bats. Mason proposed the game to Project Asclepius in October 2014, and he has met with the game team on multiple occasions since.
Project Asclepius is one of the dozens of student teams at DigiPen that collaborate on yearlong game projects as a part of the degree program coursework. For most teams, the task of putting together a fully functional video game within nine months is daunting enough. For Project Asclepius, the challenge is unique because the team has taken on Mason as an outside stakeholder through the Make-A-Wish Foundation. Effectively, the young video game enthusiast is acting as the team's creative director.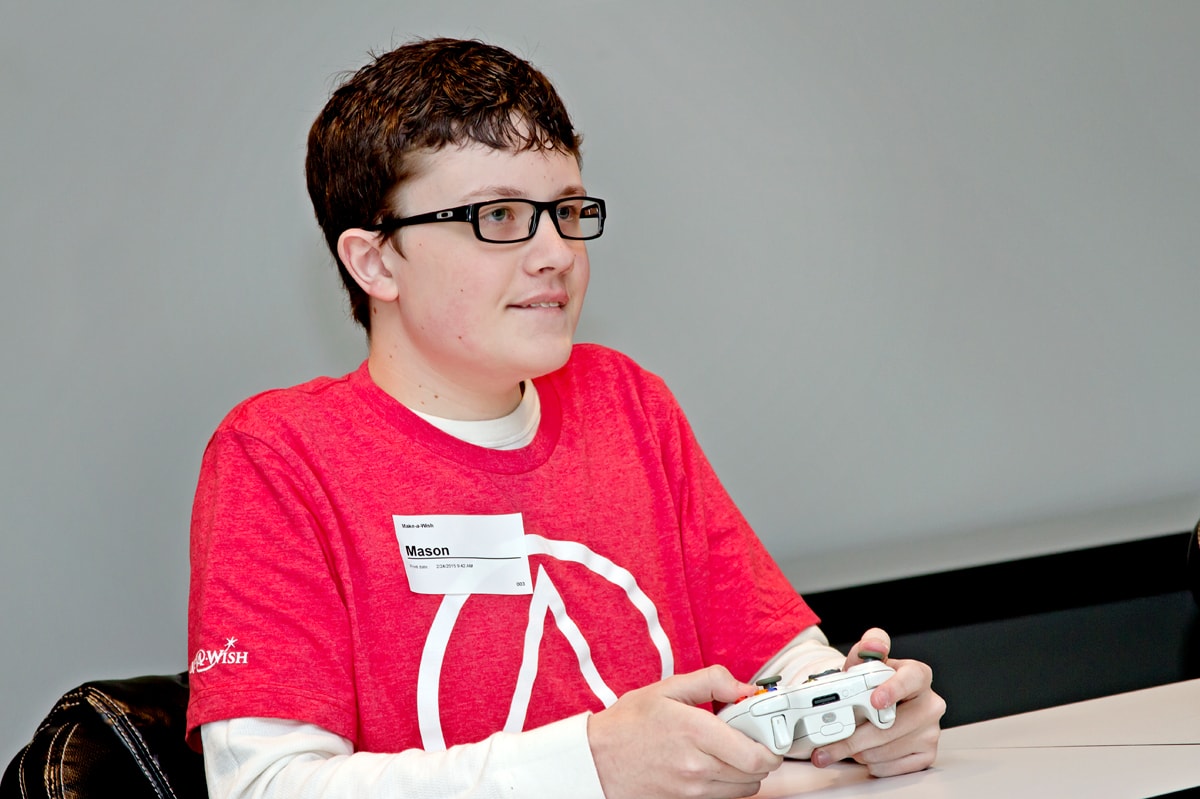 "Mason sent us a seven-page document describing the gameplay, story, characters, and the worlds of his game," says Pearce Bergh, Project Asclepius's team lead. "From there, we made sure to fill in any gaps in his design by consulting with him in our meetings and pitching ideas to him."
"We have to have a very different mindset," says Jensen, the team's technical director. "Normally when you make a game you try to make it appeal to a large audience or group of gamers. You add features that some players will love and some might not. With this project, our player base is Mason. This is Mason's game. So every decision we make for the game, we make with Mason in mind."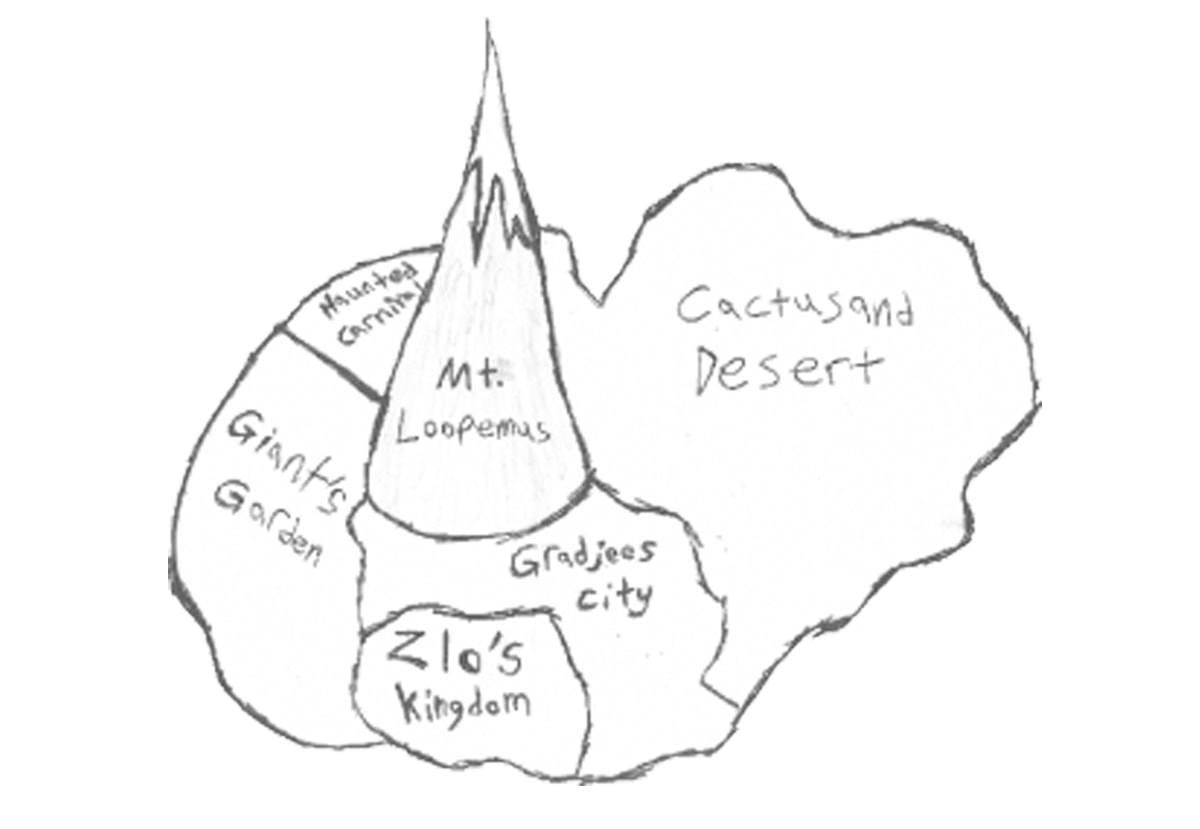 Throughout Lord of the Bats, the player assumes the character Battede, a bat that must dash, hop, and glide through the bat kingdom to defeat the bosses at the end of each level. Battede's primary attack is his ability to summon bats that he can use as platforms. From these platforms, Battede can leap atop enemies, reach hidden areas, and collect the magical fruits that dot the landscape. Along with his friend Sally, Battede seeks to unravel a mysterious plot involving missing soldiers, nefarious clones, and vile monsters.
With this project, our player base is Mason. This is Mason's game. So every decision we make for the game, we make with Mason in mind."
Today's meeting is the latest in a long line of communication efforts between Mason and the rest of the game team. After checking out the team's progress since their last meeting in December, Mason offers further suggestions and insight to help steer the team going forward. He even describes his idea for a "double-twist" ending sequence.
"[Battede and Sally] beat Zlo and leave celebrating," Mason explains to the team, "but the game cuts back to the castle, which is totally destroyed. It's like a pile of rubble. You see Zlo's hand stick out of the rubble, and it says 'End?' with a question mark. But then his hand is crushed and the question mark goes away."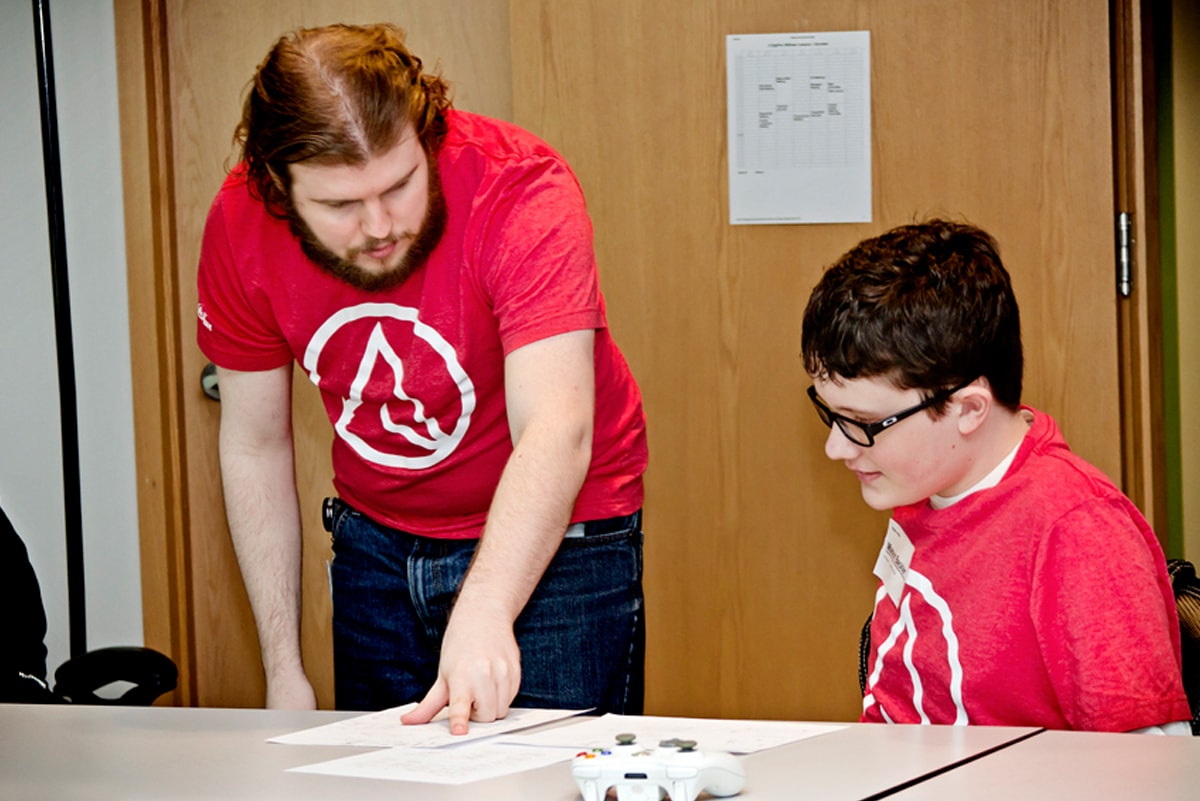 Bergh and Jensen devised Project Asclepius during their junior year at DigiPen with the goal of folding community service into their senior-year game project. They reached out to numerous organizations before hearing back from the Make-A-Wish Foundation, which connected them with Mason.
"As DigiPen students, we spend almost all of our time on our studies and our projects," says Jensen. "This means, unfortunately, that we often don't have time to give to community service. This project gives us a really meaningful way to use our skills to give back during our incredibly busy school year."
Mason, who has cystic fibrosis, has been passionate about video games for as long as he can remember, and he's excited to see his dream of creating one become a reality.
If we could inspire even one other team to do a community service-based project as well, I'd be extremely happy."
"I'm very proud of what my team and I have done so far," says Bergh. "Seeing Mason and his family's reaction to our game — even before it's been completed — has been the most rewarding part of this project."
Jensen is likewise pleased with how Project Asclepius has executed its mission, and he looks forward to seeing how the team can influence other students.
"One of the objectives of our project is to set a precedent to other teams at DigiPen," says Jensen. "While we are the first official DigiPen team to do something like this, I hope that we are actually the first of many. If we could inspire even one other team to do a community service-based project as well, I'd be extremely happy."