As a senior artist at PopCap Games, makers of popular titles like Bejeweled, Peggle, and Plants vs. Zombies, DigiPen graduate Mark Barrett's work has been seen and enjoyed by millions of people around the world.
Now in his sixth year at the company, he currently works on a group known as PopLabs, a research and development team that works to create the next big thing at PopCap — be it sequel, spinoff, or brand new intellectual property.
"The most rewarding aspect of my job is the challenge of creating fun for everyone," Mark says. "It's really hard! But I love working with great people and figuring out new ways to make people smile."
Upon graduating as the Class of 2008 valedictorian from DigiPen's BFA in Digital Art and Animation program, Mark says he had his mind set on working in the triple-A game industry. He even landed his first professional job as a contract artist at Nintendo Software Technology. Then, when a classmate invited him to join a small Seattle startup, he took a chance on something new.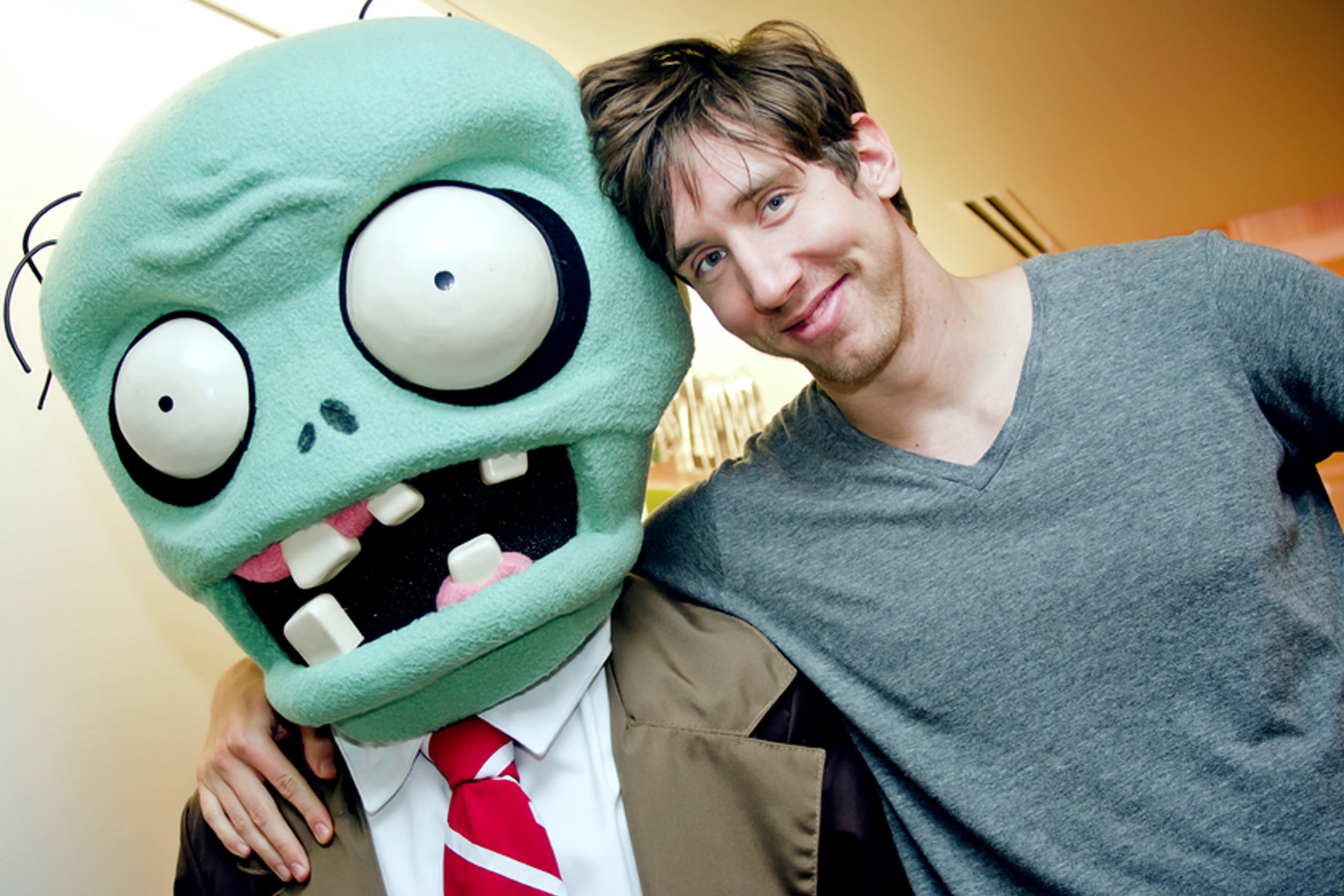 "They were making casual games for the iPhone, and that was kind of new at the time," Mark says. "It really opened the world of casual games to me. And through working there, they introduced me to Plants vs. Zombies."
For Mark, it was the game he wished he could have made — a near-perfect distillation of fun, quirkiness, and attention to detail that helped him appreciate what smaller-scale games could achieve.
"I just felt like every inch of it was so well loved and so well designed," Mark says. "The humor and the creativity — everything just really appealed to me."
So when he later heard from a former DigiPen instructor and PopCap employee that the company was hiring for a new artist position at their Seattle headquarters, he jumped at the opportunity.
"I got all my stuff together and just applied and had to compete against a number of my friends,'" Mark says. "But when I went and interviewed I really thought, 'Man, if they don't hire me then it's only because I blew it, because I am perfect for this place.'"
Far from blowing it, he got the job and was immediately set to work on creating new art assets for a "Game of the Year" edition of Plants vs. Zombies. As part of the new user interface, Mark drew and animated a crow character that helps guide the player from screen to screen. His employers liked it so much they invited him to start sketching out concepts for some new types of plant and zombie creatures in his spare time, and he eventually joined on as one of the early developers for what would go on to become Plants vs. Zombies 2: It's About Time.
The most rewarding aspect of my job is the challenge of creating fun for everyone."
Over the course of that game's development, he says, the team size grew from just four people in a room to more than 30 people running a live, free-to-play service. The game itself, meanwhile, expanded on the core mechanics of the original title, adding a time-travel storyline that had players fending of waves of zombies in the Wild West, the distant future, and other themed locales.
"I got to do a bunch of stuff. I got to do character designs, character animation, UI, game design," Mark says. "That's one of my favorite things about working at PopCap is you get to touch a lot of things — not just your one little specific area."
Today, that versatility translates to more than just a variety of tasks. As the art director on an unannounced project, he also has the freedom and responsibility to experiment with brand new game concepts and ideas.
"I get to choose: What is this game about? What do our characters look like? How do they progress?" Mark says. "You have to slowly piece all these different elements together and create something totally new that people are excited about, that people haven't seen before, that appeals to a massive casual audience."
As anyone who has worked in games can likely attest, finding that "winning formula," so to speak, is rarely easy. For every idea that turns into a hit game, there are plenty more that get scrapped along the way — whether for creative, financial, or other reasons altogether.
If I see a group of kids at the park playing 'Duck, Duck, Goose,' I want to know why 'Duck, Duck, Goose' is so good."
But for Mark, the search is an exciting one, and it isn't limited to the time he spends in the office.
"I really pay attention when people laugh or when people are really engaged or when people are all participating in something. So if I see a group of kids at the park playing 'Duck, Duck, Goose,' I want to know why 'Duck, Duck, Goose' is so good," Mark says. "For me, it's that back-and-forth experience that people are having — that thing that you can't see; you can only feel. That is the real special quality that inspires me to make games."
As part of our interview with Mark, he offered up some great tips and advice for current and future students. Check out what he had to say!