It's a simple game – almost not a game at all – about a little fallen rain sprite and its journey back to the clouds. And while it looks on the surface like a traditional run-and-jump game, vaguely along the lines of Super Mario Bros. or countless other examples throughout video game history, it plays a little differently.
Created by Team Terabyte as a sophomore-level game project, Douse lets players explore a lush 2D world using the power of precipitation to bring life back to a dark and withered forest. There is jumping and even some fun trampoline-like bouncing off of mushrooms and spider webs. But unlike more traditional games, there is no way to lose in Douse — no enemies, no time limit, no spiky hazards. In this sense, the game might better be described as an interactive cartoon, or as the game's creators like to call it, a poetic experience, best when played at a leisurely pace.
"Some people wanted him to be abducted by aliens or on fire, and we just kept paring down the ideas until we got to something we liked," Ryder Hanson (BSCS in RTIS), the game's design lead and physics programmer, said of the game's protagonist. "Douse has come a long way."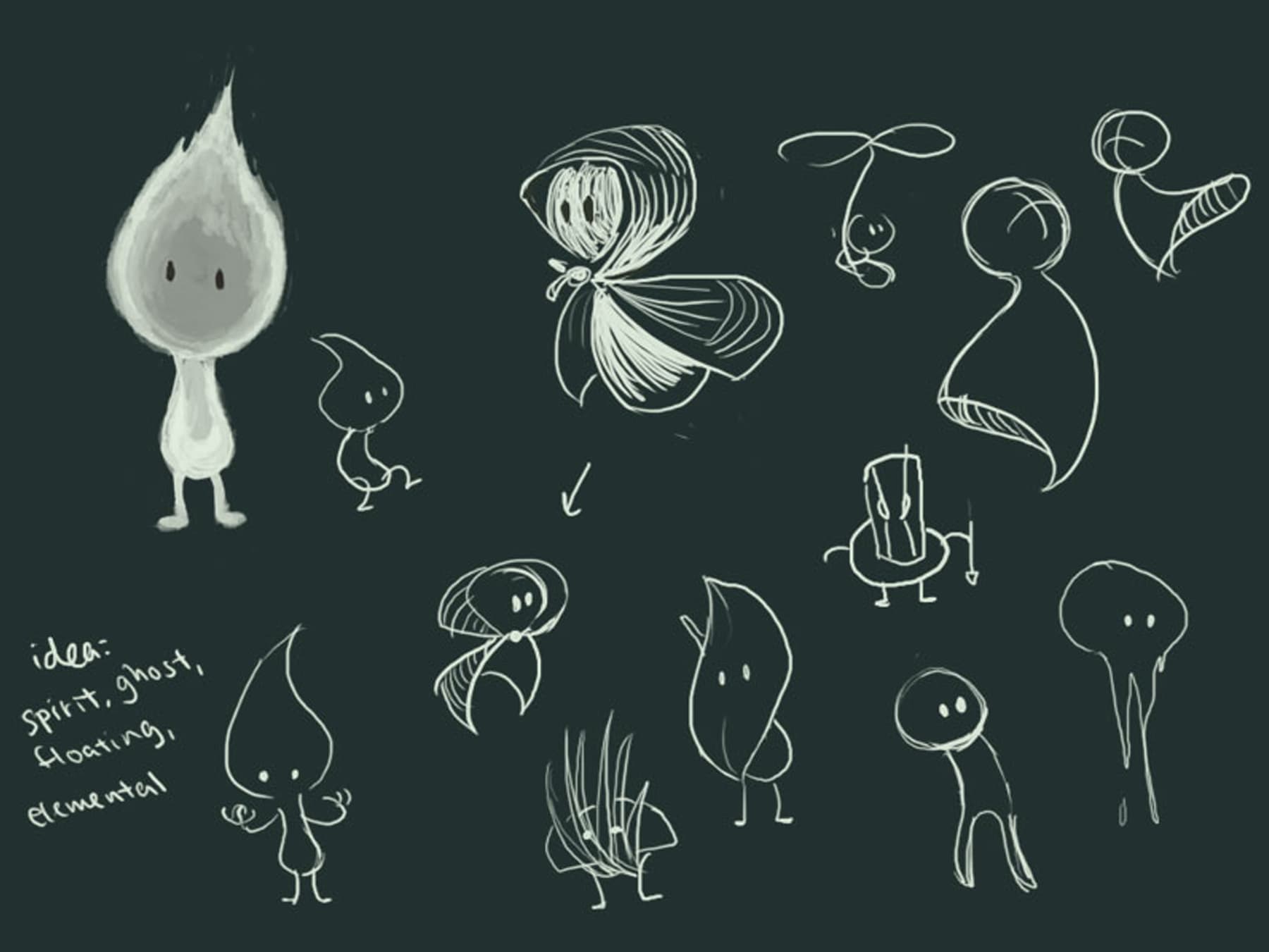 A long way indeed: Last month, Douse was featured at the 2012 Tokyo Game Show as one of 10 international finalists for the Sense of Wonder Night (SOWN), an event celebrating innovative and inspiring game experiences. As part of the event, three Terabyte developers — Hanson, producer Amanda Skibeness (BSCS in RTIS), and lead artist Constance Chen (BFA) — flew to Japan for the weekend to present the game in front of a live audience.
I feel like I had a sense of wonder because I was just like, 'What could possibly be next?'"
Despite arriving with a limited set of expectations, the actual awards ceremony turned out a bit differently than anticipated.
"I would say 'quirky' is a good way to describe just the whole show," Skibeness said.
In addition to being a presentation, the evening also functioned as a contest of sorts, whereby both the audience and a panel of judges voted on their favorite game of the evening. Instead of clapping, spectators used hammer-shaped noise makers throughout the presentations to express their applause and excitement. Each of the nominated games fell into a particular category, such as "cool redefinition of a traditional style" (for which Douse was selected) and "someone please explain this to me."
One game involved putting an Apple iPhone into a stuffed animal and throwing it through the air while an onscreen gymnast spun around in response. Another Ukrainian-developed game, created as a humorous socio-political commentary about poverty, simulated the experience of digging for food in trash bins, among other things. The three presenters for that game came on stage decked in wigs, fake beards, and sunglasses and concluded their presentation with an off-the-wall musical number.
"I feel like I had a sense of wonder because I was just like, 'What could possibly be next?'" Hanson said.

For the Douse team's turn to present, Hanson and Skibeness read from a prepared script about the game's concept and development history while Chen demonstrated the game on a giant projector screen. A Japanese interpreter helped translate as the team members described the sometimes difficult experience of playtesting a nontraditional game and how the student group committed to creating a more soothing and meditative player experience than the typical action fare. Although the game didn't pick up either of the final awards — both of those honors went to the trash-digging game — the team members were happy to have been included in such a diverse lineup.
"I'm actually honored that they chose Douse, because the other games they chose were all really impressive tech-wise or just super flashy," Chen said. "And so it's interesting they chose a really peaceful game to compliment that."
The art and the music are what makes the atmosphere and what makes the emotion in that game."
Whereas the engine and programming provided by Hanson, Skibeness, and tech lead Bryce Nelson (BSCS in RTIS) made the game possible, Skibeness said it was Chen's character and environmental art, the animation work of Michael James (BFA), and the music and sound compositions by DigiPen instructor Steven Saulls that earned Douse a spot in the show.
"The art and the music are what makes the atmosphere and what makes the emotion in that game," Skibeness said. "When we got Constance the game became very beautiful and very vibrant. But then when we got our animator Michael … he brought the life to the game."
Through all stages of its development, team members described Douse as a truly collaborative endeavor, thanks in no small part to the faculty coaching support from Rachel Rutherford, Senior Lecturer of Game Software Design and Production. Whether or not they go for another unconventional, poetic experience, Hanson and Skibeness said they are collaborating again for their junior game.
You can watch a recording of the Sense of Wonder Night on Ustream (the Douse presentation begins at about the 1:32:30 mark) and download Douse from the DigiPen Showcase.