Graduating senior Kate Pfeilschiefter has a knack for drawing monsters and creatures that strike the viewer with a sense of both wonder and authenticity.
Her artwork recently caught the attention of a renowned illustrator after she entered and won an online creature design contest through Helpful Bear Productions that drew over 2,000 original entries.
As a part of the contest, Kate's winning artwork submission appeared in the March 2014 issue of ImagineFX magazine. She also received a signed copy of the book Animals Real and Imagined, as well as a one-on-on Skype conversation with its author, Terryl Whitlatch — well known for designing several memorable creatures within the Star Wars universe, among other things.
"We talked about a lot of stuff. We talked about creature design mostly," Kate says. "I asked her questions about her process, and she actually asked me questions about mine, which was very flattering, because I don't consider myself as having much of a process."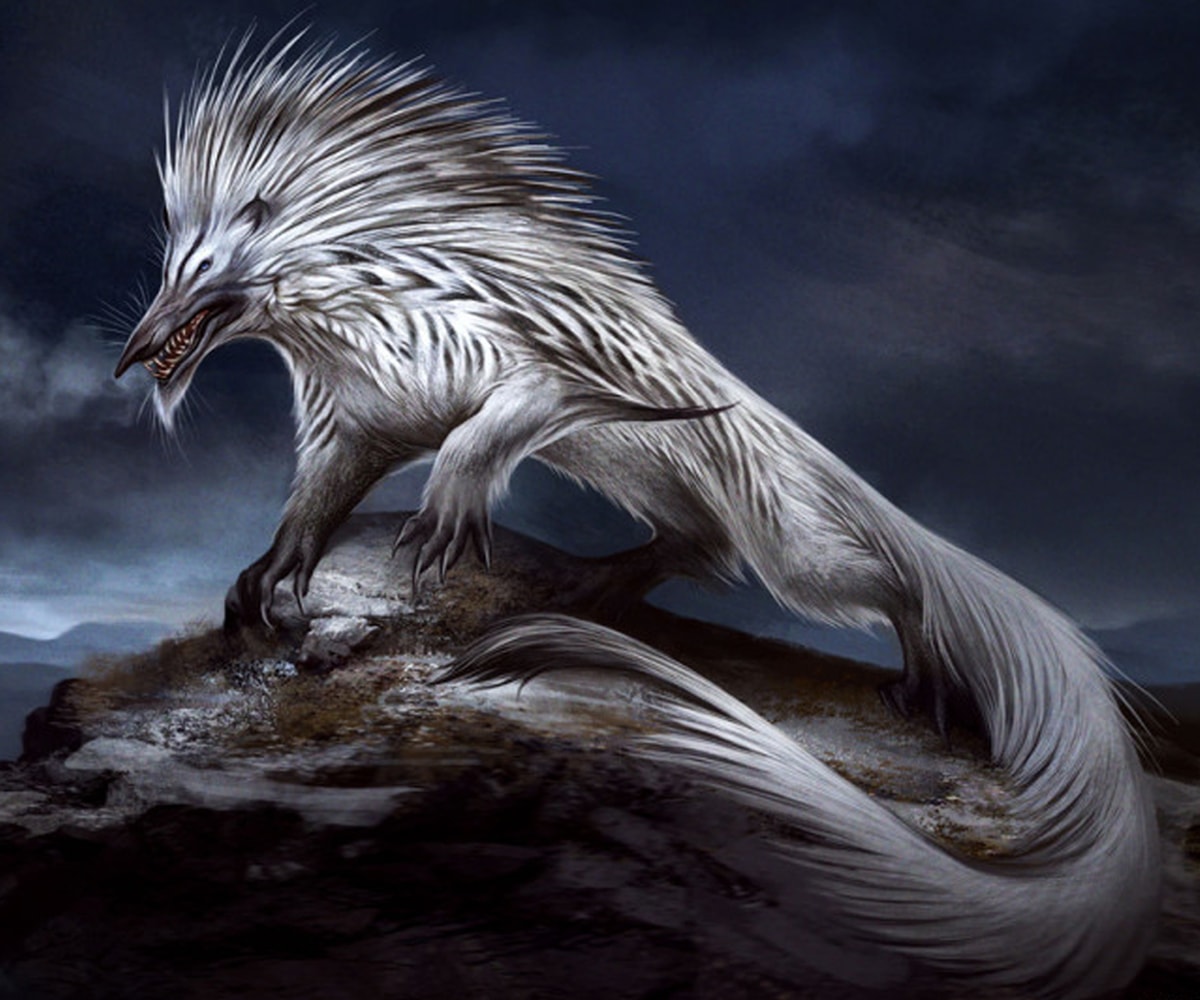 The digital illustration Kate submitted to the contest was of a mythical creature known as the ichneumon.
"It was me trying to make a design for a medieval creature that doesn't really get a lot of press compared to griffins and dragons," Kate says. "In fact, I don't think the ichneumon is really mentioned much at all, except that in certain mythologies it was believed that it hunted dragons — just like how an actual mongoose hunted snakes."
For visual reference, Kate studied images of mongooses and large cats, as well as the skulls of various extinct animals. Her main inspiration, she says, was the Egyptian mongoose, which has a fine fur pattern that can resemble porcupine quills at certain angles.
It was me trying to make a design for a medieval creature that doesn't really get a lot of press compared to griffins and dragons."
Jazno Francoeur, program director for the BFA in Digital Art and Animation, says he first noticed Kate's artwork two years ago while sorting through student illustrations for a BIO 200 anatomy class.
"She had just completed a composite creature assignment, with analytical process drawings describing its anatomy and kinetic movement, culminating in a beautiful full-color illustration," he says. "Since then, she has drawn and painted hundreds of concept illustrations, each imaginary creature more exotic than the last."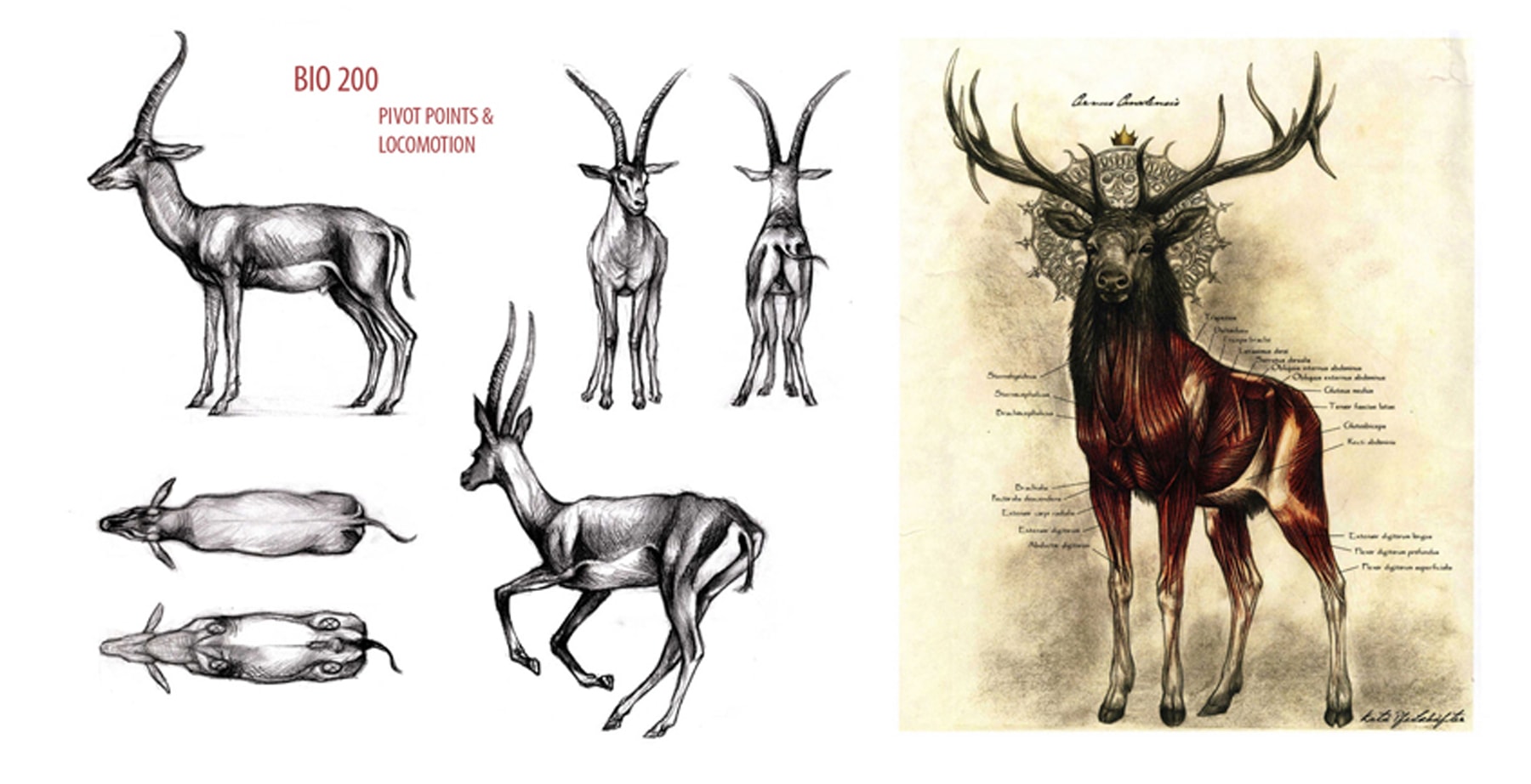 For Kate, her love for drawing monsters and creatures goes hand-in-hand with her personal interest in mythology and scanning through medieval bestiaries — particularly when it comes to the more obscure beasts, such as the manticore and piasa.
But it also likely stems from her longstanding appreciation for animals and nature documentaries.
If you pull from nature there will always be something new to draw."
"It's great to look at other people's artwork and get inspired, but nature is always going to be the best inspiration, and it's always going to throw things at you that you wouldn't have thought about," Kate says, noting the fascinating things to be discovered at the microbial level or at the bottom of the ocean. "If you pull from nature there will always be something new to draw."
In addition to her student work, Kate has also contributed to a number of professional projects, including freelance creature illustration for the Pathfinderseries of role-playing games by Paizo Publishing. As an intern for Harebrained Schemes in Kirkland, Washington, she designed props and environments for the recent games Shadowrun Returns and Shadowrun: Dragonfal, as well as golem designs for the forthcoming Golem Arcana.
With the talent she's already displayed, Jazno says it's no surprise Kate has already been discovered by the likes of Terryl Whitlatch.
"I have no doubt that Kate will be a mover and shaker in the entertainment industry," he says, "whether she decides to do visual development for games or movies."
You can view much more of Kate's artwork on her personal website at www.katepfeilschiefterart.com.