When DigiPen was founded in 1988, the video game industry was still in its infancy. As the first school of its kind to offer a degree in video game development, it was inevitable that early graduates from this unique place would go on to shape the burgeoning field in a major way, helping to create what are considered today to be classics of the medium. In honor of DigiPen's 30th anniversary, we reached out to a number of legacy alumni who did just that – inviting them to revisit their DigiPen days and the exciting, industry-changing careers that followed.
In July of 2000, Eric Smith became one of the first graduates of DigiPen Institute of Technology's BS in Computer Science in Real-Time Interactive Simulation degree program. He was also valedictorian of the first class of students to graduate from DigiPen's Redmond, Washington, campus. Smith was almost immediately offered a job as a software developer at gaming giant Valve, located just a short drive away in nearby Bellevue. He's been there ever since, contributing his programming talents to nearly every Valve classic that's been released since, including the Half-Life, Left 4 Dead, Team Fortress, Counter-Strike, and Portal series, as well as Valve's new digital card game Artifact.
We caught up with Smith to chat DigiPen, Gabe Newell, late night laughing fits, and more.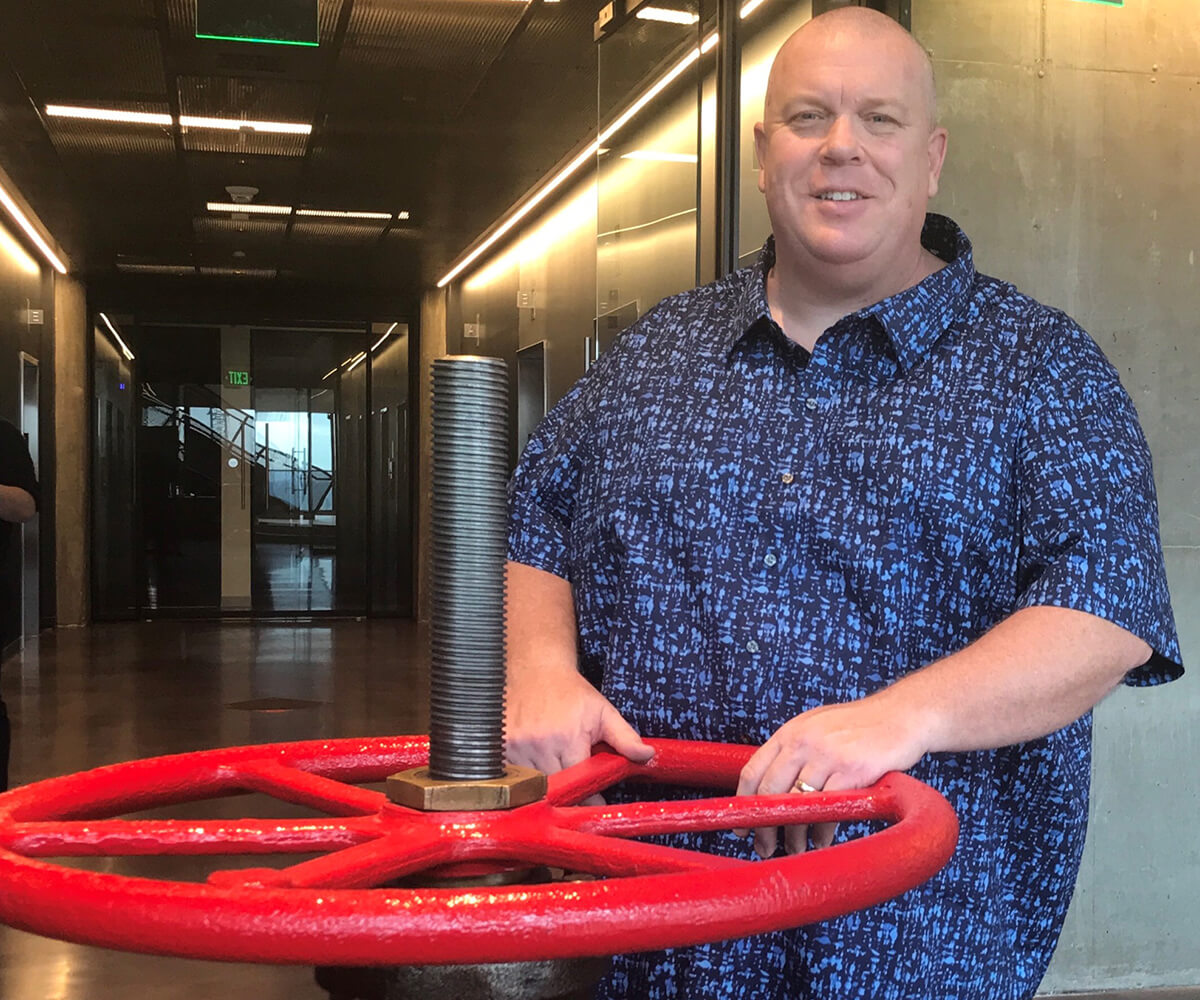 What initially motivated you to go to DigiPen?
I grew up programming simple video games with my friends. I always wanted to be part of the video game industry, and in 1989 I got a job at Nintendo as a game counselor. Nintendo was an awesome place to work and I really enjoyed the people I worked with, but as a game counselor I wasn't actively developing games. When DigiPen announced they were opening a school on Nintendo's campus in 1998, I saw an opportunity to switch careers and become a game developer.
What was your DigiPen experience like?
My time at DigiPen was an amazing journey! There was always a high level of energy, because all of the students were excited to be there. We were learning game development but we were also putting what we learned into practice every day with our GAM class. All of the classes we took were valuable, but GAM class was my favorite each semester. We went through the entire game development process. We formed small groups, brainstormed game ideas, created a design document, presented our design to the rest of the class, and implemented our design by the end of the semester. It was challenging and exhausting, but I was surrounded by talented people who have become lifelong friends that I still keep in touch with.
Could you tell us about your capstone DigiPen game project?
Our senior project was a combination dragon-flight simulator and multiplayer fighting game. Players had to manually fly their dragons around the landscape and fight other player-controlled dragons using fireballs. The game was small in scope but very fun to play. We only had six students working on the game, and we were responsible for our own engine code, game code, and graphics. We were very happy with the end result.
What is the most tangible skill you learned at DigiPen that you still use on a day-to-day basis in your career?
The most tangible skill I learned during my time at DigiPen is being able to gather and evaluate feedback on your project. Getting feedback early and often helps guide development and reduces the risk of wasted work. At Valve, everyone participates in giving feedback early in the development of projects. The development teams schedule playtests and meet afterwards to discuss and evaluate the feedback. Even after a product has been shipped, the feedback process continues with the community. It's important to listen to community feedback and discuss how our products can be improved.
Can you walk us through your initial journey from graduating from DigiPen to working at Valve?
Valve was my first game development job after graduating from DigiPen. [Valve co-founder] Gabe Newell gave the commencement speech at DigiPen's first graduation ceremony. I met Gabe after the ceremony and chatted with him for a short time. It was amazing to meet him, because I was a huge fan of Half-Life and Team Fortress Classic. During our conversation, Gabe invited me to interview at Valve. I went through Valve's interview process, was offered a position, and have been with Valve ever since.
What were your first few years at Valve like, both culture-wise and just personally?
When I first started at Valve, I was awestruck. I was surrounded by the people who created Half-Life! It was surreal, and I was really nervous. Everyone was very welcoming and supportive though, and I felt like a member of the team very quickly. The first project I worked on was an update for Team Fortress Classic. I was working on my favorite game! It was a dream come true. I couldn't have asked for anything better after graduating from DigiPen.
What are some of the most memorable experiences from your 18 years at Valve?
I've enjoyed working on each of the products we've shipped during my time at Valve. It's very satisfying to ship something and see players enjoying it as much as we do. That being said, some of my most memorable experiences have been working on the Team Fortress 2 "Scream Fortress" updates. The Team Fortress 2 team typically takes two to three weeks before Halloween to design and implement the Scream Fortress updates from beginning to end. There have been some really fun late nights designing the updates as a team. Everyone gets really tired and loopy, and we get into laughing fits while we're brainstorming ideas. It's the time of year when we can let our imaginations go crazy.
One of the more challenging products we've shipped was The Orange Box in 2007. The Orange Box contained three new products: Half-Life 2: Episode Two, Team Fortress 2, and Portal. It also contained Half-Life 2, and Half-Life 2: Episode One. We released The Orange Box on multiple platforms and in multiple languages at the same time. The development, testing, and shipping of so much content at the same time was a challenging task.
What was it like being one of the first Redmond campus graduates, going to work at Valve, then seeing Valve invest so deeply in the two DigiPen student projects that turned into Portal and Portal 2?
It's an honor to be the first DigiPen graduate hired by Valve, and working here is a dream come true. We're very proud of the DigiPen students we've hired and their contributions to our products. We continue to attend DigiPen events where we can see student projects and mingle with the students.
As Valve has ballooned into one of the biggest game companies in the world, what has it been like interacting with that increasingly large, passionate audience — both online and in real life? Do people just ask you when Half-Life 3 is coming out all the time?
This is a great example of listening to feedback that I mentioned earlier. Over the years, I've had a lot of opportunities to meet fans of our products both online and in-person. Whether they're singing our praises or telling me what Valve can be doing better, they're passionate about the information they're sharing and I appreciate that.
And yes, there are some questions that I get asked all the time, even from my own relatives at every family function.
Finally, what advice do you have for students hoping to jump into the game industry themselves?
The most important thing is to be working on something. Find an area of game development that you're interested in and get going! Taking the first step can be the hardest, but there are lots of online resources to help you. Program a simple text game. Make a mod for your favorite game. Create something for the Steam Workshop. Help with the art for a project. Don't worry about making it perfect! It's more about the process than about the end result. Each time you create something, you learn and can apply what you've learned to your next creation. After you've created something, get it to other people and listen to their feedback. Take the feedback, iterate on your design, release an update, and repeat!