In 2018, DigiPen graduate Elliott Davis stood in an exhibition hall in Paris, watching art pieces he and his coworkers helped design, program, and install wander into different rooms and interact with one another. "When I saw the three legged crows fly across the two-story-tall exhibit space in Grande Hall de La Villette and trigger a variety of visual effects in the flowers, the waterfall, and the falling characters symbolizing various aspects of nature, it caused me to grin uncontrollably," Davis says. "I felt a strong sense of wonder and beauty."
The exhibition, Au-delà des limites, stands as a special moment in Davis' memory. It marked the first time he was able to both demonstrate and experience, on such a large scale, the "borderless" philosophy towards art that's become a hallmark of the international art collective he is a part of, teamLab. The group's lush, interactive, room-scale artworks have been celebrated the world over, with exhibitions in Asia, North America, Europe, Australia, and the Middle East, as well as via a permanent 100,000-square-foot museum in Tokyo.
Davis wasn't always a globe-trotting artistic programmer. The 2005 BS in Computer Science in Real-Time Interactive Simulation graduate started out his career in game development, initially heading from DigiPen to THQ in San Diego. "My background is working in the video game industry as a programmer and game designer, and to this day I still enjoy playing video games," Davis says. "However, over time my interest in art and creating art gradually increased." After landing in Japan on New Year's Eve in 2009, Davis studied in a Japanese language school only to leave a few months later for a job at game developer tri-Ace. Starting in 2014, Davis took a few years to himself to work on personal art projects in Tokyo, where he still lives today. "When I was deciding what future career steps to take, I was much more interested in finding a job in art where I could use my skills," Davis says. "I feel very fortunate to have found teamLab and to have a chance to work on such amazing, immersive, interactive art projects."
Since 2016, Davis has helped the interdisciplinary group of artists, engineers, CG animators, mathematicians, and architects at teamLab realize their unique digital visions by working as an interactive programmer. Those visions usually start with an idea from the collective's founder, Toshiyuki Inoko, featuring teamLab's distinct themes of nature, relationships between people, and transcending boundaries. "When an artwork changes based on the presence or behavior of a viewer, the boundaries between artwork and viewer become blurred," Davis says. "The viewer becomes part of the artwork itself. Similarly, when the artwork changes due to the presence of other viewers, those people also become part of the artwork."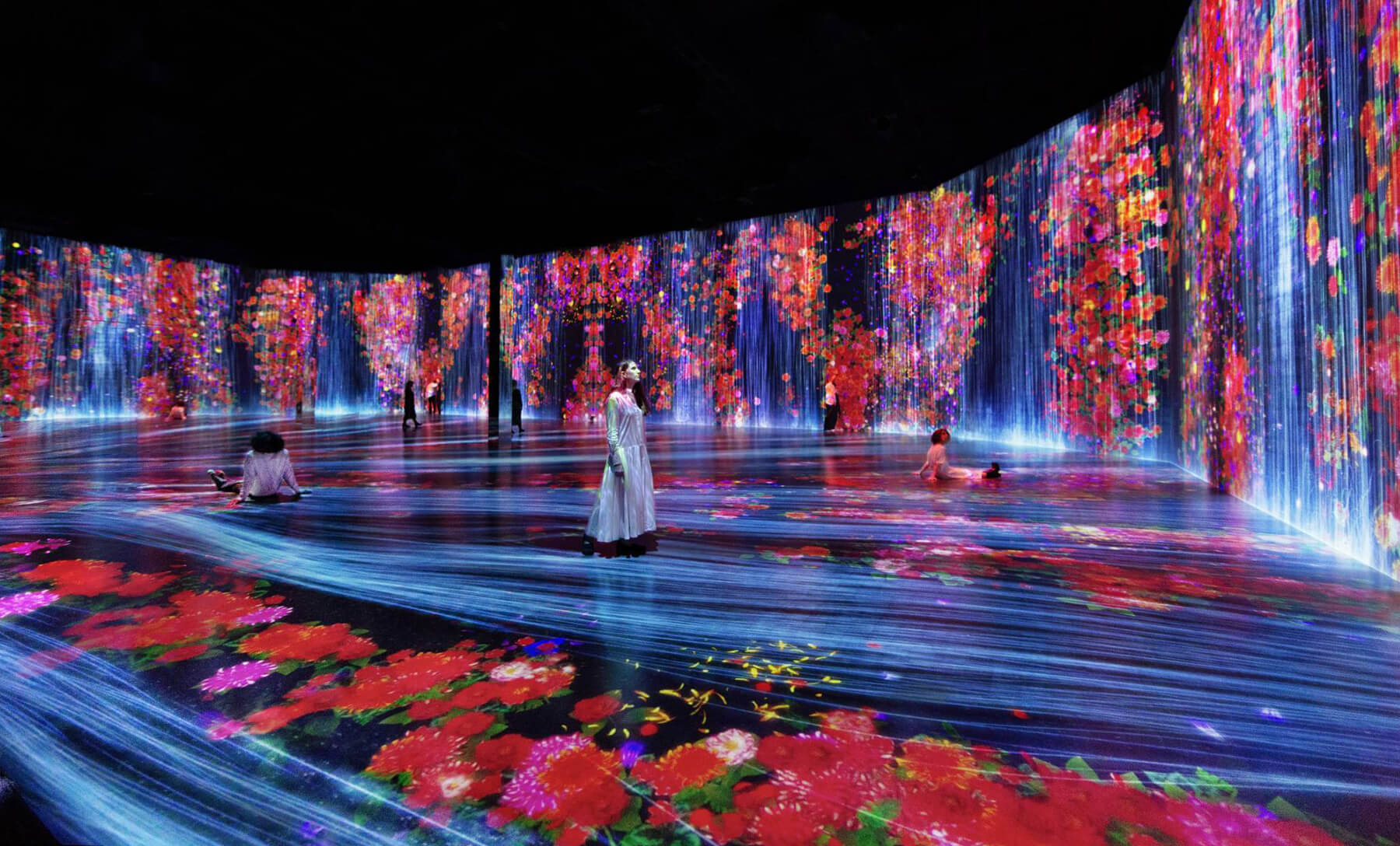 For example, in teamLab's Flowers and People, Cannot be Controlled but Live Together - Transcending Boundaries, A Whole Year per Hour, which Davis has been the lead programmer on for a number of years, a seasonal year of flowers grow, bloom, and die in a large room over the course of one hour. Viewers who stand still will find flowers beginning to grow around them, while those who move and touch the flowers will scatter their petals. Surrounding artworks can also scatter the flowers' petals with their influence — petals which can then go on to interact with other artworks as well. Since the experience is rendered in real-time rather than run on a pre-recorded loop, it constantly changes, never reproducing the same visual state.
"As a member of the interactive team, it's my job to take the initial concept or art direction and write software to make it a reality," Davis says. Utilizing 3D models, animations, textures, and sound created by team members, as well as interaction data from the computer vision department, Davis works to program teamLab artworks so they can be presented as seamlessly as possible to viewers. The job shares similarities to his game development past, but it differs in some key ways. "The technologies used to detect interaction between humans and the artworks are more abstract than detecting when buttons are pressed on a controller," Davis says. Davis also has more input on the final product than one might on a large game development team. "I can share my opinions at art review meetings," Davis says. "There are often a lot of minor details that are undecided ahead of time, so I get to use my judgment and aesthetics to decide how to implement them before showing the result to my fellow team members."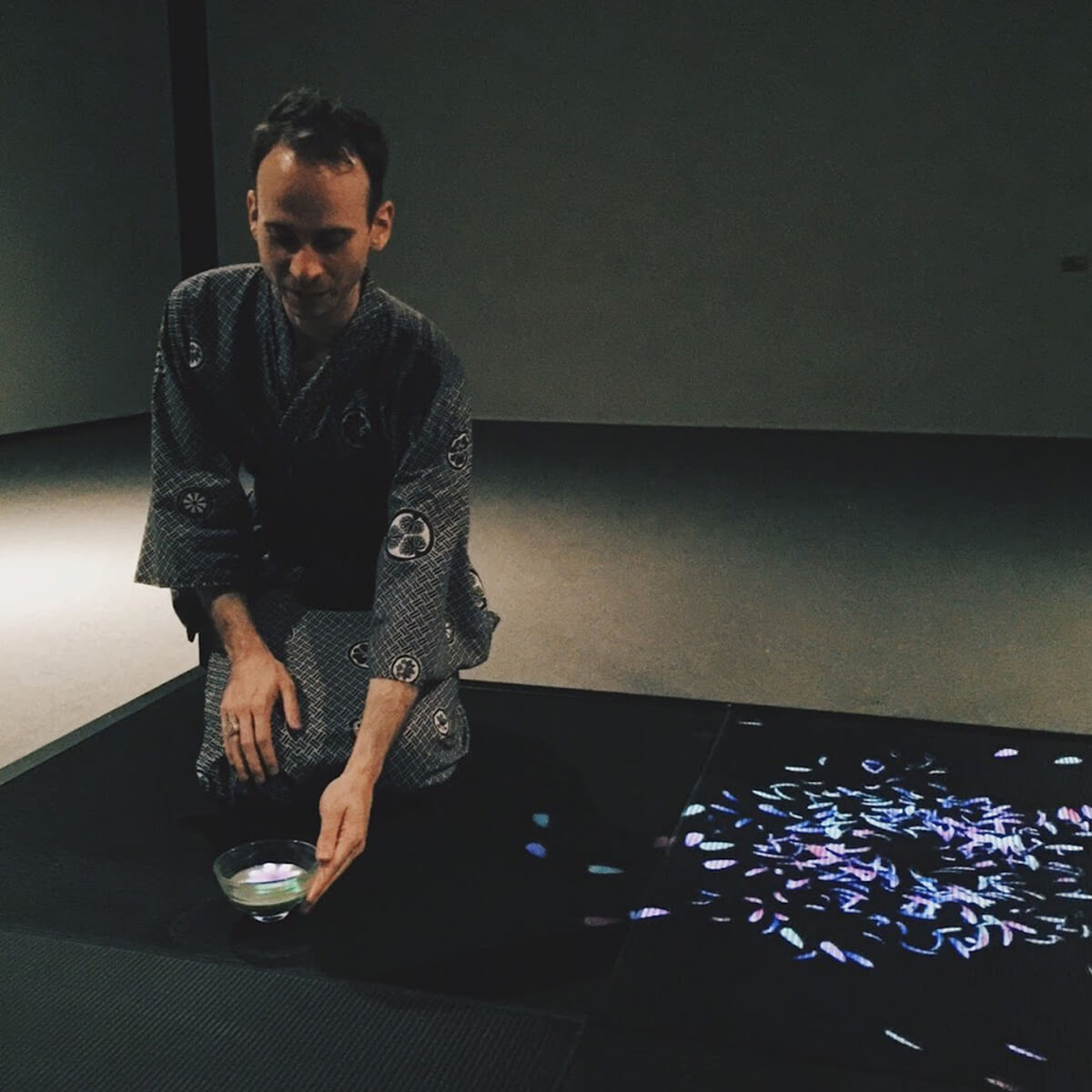 It's one of the reasons Davis' first project for teamLab, Flowers Bloom in an Infinite Universe inside a Teacup, remains one of his favorites. Originally created for the Tenshin Memorial Museum of Art in Japan, an establishment dedicated to the author of the famous 1906 essay, "The Book of Tea," the teamLab work features digital flowers that grow inside of a real teacup once it is filled with tea. When the teacup is moved, the flowers inside scatter their petals. "Since it was a new artwork, I was able to do all of the visual programming for it by myself, so I feel a certain sense of pride and ownership for my contributions," Davis says. "It was also the first time I was able to see people interacting with our artwork. One of the really nice things about working on digital art, as opposed to working on video games, is being able to see people experience what I helped create and very quickly have a strong reaction to it."
Davis has had plenty of opportunities lately to see people's reactions to that work, having finished installations for two separate shows, teamLab: Continuity at the Asian Art Museum in San Francisco, and teamLab: Every Wall is a Door at Superblue in Miami, within the last year. "When my schedule allows me to do so, I love to stick around and watch," Davis says. "It's gratifying to see people mesmerized, experiencing a sense of wonder, laughing, dancing, taking pictures, sitting down and relaxing like they are in a park, trying to touch or interact with different parts of the artwork."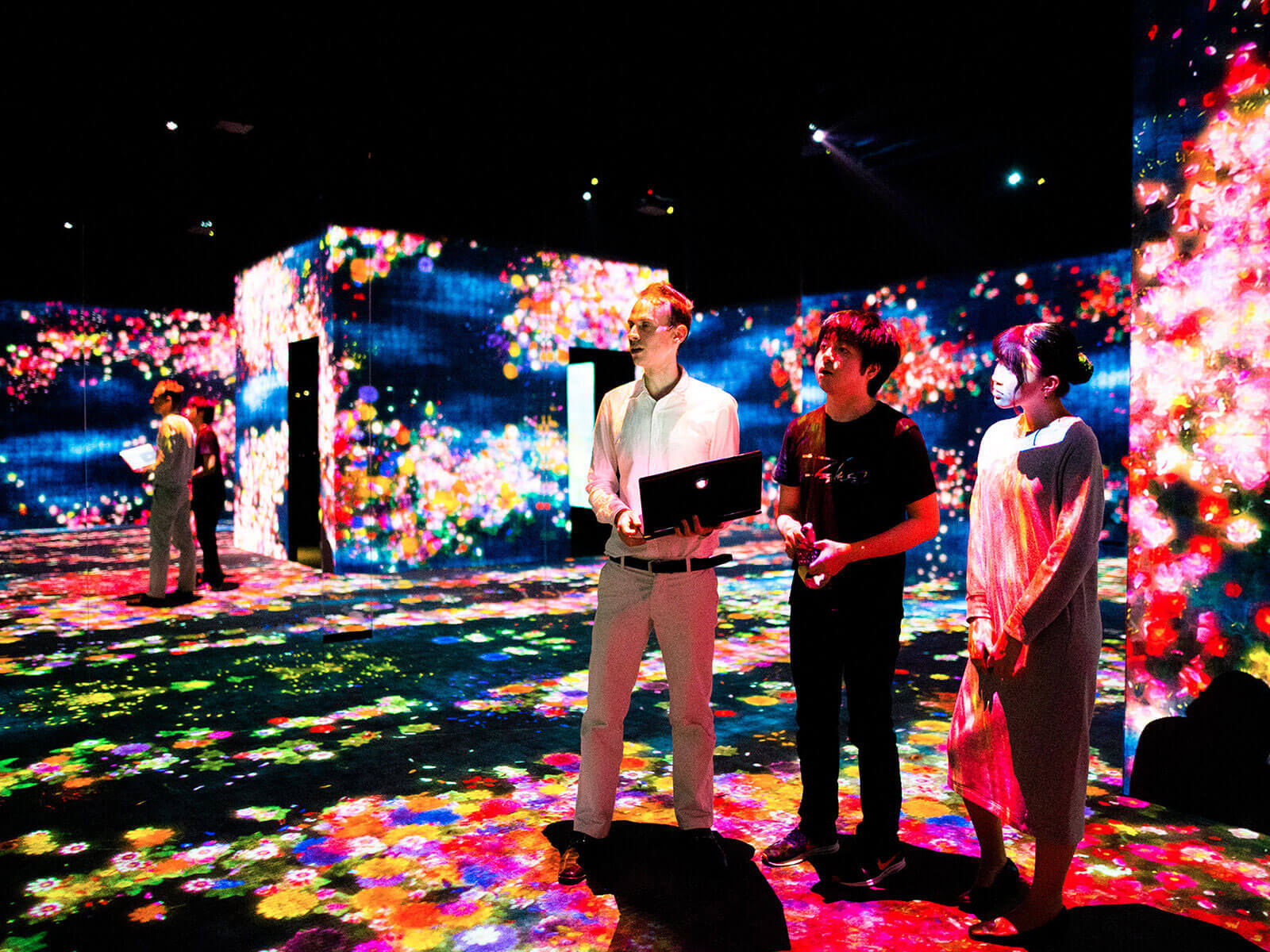 Davis says his DigiPen education helped give him the tools to produce teamLab's singular artworks. "I see a lot of similarities between the skills and technology used to create video games and the art made by teamLab," Davis says. "If I was able to rewind time and do it all over again, I would still choose DigiPen. My time there gave me a head start into the game industry, helped build confidence to persevere when times are tough, and gave me a leg up compared to other new graduates from more traditional computer science programs when I was first starting."
If the thought of crafting poetic digital art experiences sounds intriguing, current Dragons preparing for their own first start, and those already graduated, are in luck. As Davis and teamLab note, DigiPen students interested in taking their skills into the digital art world are welcome to apply for a flexible-length paid internship, either remote or in-person at the art collective's Tokyo office. Those looking to live in Tokyo and work full time at teamLab are also warmly welcomed to apply for entry level and mid-career jobs in English or in Japanese.