A group of students from the DigiPen WaNIC Academy traveled to Louisville, Kentucky, last month to take part in a SkillsUSA Championship, placing fourth in the nation for the "Interactive Application and Game Development" category.
Presenting as mock game studio Cutback Games, the team showed off their cartoony platformer Minimized, a game that has players guide a shrunken soldier through a treacherous science lab after an experimental shrink-ray gun explodes in an accident.
"The objective of the game is to go through different environments, fighting different creatures — trying to find those little shards of the gun, so that you can build it to make yourself big again," Christine Wright, one of the student team members, said. "And the enemies that you fight, since you've been shrunk down, are like dust bunnies, bugs, and those types of things."
The game was part of a class project that began during Fall 2014 when Wright and other teammates from the DigiPen WaNIC video game programming track began collaborating with other students from the DigiPen animation academy.
"We had the students basically set up and run companies," Misty Loreen, instructor for the animation academy, said. "And just like a normal company, the way we ran it in-house was that some people would get fired or leave the group. Or companies would split, because they had differing ideas. … It was very much like a miniature version of what you find in the game industry."
In the case of Wright's team, what began as a 20-student operation eventually shrunk (no pun intended) to just six teammates — hence the group name Cutback Games.
"I learned certain aspects about teamwork and what you can expect from teamwork. Sometimes I set my expectations a little too high," Wright, who worked as lead programmer, level designer, and business manager for the team, said. "At one point we just realized people weren't making deadlines, because they would forget the deadlines. So we made a list of milestones and would check in with people every couple of days."
Despite the reduction in team size, the remaining team members clicked well together, divvying up the responsibilities for programming, game art, level design, and project management.
They were a really professional group, with just a nice even keel."
After placing second in the SkillsUSA regional competition, the team entered a separate contest, winning the youth division of the Seattle Indie Game Competition. Then, after placing first at the SkillsUSA state tournament, four of the team members took the trip to the national championship, where each of the finalist teams presented their games and applications both to the public and to competition judges during an all-day expo.
In addition to game playability, concept, programming code, and art, judges also evaluated each team's overall professionalism — including dress, booth display, and presentation skills. The DigiPen WaNIC team finished fourth overall in the competition among 14 national finalists.
"When it was competition time, it was all them. There's no coaching. There's nobody in the room to feed them lines or anything like that," Loreen said. "They were a really professional group, with just a nice even keel."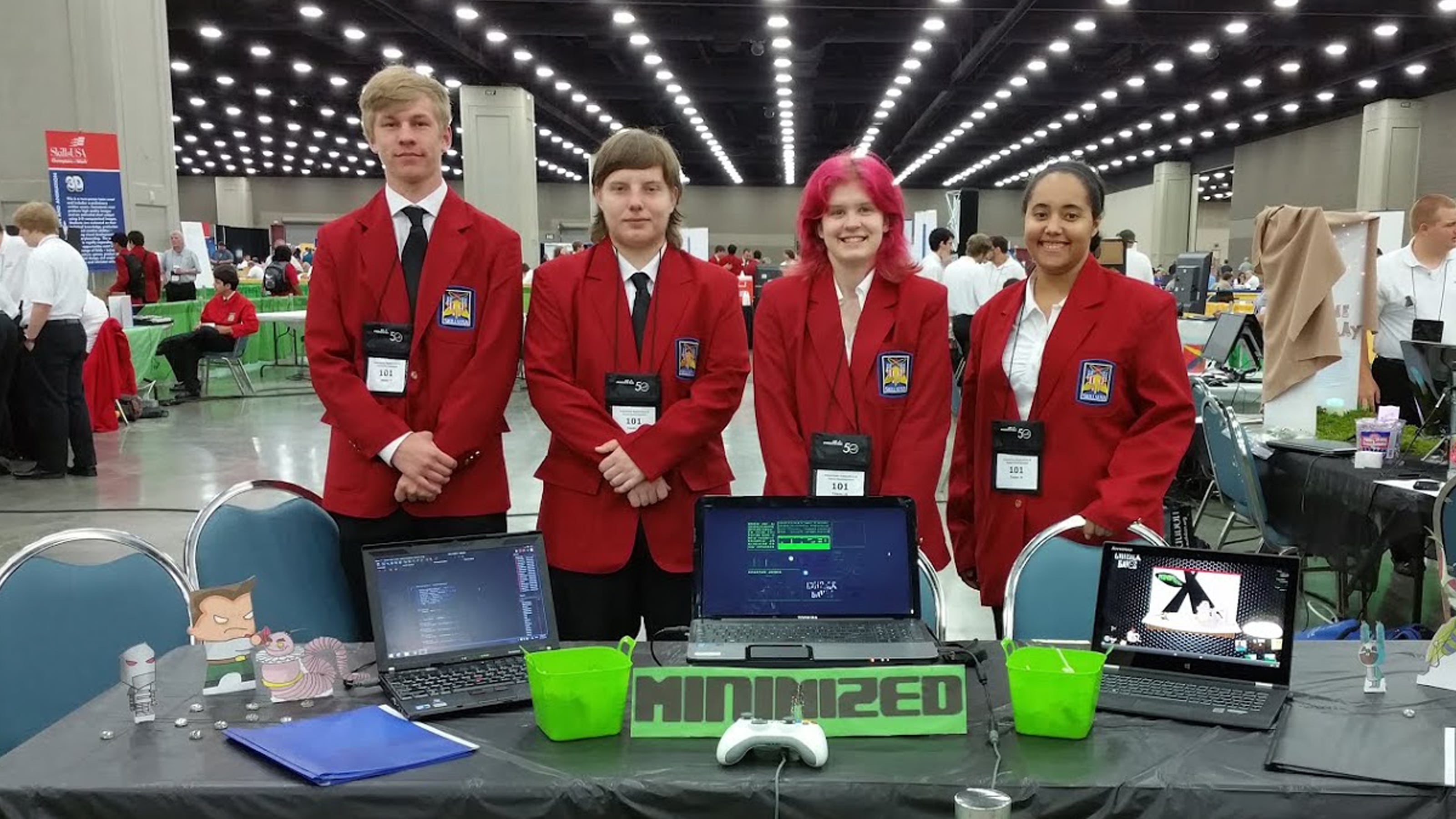 Having graduated from high school in the spring, Wright is now preparing to build on her computer programming skills by pursuing a computer science degree at Brigham Young University-Idaho.
"This was my first time really ever programming or doing anything like this, and I really liked it," Wright said. "I'm just looking forward to getting an internship somewhere and actually starting to apply programming into something I like. … The idea of putting it in a game or at least something game-related is exciting."
You can learn more about DigiPen WaNIC academies by visiting the ProjectFUN website.