Although the collegiate sporting life is strong here at DigiPen, where our students fiercely compete in organized Halo and Super Smash Bros. clubs, the fact remains that we do not have a football team. Despite that, 2006 BS in Computer Science in Real-Time Interactive Simulation graduate Ryan Dudley has gone on to become something of a football star – working as the lead programmer on the official NFL and NFL Fantasy Football apps.
Dudley's journey to the NFL started in his native Virginia. After graduating from high school, he was interested in applying to Virginia state schools, but he wasn't quite sure what subject he wanted to pursue. "I took a C++ class while I was waiting to hear back about my applications, and I loved it. I'd never done anything like that before," Dudley says.
Around the same time, he says, an article about DigiPen appeared in an issue of Electronic Gaming Monthly, and it caught his interest. "That was it, really," Dudley says. "I immediately applied, got in, and moved to Redmond."
At DigiPen, Dudley developed his C++ knowledge even further. His junior game Sea of Chaos, a pirate-themed ship battle game, was selected as a Student Showcase Winner for the 2006 Independent Games Festival. At the end of his DigiPen career, he and a fellow game team member won a contest to develop a casual game for Nokia phones for the launch of the Toyota Yaris, earning them $20,000 and a trip to Vegas.
Casual games would go on to carry Dudley through much of his pre-NFL career, which included jobs at HER Interactive, his own startup Passionfruit Games, Rivet, and finally at GREE, a company where he would prophetically end up making a game titled NFL Gridiron. "The company was trying to bring the style of card battle game that made them so popular in Japan to an American audience," Dudley says, "so they made an NFL game like that too, a licensed card battle game."
When Dudley saw a job opening at the NFL itself in 2015, he leapt at the opportunity for change and was almost immediately hired. Upon accepting his new programming role at NFL Digital Media in L.A. — taking the lead on the official NFL app and eventually on the Fantasy Football app as well — Dudley left nearly a decade in casual games behind for professional sports.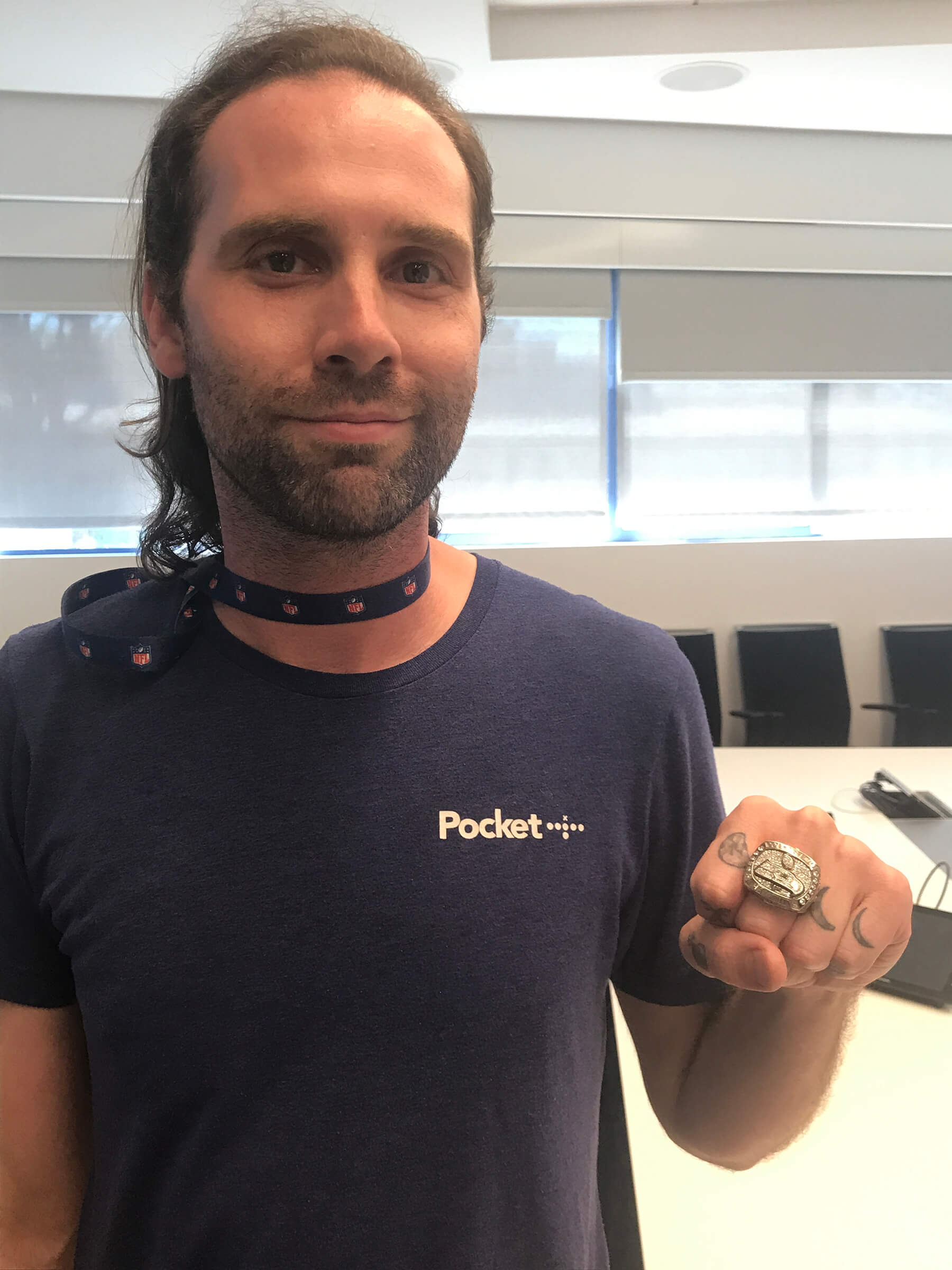 Today, Dudley focuses on crafting seamless, consistent, and engaging mobile experiences — not too different from his prior work in casual games. In other ways, the nature of the work actually overlaps with the experience of the NFL teams and players, a very new experience for Dudley.
"Our work is very seasonal, just like the NFL," Dudley says. "Right before the season we're always focusing on stability. During the season we're always focused on the post-season, building the experiences for the playoffs and Super Bowl. And once the Super Bowl happens, we're focused on building experiences for the draft. … It's very cyclical."
Like a football player on game day, Dudley has to show up no matter what. "We have extremely hard dates. There will never be a situation where they decide to delay a game because something is wrong with the app," Dudley laughs. "We are required to have an app that works any time that there is football, anytime the draft happens — for all the games and events I mentioned."
And finally, just like for the players on the field, Dudley's work is subject to shifting rules and deals – one of the most challenging aspects of the job.
"The NFL has a lot of very specific rules about when their games can be shown, what kinds of games can be shown live in the app and when. … You can only watch this game if you're in this specific metro area, or this game if you're outside the U.S., or this game only if you have a cable subscription," Dudley says. "Every time we sign a new deal with a new broadcaster, we then have to go and change those authentication flows and make sure that the contracts we signed are actually applying to the application."
Those changes apply to new features the NFL is attempting to sell through the app as well, experiences Dudley must develop quickly to meet business deadlines. One recent example is the NFL's new "Next-Gen Stats," a cutting-edge form of data collection and visualization where GPS trackers are placed in every individual player's shoulder pads, as well as the football itself. These trackers measure their exact location, speed, and acceleration in real-time for users to see. "You can look at graphs of this happening constantly, and you can see the dots moving around," Dudley says. "That's the work we do, building the screen and interactivity and getting the data in there."
It's not the only part of Dudley's job that involves data processing. On the official NFL app, real-time data is fairly limited to traditional stats – things like yardage totals, scores, and so on. The NFL Fantasy Football app, on the other hand, is constantly processing immense amounts of data and churning it through highly individualized fantasy league settings.
"It's very customizable as far as how you want your league to behave," Dudley says. "For every single position, you can name 100 different ways that position can be scored. We have to have data for all of that. So we just have this giant database of every single player. We know exactly when they're on the field, if they're in a scoring position, when they have the ball. We know if their team is on the field but they're not on the field — every single detail about what is happening in that game."
For many, Dudley says, fantasy football is a "second screen" experience. NFL fans will often watch the games on TV while monitoring the constantly changing statistics and scores for their fantasy teams via laptop or mobile device.
"As these players walk on and off the field, your screen is updating, and all these clients are pulling all this data in," Dudley says. Due to the sheer immensity of the data, as well as the incredibly specific way that data is being filtered through customized league scoring settings, calculations are done on the client's devices rather than the server.
"We can't do it on the server because we have so many different clients pulling so much data from the backend constantly," Dudley says. "It just cannot serve that many specific requests."
On especially intense days, Dudley says he often thinks back to his DigiPen education in the Real-Time Interactive Simulation program and the tools it gave him to tackle this kind of work. "The emphasis [at DigiPen] on speed of execution in your code is something that's really helped me, especially in the Fantasy app, where we deal with insanely large amounts of data," Dudley says. "That has been in the forefront of my mind when I code something, and it's something I notice that's different amongst my peers who are used to a more traditional computer science or application development degree."
As for the work environment, Dudley says he does brush shoulders with some high-profile figures. Since the NFL Digital Media building is right next to the NFL Network building, running into celebrity sports broadcaster like Rich Eisen, David Carr, and Maurice Jones-Drew is a regular occurrence. "I see those people every day as we're passing in the halls or in the café," Dudley says.
And, yes, he has jumped into a few fantasy football leagues himself since starting the job.
"I'm in the official internal NFL league as of now. They've reserved the first two entries in the fantasy league database for the two leagues the NFL employees play in," Dudley says. Even though he's the technical mastermind helping make the whole league run, he admits he still has some catching up to do. "I'm currently relegated to the second league, because I'm just not good enough for the first one yet."