DigiPen's seventh annual Internship Fair may have functioned differently than in years past, but the results were just as positive as ever. The January 29 event connected more than 360 students with representatives from 21 game and technology companies, including Epic Games, Respawn Entertainment, Santa Monica Studio, Sucker Punch Productions, and others.
The main difference this year was, of course, the venue itself. As opposed to meeting in a physical location, students and employers instead logged in to an online platform called Handshake to take part in a mix of pre-scheduled group sessions and one-on-one meetings. In the group sessions, employers had an opportunity to present a general overview of company culture and specific internship programs. The one-on-one sessions, meanwhile, allowed students to interview directly for open positions related to their area of study — similar to how meetings would have normally been conducted during an in-person fair.
The change in format, while not a perfect replacement for a traditional event, nevertheless introduced certain positive tradeoffs according to Mojan Ahmadi, DigiPen's Director of Career Services. "With an online fair, students actually get to book their time to talk with employers in advance," Ahmadi says. "Students have an agenda prior to the morning of the event, where they know, 'I have six calls today with six employers.' And that, I think, provides a level of certainty for students that is really great."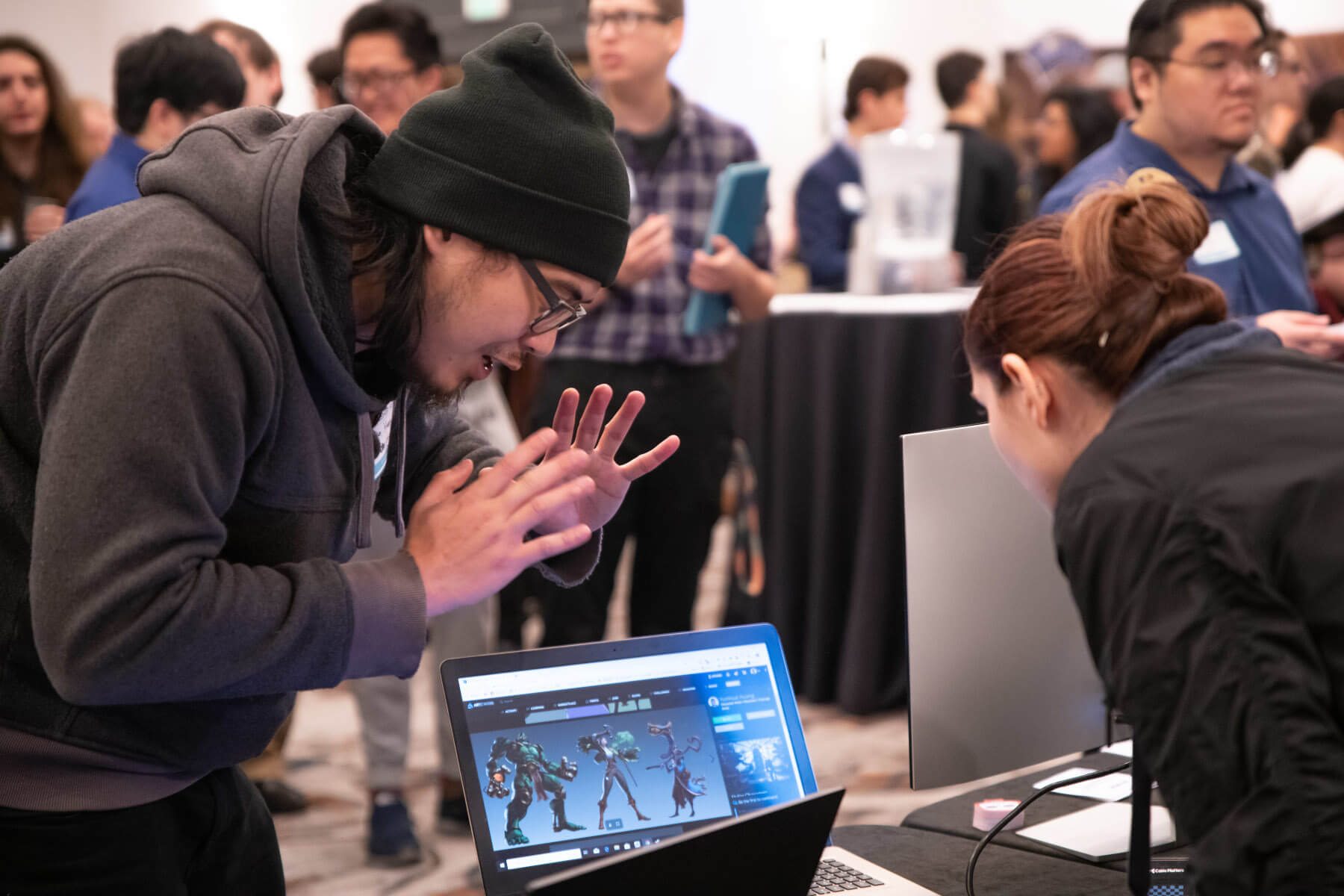 In all, the 2021 Internship Fair facilitated 619 one-on-one sessions and 891 student check-ins for group sessions. Not only that, DigiPen students who pre-registered for sessions checked in at a rate of close to 98 percent — impressive when compared to many larger schools, Ahmadi says.
For many DigiPen alumni, student internships have been an important stepping stone to quickly landing their first post-college jobs. Despite the challenges of remote working brought on by the COVID-19 pandemic, DigiPen students have continued to report successful internship experiences. And since many companies have already decided to offer remote summer internships for 2021, Ahmadi says the extra planning time is helping employers prepare better to accommodate students.
"There's lots of mentorship happening — even though we are remote. We checked in with one of our recent supervisors, and he's doing multiple check-ins with his student," Ahmadi says. "It's really encouraging to see the level of hands-on effort that some supervisors are providing, because you have to be more intentional than ever in a remote space."
As with years past, many of the company recruiters for this year's Internship Fair were DigiPen alumni, some of whom contacted Ahmadi to let her know that they met with several promising internship candidates.
"There is absolutely still opportunity, and these employers are eager. They love talking to students. If anything, a lot of them said, 'I'm so glad I talked to more students than I planned to,'" Ahmadi says. "There was no shortage of interest."
---
Thanks to each of the companies that participated in this year's Internship Fair: Advanced Micro Devices (AMD), AiGoLearning; Bungie; Camouflaj; Epic Games; eXcell; Facet Digital; FXVille; Hi-Rez Studios; Insomniac Games; Microsoft - Turn 10 Studios; Monolith Productions; Naval Undersea Warfare Center Division, Keyport; PerBlue; PlayEveryWare, Inc.; Respawn Entertainment; SAIC; Santa Monica Studio; Sucker Punch Productions; The Forge Interactive; and Valkyrie Entertainment.