For the last decade and a half, the Robert B. McMillen Foundation has helped 11 DigiPen students pursue their lifelong dreams and career goals in the digital arts. Through the financial assistance of the foundation's art scholarship program, which awards students up to $25,000 per year, recipients have gone on to apply their education toward career paths in concept art, experience design, video game animation, designing theme park attractions, and more.
This fall, Trang "Sushie" Ta from the MFA in Digital Arts program became the newest DigiPen recipient of the McMillen Foundation art scholarship.
"It's awesome!" Ta says of the honor. "It's definitely a load off my back."
Born in Houston and raised in Mesa, Arizona, Sushie received a BFA in painting at Arizona State University before moving to Seattle in 2016. After first connecting with DigiPen at PAX West, she soon after decided to apply to DigiPen's part-time MFA program. She currently studies subjects like 3D modeling using digital tools and techniques, putting her skills to work in a range of projects involving character and environment design.
"Mostly they involve creating a character in an environment and being able to show a mini slice of a world that exists. Those have been my favorite projects so far," Sushie says, noting it's a kind of work she would love to do professionally. "I'd really like to model for video games."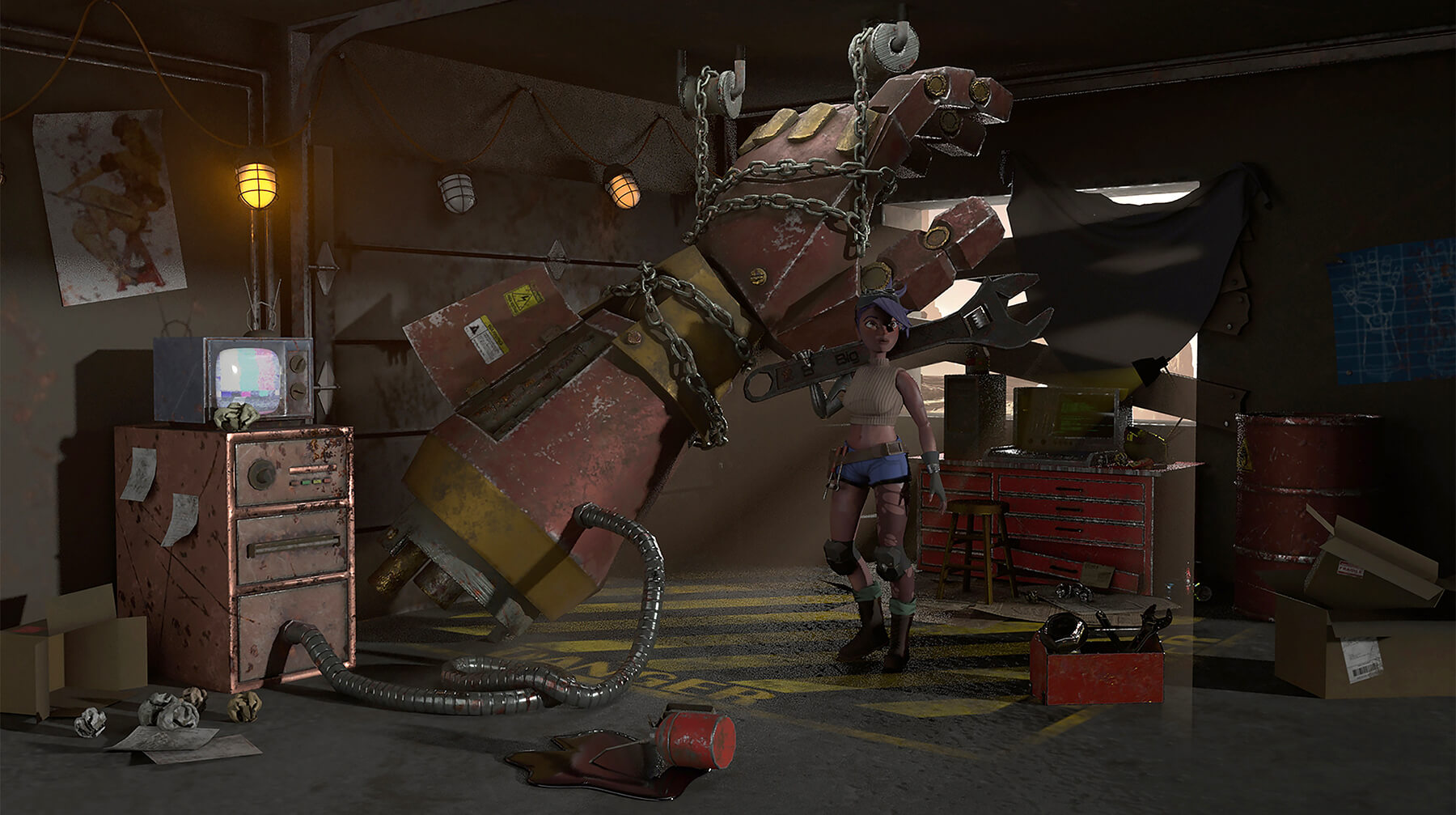 With her MFA thesis project on the horizon, Sushie says she's interested in exploring themes of cultural identity, particularly as it relates to her own background as the daughter of Vietnamese refugees.
"One of the ideas I want to run with is the mixing of Western and Eastern hemispheres, just because that has a lot to do with my background as a first-generation American," Sushie says. "My parents were immigrants, and so I grew up with a lot of that cultural fighting, as well as cultural harmonies. And that's something that I'd like to explore."
Jesse Munguia is another student member of the McMillen Artist Community. Awarded the foundation's art scholarship in 2018, he's currently in his second year of the BFA in Digital Art and Animation degree program.
Born in Mexico and hailing from the small town of Cotija in the state of Michoacan, Jesse enrolled at DigiPen alongside his twin brother Roland, now a sophomore in the BS in Computer Science in Real-Time Interactive Simulation program. Together, the two have been collaborating on video game projects for the past several years — Jesse handling the art while his brother does the programming.
"At first, we both started doing art and programming, but we quickly realized I was better at doing art and he was better at coding. So we kind of went from there," Jesse says.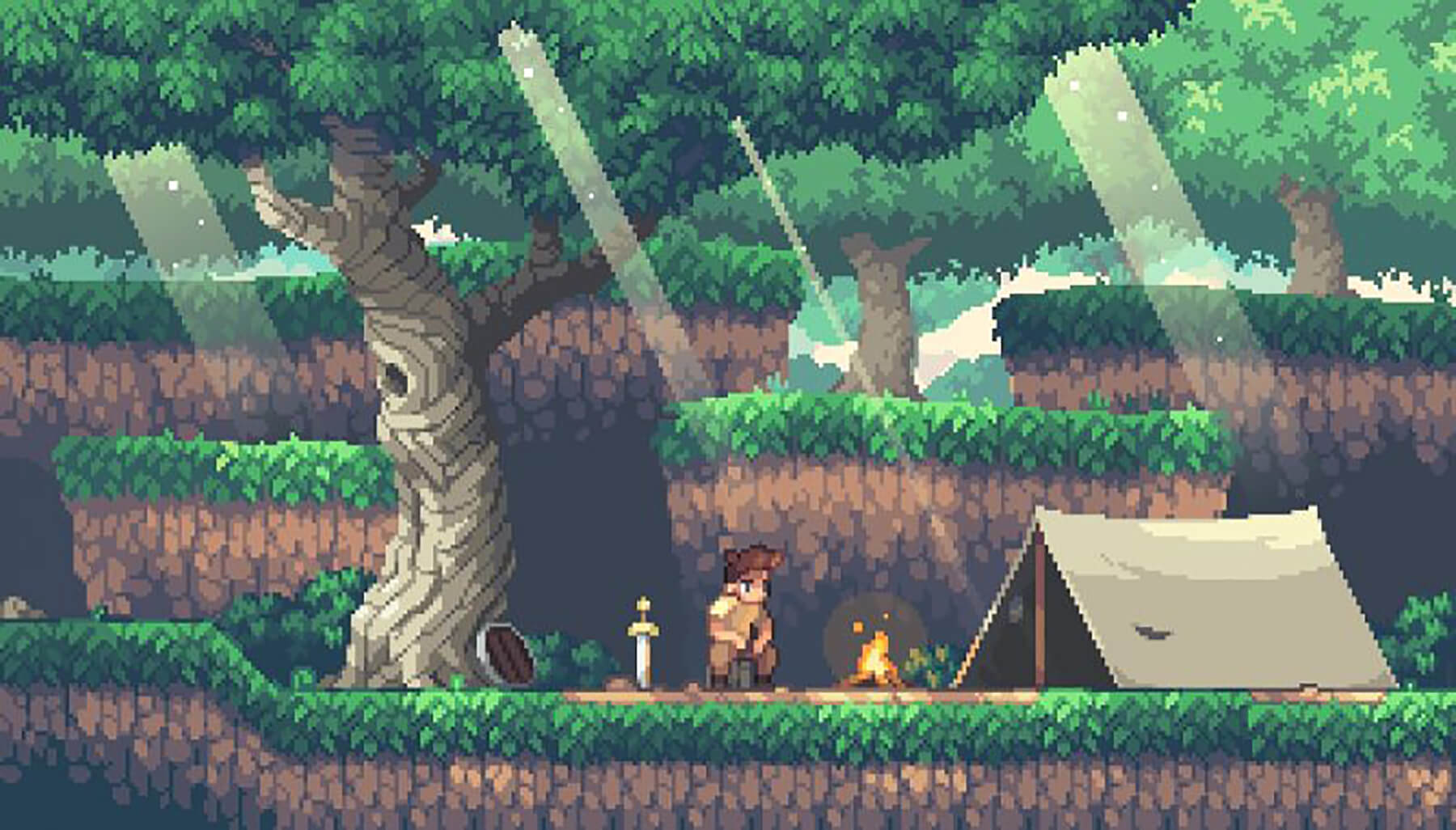 At the end of his freshman year, Jesse worked as the art director for DeltaBlade 2700, a four-player 2D arena brawler that was selected to appear at the PAX West DigiPen arcade showcase. The game's pixel art showcased a wide range of visual effects, from falling rain to electric bursts and explosions.
Well before applying to DigiPen, Jesse says he and his brother got their start by making games in their spare time and sharing them via Twitter. The two eventually began connecting with other developers, including other indie game makers in Mexico and Latin America.
"Since the very beginning, Roland and I wanted to create our own studio and make the most influential games from Mexico. That's our goal," he says. "And we want to not only make them but share our knowledge to the community within Latin America."
Jesse says he's grateful for the McMillen Foundation for supporting his current educational goals and long-term vision.
"They're not only interested in the arts and sharing your passion through that. They also care about community," Jesse says. "And that's something that I appreciate as well, because if it wasn't for the community that existed already, I wouldn't be here at DigiPen."
Other past DigiPen recipients of the McMillen Foundation art scholarship include: