Classes and homework will always be a big part of the DigiPen college experience, but they're certainly not the entirety. DigiPen students also like to have fun, unwind, gather with friends, and pursue new extracurricular interests.
At last week's annual Club Fair event, students had a chance to go table-to-table, meeting with representatives from close to 20 new and returning campus clubs and organizations. From games-focused groups to clubs promoting wellness, art, extracurricular studies, and more, there was a wide range of interests and activities on display.
We caught up with a number of the clubs' representatives to tell us briefly about their groups and what they're planning for the coming year.
Pokémon Club
One of the longest-running clubs on campus, the Pokémon Club welcomes trainers of all stripes to play, discuss, and celebrate all that is Pokémon.
"So Pokémon Club is a bunch of Pokémon fans just gathering together in a room and having fun. We mostly do tournaments, where we usually have some kind of themed ruleset," Alex Anderson said. "We're not too terribly competitive. It's mostly just for lighthearted fun. But we are also open to suggestions, so if someone wants to bring in a DVD of one of the Pokémon movies — yeah, totally!"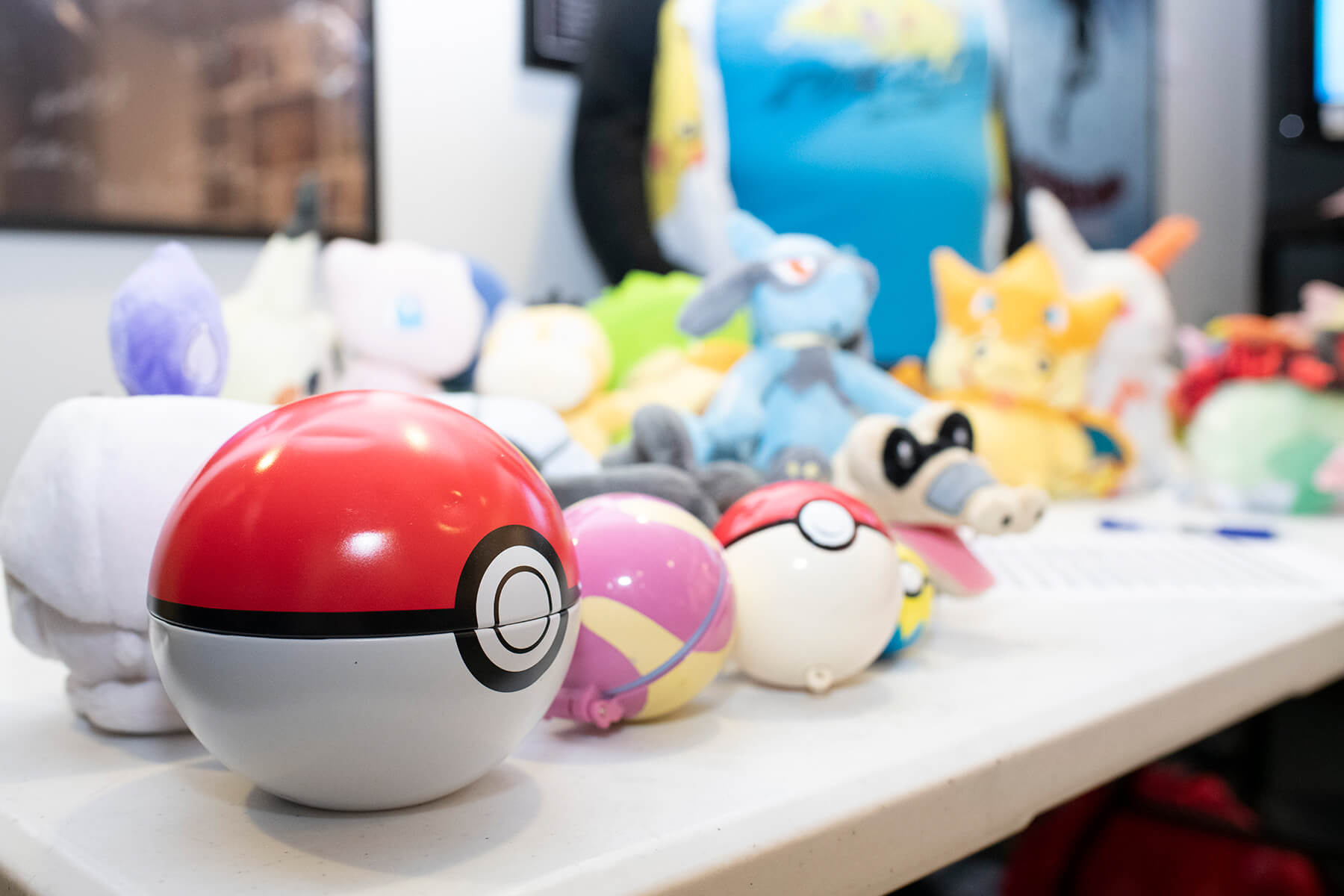 Sound Check Club
Presentations and performances can be a real source of anxiety. Wouldn't it be great if there was a way to practice, get feedback, and build confidence for the big event?
"If you have something to practice, whether it be a presentation for a class or a presentation for anything — even if it's outside the school, you can come and practice it in front of your peers in a nonjudgmental environment," Kailen Swensen said, adding the same goes for music performances.
Cage of the Week
A recent favorite on campus, the Cage of the Week club holds regular screenings of films featuring Hollywood legend Nicolas Cage.
"Our goal, our mission statement, is to help students relax, take a bit of a load off, and come heckle Nicolas Cage films with us," Isaac Dugaw said. "We always do The Wicker Man showing before Halloween. We always do National Treasure first of the month. We've got Trapped in Paradise for Christmas."
Voice Acting Club
"The club is a place to gather people together who are interested in voice acting. We meet every Friday evening, and we do silly voices. We start every session with a vocal warmup, and then the club activity varies from week to week," said club organizer Stav Hinenzon.
Club activities have involved play readings, readings of video game dialogue, and guest lectures with professional voice actors. Hinenzon said the club is also available to connect student game teams with volunteer voice actors.
Tea Tape Tuesdays
This group is among several dedicated to simple relaxation and socialization — in this case, over tea and art making with washi tape.
"We've got art, we've got tea. You don't have to do either of them. You can just come and drink tea, or you can come and do both," said club organizer Lauren Phelps. "It's mostly just a place to relax, be with people, socialize, and de-stress a bit — just enjoy yourself."
Each club meeting will feature three brews of tea to sample and enjoy, as well as seasonally appropriate snacks.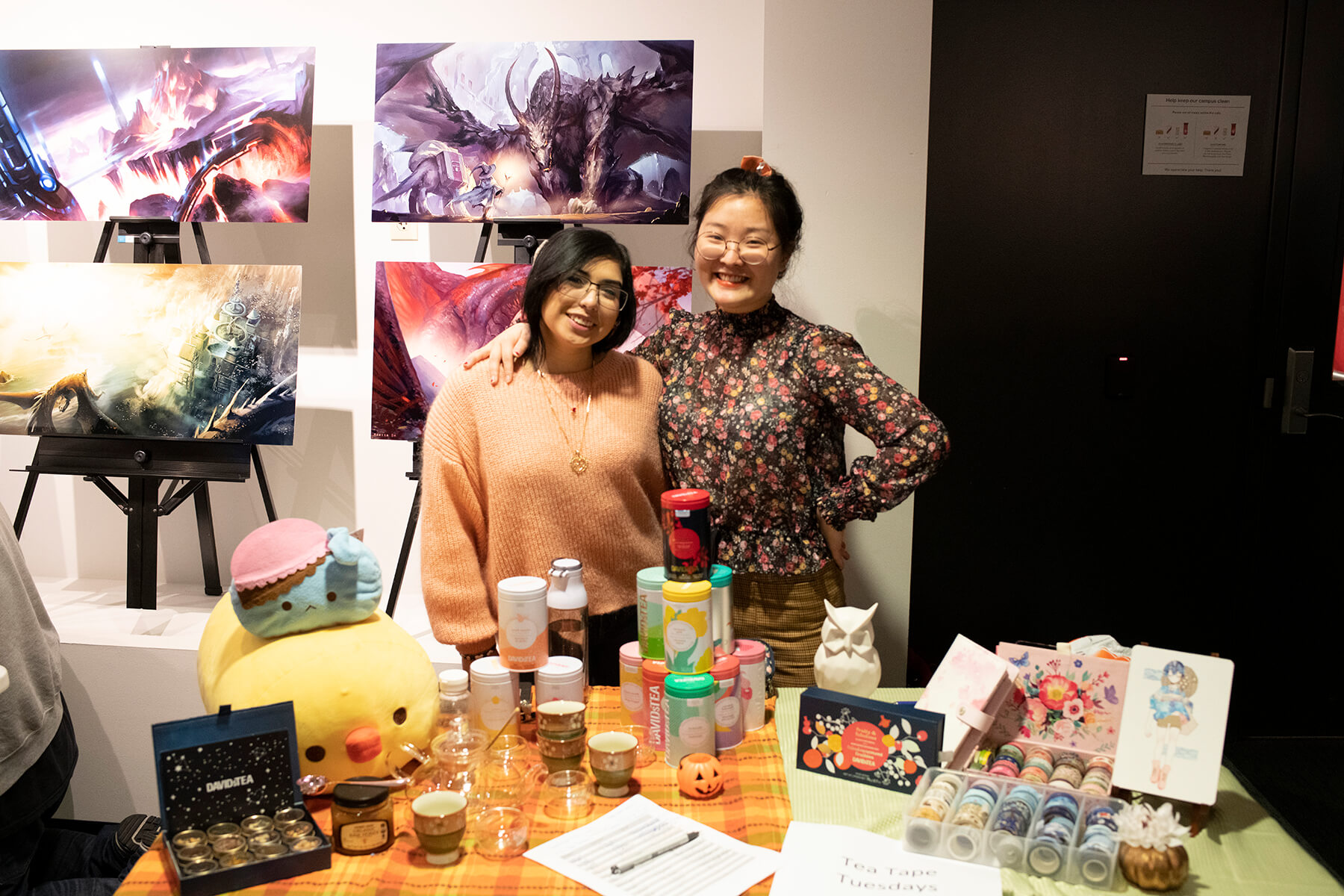 Cosplay Club
Need to get your superhero cosplay ready for the DigiPen Halloween pageant or an upcoming convention, but you need some help and motivation? There's a club for that!
"It's basically a workshop that we have on the weekends for people who say, 'Oh, I'm going to work on my project,' and then never do. This is designated time where people can come and work together on their projects," said club representative Caleb Hesse. "If someone has a problem or doesn't know how to do something, a lot of times we'll have another member who knows, so we can help each other."
PRISM
Another longstanding campus club, PRISM (People Respecting Individuals and Sexual Minorities) provides a supportive and community-focused space to meet, discuss, and learn from others.
"We're a club that kind of focuses on connecting people under the LGBTQ+ umbrella," club participant Seth Merrill said. "It's an open club for people to be comfortable with their gender and sexuality and talk with each other and connect with their peers — and just get a sense of belonging."
RPG Club
DigiPen's RPG Club is a place to come and try out several different tabletop RPG games, or even learn how to run and create them yourself.
"We are here to teach people about the published systems that are out there, because there's nothing better than learning from things that have already been created. That way you can gain inspiration and make your own kinds of games," Dustin Keplinger said. "So the first of the year, we usually start off with published RPGs. … And then as the year progresses, we allow DMs that are making their own systems to come in and play them and tweak them and have a little bit more fun."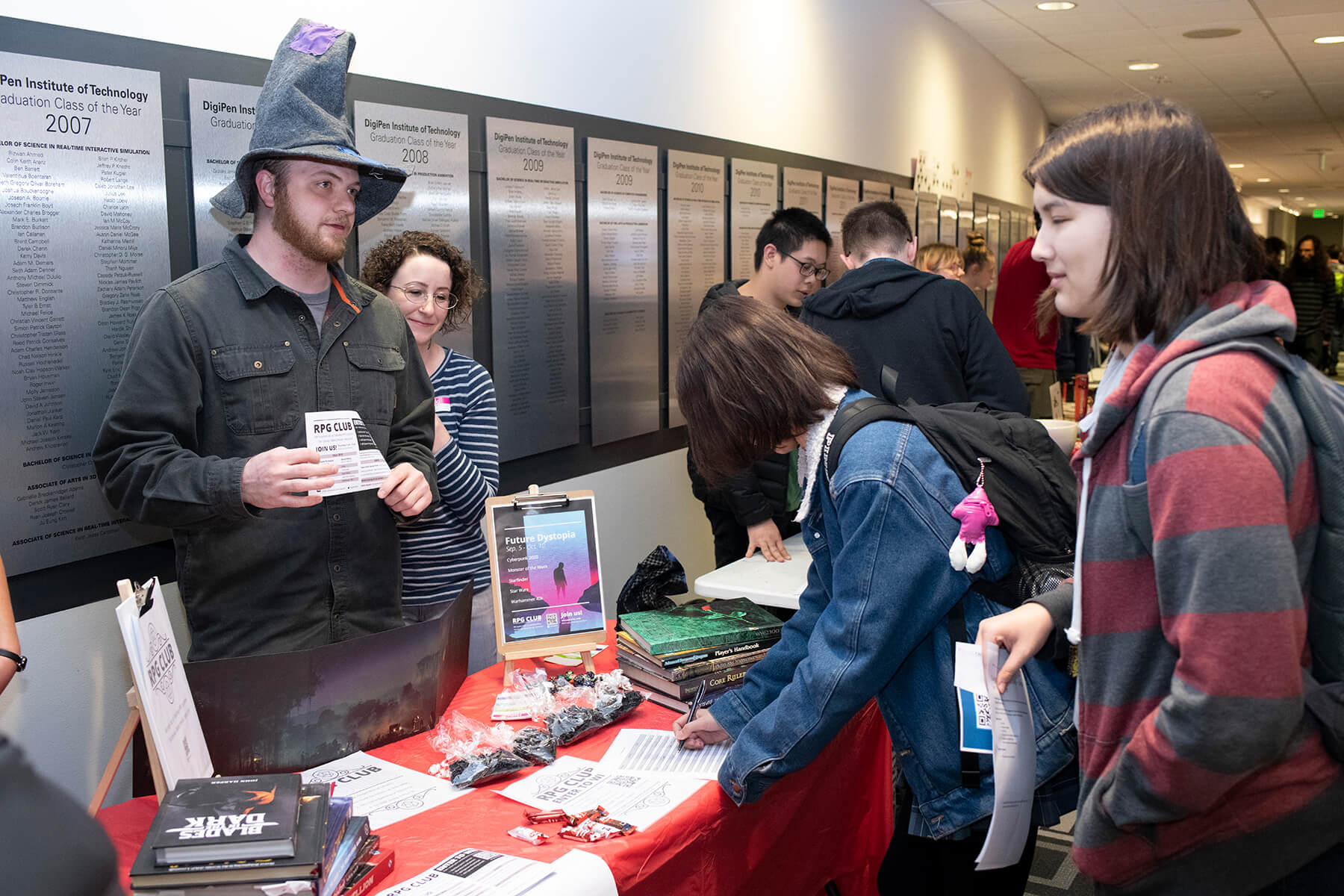 Programming Interview Prep Club
This brand new club is being organized by student Roland Shum and was sparked by a desire to help his fellow computer science students better prepare for jobs outside the game industry. Group sessions, he said, will focus on the types of questions and programming problems that are commonly presented by today's employers.
"It'll be every other week. It will be a discussion-based type of event where a question goes out, everyone gets into groups and tries to figure out ways to do it," Shum said. "[It will be] less about the language, more about algorithms and the data sets, which are what companies are testing for these days."
Halo Club
As the name implies, the friendly folks of Halo Club are eager to welcome any and all students to partake in competitive Halo matches, playing games from across the longstanding franchise.
"We meet for three hours, and we just play Halo for those three hours. So people can come when they want. They can leave when they want," Jeff Peterson said. "It takes the edge off of classwork, and so it's a good opportunity. But we discuss lore, and we talk about the campaigns — we do all that stuff."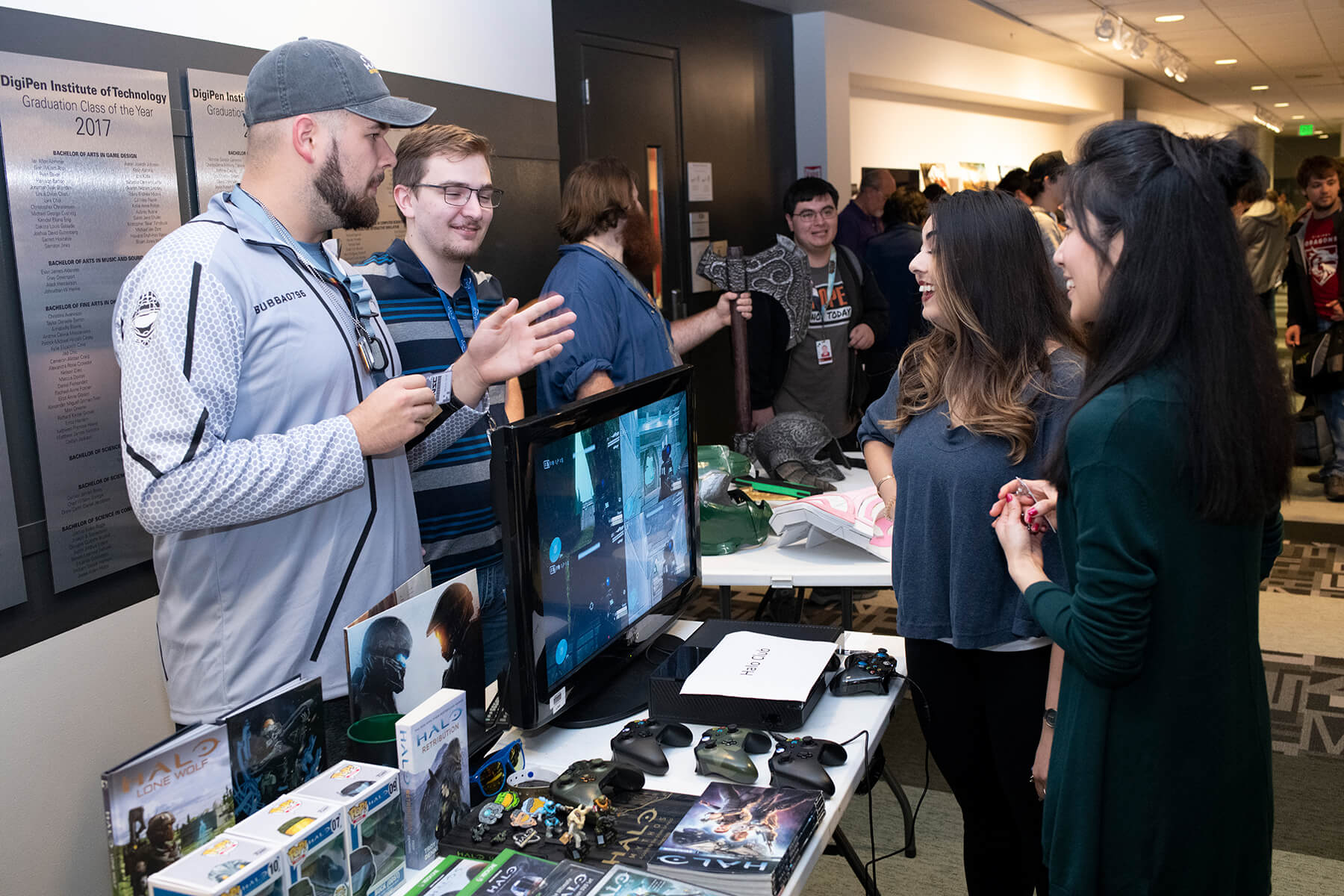 Tetris Club
New to DigiPen in 2019, Tetris is the game of choice for this student-led group.
"Each week, we're going to play Tetris in several different forms, like Puyo Puyo Tetris, the one for the GameCube, or the classic Tetris for the NES." Ben Van Oostendorp said. "It's kind of a game that traps you, because you just start learning about it, and then the game gets better and better and better the further you go at it."
Game Engine Architecture Club
Creating an original game engine is a requirement for most computer science students at DigiPen, so it makes sense that a large number of them develop a pretty keen interest in the subject. While the club typically catered to some of the school's more advanced game engine programmers in the past, club organizer Matthew Rosen says the goal of this semester is to make the group more of a resource for less-experienced students.
"This semester we're focusing on GAM 200 and helping sophomores with their game engines," Rosen said.
Weekly meetings include guest lectures with students, alumni, and industry pros, as well as "game engine jams," where students can work with one another on their current game engine problems and hurdles.
Smash Club
Choose your fighter! Smash Club is all about getting together and unleashing the frenetic fun of Nintendo's popular fighting game series.
"We meet weekly here in one of the computer labs, every Thursday night at 7. And we pretty much just hang out until the building closes, playing Super Smash Bros. Ultimate and Super Smash Bros. Melee," club representative Gray Bangs said.
---
For more information about these and other DigiPen student clubs, including meeting times and locations, please visit the Student Portal section of the website.