On May 10, 2017, the DigiPen Jazz Ensemble performed at the Groundbreaking Ceremony for Redmond's Downtown Park. Representatives from the City of Redmond contacted the group and asked them to perform at the Groundbreaking Ceremony after seeing the Jazz Ensemble perform at the Redmond Lights celebration last December.
The organizers at Redmond City Hall were so pleased with the students' performance at Redmond Lights, says Band Director and Senior Lecturer Bruce Stark, that they contacted the band and asked them to provide music for the groundbreaking ceremony of the new Downtown Park.
The members of the DigiPen Jazz Ensemble happily accepted the city's invitation. This was the ensemble's third off-campus performance, following last year's performances at Kirkland Summerfest and Redmond Lights.
"This time we were performing inside a portable stage, so getting all our equipment and musicians into a cozy space was a new challenge," says Stark. "Also, we performed before and after several speeches by community leaders such as the mayor of Redmond and other important politicians serving our area, so it was the first time we were part of a community event of this nature."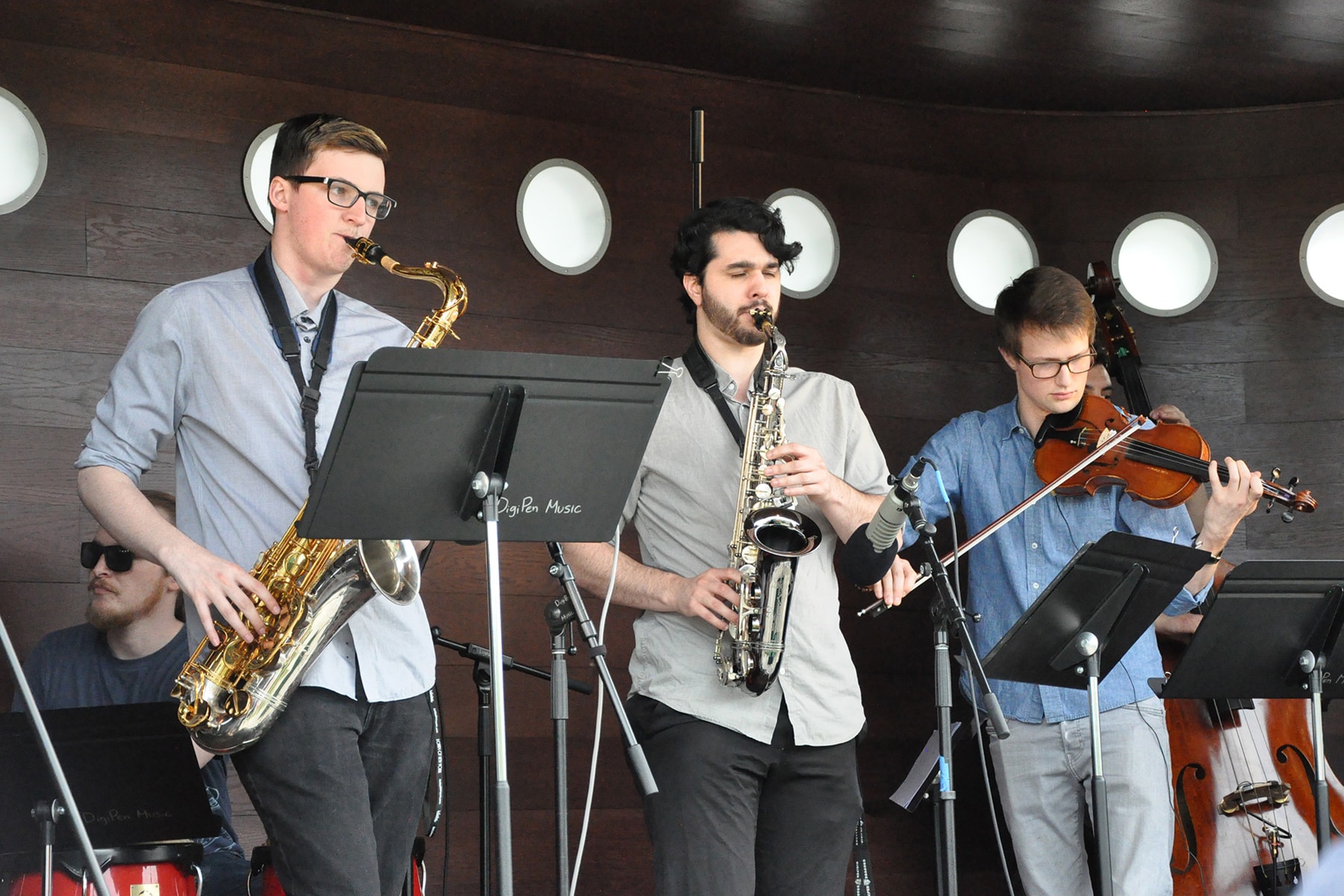 The Jazz Ensemble was the only band that performed at the ceremony. "We were entirely responsible for sound support and amplification," says Stark. "The audio support of Professor Greg Dixon and his two assistants was invaluable." (Read our article on Professor Dixon's recent grant-winning instrument.)
Stark also points out that doing live sound is a great experience for the students and is a good example of the excellent collaborations among students in DigiPen's Music and Sound Design program. "[The students] are the unsung heroes of the performance, because most people only notice audio support when it isn't good!" he says.
In addition to Professor Stark on conga and piano, the following graduates and students performed at the ceremony as members of the DigiPen Jazz Ensemble:
Shauny Jang (graduate, class of 2017), piano and vocal
Evan Alderete (graduate, class of 2017), alto sax
Grey Davenport (graduate, class of 2017), tenor sax
Phillip Klassen (graduate, class of 2017), violin
Ian Shores (graduate, class of 2017), percussion
Eric Delgado (senior), bass
"Because most of the band just graduated, we will need a few months to reinvent ourselves," says Stark about the future of the DigiPen Jazz Ensemble. Students pursuing a Bachelor of Arts in Music and Sound Design may audition to join the band to receive credit toward their major. "For our next off-campus performance, we were invited to perform again as part of Redmond Lights this December at City Hall," says Stark. "We should be in full-swing (pun intended!) by the spring semester."
In addition to live performances, the band has produced music videos of original compositions and jazz renditions of video game music. Watch the DigiPen Jazz Ensemble's brand-new video for their arrangement of the classic Donkey Kong song "Jungle Japes" below.