During development of Squanch Games' new first-person shooter, High on Life, lead animator and 2010 BFA in Digital Art and Animation graduate Monty Kerson set to work on the weirdest gun reload animation of his career. "One of the guns in the game, Creature, gives birth to little minions that run around every time the player reloads," Kerson says.
Not to be outdone, senior gameplay designer and 2012 BS in Computer Science and Game Design graduate Andy Kibler then spent a considerable amount of dev time making that same gun, and every other weapon in game, speak throughout the adventure, triggered by specific gameplay moments. "The guns will say things while the player is idling," Kibler says, something that's become one of the game's signature "talking points." In fact, Kibler oversaw the game's entire narrative director system that triggers all situation-specific character dialogue, crucial in a game where at least one alien is probably yelling at you, blubbering, or hustling you at any given moment.
To state the obvious, High on Life is a bizarre game, one whose cast of talking, childbearing guns shot to the top of Xbox Game Pass in December 2022. Not only did the game become Xbox Game Pass' most popular title just a week after launch, surpassing perennial chart leader Minecraft, it also earned bragging privileges as the service's biggest launch of 2022 — not to mention the biggest single player-only game launch since the beginning of Xbox Game Pass in 2017.
The comedic, intergalactic adventure follows the player as they save Earth from invading aliens who intend to turn humankind into drugs. Among Squanch's staff of roughly 50 developers, four DigiPen graduates helped bring the title's wild visuals and gameplay to screaming, goopy life.
"From an animation standpoint, this was a really creatively challenging project that took a lot of thinking out of the box," Kerson says. As lead animator, Kerson was responsible for the game's style-defining keyframe animation, a tricky task that meant making a bonkers cast of aliens feel as true to life as possible. "The animation style for the game is still very grounded and realistic. It's not Looney Toons, so making such crazy, surreal characters look believable was a real challenge," Kerson says. But at Squanch, Kerson says, that challenge was always ultimately in service of getting a laugh, giving him lots of space to try out wacky, novel concepts. "It has been an encouraging, rewarding atmosphere to be creative and go for some crazy ideas without worrying if it is appropriate or not, as long as it makes people laugh," he says.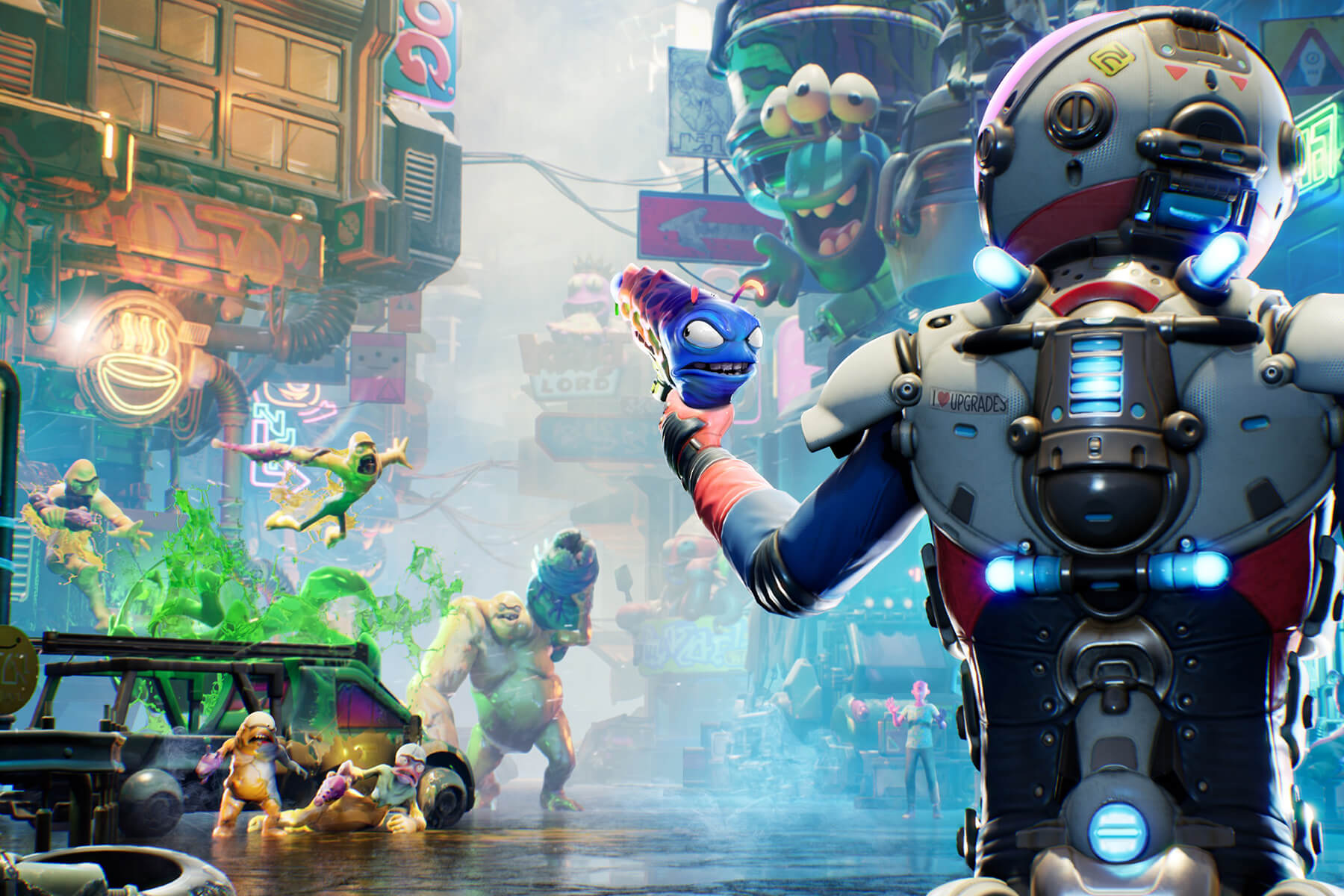 That same ethos allowed Kibler and the design team to follow the funny on the gameplay end as well, getting together for group design jams where laughs doubled as direction. "A lot of the mini games that are strewn throughout the game were just things people thought would be hilarious to add in, so we ran with it," Kibler says. "Designers were given almost complete freedom to do whatever they thought would work, and I think it paid off in many ways."
Right off the bat, players are thrust into High on Life's layers and layers of jokes, beginning the game by playing an over the top, 90s-styled FPS called Xenoslaughter. A few minutes in, the camera pulls away, revealing that you've been playing a game-within-a-game on the player character's bedroom PC, interrupted as your sister barges through the door. "That would have normally been really simple," says lead gameplay programmer and 2010 BS in Computer Science in Real-Time Interactive Simulation graduate Dan Weiss. "Except, instead of a loading screen transition, we wanted it to seamlessly pull you back into the game. The solution ended up being that you possess and play the screen, which through some absolute chaos sends the inputs to the Xenoslaughter game being played— so you're quite literally playing a game in the game."
As lead gameplay programmer, Weiss was responsible for managing all those off-the-wall gameplay systems and making them function in the game. "The narrative stuff involved finding novel ways to warp Unreal to do what I needed," Weiss says. One of the biggest challenges Weiss faced has also become one of High on Life's most viral features on social media — the ability to watch four real-life B-movies, in their entirety, on in-game TVs and movie screens.
"The screens we've got everywhere for movies and TV skits were also some weird tech that the stock engine definitely didn't like," Weiss says. "We'll build out tech for single gags that are only important for a tiny slice of the game, things that in past studios wouldn't have made it past the planning stage. That kind of stuff is Squanch's bread and butter. We have a skilled enough team that we can do wildly complicated things, because we know the game will be better for it."
There's a certain level of expectation I have of DigiPen graduates, because the ones that I've worked with have always been a great asset.
One of the most recent DigiPen graduates at Squanch, gameplay programmer and 2020 BS in Computer Science and Game Design alumnus Deni Van Winkle, worked on Weiss' team implementing boss fights, the music system, and the shotgun character Gus. "My favorite part of development was hearing about all the wild things being created and how the systems I set up were helping the designers create those jokes and experiences," Van Winkle says. "I don't think there are a lot of studios that would give a new dev the freedom to work on any of the systems they wanted, as well as take ownership over two boss characters' implementation and one of the player's main weapons."
Part of that freedom came from Van Winkle's demonstrable talent he developed at DigiPen, something Weiss identified from the very beginning. "When Deni's resume came in and I saw he was a DigiPen graduate, I knew I could reach out to professors to get feedback, and they were every bit correct about how good of an asset he was going to be for the team," Weiss says. "There's a certain level of expectation I have of DigiPen graduates, because the ones that I've worked with have always been a great asset to their teams."
Despite being a smaller studio, the Dragon connections are deep at Squanch. "It's always fun to work with them and chat about our different experiences at DigiPen," Van Winkle says. Not only do Weiss and Kerson share the same graduating class, Weiss also worked with Kibler back in the day at the DigiPen arcade booth at PAX.
"Given a team of our size, we interact all the time," Weiss says. "I'd say it's a pretty unusual day that I'm not talking to multiple [alumni] at any time." At a studio where crafting tons of technically complicated jokes is the norm, the alumni say their DigiPen days have given them exactly what they need to pull the madness off. "I think the key thing that DigiPen has provided me is the ability to adapt to whatever comes my way at work," Kibler says. "In all my years, I have almost never run into something that I did not feel like I could do."
Even 13 years out from his graduation day, Kerson says DigiPen art and animation lessons still pop up in his career all the time: "More and more as the years go by, something will come up and I'll think, 'Oh yeah, I remember a teacher saying something about that back when I was in school.'"