DigiPen professor Alecia Rossano says she knew from a young age she wanted to be an artist. She drew, painted, and tried her hand at plenty of other media as well. It wasn't until college, however, when she discovered her true passion for one mode of expression in particular — traditional figure sculpting.
"My first sculpture class, which I believe was sophomore year, was a total revelation," Rossano says. "I fell absolutely in love with sculpture. I remember going home and telling my parents, 'I just found out the medium I want to do for the rest of my life!' I was so excited."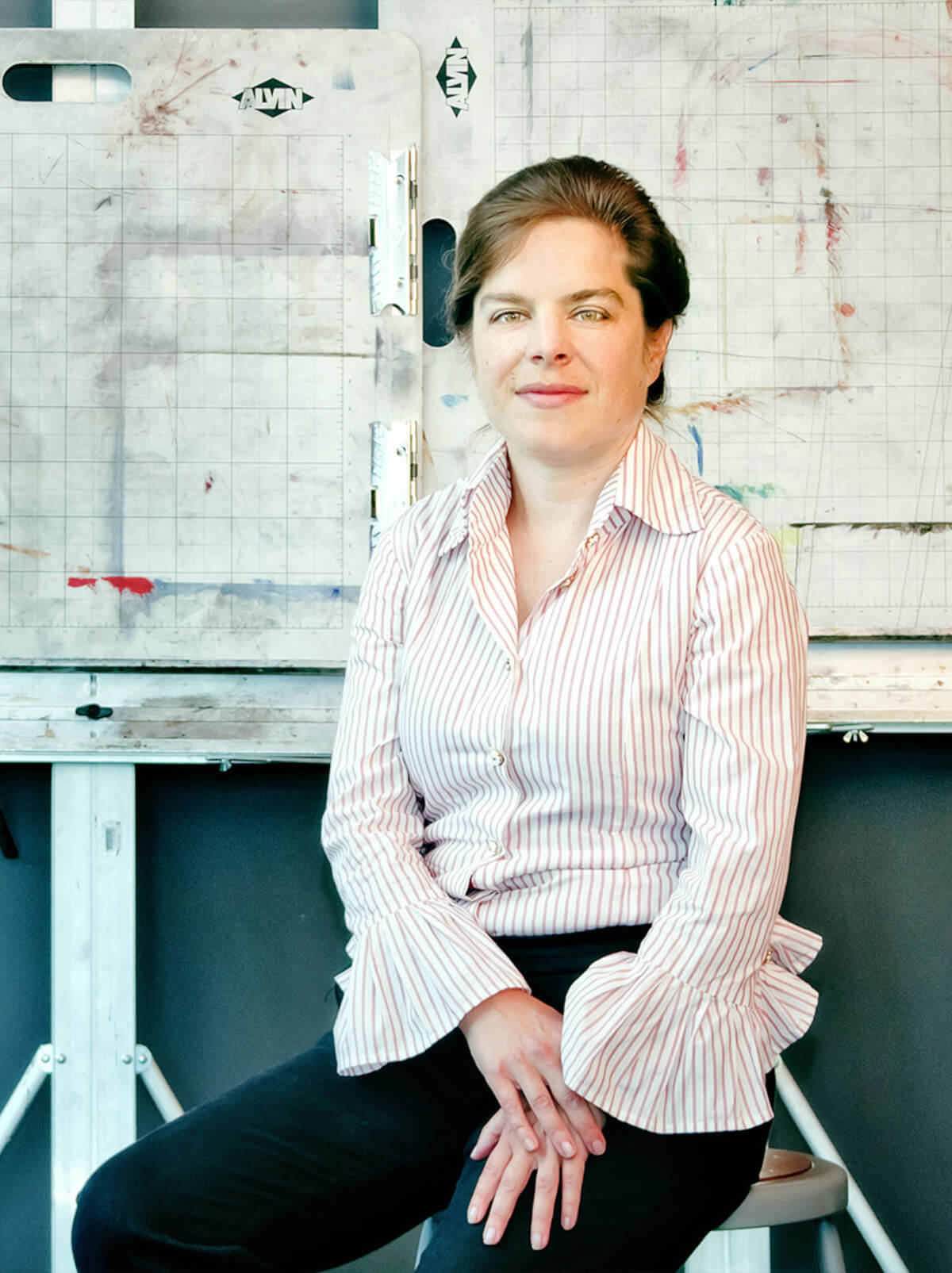 After earning her undergraduate fine arts degree from Scripps College, Rossano went on to receive her MFA degree from the New York Academy of Art, one of the few colleges at the time that taught figure sculpting using classical techniques.
There's an ageless quality to Rossano's body of work, with each individual piece representing a literal moment frozen in time. Detailed human statuettes captured in various poses — from proud and stately to reclined and contemplative — attest to her incredible skill at modeling clay into captivating, lifelike creations. It's a skill she continues to hone to this day, both through her teaching and in her personal practice.
"There's something really therapeutic about modeling clay with your hands, about the feel of the clay, and about pushing the clay around. It's very direct, and it requires an intense focus," she says about her love of the medium. "The other thing that I like about it is that I just think the human figure is beautiful, and the anatomy is really quite wondrous."
At DigiPen, her primary teaching focuses are life drawing (ART 151) and figurative sculpture (ART 228), both of which revolve around the human form as the subject of study. Starting in ART 151, students learn how to illustrate human gestures, muscles, and bone structures by drawing from a nude model. In the optional ART 228 class, the concept is the same, but instead of drawing, students learn to render the model in full 3D using clay.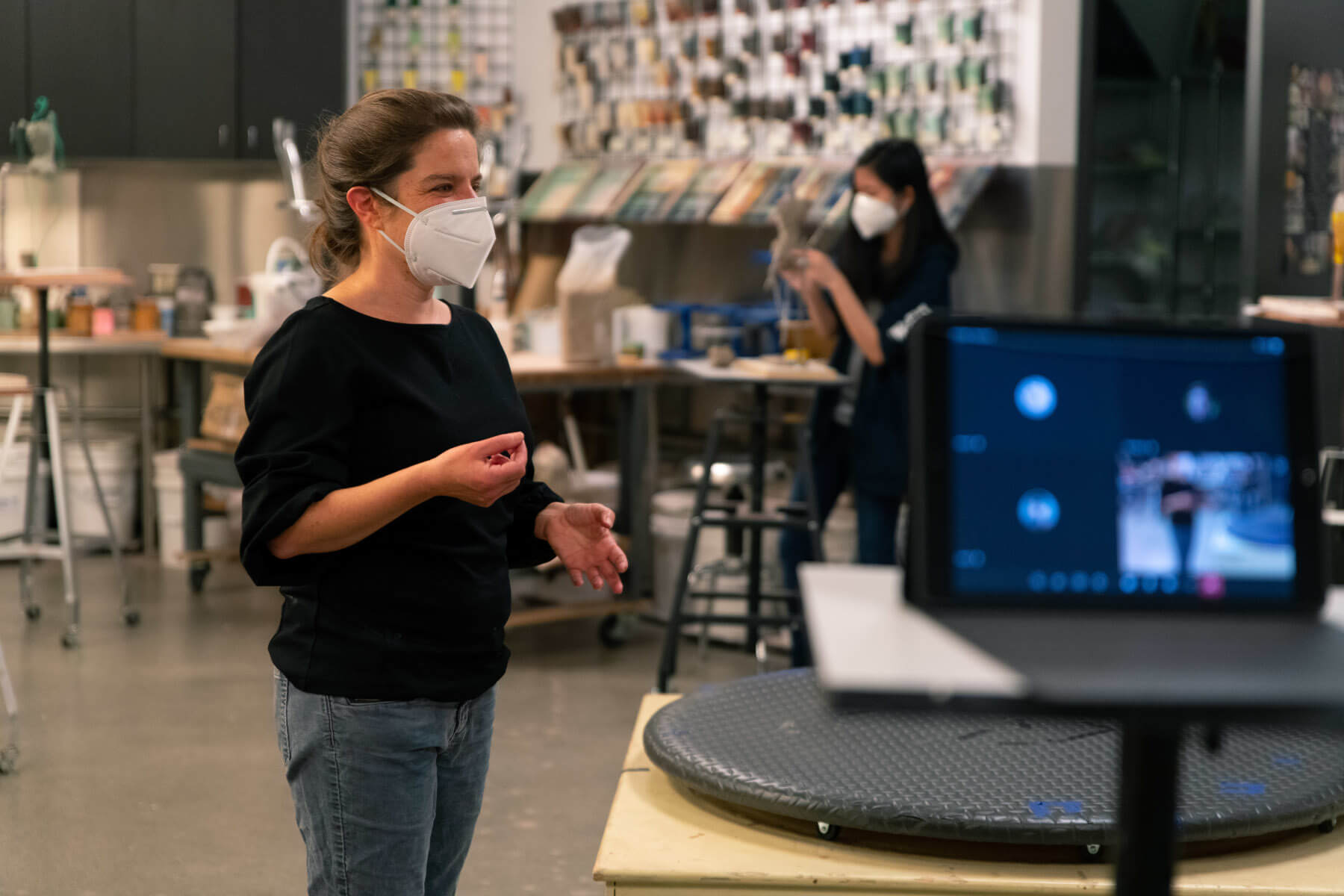 While live models and clay figure sculpting might initially seem like outdated teaching methods for a school known for cutting-edge digital media, that's really not the case at all. Having taught at DigiPen since 2004, the year that marked the beginning of the BFA in Digital Art and Animation program, Rossano's classes have played an integral part in helping hundreds of aspiring digital media creators to develop their artistic foundations.
"It's relatively easy to train somebody to use a piece of technology, because it's pretty straightforward that you can use these buttons to do this kind of thing," Rossano says. "What's harder is to train someone to think like an artist, and to really see and observe."
Learning how to realistically draw and sculpt the human body is especially instructive, Rossano says, and not only for students who go on to specialize in character design.
"You can definitely also learn from still life and objects and things like that, and students do that in ART 101 and it's really helpful. One of the things about working with a model is, of course, that we are all familiar with what humans look like. And so either it's going to look right or it's going to look really bad, and it will be obvious," Rossano says. "If you're drawing a tree or a plant or a shoe or something like that, if you get the proportions a little wrong, you might never realize it. … It's harder to train your eye to be accurate if the inaccuracies aren't clear. But if you draw a person and make the legs too short, then it's just going to stick out."
Of course, thanks to modern digital tools such as ZBrush, Mudbox, and 3Ds Max, there is a direct line of trajectory from Rossano's classes to the game and animation industries, which rely on digital sculptors to create fictional 3D characters, props, and environments. A large contingent of Rossano's former students have also found their way into 3D sculpting for physical toys and collectibles at companies like Funko Inc.
And while Rossano is the first to attest to the incredible artistic talent that goes into the world of digital entertainment media, for her, there's nothing quite like the satisfaction of creating a timeless, tangible object in bronze or clay.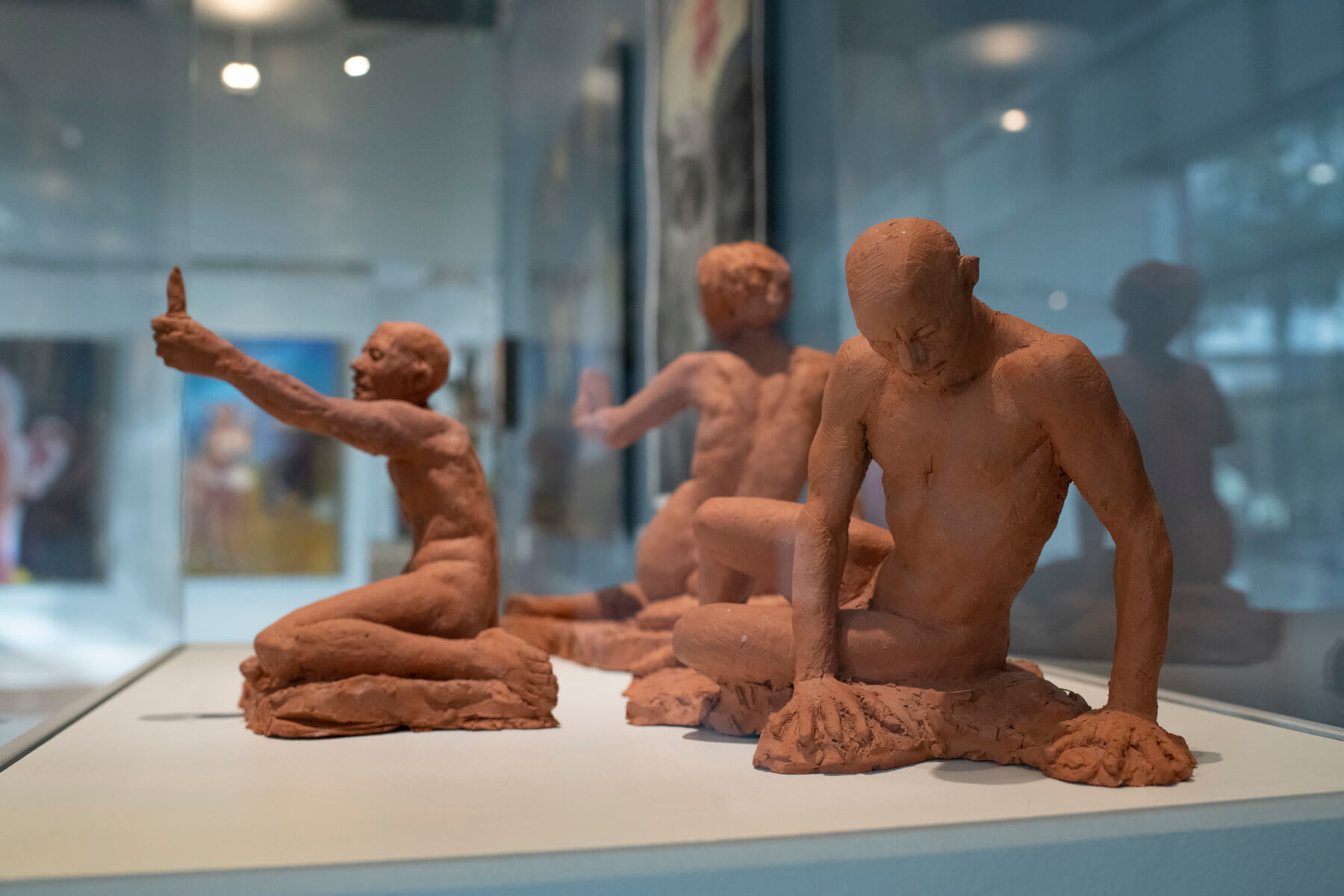 "One of the great things about art, sculpture, and painting that is so cool, when it survives, is that it's a language that you can communicate with in the broadest possible way," Rossano says. "When you consider that some Paleolithic artist sculpted a tiny little figurine of a horse, and you look at it today, we have the same response to the design and the curves. We understand exactly what they were getting at when they sculpted that, even though they lived 35,000 years ago and had a completely different culture. … It's like a time capsule."
Understandably, not everyone who comes through Rossano's sculpture class has the same reaction or experience when working with clay. As with any medium or craft, there are basic steps and processes that must be learned and followed just to ensure that a clay figure survives the creative process itself.
"It's almost like a Tamagotchi or something, right? You just have to not let it die. You have to repaint it. You have to feed it water and make sure that it doesn't fall over or get too wet and fall off the armature and things like that. All of that is an interesting kind of training. Some people get very frustrated when those things happen. Some people don't," Rossano says. "Some people really don't like getting their hands dirty, and so they don't actually enjoy sculpting clay with their hands as much as others. And some people love it."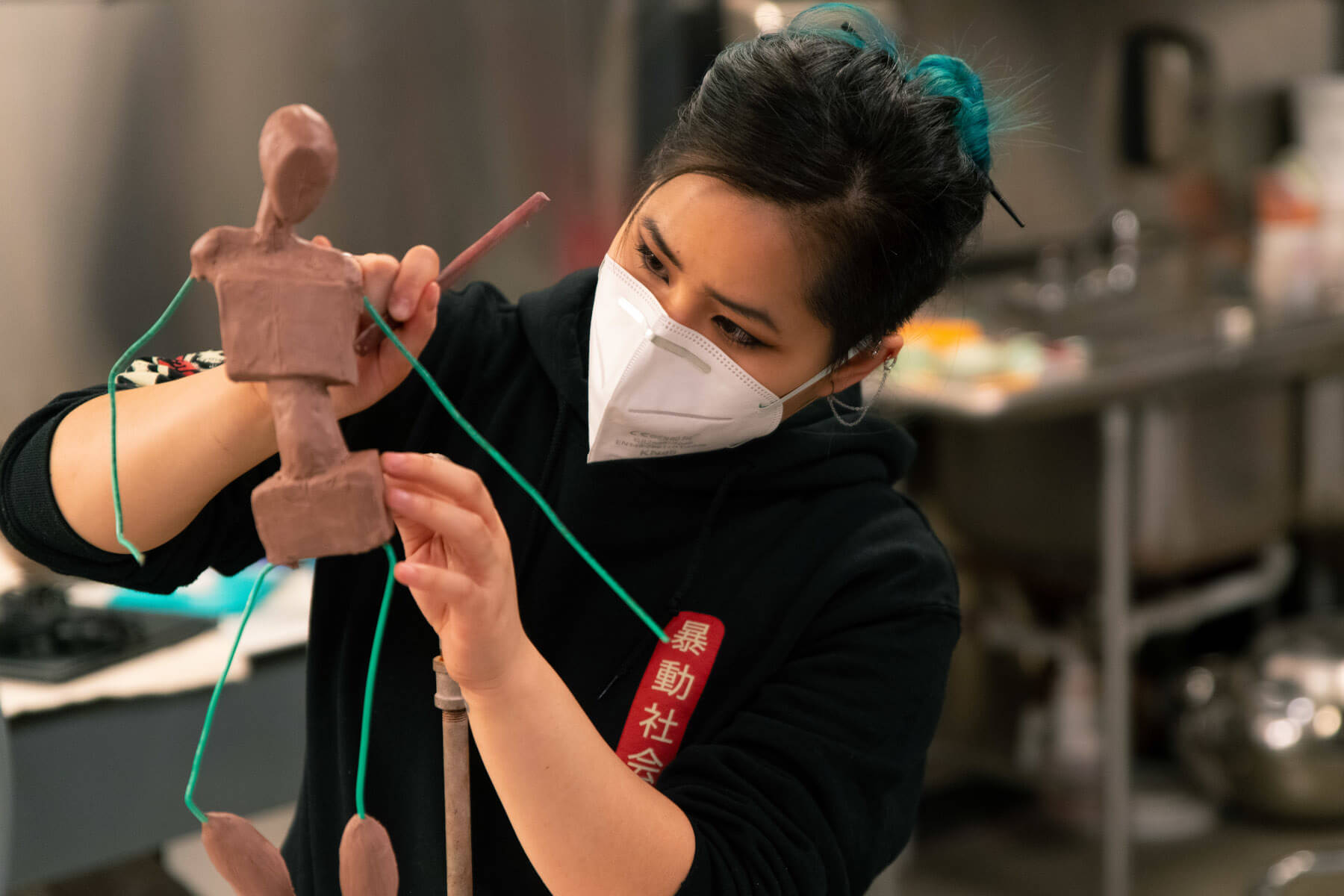 With roughly 16 years at DigiPen under her belt, Rossano has certainly worn a number of different hats — from model coordinator, to MFA thesis advisor, and more. In the early 2010s, Rossano was responsible for the successful launch of the MFA in Digital Arts at DigiPen, serving as the program's director from 2012 to 2016. For several years, Rossano also taught an 8 a.m. art history survey course that was required for first-year students in the BS in Computer Science in Real-Time Interactive Simulation program.
"It was their first semester at DigiPen, and the last thing they wanted to do was get up and be in a classroom — a big lecture hall at 8 a.m. — looking at slides of old master art," Rossano recalls with a laugh. "But there were a lot of students that actually did really appreciate it, so that means a ton."
Across the board, Rossano says it's the students themselves who continue to make her job rewarding.
"DigiPen students are just hungry to learn, and they work very hard. You give them homework assignments, they submit it, and they often do more than they need to," she says. "And it's just really quite wonderful to see — when they come back — where they've gone and how their careers have progressed."