In the world of video games, there's a time and a season for all types of experiences. Sometimes you're saving the galaxy from a malevolent alien force. Sometimes you're managing a world-class sports team. And sometimes you're driving a combine harvester over 20 acres of wheat field in the latest agricultural sim from Swiss developer GIANTS Software.
If you're not familiar with Farming Simulator 22, or any of the similarly numbered entries in the series, the general premise is just as the name implies. It's a game that aims to accurately replicate the daily routines of maintaining and building a modern-day farm. With an expandable plot of land at their disposal, players are able to plant and harvest crops, raise livestock, and operate the vehicles and machinery that help make everything as efficient as possible.
As it turns out, the allure of digital farming is incredibly popular. And while the game has certainly seen its user base grow since the series debuted in 2008, few could have anticipated just how much excitement there would be for the newest iteration. During the first week of its release last November, Farming Simulator 22 became the best-selling game on Steam, according to SteamDB. It even attracted a higher peak of concurrent users than EA's Battlefield 2042, a game that had launched just three days prior.
Having worked as a 3D artist at GIANTS Software for more than half a decade, DigiPen graduate Armando Angelo Panciotto (2014, BFA in Digital Art and Animation) has witnessed the series' rising popularity firsthand.
"It has been a trip to see the steady rise of the series in mainstream consciousness. With each new release, I hear of more and more people who adore the game," Panciotto says. "It's startling sometimes to see the huge impact it has had and incredibly rewarding to see people react to our work."
If you've played any recent version of the game, you're almost certain to have interacted with Panciotto's handiwork across a variety of in-game maps. Take a look at his ArtStation portfolio page, where he highlights several examples from the Farming Simulator games, and you'll see everything from grain elevators and houses to close-up views of the various woods and metals that make up those structures. In more recent years, he says, his attention has moved closer to the earth itself and the things that grow there.
"I have worn many hats here, ranging from optimization to prop creation. I also led the design and look of the Estancia Lapacho map for the Farming Simulator 17 – Platinum Edition. When the call came to improve our foliage and material assets, GIANTS gave me the opportunity to focus on those areas," Panciotto says. "In the beginning, I created buildings, props and background meshes. But eventually I found my niche in material creation and vegetation."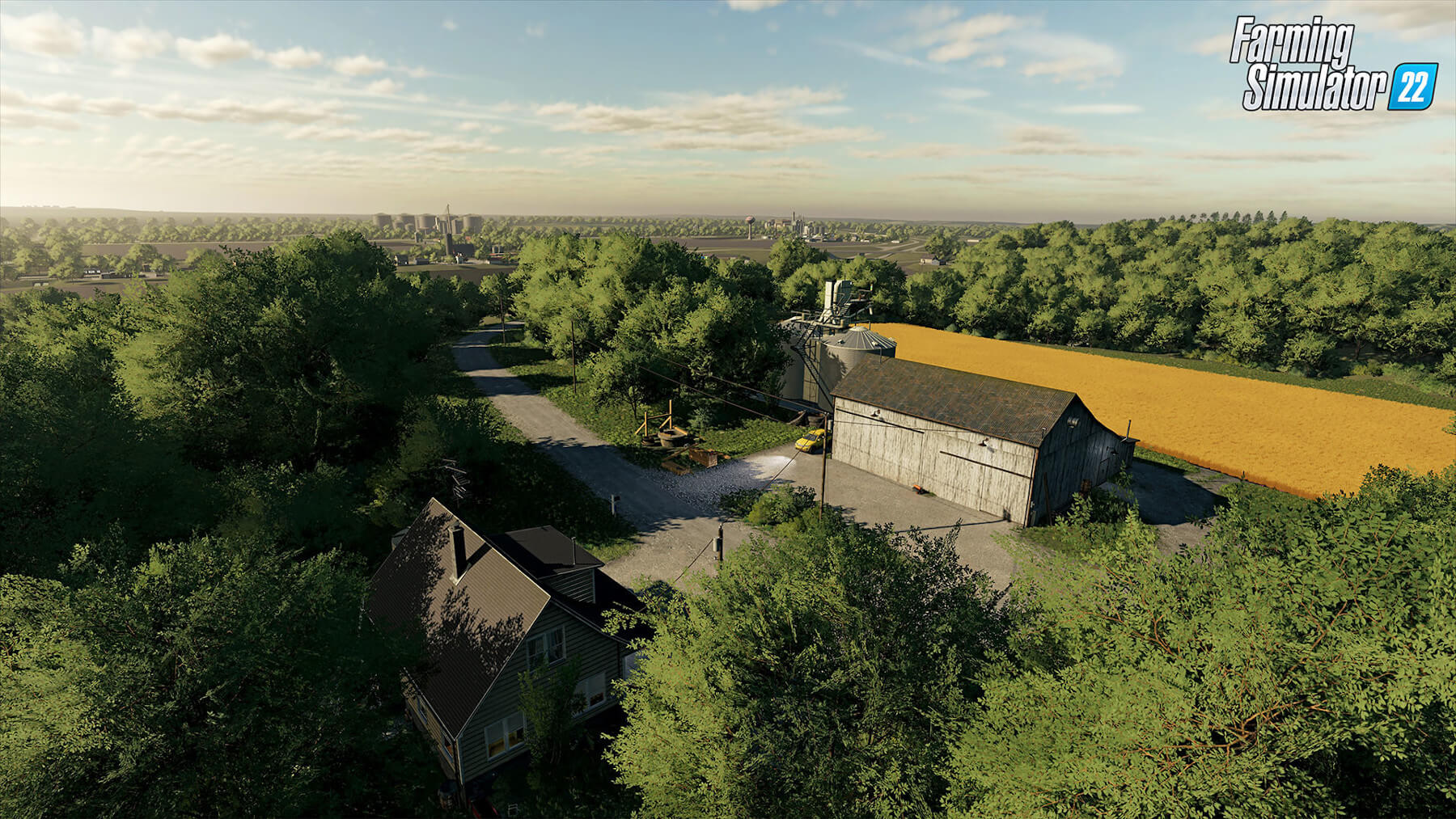 For anyone who might be tempted to think that a new Farming Simulator is simply a matter of slapping a new number at the end of the title and shipping out the same old game, think again. In the case of Farming Simulator 22, Panciotto says that many of the game's core visual assets were recreated from the ground up. Also, for the first time, the new game introduces seasons, meaning the same assets needed to be rendered realistically from spring through winter.
"All new terrain and field materials were created from scratch. I had clear direction and feedback from the designers as to what their needs were for the material they wanted, to better communicate a mood to the player," Panciotto says. "Some of the ground textures required a lot of iteration to maintain visual cohesion and transitions."
Despite the utilitarian nature of the game and its environments, the world of Farming Simulator 22 can be a gorgeous thing to behold, with stunning levels of detail you might never even notice. Look closely at the pigpens, for example, and you'll see the farmers' boot prints that adorn the muddy ground. In the areas not dominated by fields or buildings, the landscape brims with natural flora that sway convincingly in the wind. It's all accomplished through a combination of hand-crafted artistry and sophisticated procedural generation.
"At the start, I have a back and forth with the designers about the asset in question while we look at reference material. Once the purpose and parameters are determined, I can rough out a technical budget and begin with quick placeholders to make sure the asset aligns with the needs of the vision," Panciotto says.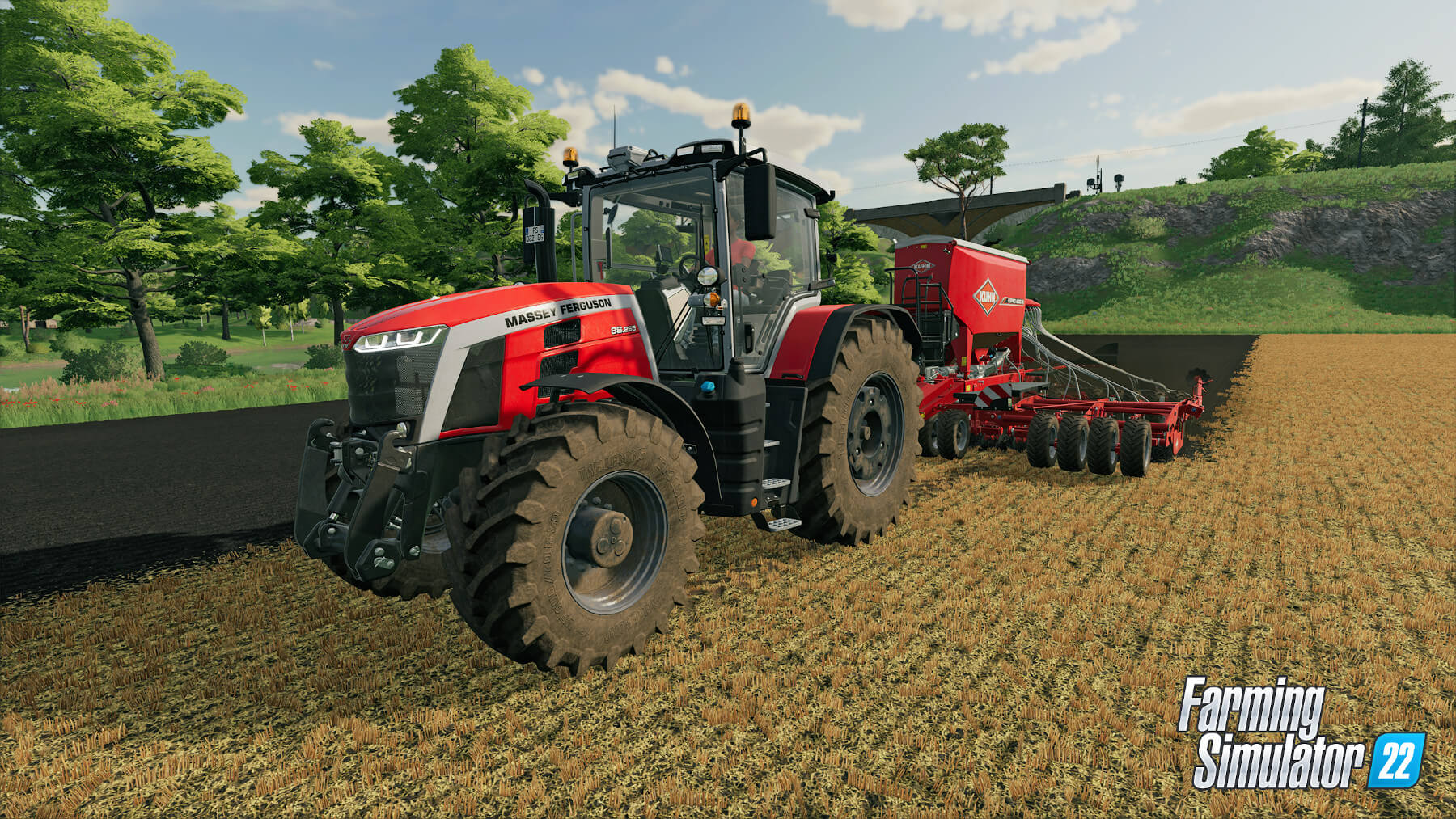 For Panciotto, who is Swiss, his journey into the video game industry also began as an overseas adventure.
"I first heard of DigiPen when I saw some making-of material about Portal. It was mentioned that the developers were DigiPen alumni, hired straight out of school. That plus the reputation of the school had convinced me that it would be the right choice for me" Panciotto says. "Before that, I had never considered working in games, because It seemed like an unattainable goal."
What was it like traveling halfway across the world to attend college in a foreign country?
"As a huge nerd, I grew up consuming Anglophone media, and I learned English through it. There were some funny bumps along the way, like asking an American what an anvil was while playing World of Warcraft, but it complemented the English classes I got in high school," Panciotto says. "As for the cultural shock, up until I started at DigiPen I had never been to the U.S. It was tough to get my mind around some of the weirdness that was anathema to my upbringing, like drinking milk at dinner, but I adapted quickly and made lifelong friends."
Although he started out in the BA in Game Design program, he eventually switched over to the BFA program, which ended up being the right fit.
"DigiPen instilled in me the collaborative nature of video game production, and how to best communicate your ideas effectively. Getting feedback and critique from your peers, moderated and expanded upon by a professional, was the best environment for my own growth as an artist," he says. "And there is no better way to bond with other nerds than by discussing industry lore over chicken tenders at a cheap Irish pub."
Seeing the shared vision come to fruition at the end of the schedule is the biggest payoff you could ever desire.
Upon graduating in 2014, Panciotto worked first as a 3D artist at Z2 in Seattle, then as an environment artist on NBA Live 16 at Electronic Arts in Orlando, Florida. Nearing the end of his latter contract, Panciotto saw a job posting for GIANTS Software in his home country, and after a short interview he was soon back across the water and living in Zurich.
"GIANTS has a very relaxed atmosphere, where we can share ideas and suggestions between the teams. We are all aiming for the best, and seeing the shared vision come to fruition at the end of the schedule is the biggest payoff you could ever desire," he says.
Having spent so much time looking at fields and tractors, does he now fancy himself an agricultural expert? Not exactly, but he certainly feels more educated than before.
"The research I had to do for crops and how they are harvested revealed how efficient the whole human enterprise of farming has become," Panciotto says. "I can definitely identify some tractor brands now! And if I see some farming equipment in the wild, I have a rough idea of what it's for. But they might as well be spaceships to me with how complex they are to operate."