DigiPen is once again hosting the Audio Engineering Society International Conference on Audio for Virtual and Augmented Reality (AVAR), one of the few major conferences in the world focused solely on the titular topic. Combining keynote speeches from industry leaders, academic presentations from researchers, and a slew of workshops, tutorials, and panel discussions, the third edition of the conference is set for August 17-19. For the second time, DigiPen will host the conference, albeit in a very different way than the college did for AVAR 2018. Befitting the conference's subject matter, AVAR 2020 will be held in virtual reality via the free AltspaceVR platform, where attendees will be able to visit a digital recreation of DigiPen's campus.
"Because of COVID, we knew we couldn't hold a physical conference this year," AVAR co-chair and director of DigiPen's Music and Sound Design programs Lawrence Schwedler says. "Microsoft's Sally Kellaway, our workshops chair, suggested that we consider AltspaceVR as a venue. So we did some tests and said, 'You know, this could actually work!'"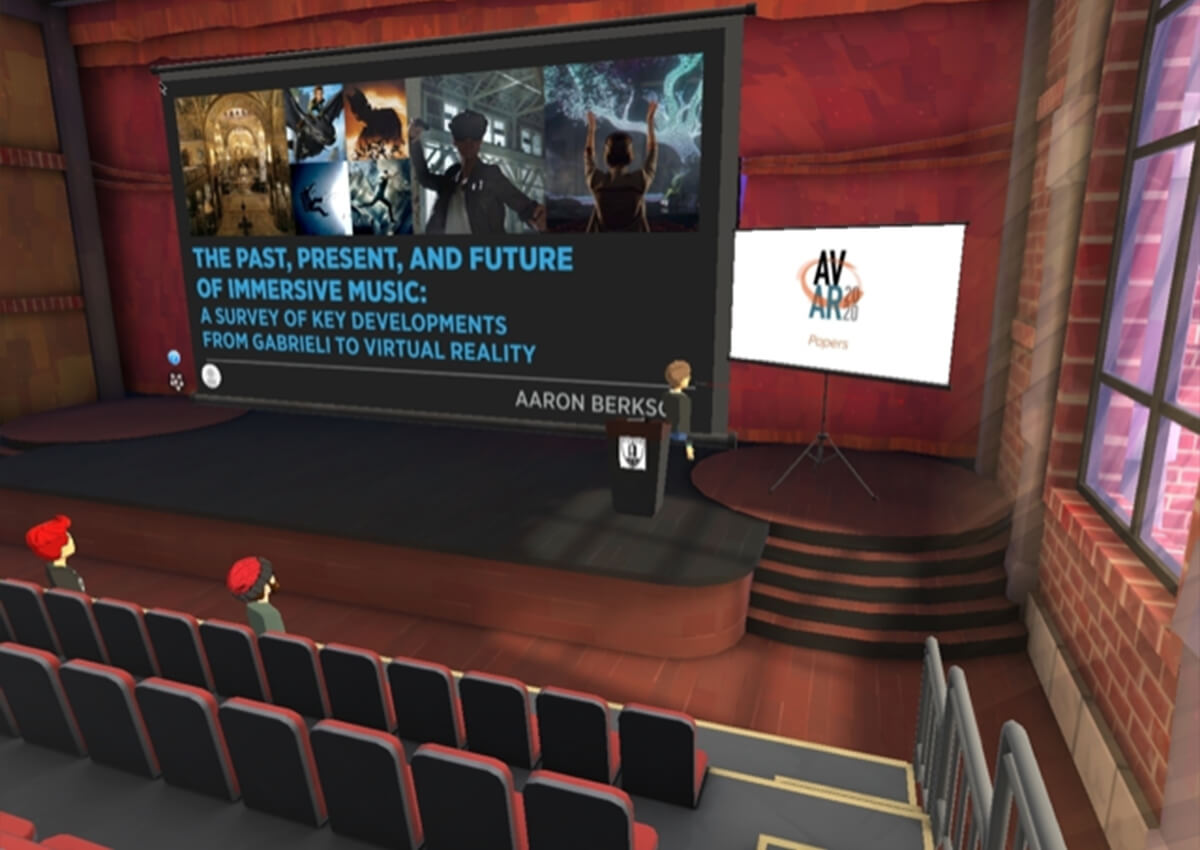 Kellaway's suggestion worked even better than anticipated. In fact, holding a conference about audio for VR and AR in a virtual space has opened up a range of exciting new possibilities for organizers and presenters alike. The biggest advantage? Everyone will already have headphones on.
"One of the researchers testing their presentation with us in VR said, 'Wow, this will be the first time I can do this demo without the audio being ruined by the room acoustics!'" AVAR chair and DigiPen Department of Mathematics professor Matt Klassen laughs. "When you play spatialized audio over two loudspeakers in front of a room full of people, it basically turns into garbage. You don't get the illusion that the audio is coming from 3D space at all."
Although AVAR 2018 was considered a rousing success by both Klassen and Schwedler, they admit they had to work to enable presentations of spatialized audio recordings.
"At audio conferences, you would assume you would listen to a lot of audio, but that actually rarely happens without some difficulty," Schwedler says. "At AVAR 2018, the headphone company Sennheiser loaned us a system of a hundred wireless headphones fed from a local broadcast station. For presenters with spatial audio demos, the only way to ensure that the audience would hear it in three dimensions was to use this complex hardware system."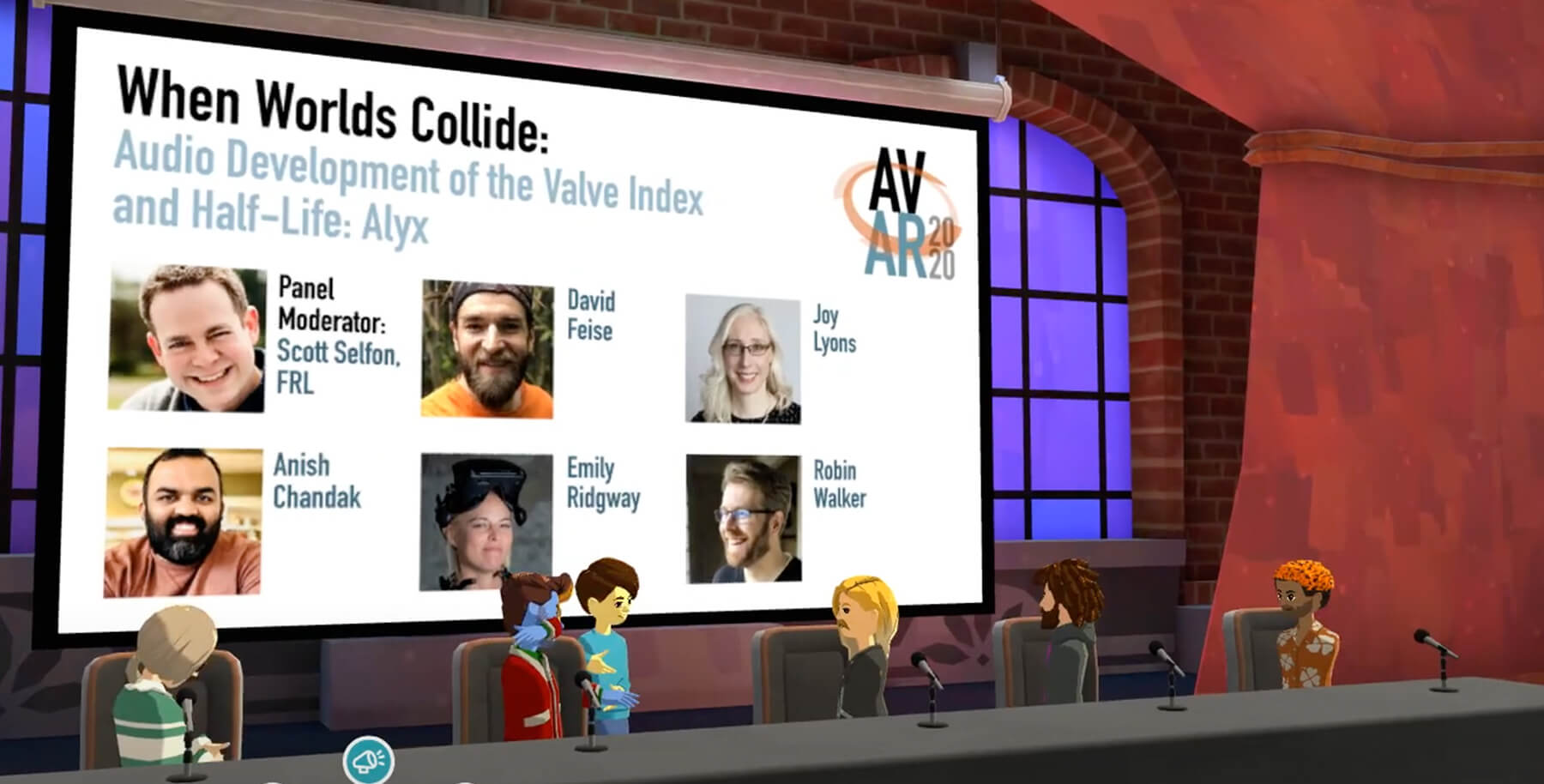 Now, through AltspaceVR, spatial audio demos can be seamlessly integrated into presentations and workshops. As long as attendees have headphones on, even those without VR headsets will be able to experience the audio demos and presentations as they were meant to be heard.
The other major advantage of VR is something that's been sorely missing from the videoconferences that have emerged from the pandemic — the ability to casually chat and goof around with a group of people.
"People have told us this is why they come to real conferences," Klassen says. "It's all the chatting that goes on around the presentations, the social element. The audio in AltspaceVR is set to die out with distance as you get further away. It pans as you move and rotate. You really do hear what you're focusing on more. That means you can have little groups of people chatting, and it actually works how it would work in real life."
"I can say, 'Hey it's too loud over here. Let's walk down the hall by my office so we can chat more about this microphone issue you were telling me about,'" Schwedler laughs.
AVAR will have four virtual rooms equipped with theater-style seating and presentation screens set up for various portions of the conference. The virtual DigiPen campus will be reserved for networking and chatting — a space lovingly recreated, even down to the carpet patterns, by Ott Smithson, a senior in DigiPen's BS in Computer Science and Digital Audio degree program.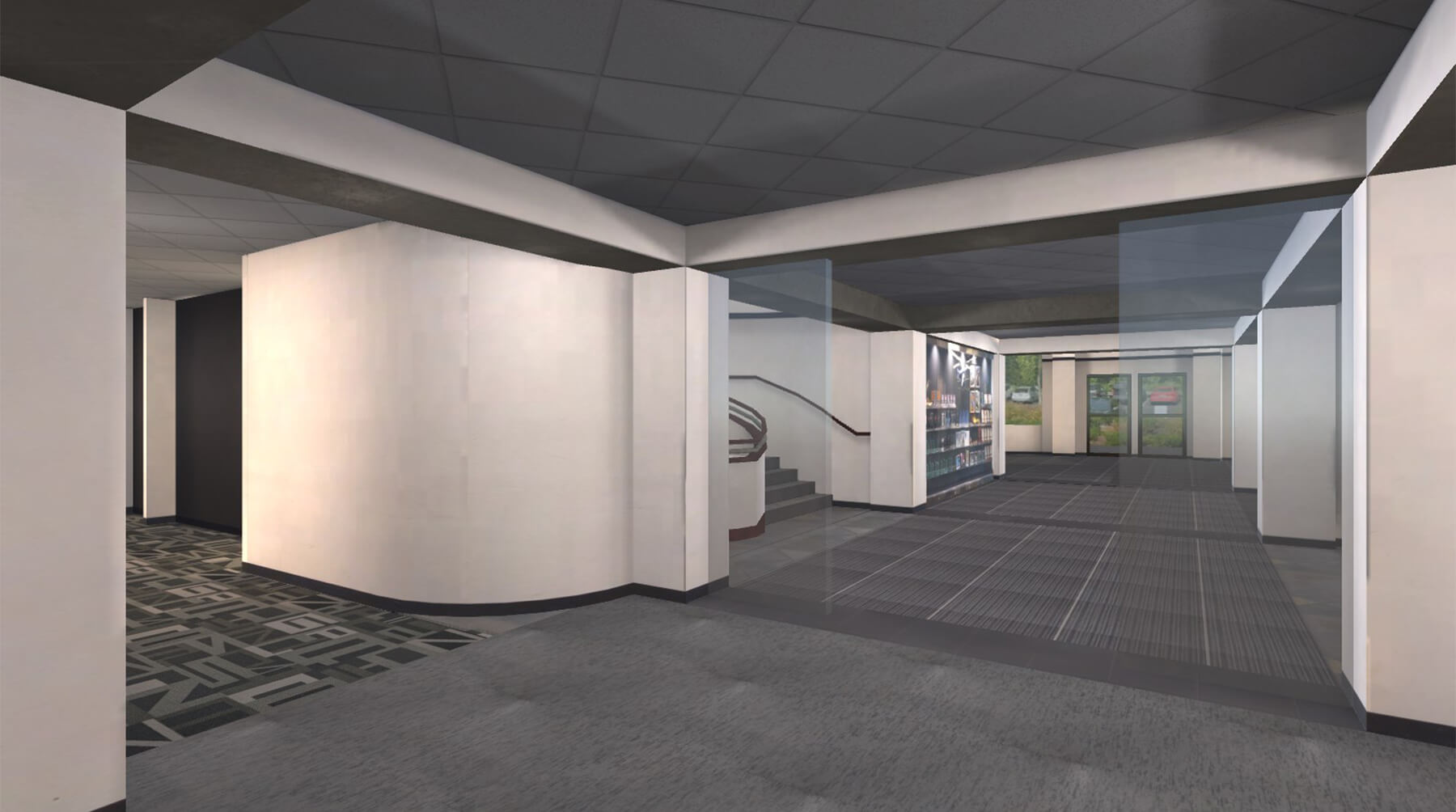 "I literally had them send me the school's floor plans and just started building the campus on top of it in the editor," Smithson says. Smithson focused on recreating the first floor of campus, where AVAR is typically held in real life, including the lobby, hallways and cafeteria. Although he didn't have time recreate all the first-floor classrooms, Smithson did make a few notable exceptions. "I did decide to recreate the sound lab classrooms," Smithson, a member of DigiPen's Sound Lab team, says with a smile.
Smithson utilized the level editor of Valve's recently released VR game Half-Life: Alyx to create DigiPen's virtual campus. It was an appropriate choice, given that Valve's audio team will present a featured panel discussion on the development of the landmark VR game and the new Valve Index VR headset. According to Klassen, one of AVAR's goals is to showcase the multidisciplinary nature of audio production for VR, which involves sound designers, product manufacturers, programmers, and academic researchers.
"That's one thing we really like about it," Klassen says. "There's a lot of overlap between industry and academia and product development. It's all one huge pot." AVAR is also designed to have a little something for everyone — from workshops and tutorials for newcomers to the field, to scientific presentations and debates over technical topics like head-related transfer function personalization. No matter what level you're at, there are things to learn and fun to be had at AVAR.
"Some of the presenters who have been showing up from around the world to test out the VR space have really enjoyed just making their avatars throw the mic around," Klassen laughs. "That's something that couldn't happen at a regular conference."
The 2020 AES International Conference on Audio for Virtual and Augmented Reality is sold out, but will be live-streamed for viewers at a link on the Audio Engineering Society website.