DigiPen was founded in Vancouver, British Columbia, in 1988 but moved shop to the U.S. 10 years later, when it opened its new campus in Redmond, Washington. That same year, DigiPen began offering a brand new four-year degree program in video game development — the very first of its kind.
DigiPen was a much smaller school in 1998, with less than one-tenth the amount of enrolled students compared to today's population. The only degree programs taught were the Bachelor of Science in Computer Science in Real-Time Interactive Simulation — also offered at the time as a two-year associate's degree — and a two-year associate's program in 3D computer animation (a precursor to today's BFA in Digital Art and Animation).
"Games still weren't taken seriously at that time," DigiPen Chief Technology Officer Samir Abou-Samra says. "It was still just considered a hobby. There were only two tiers of game companies then — the giant giants like Sony, Sega, Atari, and Nintendo, and then the second-tier, big studios like Ubisoft that, while big, still weren't as big as they are today."
When DigiPen moved to Redmond, its campus was located in the same building as one of those "giant giants," Nintendo of America. There, fledgling student game developers started their first lesson in the trade with the GAM 100 project course — their first task being the "Little Mermaid" assignment.
"We provided students keyframes of a mermaid," Abou-Samra says, "and they would animate the mermaid to move upwards, downwards, left, and right inside the sea. And some of them added in their own particle effects."
After that, students began work on their freshman games, using Windows 95 and Directx 2d.
Today, GAM projects are one of the cornerstones of DigiPen's unique approach to education, bringing together art, game design, computer science, and music and sound design students to collaboratively create games that, at their best, can rival professional products in quality and innovation. Unlike today, DigiPen's GAM projects in 1998 were not a cross-disciplinary effort between degree programs. They were solely the domain of computer science students who worked in groups of two to four and were responsible for the entirety of the final product — including coding, design, art, and sound.
"Making these games was a lot of work," Abou-Samra says.
In honor of our 30th anniversary, we're going back to 1998 to revisit freshman game projects from DigiPen's very first BS in Computer Science in Real-Time Interactive Simulation cohort. From these humble beginnings, the seeds of DigiPen game projects as we know them today were sprung.
Potato Tactics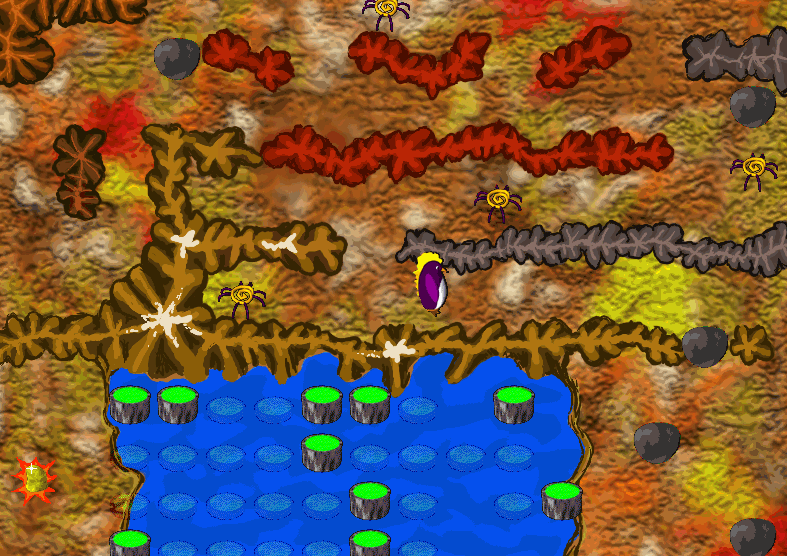 Surreal puzzle adventure Potato Tactics puts the player in control of Teflon, a purple penguin tasked with saving the world from an all-consuming evil. But how, you ask? By collecting the golden magical potatoes that imbue the legendary being known as the "Great Potato" with the power to grant a single wish, of course. The first level you see above is scored by a MIDI version of The Cure's 1989 hit "Lullaby."
Credits: Brad Ayres, Eric Housden, Guy Bacci, Rilla Jaggia
Eggbert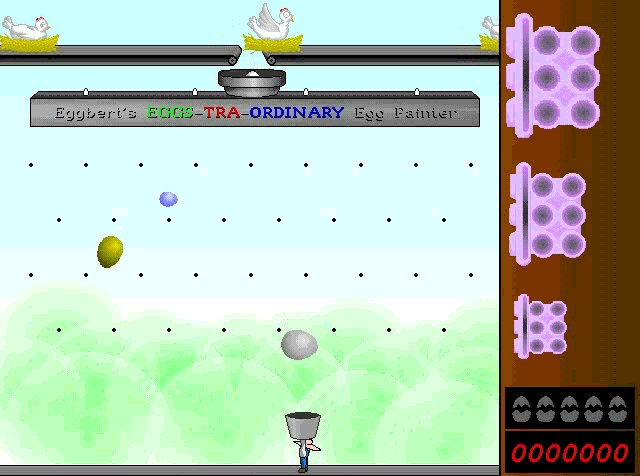 "Don't put all your eggs in one basket" is truly a lesson to live by in Eggbert. In this action-puzzle game, you control the hard-working eponymous farmer who is dashing to collect his tumbling harvest. Just make sure to catch the eggs in the appropriately-sized basket, which Eggbert's automated "EGGS-TRA-ORDINARY" Egg Painter machine conveniently color codes for you. However, that's pretty much the only convenient thing about the machine, which unceremoniously dumps your delicate eggs down Pachinko-like pegs.
Credits: Russ Ashmun, Doug Poston, Jon Winkler, Kevin Wright
Motor Town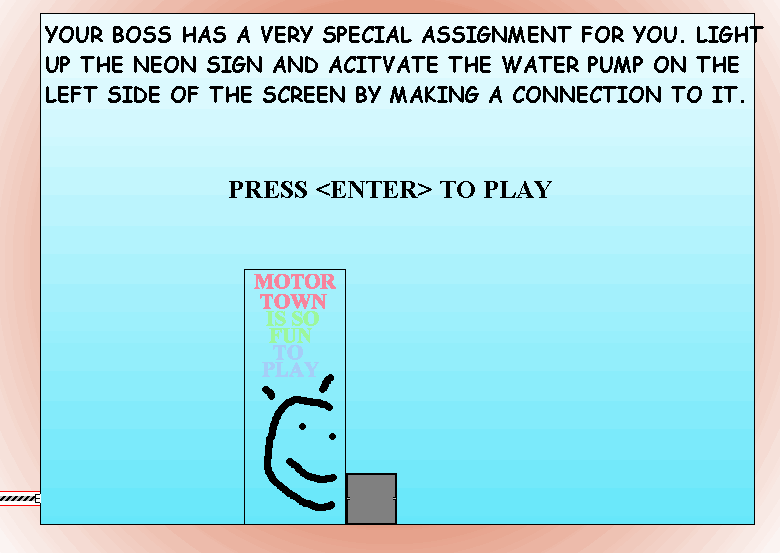 Featuring a cinematic opening sequence set to the surf-drenched sounds of "Misirlou," Motor Town took the falling-brick anxiety of Tetris and mixed it with the harebrained gadgetry of The Incredible Machine. Players must align falling modular engine units to connect a dynamo on one side of the screen with a machine on the other. And should you ever forget, the game includes an in-level reminder that "MOTOR TOWN IS SO FUN TO PLAY."
Credits: Randy Culley, Jordan C. Johnson, Chad Olsen, Tim Yanalunas
Take-N-Break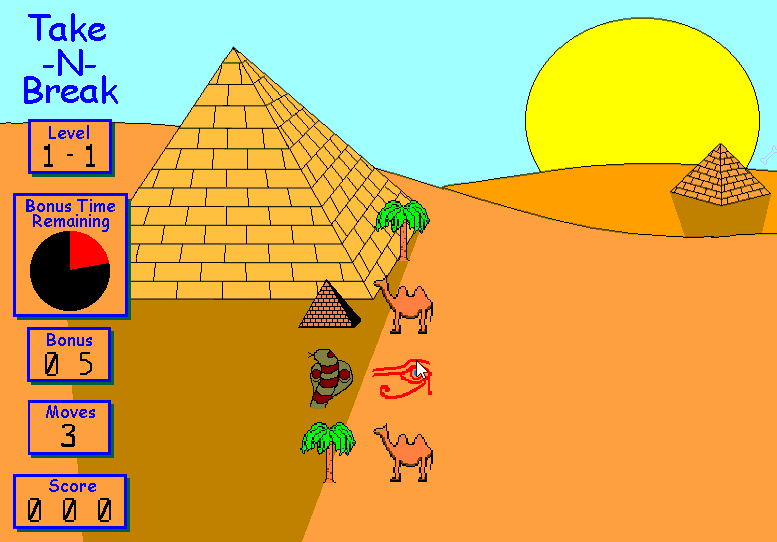 In the deceptively deep puzzler Take-N-Break, players must clear the board by aligning two or more icons of the same kind using a limited number of allowed moves. The game also sports a wildly diverse range of level themes, from ancient Egypt to a kitchen, all the way to outer space.
Credits: Chris Winebarger, Eric Smith, Katie Harris, Micah Gettys
Toto Chaos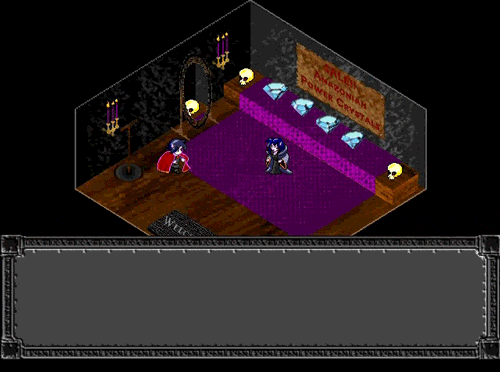 Toto Chaos took its core grid-based puzzle mechanics and built up a rich gothic fantasy world around it. When the game's eponymous hero Toto is tasked with looking after his friend Koko's occult crystal store, he's warned notto touch or look at the evil mirror in the corner. Of course, Toto looks into the evil mirror. Immediately, Toto is plunged into a puzzle-filled nether realm full of ravens, skulls, and demonic dead ends.
Credits: Adam Lippman, Jake Grandchamp, Scott Halford
ZOX: Trial of the Warrior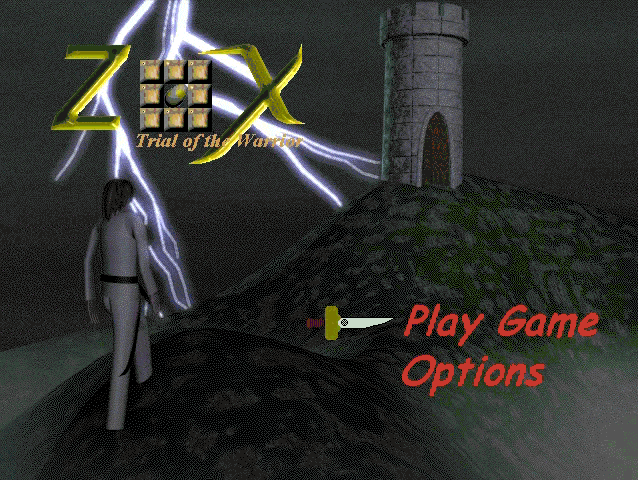 The fantasy-themed ZOX sports the subtitle Trial of the Warrior, but what in fact is this warrior trial? To prove his might, Zox must push blue eggs around a dungeon. He must line up four blue eggs in a square to collect them in your noble knight's egg basket (topped off with a lovely pink bow), all while avoiding falling cubes that might gum up your plans. Gather enough eggs and you can proceed to the next dungeon, but you'll likely be haunted by visions of those pesky cubes on your way there.
Credits: Unavailable