Last weekend, the Penny Arcade Expo in downtown Seattle — better known as PAX Prime — drew tens of thousands of video game enthusiasts to the Washington State Convention Center.
Featuring elaborate display booths, exclusive demos of upcoming AAA and indie titles, as well as a full schedule of game tournaments, industry panels, and more, the expo represented an opportunity for festival attendees to celebrate the best of gaming culture.
As with past events, this year's PAX featured the participation and involvement of a large number of DigiPen Institute of Technology students and alumni who were on-hand to educate, entertain, and connect with fans by showing off their creative endeavors.
It takes a lot of different types of people to make games."
Kicking things off on Friday morning at nearby Benaroya Hall, DigiPen graduate Kim Swift (2005) — well known for her design contributions to games like Portal, Left 4 Dead, and Quantum Conundrum — took to the main stage as the PAX Prime keynote speaker. She gave members of the audience a humor-filled crash course on the business of game development, clearing up more than a few misconceptions along the way.
"When I actually went into the game industry, I really got to see just how complex games could actually get. And since I've been in the industry for 10 years, the complexity of games has only grown," Swift said. "It takes a lot of different types of people to make games."
After giving a rundown of the various roles and responsibilities of game artists, programmers, designers, and producers, Swift went on to demonstrate the multiple creative stages for creating and animating a single 3D game character from original concept to in-game placement. She also provided a detailed estimate for the financial costs associated with that process, lending a fresh counter perspective to the common refrain that games are too expensive.
"As you walk around the show floor and take a look at all the other games that are on display, realize just how much work and love and dedication actually went into those pieces of art," Swift said.
Swift wasn't the only DigiPen graduate to speak at PAX. A handful of other alumni participated on a series of panels throughout the weekend.
It's really awesome to just kind of get to know people, hear their stories, figure out what it is they're interested in."
One such participant was 2009 graduate Brittany Aubert, a producer at Dropforge Games, who spoke on a Sunday panel titled "What to Expect When You're Expecting (to Graduate)."
That panel, featuring a lineup of six industry developers, focused on the shared experiences of going through a games-related college degree program. Panelists offered advice to current students on how to navigate the transition from school to employment, emphasizing the importance of networking, portfolios, and fostering positive relationships with peers and teammates.
The conversation continued even after the panel as Aubert and the other speakers met with audience members in the crowded hallway of the convention center, answering further questions from people who sought advice for entering the professional game industry.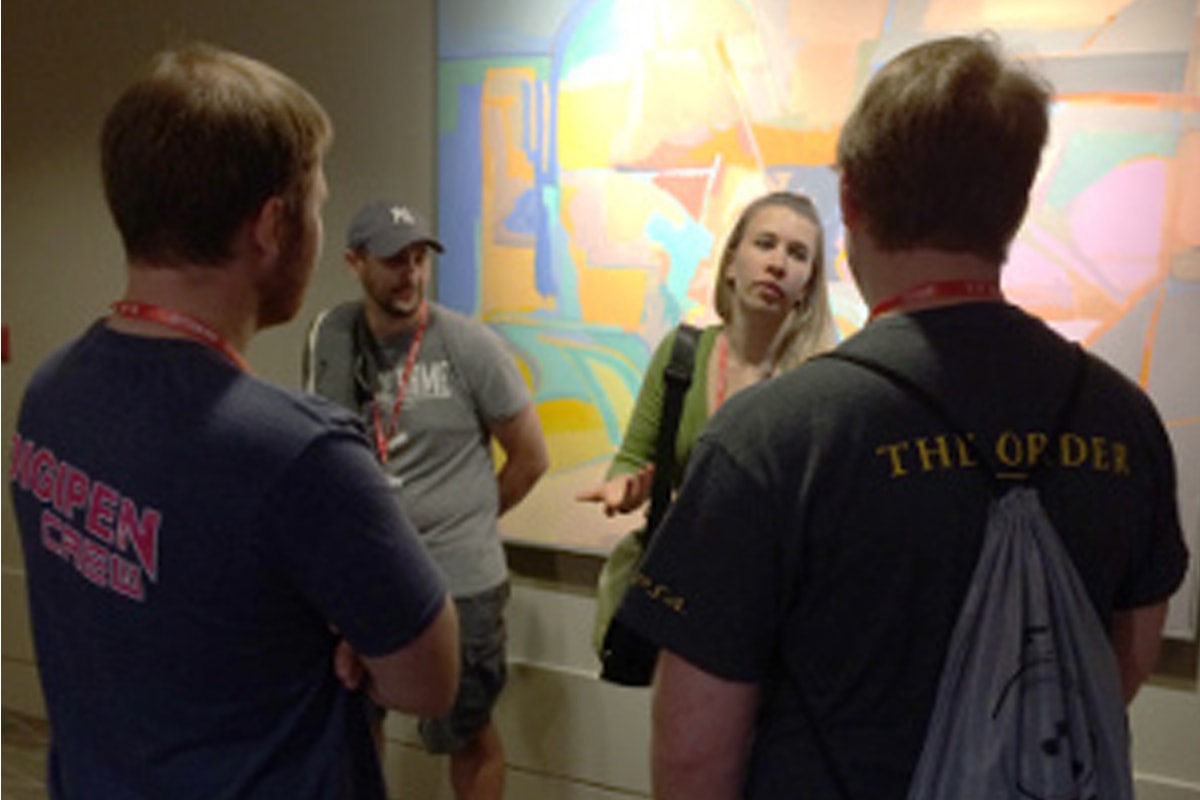 "It's really awesome to just kind of get to know people, hear their stories, figure out what it is they're interested in," Aubert said.
Scattered throughout the main expo halls, other DigiPen alumni were presenting their game projects to the throngs of attendees.
At the booth for Refract Studios, a small indie studio headed up by a team of DigiPen alumni, graduate Jason Nollan (2012) helped show off the game Distance — a futuristic, arcade-style racer. PAX attendees had the option of demoing the game in three separate formats, including a split-screen multiplayer mode on a large TV screen, on the Oculus Rift virtual reality headset, or on a custom-made arcade racing cabinet with built-in steering wheel. The cabinet, Nollan said, was created for last year's PAX Prime event and featured a series of neon lights that flashed and moved in rhythm to the game's music.
"[For this year] we were like, 'OK. How can we make this bigger?' And we kind of used the same technology that was making the lights on the arcade cabinet flash and engulfed the whole booth in it," Nollan said, pointing to the booth setup that took an estimated two weeks to prepare from scratch. "So the setup —just here — was like a full 17 hours for some of the members of the team."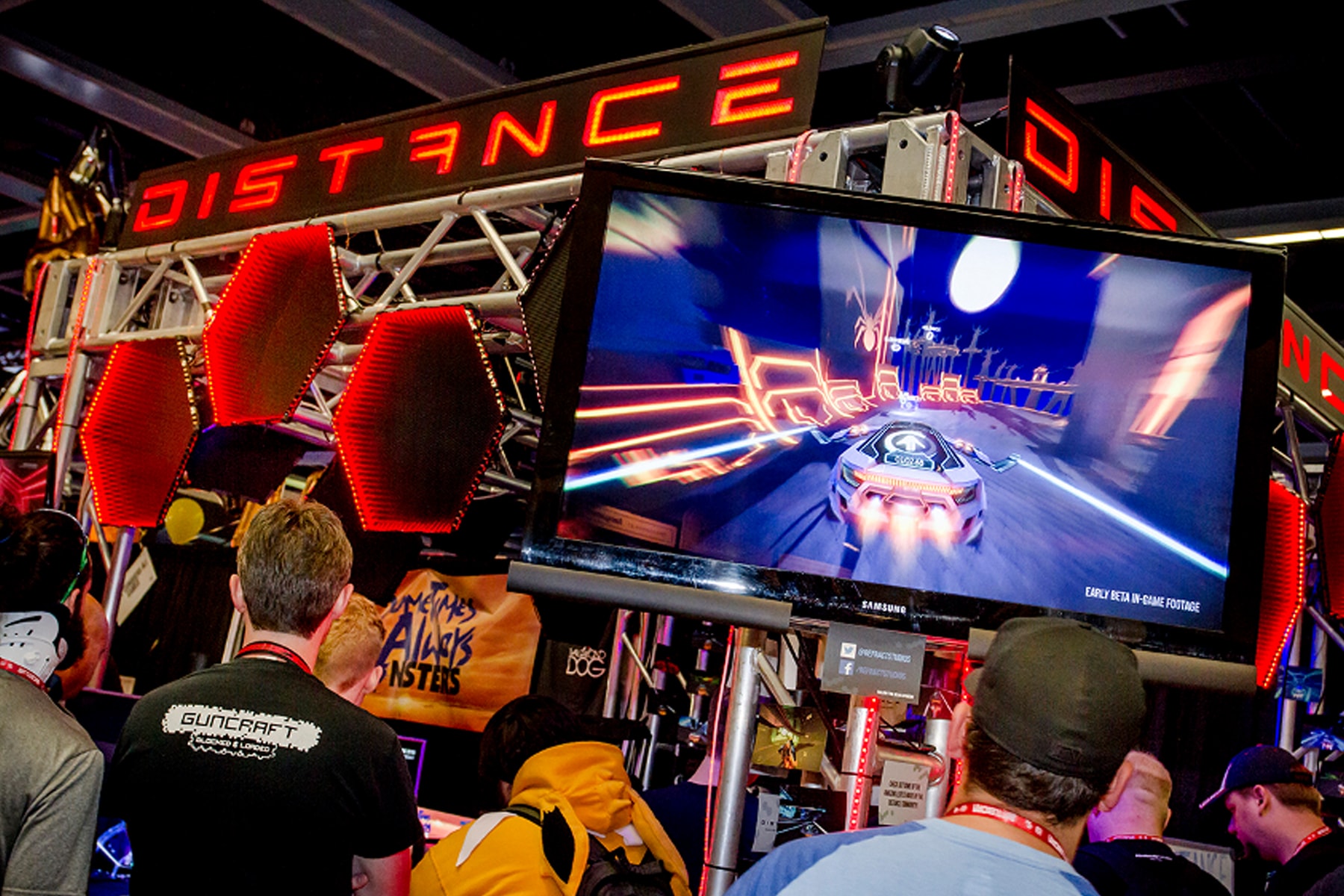 For Nollan and his teammates, this year's PAX represented one final opportunity to exhibit their work in progress to a core group of potential fans and customers.
"We're showing off the game that we've been working on ever since graduating [from] DigiPen … and this is the last PAX before we plan on releasing the game," Nollan said. "It's been very positive. We've gotten a lot of people who are excited."
Apart from the main expo hall, in a separate area of the convention center known as the annex, a group of current DigiPen students operated their own playtesting booth, part of an ongoing tradition at PAX.
With four large couches and TV screens set up for multiplayer games, surrounded by a perimeter of arcade cabinets for single-player games, the DigiPen Arcade booth gave PAX-goers a chance to meet and interact with students while trying out even more fun and experimental game projects — 19 selections in all.
It was amazing to see just so many alumni working at great places and so willing to figure out donations for us."
Similar to many of the professional game booths, students incentivized attendees with chances to win special prizes and giveaways. By playing three student games, for example, participants could enter their names into a series of daily prize drawings.
"We got some amazing prizes donated by alumni and contacts who are all working at fantastic studios," said Alexandra Lucas, a senior in the BS in Computer Science and Game Design degree program who was volunteering throughout the weekend. "It was amazing to see just so many alumni working at great places and so willing to figure out donations for us."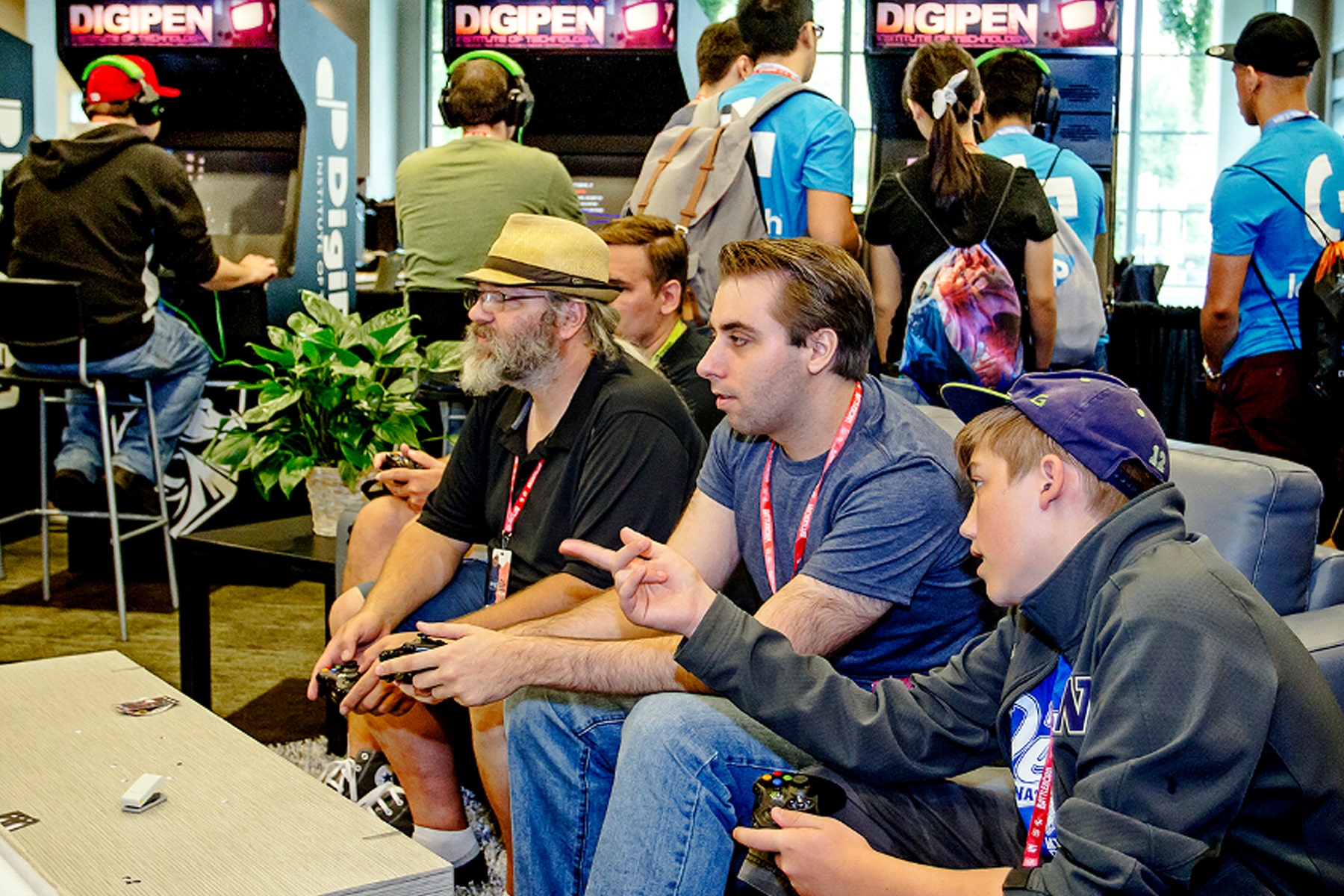 After months of intensive planning and coordinating the logistics for the booth, not to mention the months spent working on the game projects at school, Lucas said it was gratifying to see people having fun and talking about all the things they enjoyed about each game.
"It's a fun, interactive way for the devs to get feedback on their games and then just have the validation of [saying], 'I made an awesome thing, and people are enjoying it!'" she said. "From the time the annex opens until midnight, our arcade is full. There's a person in every seat."