A team of recent graduates will be heading to the Electronic Entertainment Expo (E3) in Los Angeles later this month to show off their senior student game project, RumbleTV.
Update (6/18/15): It's official! RumbleTV is the winner of the 2015 E3 College Game Competition. Congratulations to Team Shots Fired and to all of this year's DigiPen Dragons!
The game was selected as one of five finalists for the E3 College Game Competition, hosted by the Entertainment Software Association (ESA). Targeting close to 400 U.S. colleges and universities, the competition invites each participating school to submit one student game project. Each of the finalists receives a display space at E3, giving students a chance to meet and interact with game publishers, developers, marketing executives, and more. This is the first time a DigiPen game has been selected as a competition finalist.
We caught up by email with 2015 graduate Riley Pannkuk, the producer for RumbleTV, to ask him some questions about the game, working with Unreal Engine 4, and his team's reaction to being nominated.
Q. What is the basic concept of RumbleTV? What were some of the team's creative goals for the project?
A. The first idea for RumbleTV was a bit nebulous and hard to remember. The basic concept was to go with something in the essence of a MOBA, akin to League of Legends, DotA, and the like. Our spin was to throw a first-person-shooter aspect to the project, creating unique classes that personalized the game but kept it within scope. In retrospect, that turned into what we call "an objective-based shooter with creeps." We thought mixing and matching the two genres together could bring some cool ideas to the table.
Everyone was pretty happy with the final outcome of the game, especially how much it mirrored our expectations."
Really, our biggest creative goal was to make something that blew our expectations — as well as DigiPen's — out of the water. The creative minds of two of the previous year's best teams came together to make its mark, and I'd like to think we succeeded.
Q. What do you like about how the game turned out?
A. Everyone was pretty happy with the final outcome of the game, especially how much it mirrored our expectations in preproduction. We had some fantastic minds helping to make sure our plan for the rest of the semester ended up on track. The game, as a result, feels very focused, with every gameplay aspect feeling like it belongs. Our concept artwork beautifully transitioned into the final assets for the game, a result of the hard work of our artists, who worked on the game not only during the two semesters for which we received credit but also during the summer. Our only complaint was our folly with networking despite the amount of time we dedicated to putting it in.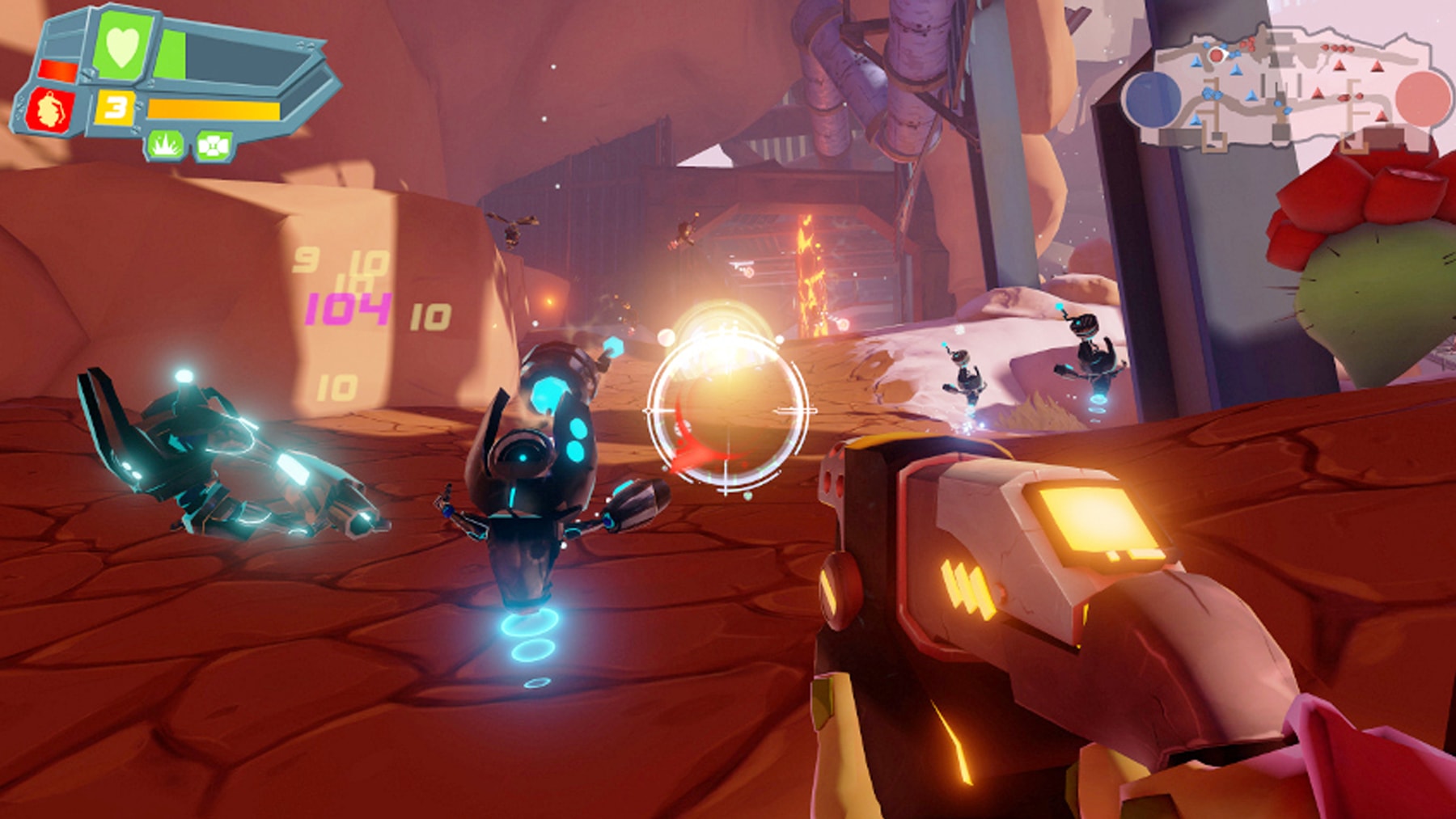 Q. What made you decide to work with the Unreal Engine 4? How was the experience?
A. As our junior year ended we heard all of this great news about the awesome features Unreal 4 could bring to the table, and I think the hype was a huge reason that we decided to go with it. It looked professional, and the more we became comfortable with the bleeding-edge tech, the more professional our game looked as a result.
"The chance to present ourselves to hundreds of industry representatives is going to be a validation of all the hard work."
That being said, there were more than a couple weeks of terror where updating to the latest build of Unreal caused us a huge headache. Everything in "Prototype" mode meant that it was a gamble to see if the functionality worked the same the next time you updated, or if it was stable at all. Our UI system, behavior trees, and networking were all a result of this and caused us some unnecessary friction.
Overall, I'd say — now that the engine has had a year to stabilize — it's a fantastic tool for making awesome games. One of the best things we could point out to our team was how each one of our artists had the ability to use the pipeline intricately and without programmer intervention.
Q. How does it feel to know that your game project will be showing at E3? Do you know who is going to E3 to represent the team?
A. It's awesome to feel recognized by the school like we are. A lot of us are going to be attending E3 to show the game off, including myself [producer Riley Pannkuk]; gameplay programmer Garrett Woodford; and artists Vicky Wong, Dillon Herick, J Vargas, and Ry Soderberg.
We really look forward to getting the chance to show off our talent at a huge convention like E3, and knowing that we'll be the only DigiPen game to go is a huge honor. The chance to present ourselves to hundreds of industry representatives is going to be a validation of all the hard work put into the project and what we've accomplished.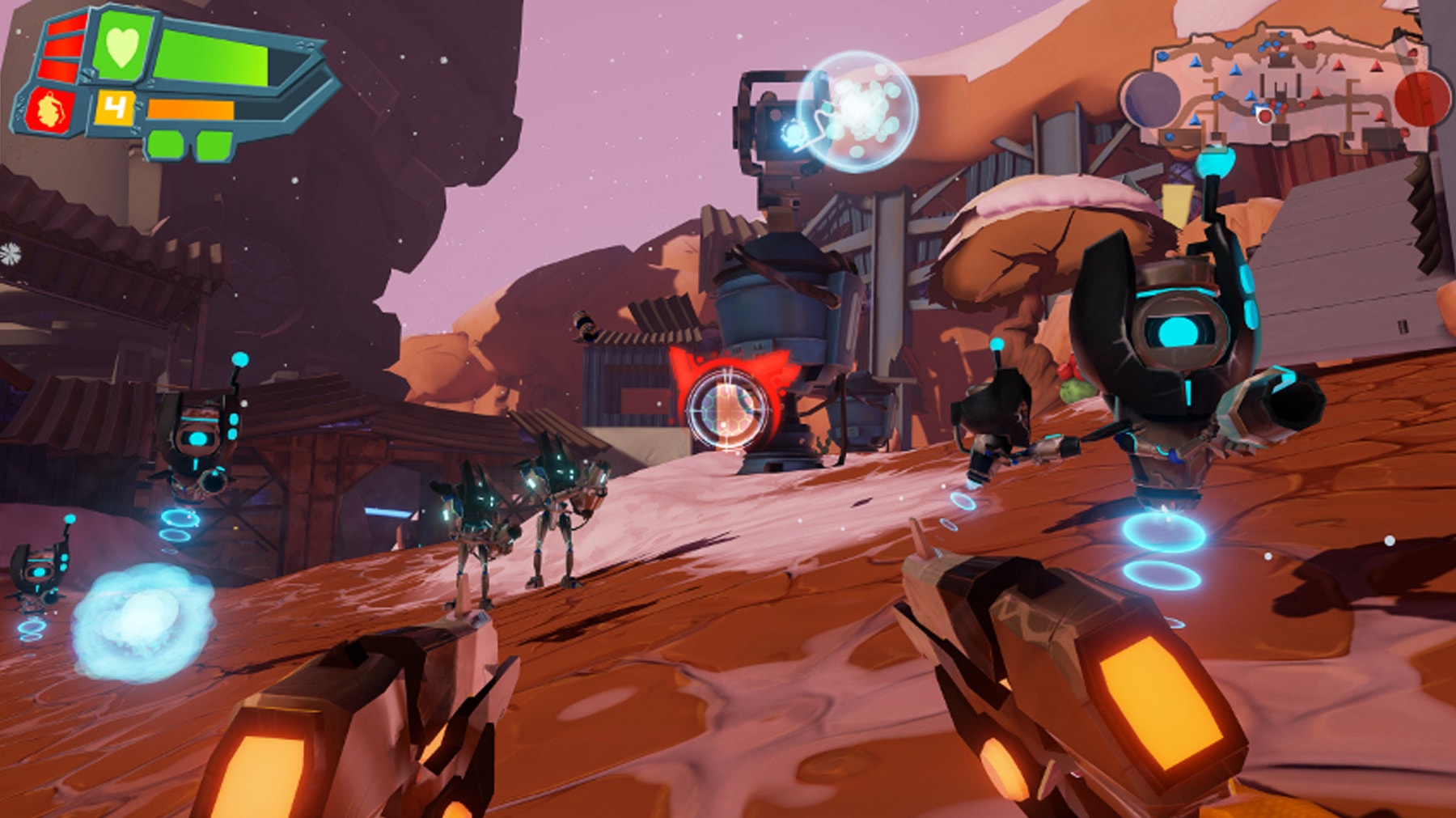 Q. Since many of your team members have graduated, what is everyone doing now? Have some team members gotten jobs or internships anywhere?
A. A lot of our team has graduated already, with a couple others graduating in the next couple of weeks. Some of our members have jobs at Bungie, Microsoft, 8th Shore, and Telltale Games, while others have internships at Disney Interactive and Respawn.

RumbleTV was developed by Riley Pannkuk, Eric Lynum, Daniel Frisbie, Garrett Woodford, Justin Cook, Nathan Hitchcock, David Browne, Katerina Arrington, Dillon Herick, Vicky Wong, Michael Hall, J Vargas, Irene Chin, Johnathan Henke, Sion Jang, Zachary Mithcell, and Ryan Scott.