Imagine traveling to another country and immersing yourself in the land to the point that people begin to treat you as a local. Despite only visiting for a short time, neighbors chat with you as if it were part of their daily routine, while others stop to ask you for directions. In a sense, you become the attraction in an area you're determined to learn more about.
This level of engagement is a familiar feeling for Steffon Moody. As a senior lecturer in the Department of Fine Arts at DigiPen, Moody teaches courses that touch on subjects like beginner and advanced forms of drawing, as well as understanding perspective and depth in backgrounds and environments. His many years as a scenic artist and set painter have informed his teaching style, whereby he captures stunning scenes and landscapes both plausible and surreal. While the themes and places depicted in his work vary — from points of interest close to his home on Vashon Island to imagined scenes from historical events like the sinking of the Titanic — it all stems from his lifelong curiosity to see and experience the world.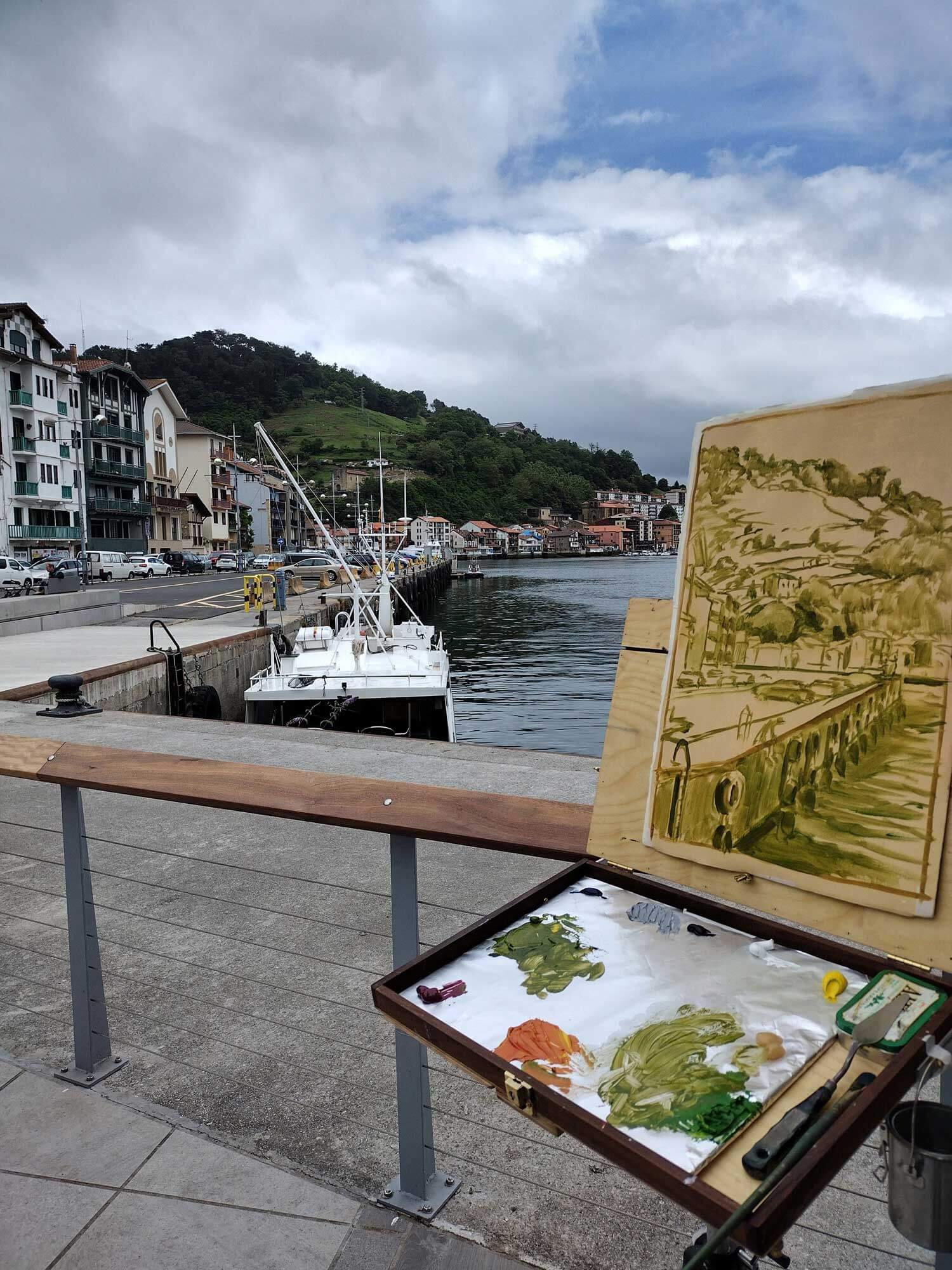 "I can't think of a better way to travel than doing art and traveling simultaneously," says Moody. Last summer, he mapped out a six-week journey that took him through the vibrant countryside locales of Spain, Portugal, and beyond. He even included a quick stop to visit his colleagues at DigiPen Institute of Technology Europe-Bilbao. For Moody, it was an opportunity to visit Europe for the first time in 36 years, but it was also a chance to put his artistic ambitions and educational ideas into practice. "I ended up doing 18 paintings, probably about six drawings," recalls Moody. "The intention was to record where I was and experience that through art rather than just through photographs."
Fast forward to the present day and Moody is already preparing his next excursion to the breathtaking lands of Latin America, including Central Mexico, Colombia, and more. His quest to regularly revitalize his references and life experiences is quickly becoming an annual goal each summer, and the various stops he plans to make this time around will provide new experiences in culture, architecture, flora, and all sorts of unique environments.
As he scouts locations and gets settled to start his paintings, Moody often keeps in mind his own philosophy on the importance of being present in the focus of your art. "There is a phenomenon where people feel like if you see something on a screen, then you've already seen it," says Moody. "There is this equating virtual reality with reality that's become widespread."
A painting isn't necessarily a simple snapshot of a single moment. For Moody, it's a collection of experiences, some of which occur during the very act of painting. Sometimes it involves the people he meets or dealing with ever-changing elements like shade at different times of the day. Moody recalls his painting session in Amsterdam, where he took inspiration from the boats that passed through a canal all day. "I had such a deep experience because I spent four hours in that one location, and it shows in the painting," Moody says. "All your experiences as an artist are kind of glued to all those moments in time, and it's imprinted within the painting."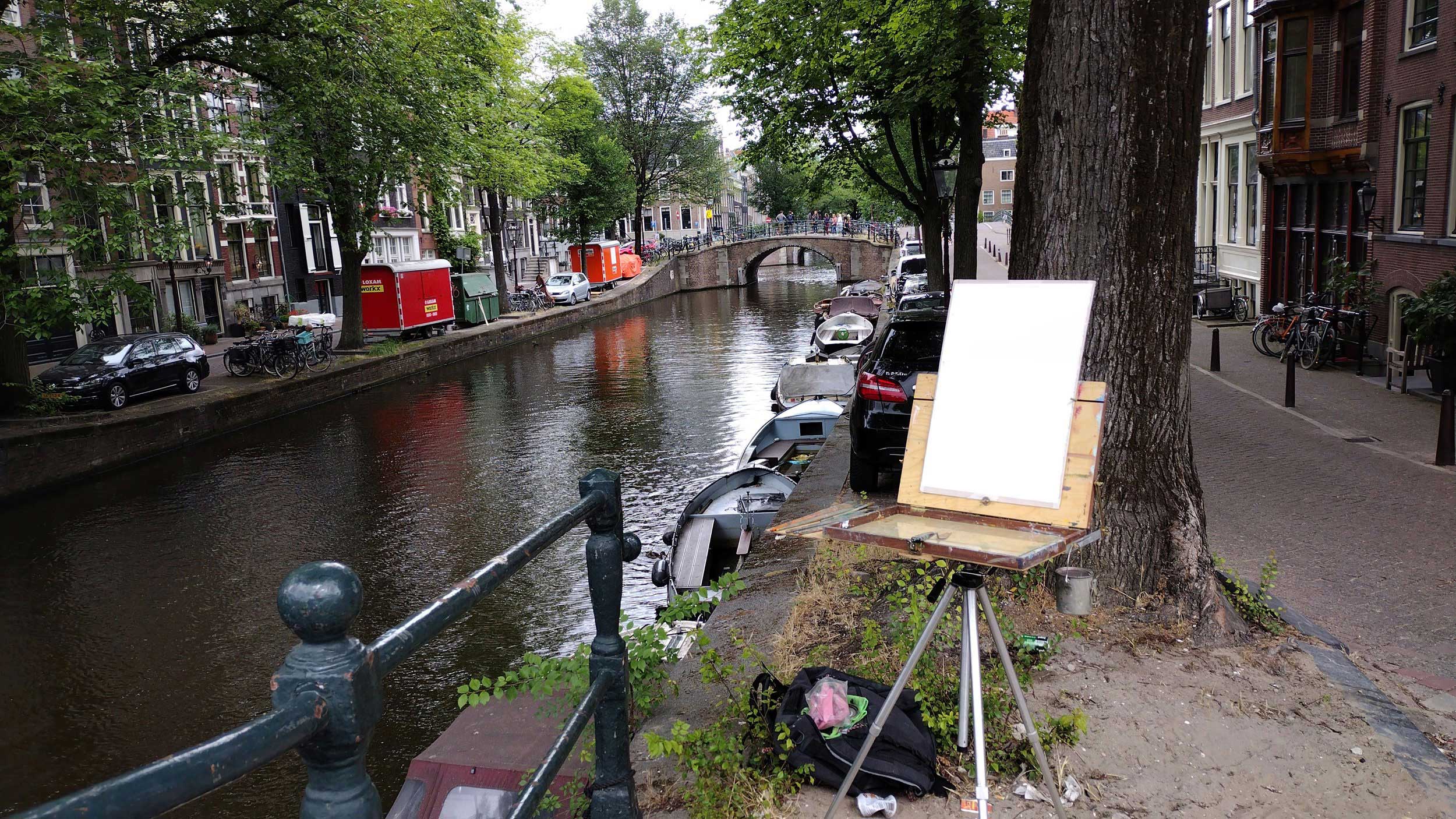 During his 2022 trip, on top of keeping up with his daily painting goals, Moody also described his experiences in his extensive travel blog. Detailed within the blog posts are closer examinations of each painting, spanning scenes from the breathtaking harbor in Spain's gorgeous San Sebastian to the historically rich streets of Lisbon, Portugal. More importantly, the blog offers context on the inspiration behind each piece of art. Moody says he also plans to post frequent blog updates on his Latin American journey throughout the summer.
I'm trying to be an example and I'm always trying to encourage students to take action and go out in the world and make art, study, and experience places.
As an instructor who helps prepare students for future careers in digital media, Moody likes to emphasize the importance of field research. As he points out, there are similar parallels between his trips and the way major studios traditionally help artists prepare for new projects. "The model that I'm using is more like what a Disney artist used to do," he says. "They used to have the artist go to places, do sketches, do reference stuff, and then come back and use photos as well."
Whether for work or personal enrichment, Moody hopes to inspire students to get out and see the world and to find their own stories as artists. "I'm trying to be an example and I'm always trying to encourage students to take action and go out in the world and make art, study, and experience places," says Moody.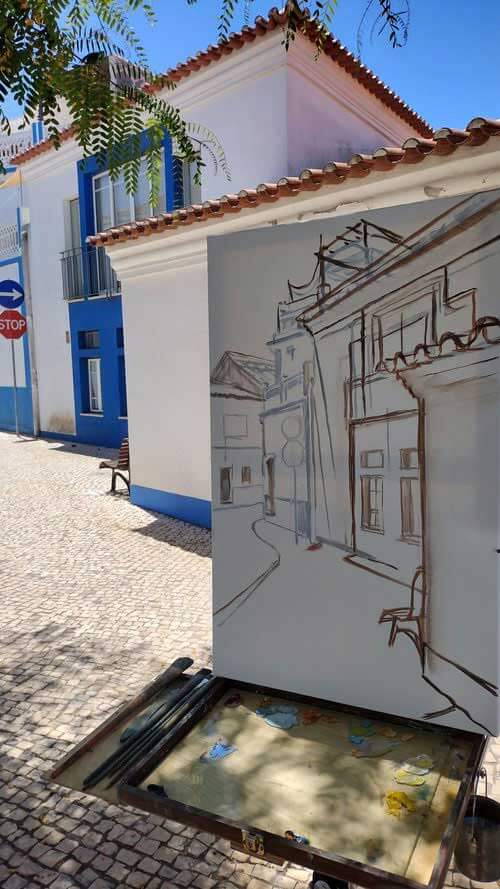 Although visiting distant lands and continents with rich histories different from our own is an irreplaceable experience, traveling doesn't have to take you to the other side of the world. The goal, he says, is to step outside the bubble you live in and learn more about a new environment, whether far or near, through a firsthand account. "The other day I took my class out to draw, and we walked down the Sammamish Slough. It's so amazing being with students and pointing out things that are beautiful about the reality around us and how that translates into composing an image," Moody says.
With one expedition in the books and another just around the corner, Moody has had time to reflect on how things would be different if he had simply stayed home last year instead. "I could have spent six weeks in my studio here and probably made better art, to tell the truth," explains Moody. "Travel was integral. It brought a lot more meaning to it. And it's a better story now."
The idea behind the expedition was one that had been brewing for quite some time. "My dad was a professor, and he painted scenery for the theater," says Moody. "He was a scenic artist and went on a sabbatical to Europe and drew for three months. This is kind of mirroring that sort of thing." For his upcoming trip, Moody plans to bring his own son to offer him a similar experience. As for his students, Moody aims to keep this annual tradition going in future years to intimately bring the sights, the sounds, and the people of the world into the classroom.