DigiPen students have teamed up across disciplines to create hundreds of amazing game projects over the years — always free to download on the DigiPen Game Gallery. In 2019, Dragons began publishing their games on Steam for the first time as well, hoping to broaden audiences and access. The move has been a boon to a number of recent game teams, who have seen their projects take off on the platform in ways they never imagined. In the few months they've been available, student team Argonautics' stylish Isles of Limbo, Handshake Firm's fluid Arc Apellago, and Monster Lab's fast-paced Nohra have each earned hundreds of positive user reviews and downloads. The success has spread outside Steam too, with fans of the titles posting numerous Let's Plays and speedruns on YouTube and Twitch. Let's take a closer look at these Dragon-developed Steam hits. 
---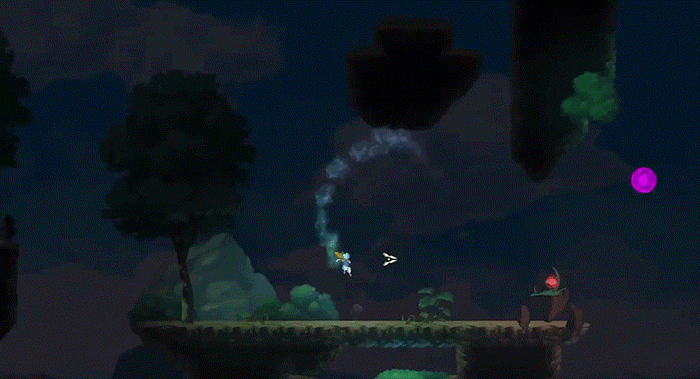 Arc Apellago is actually the second game student team Handshake Firm has made together — coming a year after their multiplayer brawler debut, DeltaBlade 2700. "After DeltaBlade 2700 launched, two Let's Plays popped up on YouTube, and we were all so excited," says tech director Jordan Hoffmann. "Fast forward to now, I can't help but find it humorous that I was so excited over two videos. In just one month since launch, 46 Arc Apellago Let's Plays and speedruns have been posted to YouTube, and 211 users submitted a review to Steam!" 
The 2D platformer follows a mysterious assassin who must traverse and fight through floating terrain to restore a shattered guardian statue. "Early in development, we knew we wanted our main pillars to be fast-paced, feel-good combat, restoration and duality, and adventure," Hoffmann says. "The moment the vision for our game became abundantly clear was when our audio lead, Suzanna Jelsema, pulled us into the studio and showed us the music she'd been working on. I remember looking around and the faces of every single member of the team just lit up with excitement." Jelsema's Japan-inspired soundtrack helped set the tone for the game's beautiful, Zen-like atmosphere and gameplay, which is built around fluid movement and combat. 
"Honestly, it is pretty wild seeing how much of a hit Arc Apellago is, especially in the speedrunning community," says design lead Johnny White. "The game was designed to be fast-paced and fluid, so I suppose it's not a huge surprise that plenty of people want to speedrun. But having such a strong Twitch and Steam review presence are not things that we necessarily tried to do. Hearing people talk so fondly about our game and share it with friends is really awesome to see."
---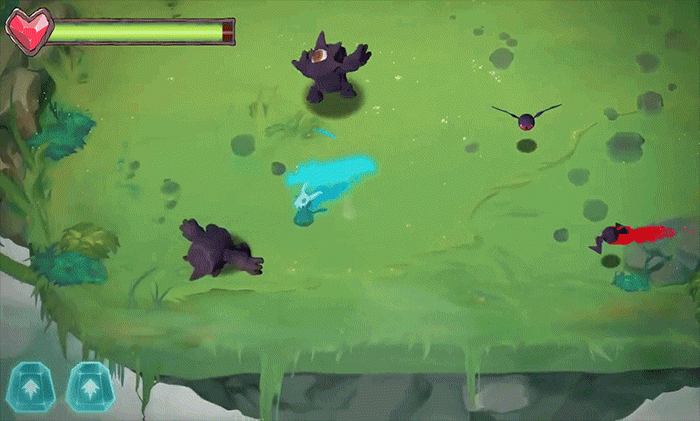 "I was shocked at first," says team Argonautics art lead Trevin Dahl of the 200-plus stellar reviews Isles of Limbo has received on Steam since being uploaded over the summer. "It was inspiring to say the least. I got that warm, fuzzy feeling inside." The orthographic, arena-based hack-and-slash game is an instant eye catcher thanks to its painterly hybrid of 2D and 3D visuals, an aesthetic that actually arose out of a development roadblock. "Initially the engine was being developed for a 2D, top-down game," says graphics programmer Ryan Davis. Around January, almost midway through development, the art and design team realized their top-down approach made it much more difficult to create legible character designs and satisfying gameplay. "They wanted to shift [the perspective] to 45 degrees and asked if the engine could draw 3D models instead," Davis says. "Unfortunately, it couldn't." 
Undeterred, the team discovered a way to "fake" 3D in their 2D engine, researching a workaround the developers of the original Diablo employed back in 1996 to achieve a similar effect. "We decided to take the risk for the sake of our art being more readable than a true top-down game," says producer Dylan Paultier. Although the sudden shift led to lots of long nights reworking the art, design, animation, and engine — not to mention the challenges COVID-19 posed on top of it — the team says the payoff was worth it. The Argonautics team members fell in love with character artist Amy Kim's skull-headed design for the game's hero Echo so much, UX designer Casey Rogers ended up commissioning a plush doll based on the character. Since launching on Steam, players have praised the game for its satisfying, wave-based combat, posting Let's Plays, walkthroughs, and video reviews on YouTube. "It's surreal honestly," says audio lead Jason Abernathy. "I never thought that the games I made would get much attention outside the school."
---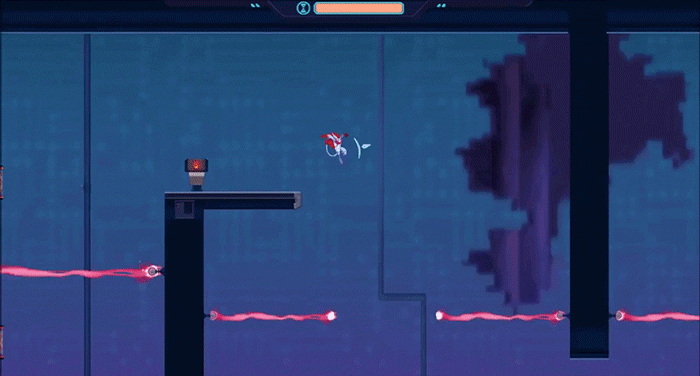 In Nohra, players take control of Lupu, a fast-dashing monster with time-slowing abilities attempting to break out of an underground lab and escape to the surface. Fittingly, student team Monster Lab's precision platformer has become a breakout hit since it surfaced on Steam, where nearly 200 users have left the game overwhelmingly positive reviews. "I never would have guessed it would be enjoyed by such a large audience!" says art lead Zainab Asgari. "The most common complaint players had was that they wanted more, that it was simply too short. I take this as a huge compliment." 
Despite the game's polish and addictive action, the initial concept for Nohra actually emerged from a humbling setback. "We were working through different ideas over the summer, only to have what we ended up with getting shot down in our very first meeting with professors," says producer Gene Lin. "We came out of the meeting and gave ourselves an hour to come up with something way simpler that we could expand into." Out of that hour-long scramble emerged the seeds for Nohra, a game that settled into its impressive final form thanks to Monster Lab's ability to balance their ambition with a reasonable scope for development. Throughout the production process, the team tempered their larger plans for combat and ability upgrades in order to focus on perfecting the core elements that make Nohra feel so good to play — zippy platforming and immersive visuals. 
"I love the look and feel of Nohra," says artist and animator James Crumbo. "I think people who play it can tell we had fun making the game." People who have downloaded it seem to be having lots of fun as well, posting 40-plus speedrun videos on YouTube. "I'm really proud that the game feels fluid and addicting," says programmer Alejandro Ramirez. "Seeing the small Nohra speedrun community makes me incredibly happy."