When the DigiPen students of team MooseBear first got together in the fall of 2018 as a mix of juniors and seniors, they had a solid game concept already in place — a 3D hack-and-slash adventure based on a visual theme of robotic knights.
That idea would eventually solidify into the game Excalibots, developed in Unreal Engine 4 and currently available on Steam. In the game, players take on the role of Percy, a sword-obsessed knight who is hired by the king to rid the land of mechanical goblin invaders. Throughout the game, players can stumble across nine collectible sword types, each with its own visual design, animations, and characteristics. Percy's armory even includes a few humorous weapons like the "The Peckoning" sword — shaped like a chicken and infused with a special ability that temporarily causes enemies to waddle away in terror.
"[We] were inspired by hack-and-slash games like Stories: Path of Destinies and the LEGO games, because their mechanics are simple but fun and allow the player to fight as they explore," Kait Baird (BFA in Digital Art and Animation), the team's art director, says. "As someone who doesn't play a lot of games because I get motion sick easily, I wanted to create a game that would be comfortable to play and simple to understand. Our main audience was children and non-experienced gamers."
Excalibots was a little unusual for a student game in that it involved the contributions of almost two distinct teams of students, with the work spread across three semesters of development.
For students in most DigiPen degree programs, the GAM 300/350 course marks a significant step forward in terms of project scope and ambition. Whereas prior GAM courses have student teams working together to make 2D games, GAM 300/350 moves into the world of 3D graphics and environments. Students also have the option of working with a commercial game engine, such as Unity or Unreal, for the first time.
Needless to say, there's a lot to get done in just two semesters of work — and a lot to learn along the way.
"This is definitely more challenging and bigger than any project I've [worked on] before. The team and I struggled a lot of times to decide what should be kept and what should be cut to keep the scope reasonable," Jason Chiu (BFA in Digital Art and Animation), the technical environment artist for Excalibots, says. "I'd say what really made this project successful were all the meetings and decisive choices we made along the way."
By the time the students of team MooseBear got to the end of GAM 350 in the spring of 2019, there were indeed some big choices to be made. While the various components for Excalibots were largely in place, it still hadn't quite reached its potential as a standout portfolio piece.
"At the end of GAM 350, it was fun, but there was still so much missing that it wouldn't have been ready to publish," Baird says.
Whereas the junior team members had the option of continuing their work for another semester in GAM 375, the team would be losing several original members who were now graduating seniors. Fortunately, the juniors on the team were eager to keep going, so they recruited additional classmates to help finish the work.
"Excalibots came together in two parts. The original team came up with the concept and left a pile of pieces when they graduated. It kind of had to evolve over time from there," Gabrielle Smith (BS in Computer Science and Game Design), the team's producer, says. "Sometimes that meant discarding a level or adding a mechanic and more enemies, but the spirit behind the game stayed the same."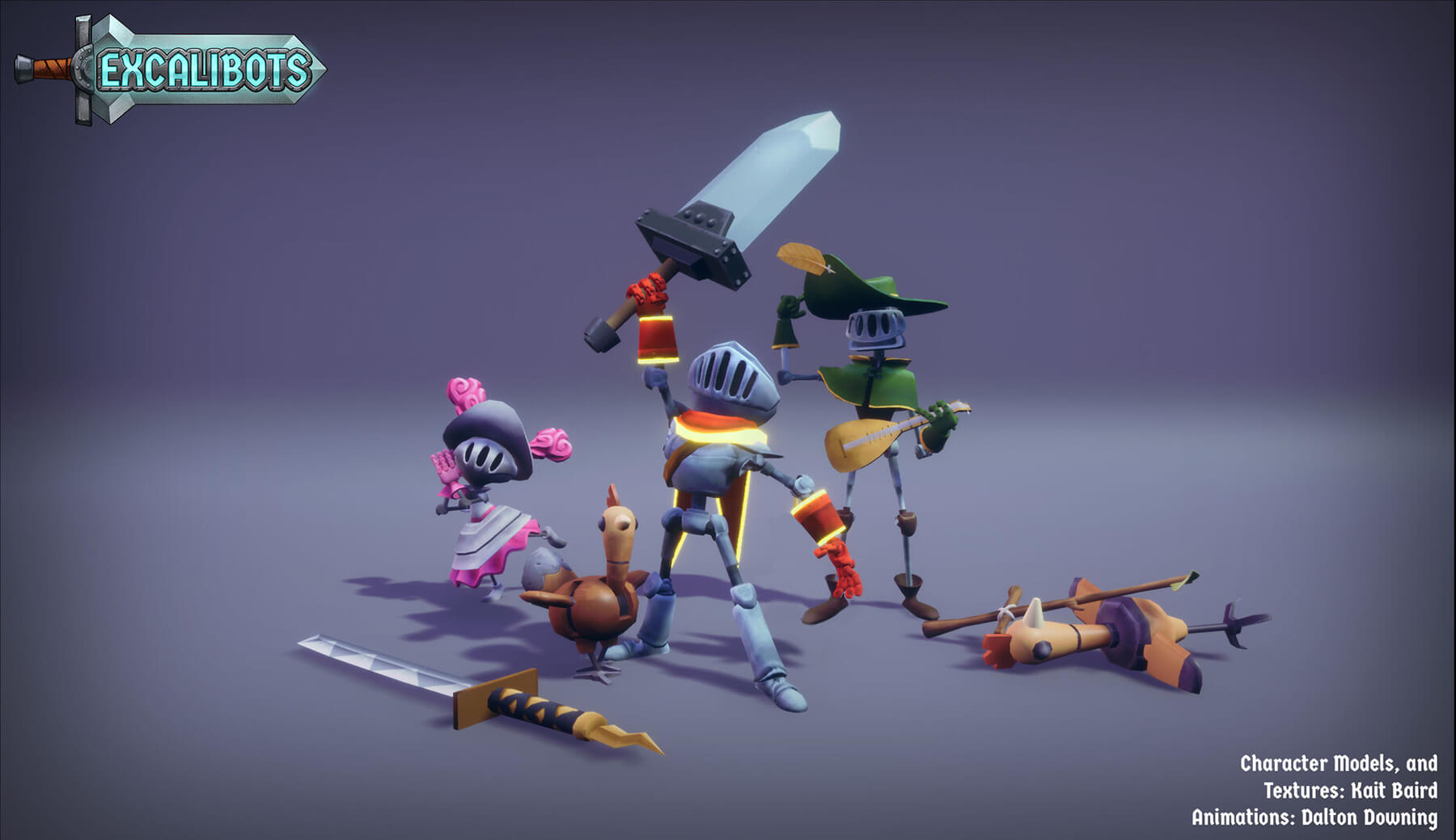 For game director Stav Hinenzon (BS in Computer Science and Game Design), one of the teammates who joined on during GAM 375, his objective was to help establish a cohesive narrative framework, based around the visual theme already in place.
"I joined the team late in development, once much of the art and gameplay was finalized, so my goal was to craft a story that complimented all the work the team had already done while using minimal resources," Hinenzon says.
As part of that work, he wrote the dialogue for each of the NPCs, from the rhyming verse of a wandering troubadour to the "Bok! Bok!" of robotic chickens.
"When writing dialogue for the game, my main inspiration was the NPCs from The Legend of Zelda: Link's Awakening. The characters there manage to be funny, quirky, and memorable while having very few lines," Hinenzon says.
Teammate Brandon Yuan (BS in Computer Science and Game Design), who joined during GAM 350, took on another challenge. While he spent his first semester working as one of the game's technical designers — implementing saving and other small gameplay systems — for GAM 375 he switched gears, taking on the role of level designer. After taking a hard look at what was already in place, Yuan identified two key problems with the game's existing map layouts: a lack of guidance and dull combat encounters.
For the first problem, Yuan switched the camera angle perspective to make the appearance of the world more visually interesting and less grid-like. He then set about restructuring the flow and layout of the levels themselves, using the available 3D art assets. The final game spans two main levels, spread across a pastoral, medieval kingdom filled with farms, villages, rivers, and greenery — all rendered in a playful, storybook art style.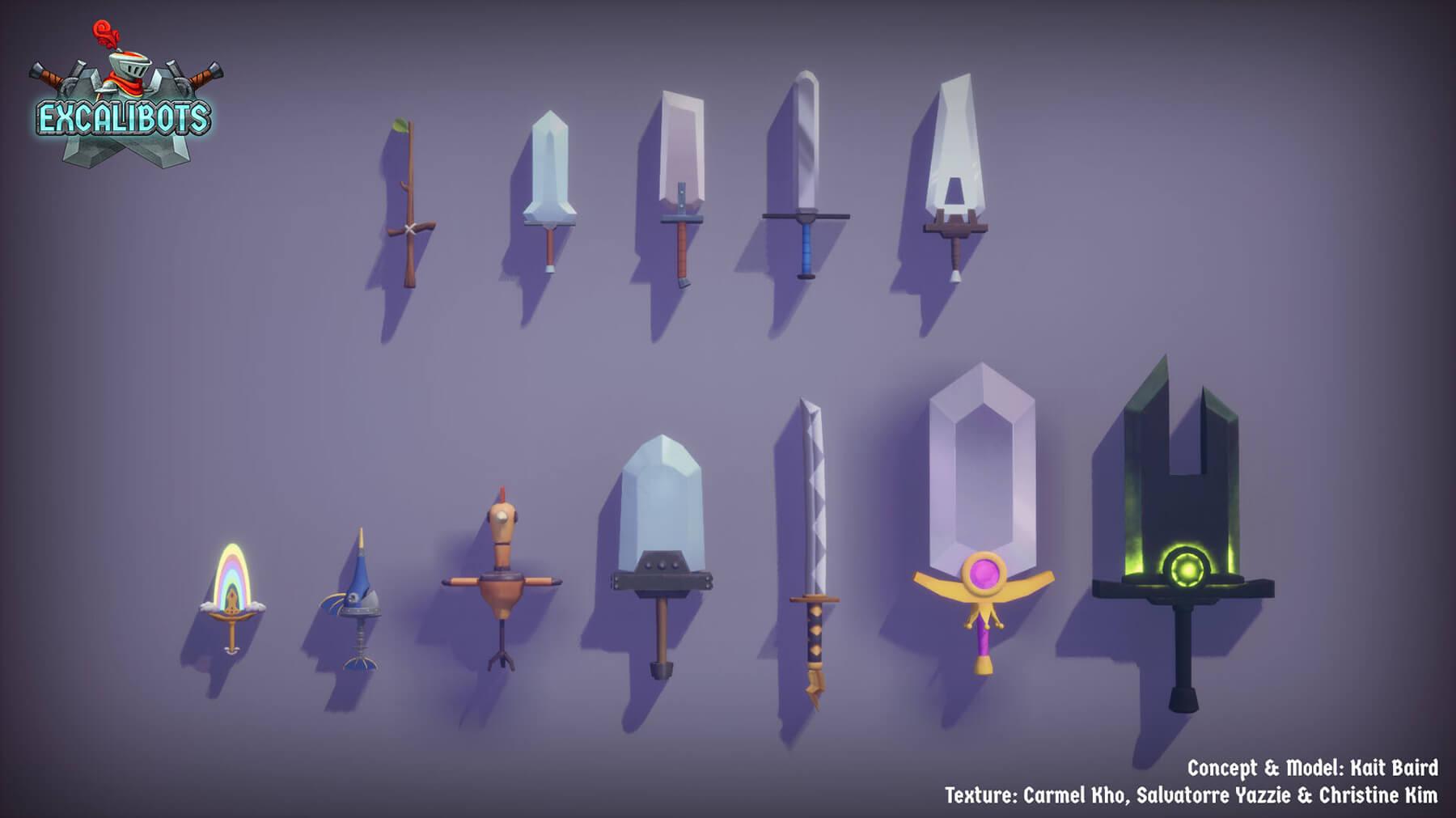 "I made flowcharts and paper layouts that removed branching paths, instead focusing on one main path with offshoots that encouraged some exploration. This made it so players would no longer be skipping content as they explored side paths," Yuan says. For combat, Yuan worked closely with combat designer Chay Davis (BA in Game Design) to introduce new enemy types, such as sword-throwing goblins, while experimenting with various enemy configurations. "I also gathered environment references, dividing the levels into themed regions to make the space and the encounters they occur in feel more distinct and have some reason for being there," Yuan says.
In the end, the third semester of wrap-up and polish work paid off. Excalibots was selected in April as one of 16 finalists for the 2020 Intel University Game Showcase, part of an annual competition that was broadcast on Twitch. Since its official release, the game has also been played by numerous streamers, many of whom have praised the game for its charm and subtle humor.
"It's so strange — very exciting though!" Smith says. "People are reviewing something we made. It's like, 'What? Really? And you like it so you are sharing it to the whole internet?' That feels pretty special."
With most of the MooseBear team members having now graduated, many have recently taken their first steps into the professional game industry. Smith is working as an associate producer at Adept Games, Baird as a UI and 2D artist at Valkyrie Entertainment, Hinenzon as a software design engineer for Turn 10 Studios, and Yuan as a level designer for Captilight. "There are two particular strengths this team had: drive and flexibility," Smith says. "Everyone on the team was incredibly determined to make a quality little game and worked insanely hard to make that happen."