Seattle virtual reality studio Highwire Games was founded by game industry veterans from Bungie and Sucker Punch Productions — hence the studio's slogan "Old Dogs, New Tricks." But Highwire recently added some young blood to the mix, too. When the studio's debut title Golem launches for PlayStation VR later this year, you'll find DigiPen graduate Ian Shores and senior Nic Gulezian in the credits.
Shores is a familiar face to most audio-based DigiPen students, having worked as the administrator of the campus sound lab since the initial launch of the BA in Music and Sound Design program, a program he graduated from at the end of 2017. It was in the lab where Shores eventually met Gulezian, a BS in Computer Science and Digital Audio student who will count himself among that program's first graduating cohort at the end of the semester.
While the two had never formally collaborated prior to their work on Golem, they had at one point planned to do just that.
"There was a period going from sophomore to junior year where I was looking to work with Ian on an audio game," Gulezian says, "but that's actually right when he got his whole thing set up with Highwire, so I wished him well and he went oF his way."
For Shores, the path that led him from DigiPen to Highwire is "a dream come true." Much like a dream, however, he wasn't entirely sure what was happening at first.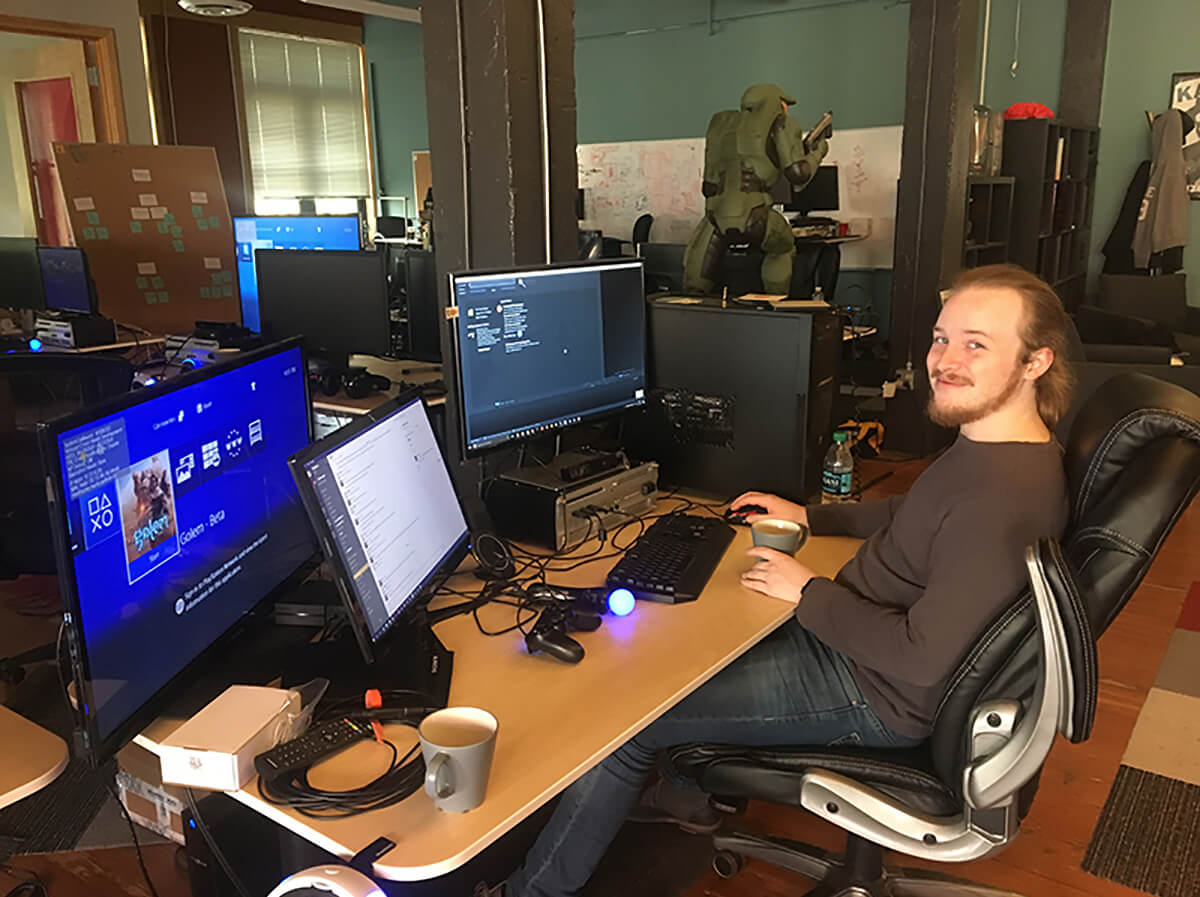 Composer Marty O'Donnell, the co-founder of Highwire famed for writing the iconic scores to the Halo series and Destiny, ended up teaching Shores' senior project class at DigiPen as an adjunct faculty member.
"After the class was over, he pulled me aside and said, 'Do you want to help me out with this game?'" Shores recalls. "And I said, 'Sure! I'll help out.' But I didn't realize I'd be helping out a lot."
Shores soon began working 20 hours a week at Highwire as a sound design intern, a year-and-a-half long journey that eventually led to a full-time job working on Golem.
Golem aims to be the flagship game for PlayStation VR in the same way Halowas for Xbox and Infamous: Second Son for the PlayStation 4, both titles Highwire's developers worked on before forming their own studio. In Golem, players are placed in the role of a young girl who, although stuck in bed with a serious injury, develops the ability to create and remotely control stone golems that venture far from her bedroom's confines.
Working on Golem, Shores found himself immersed in the frontier lands of 3D audio, a rapidly emerging discipline within VR development. Fortunately, Shores was well prepared thanks in part to a pyschoacoustics course taught by DigiPen professor Brian Schmidt. There were, however, some unexpected challenges in implementing the new technology.
"I didn't realize I needed to attach the scream to his face until I went from the PC to VR."
"When you check in your work on a game, you have to take notes on what needs to be changed or tweaked," Shores says. "But when you have a VR headset strapped to your face … you can't take notes."
Similarly, the gap between developing an immersive VR headset game while working on a flat screen PC led to some occasional dissonance.
"So imagine there's a creature attacking you, a big golem," Shores says. "I'd hook up the death sound so when you hit him, he screams in pain. But when I went into VR, wherever I hit him, that's where the sound was coming from. So if I hit him in the arm, his arm screams. I didn't realize I needed to attach the scream to his face until I went from the PC to VR. … There are a lot of instances like that working in 3D audio."
Back at DigiPen, Gulezian moved forward on the audio game he'd wanted to work on with Shores. That game was Suara, an audio-reactive action arcade game that was eventually featured at GameSoundCon and the DigiPen arcade booth at PAX. The warm reception made Gulezian keen on the idea of continuing to push audio games past their typical rhythm-game trappings. "I'm really interested in audio as a direct design thing," Gulezian says, "when audio changes gameplay directly."
His newest student project, Reprise, is attempting to do just that. "It's another audio game except we went 10 times bigger," Gulezian says. "It's an audio action FPS developed in Unreal."
When another internship position opened up at Highwire, Shores' mind went to Gulezian, so he contacted his former classmate and started gauging his skillset. "Ian started asking me, 'Do you know this? Do you know that?'" Gulezian says. "And one of the last questions was, 'Do you know Unreal?' Next thing I knew, I was talking with Highwire's tech director, Jared Noftle, and got an internship."
That Gulezian is now working with Marty O'Donnell is something he's still reeling from. "He is someone I've always looked up to in the audio industry," Gulezian says. "It's great."
Given his computer science and digital audio background, Gulezian is pulling double duty as an audio and gameplay programmer. "Right now it's working with requests that are being made from the audio team and getting those tools implemented, and then working with my boss on tech stuff and gameplay stuff," Gulezian says, noting that it's been a smooth transition. "Everyone at Highwire was so great right off the bat."
It's a sentiment Shores echoes. "I'm honestly surprised how much it feels like working with a DigiPen team," he says. "It's like you took a really high-caliber senior-year DigiPen team, gave them all 20 years of experience, and voila."