We've all probably wondered at some point in our lives what it might be like if we were the size of an insect, able to see the world around us from an entirely different perspective. The grass of a field would no longer appear as tiny blades that folded under our feet — they'd be giant stalks of vegetation towering above us. A molehill would be like a small mountain. But what if you had to actually live in that type of environment? How would you manage to get by in a world where you were only as big as the spiders that crawl about at night?
Such is the imaginative premise of Grounded, an upcoming survival adventure game for PC and Xbox One, currently in development at Obsidian Entertainment. Reminiscent of the 1989 film Honey, I Shrunk the Kids, the game takes place in a suburban backyard, and players — up to four simultaneously — assume the role of a tiny teenager, only about 9 millimeters tall.
"There are hundreds of insects trying to survive, just like you are. So you have to do the master-food-and-water thing, and craft tools and weapons that will help you fight and survive amongst the wildlife in the yard," says the game's director Adam Brennecke, a 2004 DigiPen graduate (BS in Computer Science in Real-Time Interactive Simulation) who has spent his entire professional career at Obsidian's Irvine, California, studio. "We're currently in the final stages of development for Steam Early Access and Xbox Game Preview, so we're getting pretty pumped to finally get the game out in the wild and have people start playing it and giving feedback."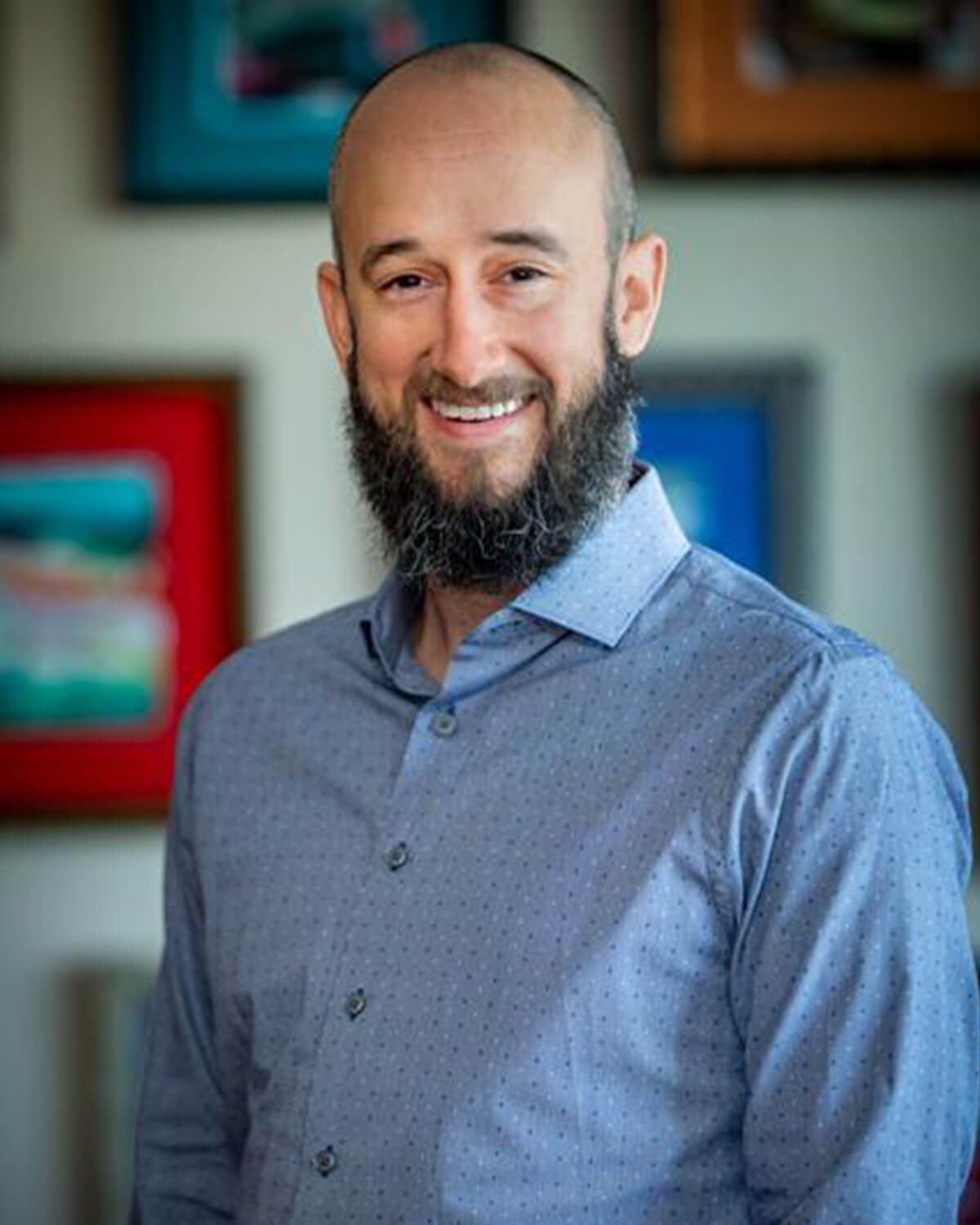 For a studio known primarily for making traditional-style role-playing games, such as 2019's The Outer Worlds, the concept for Grounded caught many by surprise when it was first announced last November. And while Brennecke admits it's a departure from his studio's typical output, the decision to jump into a new genre was no accident.
Prior to his current project, Brennecke had spent several years working as the lead programmer and executive producer for Pillars of Eternity and Pillars of Eternity II: Deadfire, the first of which came about from a 2012 Kickstarter campaign that Brennecke helped launch to the tune of more than $3.9 million. But while he and his teammates spent years knee-deep in the world of RPGs as designers and developers, they were also becoming quite invested — as players — in the newly emerging survival genre, which was quickly gaining popularity thanks to experimental titles like DayZ, Rust, and Minecraft.
"We really like survival games, and we were playing all of them as they came out. There were a couple that we enjoyed. Some of them were multiplayer, and we played as a team. And it's one thing that we discussed quite a bit: 'Hey, we should try our own survival game if we get the chance to do it,'" Brennecke recalls.
The idea was eventually given the blessing of Obsidian's Studio Head Feargus Urquhart, who encouraged Brennecke to start exploring specific ideas. In one particular brainstorm meeting with Obsidian lead designer Bobby Null, the idea for Grounded took off.
"I think we had about 200 ideas, and right when we mentioned Honey, I Shrunk the Kids — like that fantasy of being small in a yard — immediately we just started riffing. We realized, 'Wow! There's a lot of cool stuff we could do with this setting,'" Brennecke says. "And when I presented that to the rest of the team members, a lot of people were just super jazzed about it. There was some hesitation of like, 'Wow! This is a big departure for us,' but I think the idea resonated so much."
Now that the game's development is well underway, Brennecke is excited with how things are shaping up. Once players have a chance to jump in, he says, they'll be greeted with a large world to master and explore — one filled with distinct biomes such as the grasslands tutorial area; a hedge bush with towering, vertical gameplay; and more.
"We also have another unique area of the yard, which is called 'The Haze,' and it's been bombarded and sprayed with weed killer. So it creates a toxic, hazard area, which you'll need to craft a gas mask to be able to even venture into," Brennecke says. "We have a lot of cool, unique environments where you'll have to craft certain items to be able to explore all the different nooks and crannies."
On top of its in-depth crafting and base-building systems, Brennecke says the world of Grounded is teeming with life in the form of bugs and insects, all of which have unique behaviors and routines being simulated in real-time throughout the yard.
"There's an ant, for example," Brennecke says. "Our ant AI is very complicated, and they have a lot of wants and needs, and you can just follow ants around and see what they're up to. A lot of times you'll discover, 'Oh, there's a big food item over here that they're interested in. I didn't even know this existed.' Or you might follow them into a fight amongst a couple insects, and you're like, 'Oh, I should go somewhere else!'"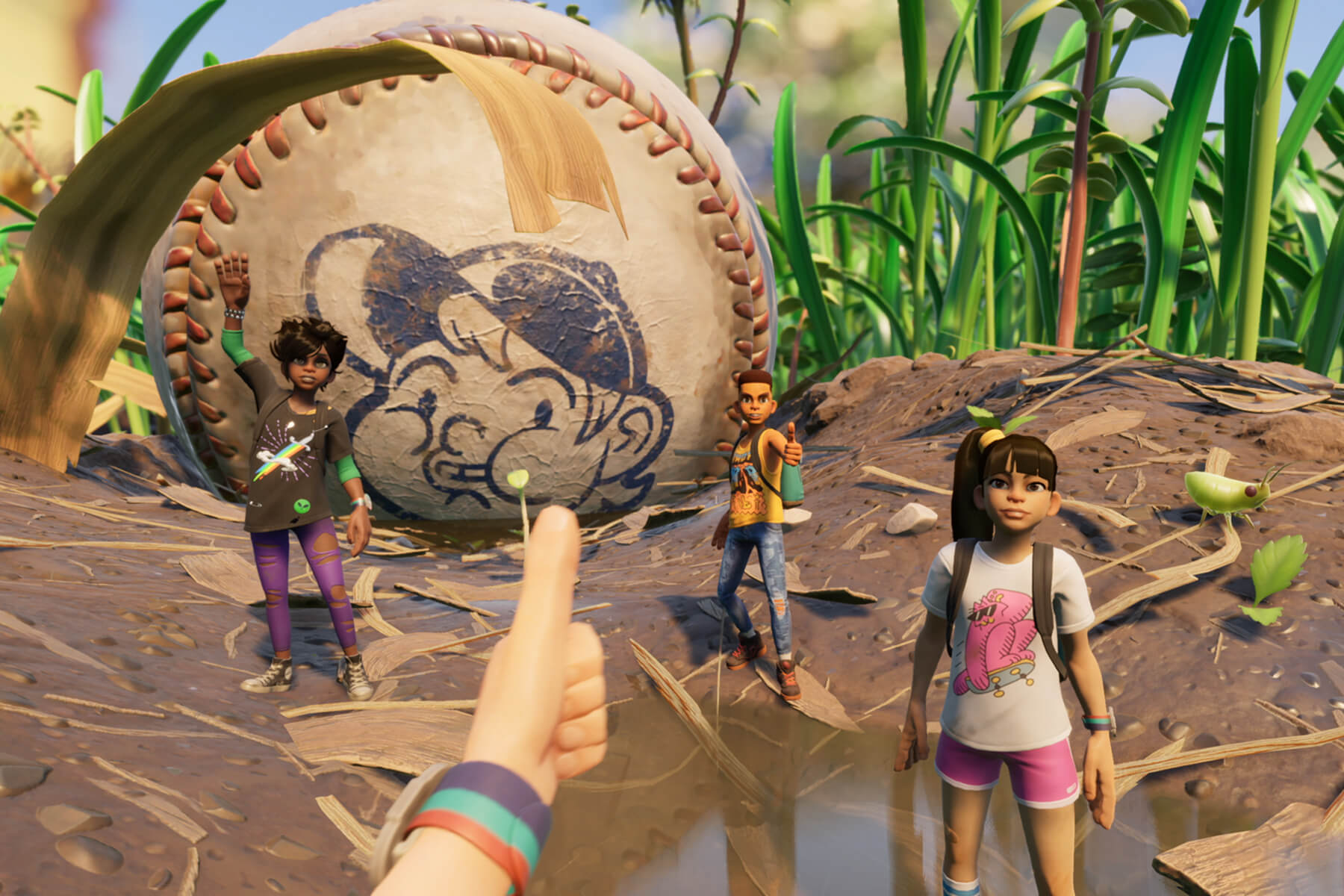 The game still being a work in progress, Brennecke says there's a lot of fine-tuning that goes into to balancing the overall experience, and certain adjustments often lead to unexpected outcomes.
"We have a bunch of knobs, and if those knobs aren't adjusted quite right, you get a lot of funny stuff. Like even in today's build, we have hunting spiders that come out at night, and they're supposed to go to sleep during the day. They're very aggressive, and it's supposed to make night feel a lot more threatening," Brennecke says. "Right now, they're just not finding their sleep locations, so they're not going to sleep at all. They're just rampaging around during the day."
For such a complex and expansive game, it might be surprising to discover that the team behind Grounded is only about a dozen people.
"It's pretty similar to being on a game team at DigiPen — slightly larger in scale, but it feels very much like that, where we're just jamming and getting stuff done very quickly," Brennecke says. "We try to get stuff in the game as fast as possible, so we can look at it and feel how it all fits together. We can iterate on those concepts a lot quicker and a lot more often."
As the game director, Brennecke's role is to provide high-level oversight over all aspects of the game's development and ensure that all team members remain unified in their vision for the game. He also handles production duties — managing people, schedules, and budgets, as well as coordinating with studio leadership. This being Obsidian's first announced project under their new Microsoft ownership, Brennecke also meets weekly with two specific Microsoft teams — the Microsoft accessibility team and Microsoft User Research lab, both of which provide valuable assistance.
"In the past year and a half since we've been acquired by Microsoft, we have access to a whole lot of new technology and people that are experts in different areas," he says.
Looking back at the span of his career — from contributing on games under the Star Wars and Fallout licenses to leading the development of brand-new intellectual properties with Pillars of Eternity and now Grounded — Brennecke says he's thankful for the opportunities that have come his way.
"We love making games, and we love making worlds, and it's just been a really awesome opportunity to be a part of all this," he says.
And while his love of making games may have flourished at Obsidian, he points to his education at DigiPen for putting him on the path to success.
"That was a huge boost to my career. I knew day one how to develop a game from the ground up and had pretty good knowledge of all aspects of making a game," Brennecke says. "I was able to hit the ground running in my career and progress rapidly through the ranks, because I just had a very good understanding of how to make games."
---
Grounded is coming to Xbox Game Preview with Xbox Game Pass Ultimate and Steam Early Access on July 28, 2020.