Russell Brower, the lead composer and director of audio for Blizzard Entertainment, offered an inspiring guest lecture to students last Thursday about the joys and struggles of pursuing a career in the creative industries.
In relaying his own story, he encouraged students to stay true to what drives them. He also described the road to artistic fulfillment as an ongoing process of self-reinvention.
"The best way to ensure that you're going to have a future in this business [is that] it's got to be something you would do anyway," Brower said. "I've done many things for free. I've done it for love. I've done it for the exposure. The point is to just keep doing it, to keep getting better."
In Brower's case, he didn't even discover his passion for music until after beginning his career. Throughout his childhood, Brower said, the people around him constantly steered him toward the visual arts, and it wasn't hard to see why. He was the class artist, a kid who woke up early every morning just to draw.
The weekend after graduating high school, Brower immediately started at a job as a storyboard sketch artist at what is now known as Walt Disney Imagineering. While it was a promising career step, it also marked Brower's first time being surrounded by the best of the best. Some of his fellow employees were artists who had been hand-picked by the late Walt Disney himself.
Brower's confidence took a hit.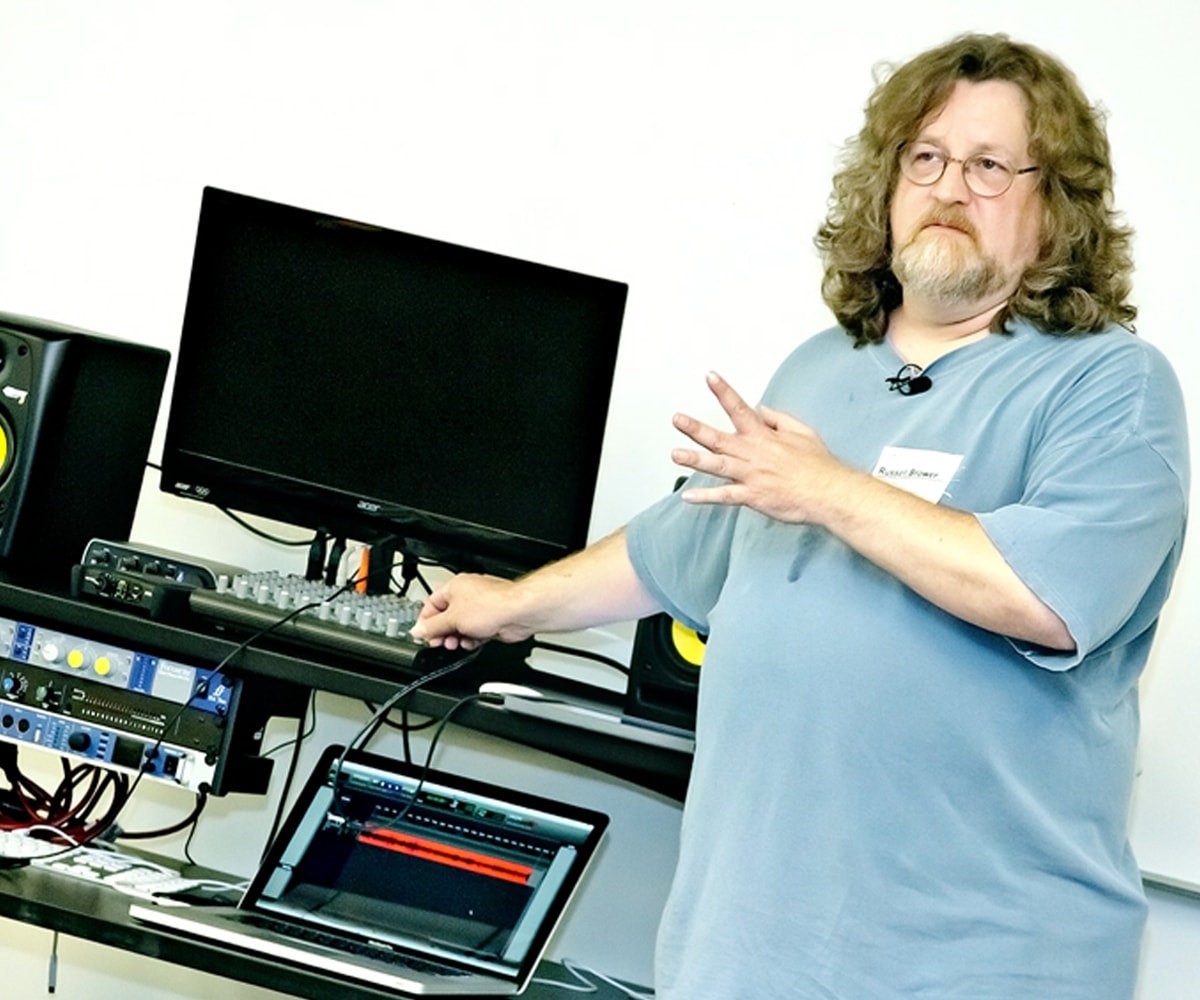 "I found that when I didn't do so well, I got worse, and when I got challenged I kind of folded up," Brower said.
After hanging on for about two years, Brower was warned of a pending layoff. The first stage of his personal reinvention was about to begin.
For a while leading up to that point, Brower had been stopping by the sound department most days after work. While there, he started learning about the studio's digital recording equipment. Suddenly, Brower said, he was spending his evenings not drawing but making music and building synthesizers.
I've done it for love. I've done it for the exposure. The point is to just keep doing it, to keep getting better."
Brower convinced his Disney bosses to let him move into a new position, creating prototype arrangements of sound and music for a new Disney project. It kept him employed for another year, and from those humble beginnings, Brower began to carve out a new career path, taking advantage of other opportunities as they appeared.
"It's one thing to say follow your passions, but the difference I've found was that I was no better — when I started — at music and sound than I was at drawing. In fact I was worse," Brower said. "But every time they threw a challenge at me … it's weird. It's like I had all this energy. And the reason is because I was going home every night and doing it anyway, even if there was no one to listen to it. And that's really important."
After working as a sound design intern on the movie Tron, he joined the crew of a postproduction studio. While there, Brower did sound design for the Warner Bros. cartoon series Tiny Toon Adventures, Animaniacs, and Batman: The Animated Series, filling in sound effects for about 100 episodes of each series. From 1990 to 1992, Brower and his team earned three Emmy awards for outstanding sound editing.
While it wasn't composing, he continued to press on within his field of interest. For years, Brower said, he applied to jobs he wasn't qualified for. He shadowed people with more knowledge and experience. And when the emergence of reality television wiped out the demand for music and sound design in one industry, he turned his attention to games, joining Blizzard in 2005.
"It took me 25 years to get this gig. I've been there for eight years now," he said. "And I'm finally doing some things that are really cool."
Brower finished his talk by sharing two examples of his Blizzard compositions. The first was a theme for the Diablo III character Leah, a young woman who, during the course of the game, witnesses her world collapse overnight.
"She was at that give-up-or-move-on point in her life," Brower said. "But she suddenly decides, 'I'm going to move on. I'm going to pick myself up, and I'm going to make it.'"
I think for one of the first times, I wrote something that really moved me."
As an interesting real-life parallel, Brower had composed the piece in the aftermath and recovery of a severe anxiety attack. By pouring his own emotions into the song, he created what he now considers his best career work.
"I think for one of the first times, I wrote something that really moved me," he said. "And people react well to it. They don't know why. They just know that there's a story behind it or something universal."
The second example he played was an Americana-inspired theme titled "Totems of the Grizzlemaw." That song, he said, was originally written as a birthday present for a girlfriend and was eventually used to score the Grizzly Hills location in World of Warcraft: Wrath of the Lich King. Although the relationship didn't work out in the long run, the story didn't end there.
You have a voice, and you want to leave something behind. You want to make someone feel something like someone else did for you."
Close to a year later, at a public event where Brower was signing game boxes, he met a young woman whose life he had touched — unknowingly — through his music. The woman said she had at one point decided to commit suicide, and in preparing to end her life she had logged into her game, bringing her character to her favorite in-game location to listen to her favorite piece of music, which was the Grizzly Hills theme. After sitting and listening for about two hours and being consoled by the music, Brower said, the woman decided to go on living.
For Brower, it was a deeply moving encounter and a profound illustration of the power of artistic expression.
"I wrote a love song for somebody … [but it] turned out it wasn't for her. It was for this young woman who I could easily have never met," Brower said. "Remember what brought you here in the first place. … You have a voice, and you want to leave something behind. You want to make someone feel something like someone else did for you."