At DigiPen, Student Affairs leverages its relationships with recruiters in the industry to arrange for major companies to visit campus and connect directly with potential future hires via short sessions, tech talks, or even daylong events, all under the umbrella of Company Days.
The program is unique in the recruiting ecosystem in that it's not just recruiters delivering a pitch, but rather actual employees — sometimes DigiPen alumni themselves — coming to share their experiences and offer insight into the company culture.
Danny Flannagan, a recruiter for the University Relations program at Blizzard Entertainment, was one of several company representatives who spoke to DigiPen students during a recent all-day event.
It's really nice for the company to just come down and say, 'Hey we care about you. We're spending our resources to come and say hi to everyone and try to get people to apply.'"
"I like the bonding relationship Company Days create," Flannagan said. "It's a small school, so I think that offers the students a chance for personal interaction with Blizzard employees."
For students interested in working at a particular company, Company Days are more than just a simple meet and greet.
"Definitely the biggest goal [for companies] is actually recruitment. A majority of them will accept resumes," said Rachel Thompson, Assistant Director of Career and Alumni Services at DigiPen. "What's really cool about Blizzard in particular is a lot of the resumes they collected today will be put in the running for internships and full-time positions."
That's also the case, she said, for companies like Microsoft, which recently hosted a series of on-campus interviews with students based on resumes collected during last year's Company Day.
"I think those who really want positions at Blizzard, they'll go the extra step to stay and talk with us and forge those relationships," Flannagan said. "That really helps, but those that come to the different sessions are going to be among the first we look at."
While lots of larger companies are there looking to fill vacancies, even smaller studios with no open positions see value in dropping by.
"A good example of that is Turn 10 Studios," said Thompson. "They're a small subsidiary of Microsoft. They create the Forza games. They were really transparent like, 'Hey, we're not hiring right now, but we definitely want students to know about Turn 10 and we're really, really happy to expose students to our company culture and game development in general. So how about we come and do a tech talk instead of making it a recruiting event?' Students get to hear niche industry subjects by industry professionals during these company day presentations as well."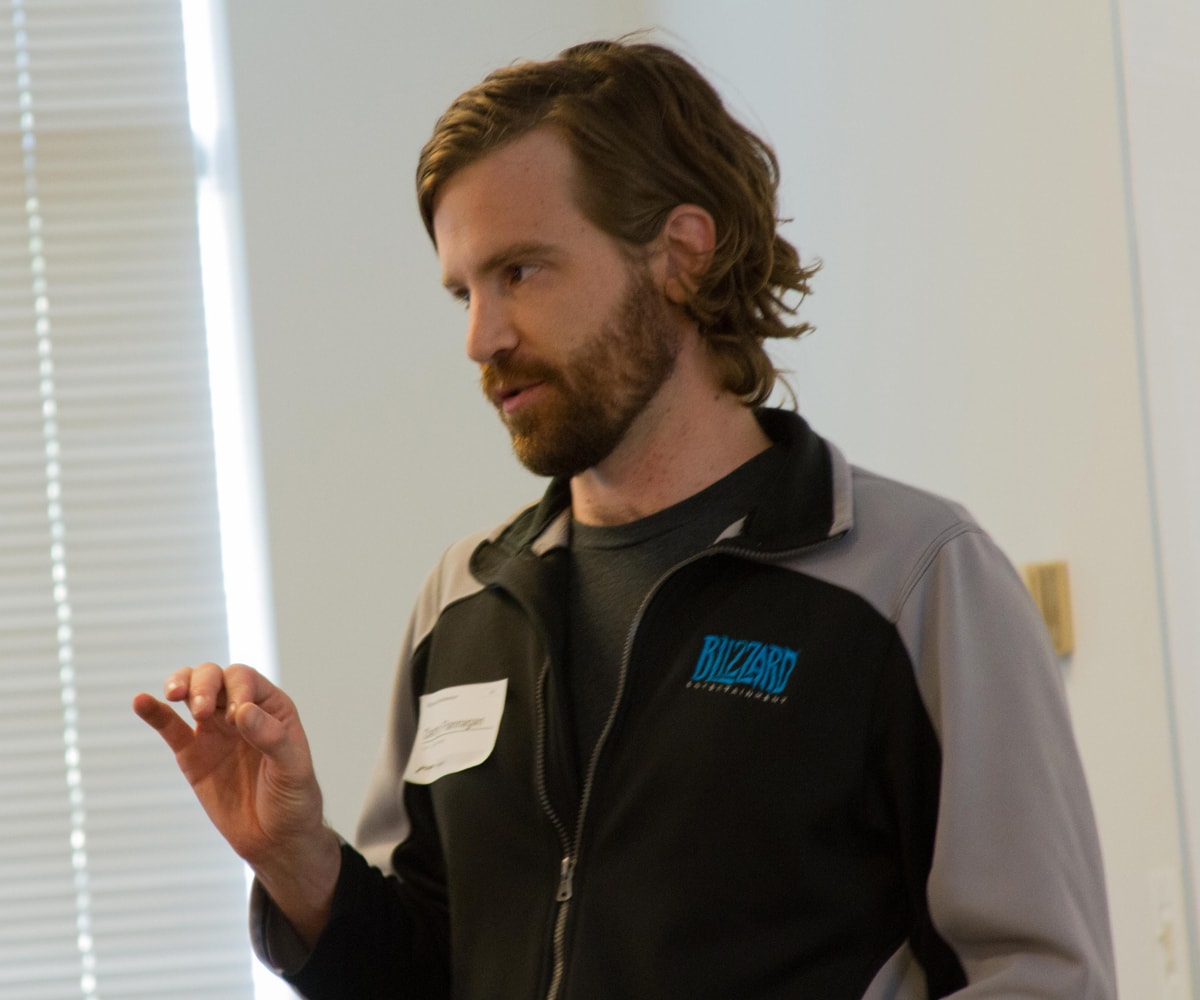 This fall marks the first year that students from all grade levels — including sophomores and first-year students — are invited to attend Company Days, which in previous years were open only to juniors, seniors, and graduate students. Thompson was one of the primary advocates for that change.
"It was one of my biggest pushes to invite everyone," she said, "because the sooner freshmen and sophomores can get exposure to these companies, the more likely they are to target a specific company."
Thompson said she also tries to bring in companies and professionals that appeal to a wide range of career paths, including those that extend beyond games.
I feel like the reason I'm here is because of DigiPen."
"We've tried to do that with Microsoft and Amazon. We've made some introductions to SpaceX," Thompson said. "Because our art program is big we try to bring in a bunch of artists as well."
She noted that one of the Blizzard presenters, Tomas Neumann, was a sound engineer, specifically chosen to offer insight to students in the BS in Computer Science and Digital Audio and BA in Music and Sound Design programs.
Another presenter, Chuck Silvers, who is a software engineer for Battle.net, graduated from DigiPen's BS in Computer Science in Real-Time Interactive Simulation program in 2015. He recalls attending Blizzard's Company Day event while he was a student.
"I was actually interested in working at Blizzard before I went to DigiPen," he said. "It did give me more insight into what working for the company would be like. I had some ideas, but it definitely gave me a better picture of what the company was when people came in and talked about their experiences, which just increased my desire to work here."
Mickey Cushing, a senior who attended the recent company day, was similarly enthused about Blizzard. Having already completed a Blizzard internship this past summer, he says he appreciates the goodwill effort of the companies who make the trip to campus.
"It's really nice for the company to just come down and say, 'Hey we care about you. We're spending our resources to come and say hi to everyone and try to get people to apply,'" Cushing said. He noted that Blizzard had also done practice interviews the year before, describing those sessions as particularly helpful.
For Silvers, the chance to return to his former college was a special one.
"I feel like the reason I'm here is because of DigiPen," he said. "And so I want to give back to that relationship and help establish that relationship better for future students."
So far so good, it seems. Silvers said that some of the students they met during their most recent Company Day may have a good shot at being selected for internships, which are a great point of entry to the company.
"While we're onsite there, we use it as an opportunity for us to evaluate who we think would be a good culture fit for us as far as skillset and personality," he said. "We brought back resumes, and there were some real standouts for us. We're excited about the possibilities."